Off-roading with a Jeep enthusiast is a wild adventure. And though Tray Mountain Road is an easy off-roading trail that is recommended for beginners, it is not for the faint of Jeep.
Do you crave the exhilarating feeling of scaling a rugged mountain road with nothing but your jeep and the wild outdoors? Then a journey along the Tray Mountain Road Jeep trail in Georgia may be an adventure for you.
With miles of off-roading trails through secluded, breathtaking views of the Appalachian Mountains, this trail is both a challenge and a reward for the most daring adventurers.
So, buckle up and put your Jeep in four-wheel drive — it's time to explore the wild and wonderful world of off-roading!
Early Morning Off-Road Trip
On the only cold day in October, I found myself in the front seat of a red Jeep Wrangle with no doors as the blustery wind attempted to freeze out all of my fun. In the back seat sat my boyfriend Kevin and in the driver's seat beside me sat our Jeep enthusiast Justin. These are the people I blame for my half-frozen nose as we drove up I-85.
After a couple hours, we made our way off the highways onto the back roads and eventually onto Tray Mountain Road, a forest service road used for off-roading recreation. It's a one-lane dirt road with a few juts and crevices that may be challenging, but overall Tray Mountain Road is considered an easy trail for beginners.
Off-Roading the Tray Mountain Road Jeep Trail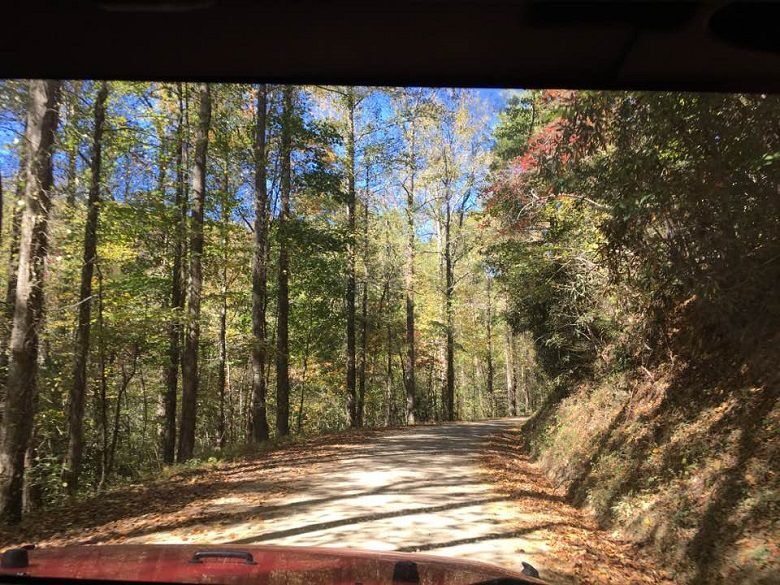 We started on the trail off of Chimney Mountain Road. Kevin and Justin, who had driven this trail once before, decided this was the easier route — going up this side of the mountain and exciting down the gravel portion of the road onto GA-75 rather than coming down this side of the mountain as they had before and as most of the off-roading guides suggest.
Beginning the Tray Mountain Road Jeep Trail
At the beginning of the trail, we rocked along alone without passing but one Jeep coming the opposite direction. Off to the side were a couple places to pull of and camp. The trail had been fairly easy going for the most part with mostly rocks to go over and few crevices to navigate.
Eventually we came upon a few other Jeeps, one who pulled off to let others pass so that they could take it slow on a particularly bumpy part without holding anyone up. About halfway through, we came to a spot to pull off and stretch. The slower Jeep caught up and pulled off next to us, hoping out to excitedly chatter about Jeep stuff with Justin. These two men were new to Jeeping and this was their first time off-roading.
A Convoy of Jeeps
After talking for 20 minutes, the men went on the trail ahead and a convoy of three Jeeps showed up and about 7 people hopped out to talk to us. From what I could tell, this was a last-minute detour suggested by the men of the group and hadn't really elaborated to the women what this trip would entail. It soon became clear that none of them knew what they had gotten themselves into and that they were not going to make it to their winery tour they had planned.
We set out with the convey not far behind. Soon we caught up with the Jeep beginners ahead of us who were struggling through a set of four or five large ditches. We sat back and watched as Justin pointed out to me everything they were doing wrong, though I hardly understood a word of it. Once they were through it, we breezed on along.
Behind us, the convoy struggled even worse. The first car rocked up and down the slope of the ditch trying to get out. Then his front two tires came full off the ground and I though we were going to have to rescue them from a flipped Jeep, but miraculously his tires landed and they were able to pull out of the ditch. Knowing at least one of the convoy made it through, we went along and caught up with the two beginners pulled off to the side. The convoy caught up with us and jumped out of their cars, exhilarated. I think by now it had dawned on the women that they weren't making it to the winery.
Tray Mountain Summit
After a short break admiring the foliage and more excited chatter from the Jeep enthusiasts, the convoy set off on the trail again. We followed not far behind, and from there the trail was smooth sailing – for us. We passed a Jeep in the opposite direction who alerted us that a couple people up ahead had cut their tires on some of the rocks. When we made it to the clearing, the parking area for the Tray Mountain Summit trail, there were our friends with two Jeeps down for the count.
Tray Mountain Road may be a Jeep trail for beginners, but it is not for the ill-prepared.
At this clearing, we parked, wished our friends luck with their tire-changing, and hiked to the mountain summit. The road back down the mountain was gravel and well-maintained, easy for any type of car to drive on. Here, the road takes you out to GA-75, which heads right into Helen where you can end your trip with some German-themed fun.
Nearby Activities
Explore the area nearby with these itineraries:
---
Ready to go off-roading on Tray Mountain, Georgia? Plan your trip with these tips.
---
Cheers!
Paige
Have you been off-roading on Tray Mountain Road Jeep Trail? Tell me about it in the comments!