Are you planning a trip to Atlanta and trying to figure out the best area to stay in? Deciding where to stay in Atlanta is easy with this neighborhood guide!
Finding that perfect place to stay in Atlanta can truly elevate your trip. It's all about location, location, location!
Where you stay in the city can often inform what activities you take part in. So you want where you stay in Atlanta to be near your must-visit attractions, restaurants, and shopping.
My guide will steer you towards where to stay in Atlanta, with a selection of fantastic places offering their own unique charm and allure.
Where to Stay in Atlanta: Top Neighborhoods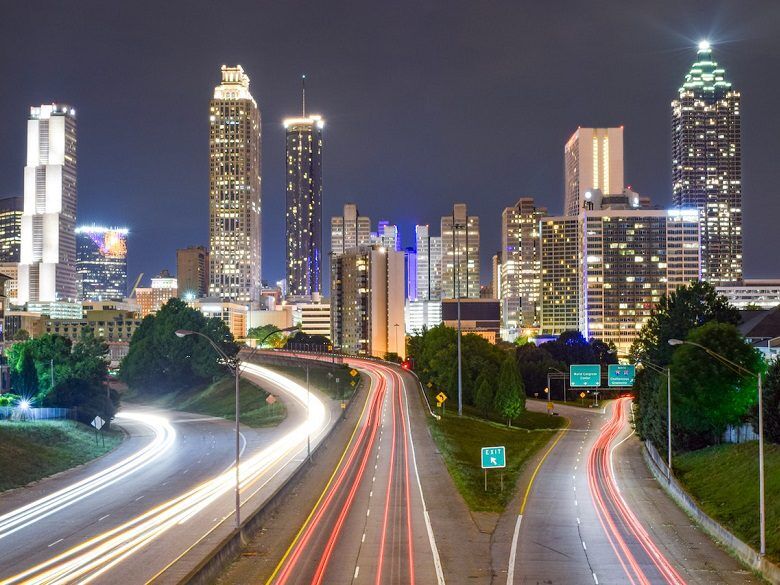 Where do most people stay in Atlanta? The popular neighborhoods for visitors include Downtown, Midtown, and Buckhead. Here's a little about each of these top Atlanta neighborhoods, with even more information down below.
Continue reading below for more information about each Atlanta neighborhood to help you decide where the best place to stay is for yourself!
Where to Stay in Atlanta: Neighborhood Guide
Each neighborhood in this city has its own unique personality and charm. Let's delve into where to stay when exploring these vibrant neighborhoods.
Where to Stay in Downtown Atlanta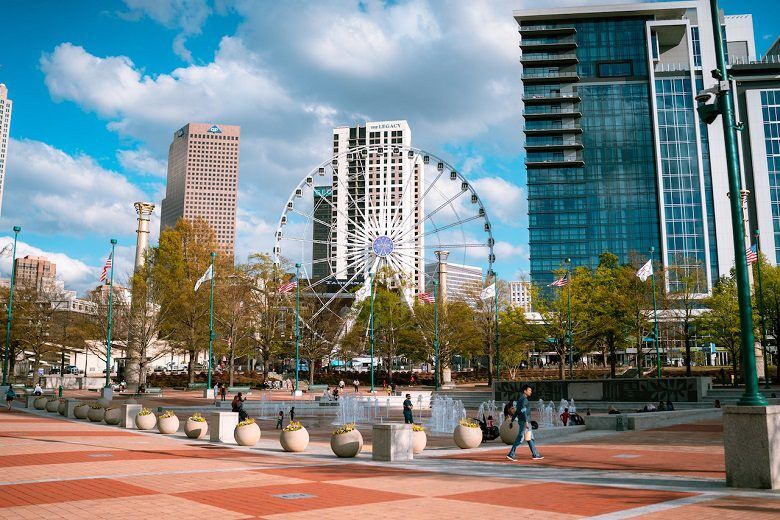 If you're planning to visit Atlanta, staying in the tourist center is a fantastic choice. In Downtown Atlanta, you'll be near the city's major attractions and walking distance from sights like the Georgia Aquarium, the World of Coca-Cola, Mercedes-Benz Stadium, and the SkyView Ferris Wheel.
Downtown Atlanta has a range of accommodations to choose from, whether you're looking for a high-end hotel or an affordable hotel or motel.
If you want a touch of history, stays like the Glenn Hotel, The Candler Hotel, and the Ellis Hotel will be perfect for you. For affordable accommodations, the SpringHill Suites Atlanta Downtown and the Hilton Garden Inn Atlanta Downtown are top choices. And for a modern touch, check out Reverb by Hard Rock Downtown Atlanta or the Westin Peachtree Plaza.
Find more top Downtown Atlanta hotels here.
Where to Stay in Midtown Atlanta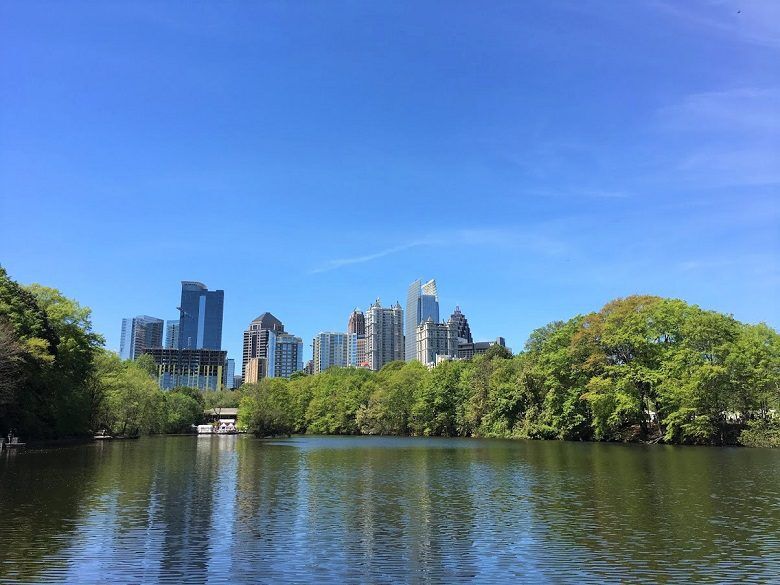 Midtown Atlanta's vibrant energy and culture make it an ideal place for those who appreciate art, entertainment, and city life. Midtown is the heart of the arts, and you'll be near must-visit attractions like the High Museum of Art, the Fox Theatre, and the Atlanta Symphony Orchestra.
And if you're craving some nature amidst the skyscrapers, Piedmont Park offers stunning green spaces smack dab in the middle of all this big city excitement. The Atlanta Botanical Garden is also a great place to get away in the middle of the city.
Boutique hotels abound in Midtown, providing unique lodging options. Consider checking into the Starling Atlanta Midtown or the Moxy Atlanta Midtown for a chic, modern stay; or book the Stonehurst Place B&B to feel more like a local.
Where to Stay in Buckhead Atlanta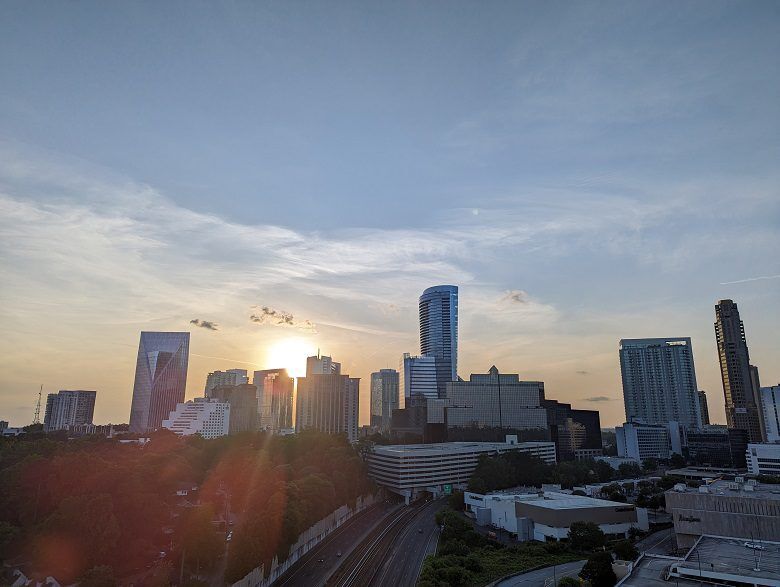 Buckhead, Atlanta's most luxurious neighborhood, is an absolute must-visit. It not only offers upscale shopping and gourmet dining, but also houses some of Atlanta's most lavish hotels.
When you stay in Buckhead, you'll be near the Atlanta History Center, shopping centers like Lenox Square and Phipps Plaza, and the Chastain Park Amphitheatre. This Atlanta neighborhood is also renowned for its vibrant food scene with top-rated restaurants serving everything from Southern classics to international cuisine.
If you want a luxury stay, Buckhead is the place to be. The Whitley and the St. Regis Atlanta are the top luxury stays in this area. Other hotels like the Hotel Colee and the Hyatt Centric Buckhead are more affordable options without sacrificing that Buckhead style.
Find more top Buckhead hotels here.
Where to Stay in East Side Atlanta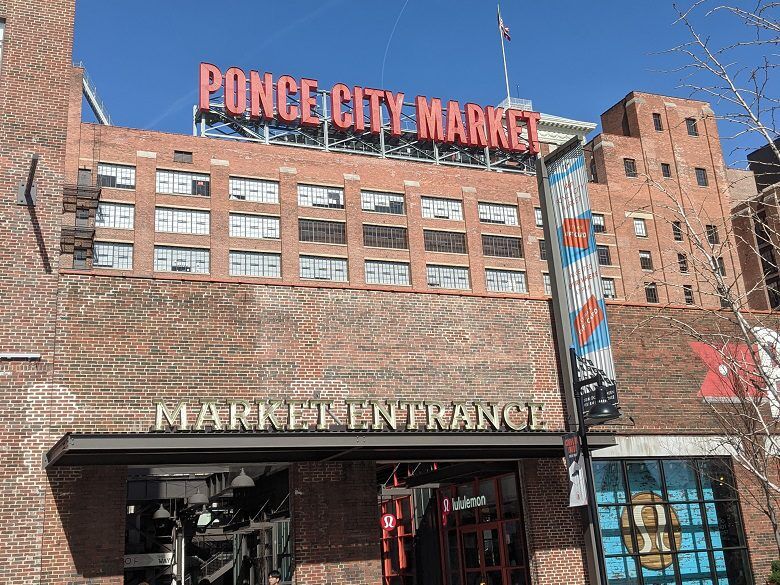 The East Side of Atlanta is a buzzy part of the city filled with bars, breweries, restaurants, and some of the city's best street art. Ponce City Market, a hub for shopping and eating, is at the heart of the East Side, as is the Atlanta BeltLine Eastside Trail.
This is a great area to stay in if you want to visit the Martin Luther King Jr. National Historic Site, Zoo Atlanta, the Fernbank Museum of Natural History, or the Jimmy Carter Presidential Library.
There are plenty of hotels to stay at in East Side, like the historic Hotel Clermont and the Wylie Hotel. This is also a great area to find vacation rentals in neighborhoods like Inman Park or Little Five Points.
Where to Stay in West Side Atlanta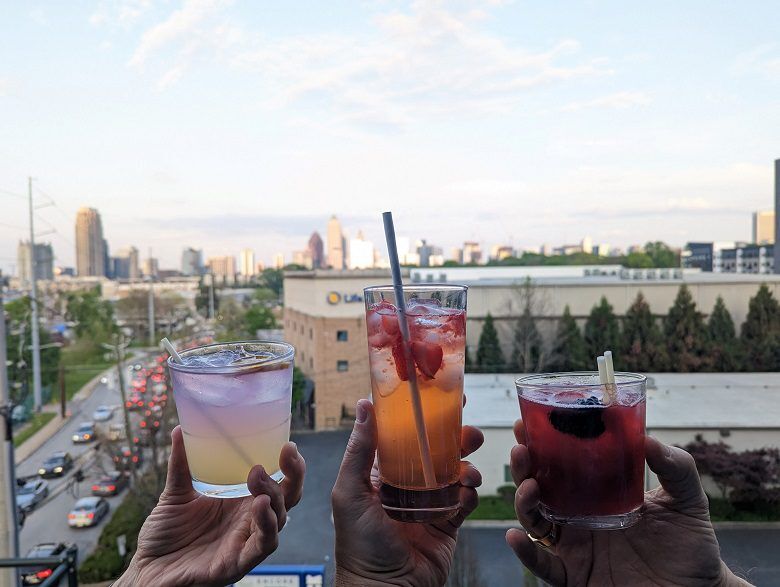 Atlanta's West Side is the newest up-and-coming area. West Side, or West Midtown, is where Georgia Tech and Atlanta University Center is located, and it has a very college feel. This area, once an industrial zone, is now filled with trendy restaurants, artsy shops, and plenty of shopping.
If you're staying here, you'll be close by the universities, the Trap Music Museum, Chattahoochee Food Works, and the Wren's Nest. Atlantic Station is a hub of shopping and dining, meanwhile the Westside Provisions District and the Interlock are the newest destinations for a night out.
You don't have a ton of choices for hotels here: the Bellyard, Twelve Midtown, Embassy Suites Atlanta Midtown, and the Hampton Inn Atlanta-Georgia Tech are great options. You can find a few vacation rentals around Atlantic Station and Georgia Tech.
Where to Stay in Atlanta near Truist Park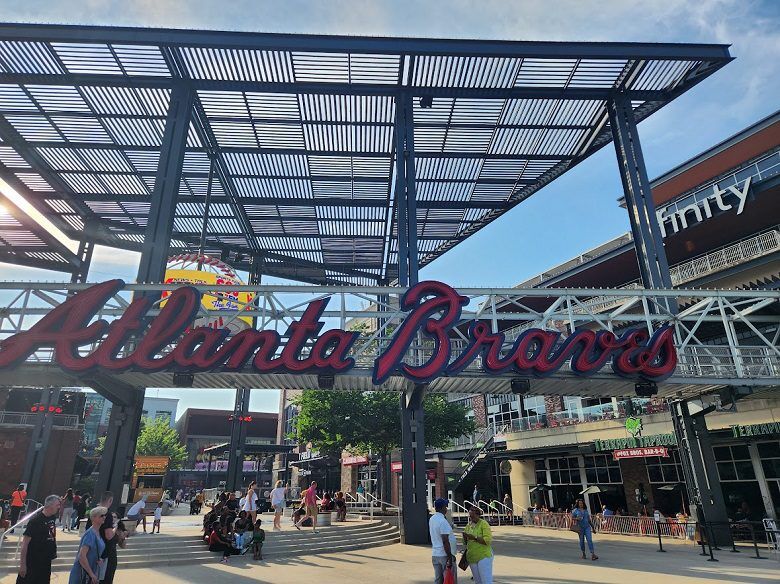 If you're a sports fan or just love the electric atmosphere of game day, then staying near Truist Park, home to the Atlanta Braves, is your dream come true.
There's more to do than just see a game, too. This area is home to The Battery, an entertainment district with plenty of restaurants and nightlife. Nearby is an indoor skydiving experience, the Cobb Galleria Centre for conventions and events, and shopping at Cumberland Mall.
Hotels like the Omni Hotel at The Battery, Aloft Atlanta at The Battery, and DoubleTree by Hilton at The Battery are your closest stays. In fact, the Omni Hotel has rooms that look right into the ballpark, as does the pool.
Where to Stay in Atlanta near the Airport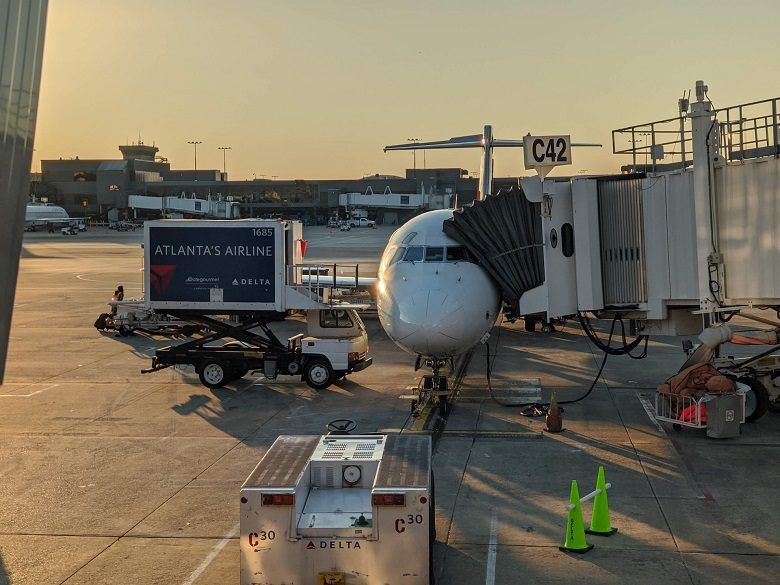 Staying near the airport can be really convenient for some travelers. There are plenty of hotels to choose from near the Hartsfield-Jackson Atlanta International Airport.
You can easily hop on MARTA and ride into Downtown to see all the tourist sights. The ATL Airport District also has a few sights of its own. Visit the Delta Flight Museum, the Porsche Experience Center, or the Chick-fil-A Home Office Backstage Tour to learn about some of Atlanta's top companies.
There are tons of hotels around the Atlanta Airport to choose from. The Atlanta Airport Marriott, the Westin Atlanta Airport, and the Hilton Atlanta Airport are all great choices.
Where to Stay in Atlanta FAQ
Is it better to stay in Downtown or Midtown Atlanta?

Both Midtown Atlanta and Downtown Atlanta offer unique experiences. Downtown is ideal for proximity to major attractions, while Midtown offers a vibrant arts scene and nightlife.

What part of Atlanta should I stay in?

The best area depends on your preferences. For luxury, try Buckhead; for culture and arts, consider Midtown; for eclectic vibes, choose East Side.

What is the nicest part of Atlanta?

Buckhead is often considered the nicest part of Atlanta due to its upscale shops, fine dining options, and luxury hotels.

Conclusion — Where to Stay in Atlanta
Atlanta is a city that's teeming with vibrant neighborhoods and unforgettable experiences.
No matter which area you choose, Atlanta offers a wide range of accommodation options. You'll have no trouble finding the ideal place to rest your head during your stay in Atlanta.
Top Atlanta Tours
With so much to see, Atlanta can be overwhelming for any first-time traveler. To take some of the stress out of planning your visit, opt for a guided tour! Check out this list of the top Atlanta tours to help you make the most of your time in Georgia's capital city.
Craving More Atlanta Activities?
If you need more things to do while visiting Atlanta, check out these top posts:
---
Ready to visit Atlanta, Georgia? Plan your trip with these tips.
---
Cheers!
Paige
Where will you stay on your visit to Atlanta? Comment below!