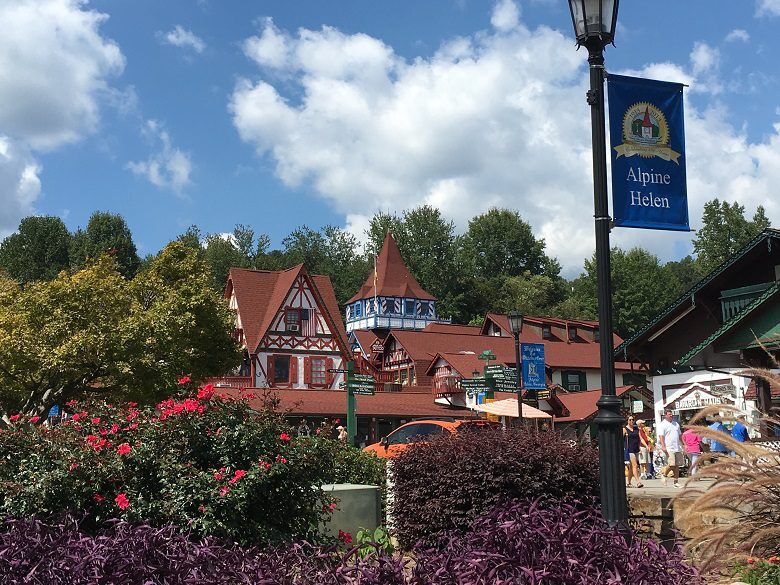 Nestled in the Blue Ridge Mountains is a surprising find — a Bavarian Village with rows of timber-frame and Swiss chalet-style shops, hotels, and cabins perfect for a weekend getaway and a taste of German. Beer, brats, and bears – the charming little town of Helen, Georgia has everything you need for a weekend getaway!
Weekend Getaway in Helen Itinerary
Friday afternoon, a group of us city folk braved the GA-400 traffic and set out for North Georgia, the mountains, and a cozy cabin that we would call home for the weekend. The roads got windier, and we cataloged the downed trees and hoped our cabin would have power after the hurricane that blew through. When we passed the simple "Zoo" sign for the Chestatee Wildlife Preserve and Zoo, I was already dreaming of bears.
You can tell when you're close to Helen by the number of "gold mine" general stores you begin to pass and by the German-style buildings that crop up even outside the town limits. We by-passed Main Street, saving that adventure for later, and ventured into parts unseen by the usual day-trippers.
Home Sweet Cabin
Our cabin was located in the Innsbruck community, a mile up the twists and turns of the mountain, past the golf course, the resort, and many other beautiful cabins. After getting a tour of the bedrooms, screened porch, fire pit, and living area, all with various bear decorations I want for my own home, we actually saw a family of black bears roaming a small clearing outside the kitchen window, proving that this was my perfect cabin!
More Places to Stay in Helen
Alpine Helen
On Saturday, we wandered the shops of Helen. Alpine Helen is a tourist trap, but that doesn't bother me much. The creators of Alpine Helen achieved what they set out to do, and did it well. A declining gold mine and logging town in the mid-20th century, Helen reinvented itself in 1969 as Alpine Helen and is now the third-most visited city in Georgia.
John Kollock dreamed up the town's Bavarian design. He saw similarities between this tiny town situated in the Appalachians and the villages set against the Alps. Helen's sister city Füssen, Bavaria is the transportation gateway to my favorite castle, Neuschwanstein Castle, which is featured in murals throughout Helen.
Things to Do in Helen
Helen features 200 shops, like Hansel & Gretel Candy Kitchen and The Glassblowing Shop. Our only real complaint about the town is that the shops on Main Street all seem to carry the same generic tourist junk, not the array of specialty and craft-type stores we were hoping for. There's plenty of international foods in Helen, but of course we were there for the German fare, from The Heidelberg and the riverfront Troll Tavern.
September through November are the high-times for Alpine Helen since this three month period spans their annual Oktoberfest. Fall is also popular for tourists who travel North Georgia leaf watching. In June, the town host an annual hot air balloon race. And summer is full of tubers who have come to shoot the 'Hooch and enjoy the water park. Alpine Helen has definitely succeeded in it's mission to draw tourists in.
After exhausting ourselves shopping and eating, we went back to the cabin to nap. While we didn't see any more bears, we did watch a couple deer cross the same clearing.
Nearby Activities
Looking for more to do in and around Helen, Georgia? Check out these great itineraries and travel tips:
---
Ready to visit Helen, Georgia? Plan your trip with these tips.
---
Cheers!
Paige
Have you had a cabin getaway weekend in Helen, Georgia? Tell me in the comments!