Nerds and geeks from all over flock to Atlanta for events like Dragon Con, Anime Weekend Atlanta, and the Georgia Renaissance Festival. It's no wonder that many of those geeks have decided to call Atlanta home and open up some truly amazing places for nerd-kind to hang out. If you're looking for a nerdy place to hang out and connect with other geeks, check out these top nerdy spots in Atlanta, Georgia.
Top Places For Nerds to Hang Out in Atlanta
Atlanta is one of the nerdiest cities in the United States, with tons of bookstores, game stores, conventions, and nerd trivia events all over the sprawling city. So whether you're a book nerd, a gamer, into LARPing, or anything in between, there's a geeky place for you to hang out in Atlanta.
These top nerdy spots in Atlanta are nerd-approved; I should know, I married a nerd and have been to many of these places.
Nerdy Atlanta Attractions
Computer Museum of America
The Computer Museum of America is probably the best place in Atlanta for the technology nerd. This museum in Roswell is one of the world's largest collections of computers, technology, and artifacts from the Digital Revolution.
You'll get the chance to look at technology through the ages, from the abacus to supercomputers. They have tons of rare and exciting pieces, like a German Enigma machine in near-perfect condition and an original Apple 1.
There is also a retro game arcade where you can try out vintage games on their original consoles. And keep an eye out for their adult only Bytes & Brews event for nerds 21+.
Learn more about visiting the Computer Museum of America here.
Delta Flight Museum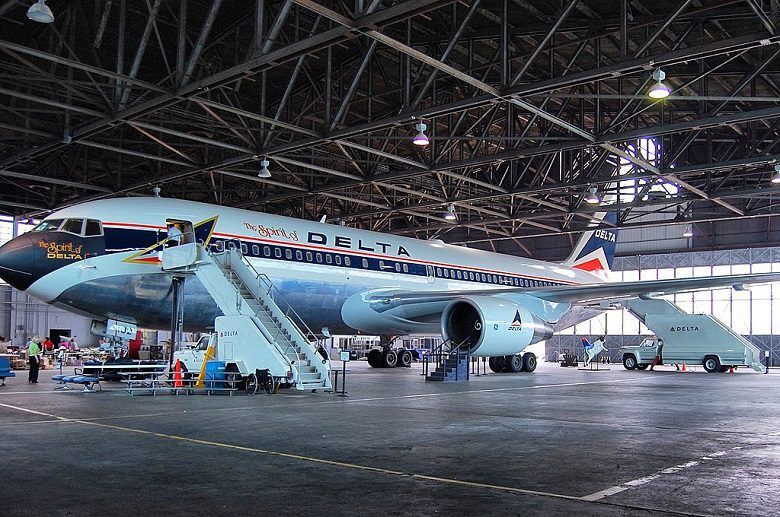 The Delta Flight Museum, located near the Hartsfield-Jackson Atlanta International Airport, is for the aviation nerds. This museum is dedicated to Delta's history and the development of commercial aviation.
You can get an up-close look at aircraft dating back to the 1920s, explore inside the historic Boeing 767, tour the first Boeing 747-400 produced and walk on its wing, and fly the only Boeing 737 flight simulator open to the public in the U.S.
Margaret Mitchell House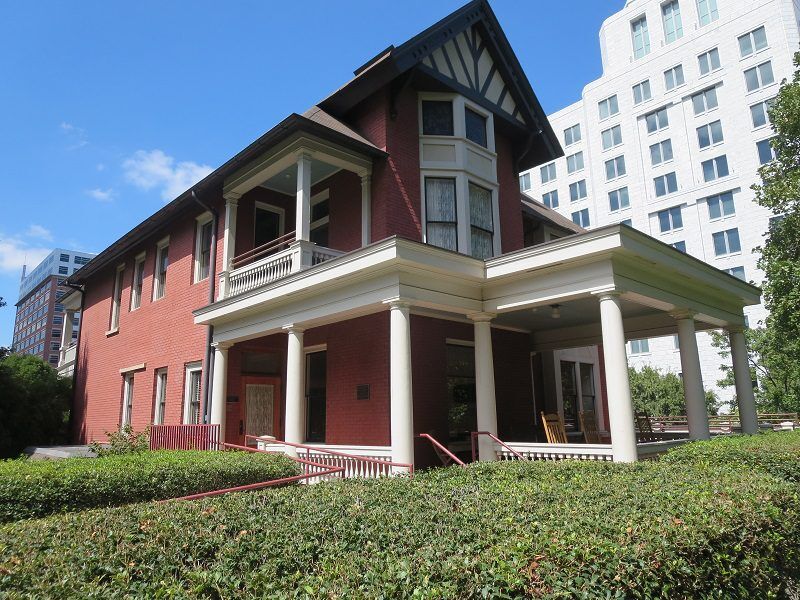 The Margaret Mitchell House is a must-see Atlanta literary attraction for book nerds. This museum is comprised of the small apartment where Margaret Mitchell lived with her second husband and where she wrote Gone With the Wind.
Guided tours explore important artifacts from Mitchell's writing career and examine the popularity as well as criticism of both the book and film.
Fernbank Museum of Natural History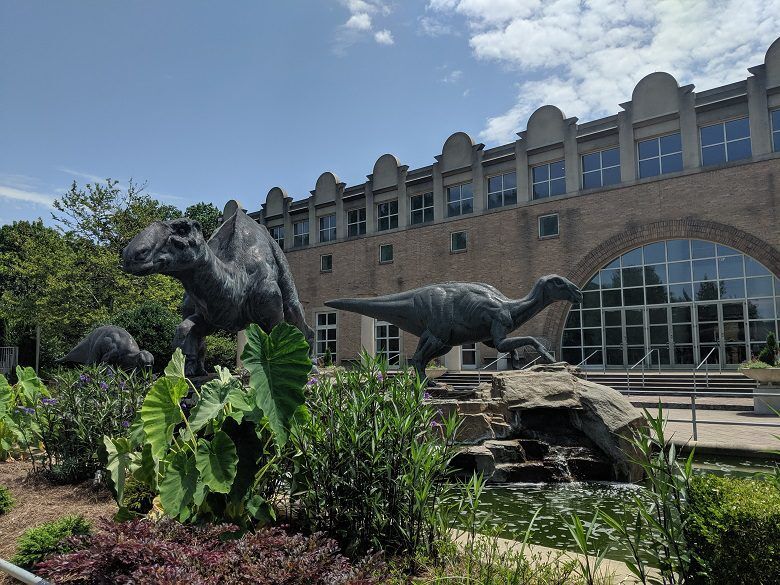 If you're the type of nerd who likes dinosaurs, culture, and hands-on science experiments, then Fernbank Museum of Natural History is the place for you!
Fernbank's permanent exhibits cover dinosaurs, fossils, and the natural history of Georgia. Meanwhile, their rotating exhibits cover everything from weather to kinetics to art exhibits displayed throughout WildWoods.
You can see a rotating list of 3D and 2D movies at their Giant Screen Theater. And don't miss their monthly Fernbank After Dark adults-only experience for nerds 21+.
Learn more about visiting the Fernbank Museum of Natural History here.
Fernbank Science Center
The Fernbank Science Center (a separate museum from the Museum of Natural History) is for science and technology lovers. This museum features a live animal exhibit, a live honeybee hive, space exhibits including the real Apollo 6 space capsule and a meteorite collection, and an extensive taxidermy collection.
The museum also features a planetarium where you can zoom across the night sky as you learn about the galaxy, as well as an observatory with free public observations offered every clear Thursday and Friday evening.
Nerdy Restaurants and Bars in Atlanta
Battle & Brew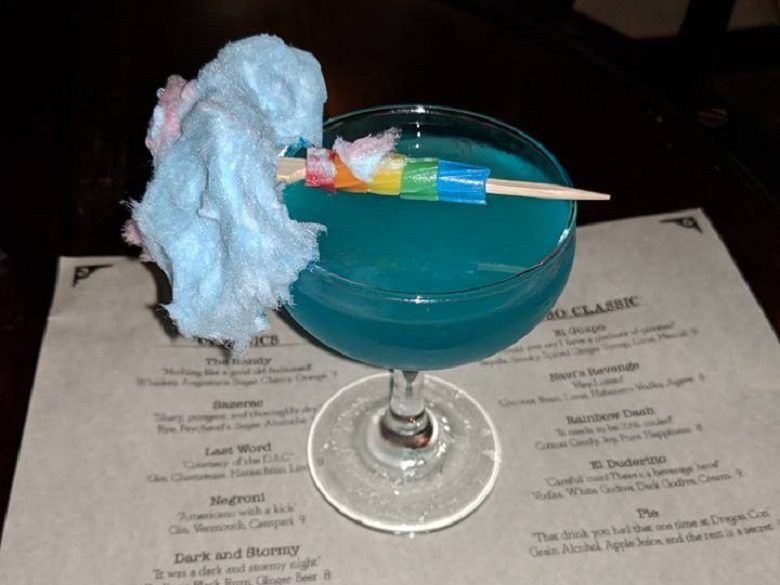 Battle & Brew in Sandy Springs is the perfect restaurant and bar for gamers with options for PC, console, VR, and tabletop gaming. You can play by the hour solo or with a group on the best games for Nintendo, Playstation, Xbox, PC, and tabletop, or grab unlimited board games for the night. The restaurant also hosts weekly events like Geek Trivia, sometimes with special themes, viewing parties, tournaments, cosplay nights, and more.
On the menu, they have what has been voted one of the best burgers in Sandy Springs, sandwiches, and bar bites. They have plenty of local beers on tap and craft cocktails and shots with geeky names.
They allow all ages during the day, but anyone under 18 requires a parent or guardian at all times. The bar is restricted to 21+ after 11 p.m.
Joystick Gamebar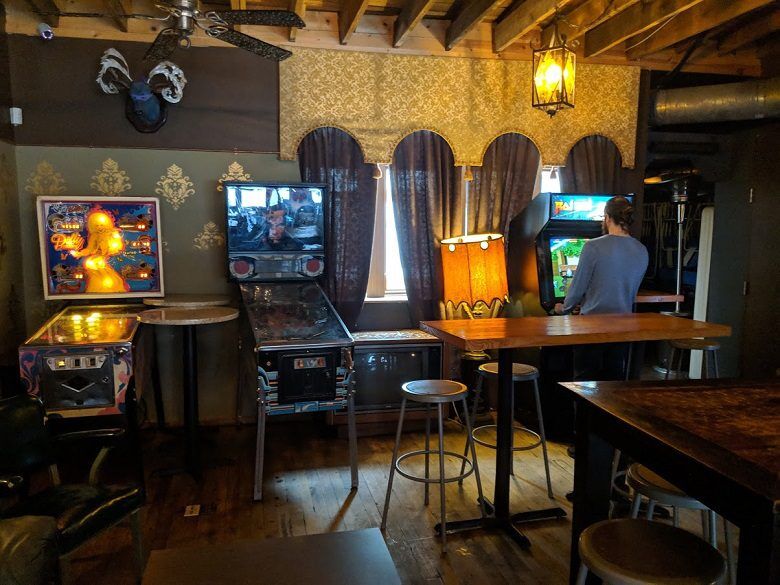 Joystick Gamebar is a nerdy dive bar in the Sweet Auburn District of Atlanta. This bar has classic arcade games, tabletop gaming, and plenty of drinks. They've got all your favorites like Mortal Kombat, Ms. Pacman, Frogger, Space Invaders, pinball machines, foosball, and various free board games.
A night out here will be pretty easy on your wallet. The arcade games only cost $0.25 each, and the draft beers and craft cocktails are on the cheaper side while still being delicious.
Minors must be accompanied by an adult during the day, and the bar is 21+ after 8 p.m.
My Parents' Basement
A combination comic book store and neighborhood eatery, My Parent's Basement in Avondale Estates is a great place for nerds. The concept is a delicious beer bar and an epic comic book store in one. They also have 20 pinball machines, making them the home for pinball fanatics in Atlanta.
On the menu, you'll find nostalgic snacks reimagined into small plates and seasonal options, a full bar selection, and plenty of draft beers.
In the store, you'll find new issues, trade paper backs, and rarities. You can hunt the shelves yourself or have a qualified staff member help point you in the right direction and talk nerdy to you.
Savage Pizza
Savage Pizza is one of the most popular restaurants in Little Five Points. This super-hero themed pizza joint is the perfect place for you and your nerd friends to hang out for lunch or dinner.
They serve specialty pies made with homemade sauce and dough alongside beer and wine. While pizza is the main event, they also serve salads, calzones, and Italian sub sandwiches.
Savage Pizza has two locations: the original in Little Five Points and the other in Avondale Estates.
The Bookhouse Pub
Book nerds will love hanging out at The Bookhouse Pub. This literary-themed pub has books lining the walls and funky artwork of your favorite fictional characters. The bar is inspired by Twin Peaks, and you can expect to see episodes of the mystery and other favorite nerd shows playing on the TVs.
On the menu, you'll find pub foods from wings to burgers and sandwiches.
Viking Alchemist Meadery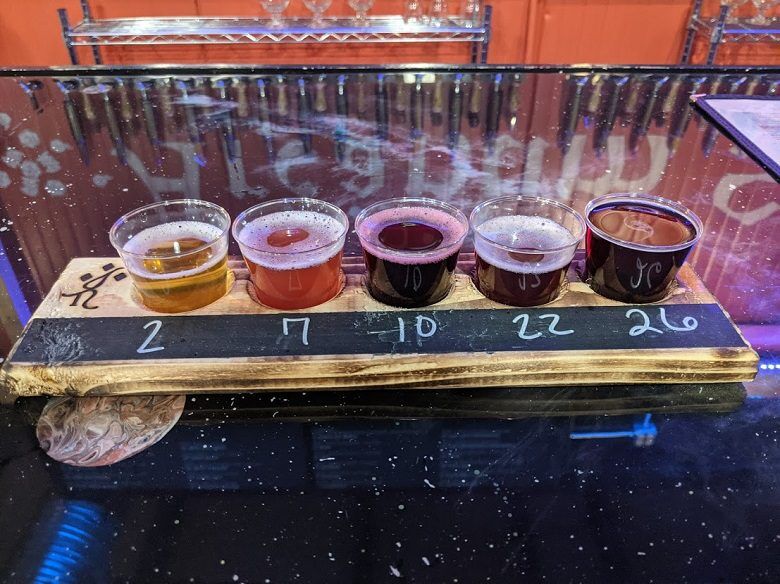 Viking Alchemist Meadery is an award-winning meadery, voted "Best Mead in Georgia" in the Georgia Trustees Wine & Spirits Challenge three years in a row. Mead, an alcohol made from fermented honey, was the staple of European villagers and is now making a comeback.
Their tasting room in Smyrna has a 48-tap wall of mead and cider serving flights, pours, and bottle sales. They have plenty of seating, classic board games you can play, and nerdy events from karaoke to trivia.
Their tasting room and collaborative space next door to Ironmonger Brewing in Marietta has an 18-tap wall for pours, flights, growler fills, and bottle sales. You can enjoy axe throwing, live performances, and other events typically hosted by Ironmonger Brewing.
Nerdy Events in Atlanta
Georgia Renaissance Festival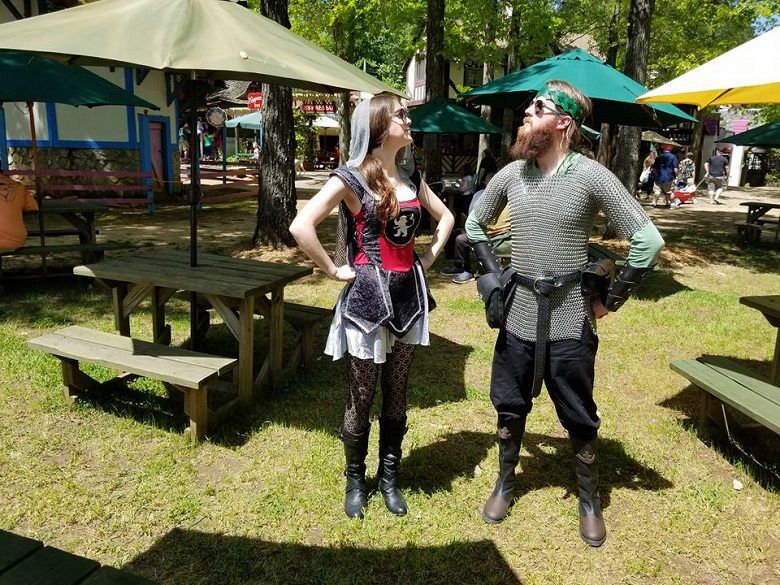 The Georgia Renaissance Festival covers a 32 acre village filled with over 150 artisan craft shops, shows of skill, taverns, and food stalls. For eight weekends every spring through summer for 37 years, this festival has brought a 16th century English fair to metro-Atlanta. The Southeast Tourism Society has even named the Georgia Renaissance Festival as one of the Top 20 Events in the Southern United States to experience.
This is the perfect experience for nerds of all kinds. The festival hosts themed weekends including cosplay, pirate, Highland, and more. Wizards, time-traveling doctors, orcs, and super heroes can all mix and mingle and have 16th century fun.
Dragon Con
Dragon Con, held every Labor Day weekend, brings together nerds across science fiction, fantasy, gaming, comics, literature, art music, and film. It's one of the most well attended pop-culture conventions in the country.
There are costume contests, live performances, reading sessions, workshops for voice acting and board game design, role playing, video gaming, an artist alley, vendors, and so much more.
MomoCon
MomoCon brings together fans of Japanese Anime, American animation, comics, video games, and tabletop games. This 4 day event has been held in Atlanta since 2005.
The event features cosplay, concerts, contests, digital tournaments, fan photoshoots, tabletop and card games, and more.
Anime Weekend Atlanta
Anime Weekend Atlanta (AWA) is an annual 4 day convention celebrating Japanese culture, anime, manga, and just a dash of general pop culture. AWA is the largest anime convention in the Southeast.
The event if full of cosplay, video games, tabletop games, video rooms, an artist and vendor exhibit hall, a manga library, the Kuma Kuma Maid Cafe, and more.
Related: For another great nerdy city, check out these geeky things to do in Huntsville, Alabama!
Where to Stay in Atlanta
Find the perfect place to rest your head on your visit to Atlanta, from the top rated accommodations to unique stays you can't get anywhere else.
Craving More Atlanta Activities?
If you need more things to do while visiting Atlanta, check out these top posts:
---
Ready to visit Atlanta, Georgia? Plan your trip with these tips.
---
Cheers!
Paige
Have you visited any of these nerdy spots in Atlanta? Let me know in the comments!