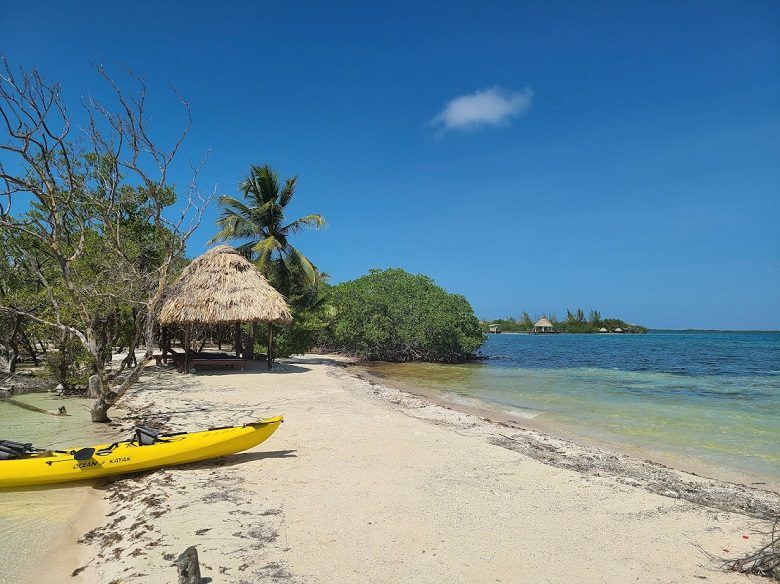 Belize is an amazing honeymoon spot perfect for adventurous couples and for those couples who want to lounge on a beach with a cocktail in hand. The small country has beautiful beaches, welcoming people, and access to the world's second largest barrier reef. Find out the most romantic place to stay and things to do in this guide to taking a honeymoon in Belize.
A Covid Honeymoon 2.0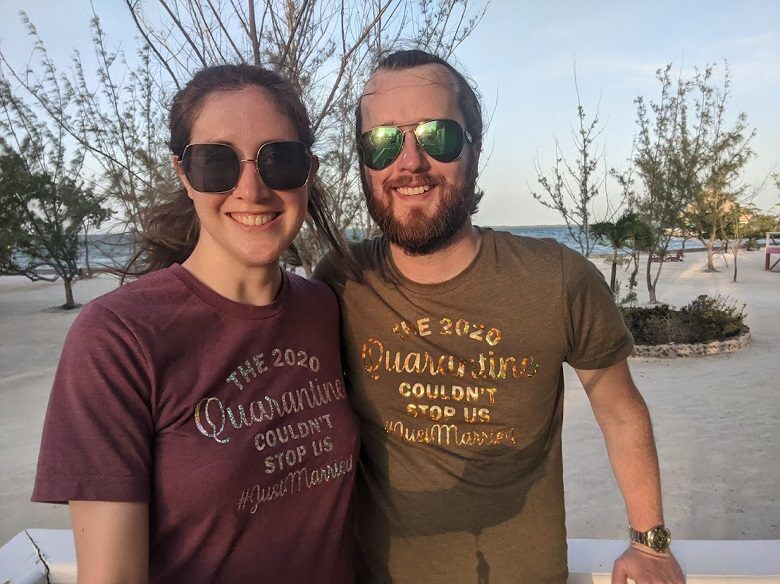 If you're reading this post thinking, "Paige, didn't you have a honeymoon last year in Savannah?" the answer is yes, yes we did.
That was our domestic honeymoon. This is our international honeymoon!
Belize was our original honeymoon plan for 2020. But thanks to the pandemic, Belize was closed in September 2020 and we had to postpone. Luckily, we managed to fit it in this year!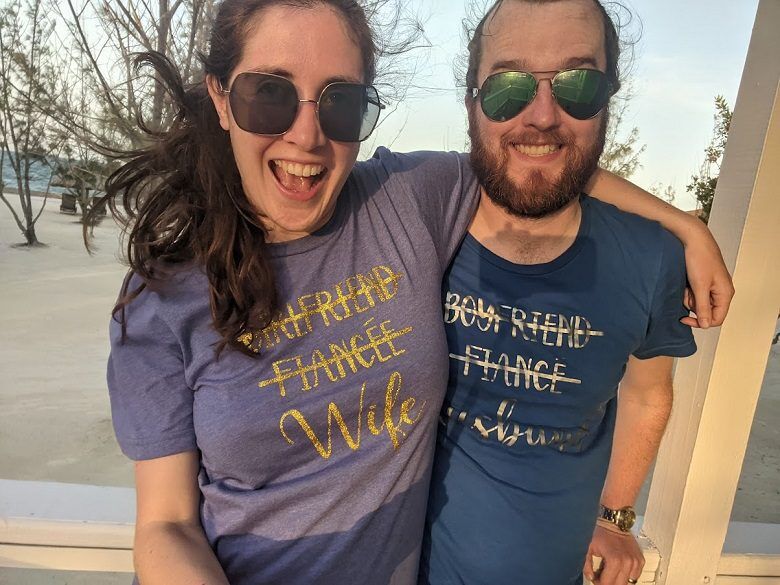 Love our fun t-shirts? Get them on Etsy! Buy Wife and Husband Shirt here.
For our Belizean honeymoon, we opted for an itinerary with a little adventure and a lot of relaxation. We spent an amazing 8 days in paradise enjoying the sun, sand, and culture of Belize.
Where to Stay for Your Romantic Belize Honeymoon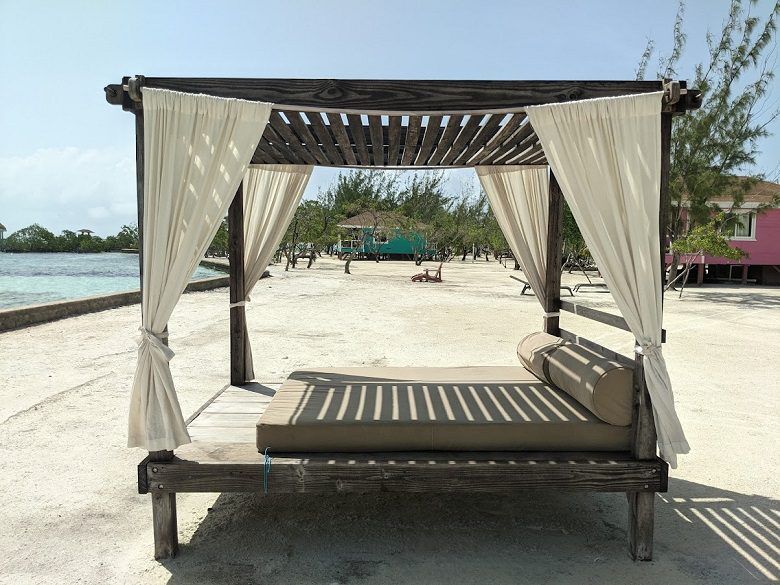 Probably the most important thing to figure out for your Belize honeymoon is where to stay. The resort really makes the honeymoon, and I'm happy to say we found the most amazing resort in Belize!
Kevin and I stayed at the Coco Plum Island Resort. This adults-only, all-inclusive resort is located on its own private island with only 18 private, ocean-front cabanas, so it is the ultimate getaway.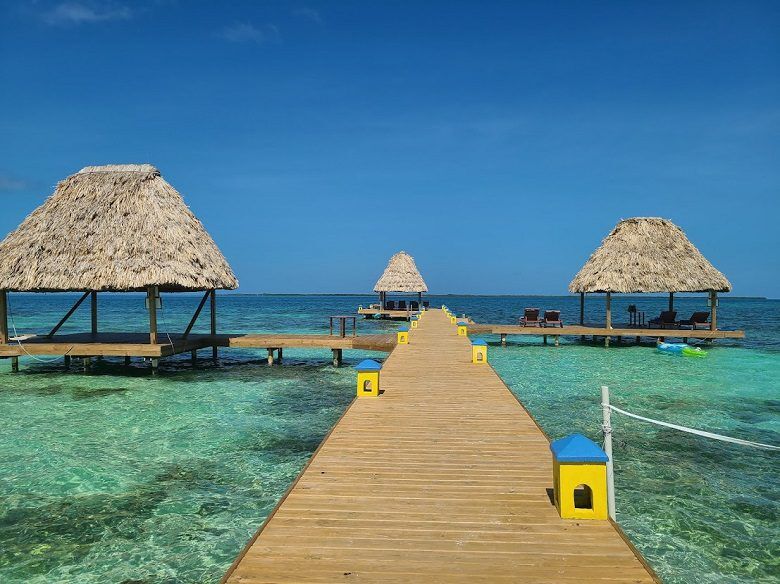 Coco Plum has some of the most inclusive all-inclusive packages I've ever seen. For the Honeymoon Package we were on: meals are included; local alcoholic drinks are included; air transfer from Belize City to the small town of Dangriga is included; boat transfer from the mainland is included; mainland tours are included; snorkeling tours are included; water activities like kayaking and stand up paddle boarding are included; and a romantic candlelight dinner with a bottle of wine on the overwater docks is included.
All the stress of planning a honeymoon, completely gone. You just get to sit back, relax, and enjoy.
Read more about our stay at Coco Plum here!
Other excellent resort options for your Belize honeymoon include:
Romantic Things to Do on a Belize Honeymoon
How do your spend your 8 days in paradise? Belize has plenty to do for couples, whether you're looking for adventures together or relaxing on a beach together.
Relax by the Beach or Pool
Belize has 240 miles of coastline, and when you're staying at a private island resort the beach is in any direction you walk!
We spent half of our time just lounging by the resort's crystal clear waters, reading a book, and sipping on cocktails.
I got to know all of Coco Plum's seating options: the lounge chairs on the overwater docks, the hammocks on the overwater docks, the lounge chairs under palm leaf umbrellas, the beach beds, the other overwater hammocks, the chairs on our cabana porch, the pool floats…there were so many relaxing place to lounge!
Snorkel the Belize Barrier Reef
The Belize Barrier Reef is the second largest living reef in the world. The waters around the reef are so clear, you get visibility ranging from 60 to 100 feet.
That means you can have close encounters with eagle rays, sea turtles, a variety of fish, and sometimes even dolphins or friendly nurse sharks. We even had a Remora follow us for an entire snorkeling expedition; these fish are known for attaching themselves to large objects like boats, whales, and sharks.
Find Belize snorkeling tours here.
Climb the Xunantunich Maya Ruins
Belize is a small country and you can cross from east to west in a couple hours. All the way inland, a 2.5 hour drive from Dangriga, just before the border to Guatemala, are the Maya ruins of Xunantunich (pronounced shoo-nan-too-nitch).
To get to the Xunantunich ruins, you have to cross the Mopan River on a hand-cranked ferry, drive up a ridge, and walk up a steep hill. The large archaeological site was once a major ceremonial site and vibrant society.
The impressive stone structures have been excavated and restored. You can climb to the top of El Castillo, the tallest structure on the site as well as the second tallest structure in Belize, and the smaller A-1 structure. From the top of El Castillo, you'll have an amazing panoramic view of the Maya ruins, Belize, and Guatemala.
Find Xunantunich Maya ruin tours here.
Cave Tubing and Ziplining at the Nohoch Che'en Caves Branch Archaeological Reserve
The Nohoch Che'en Caves Branch Archaeological Reserve is an adventurer's paradise in the Belizean wilderness. Here, they have ziplining and cave tubing at an ancient Maya underground site.
For ziplining, we did a 6-line course high above the Belize rainforest with lines ranging from 100 to 500 feet long. The last two lines zip over the Caves Branch River for some amazing views. Be sure to bring along your GoPro to attach to the top of your helmet for fun video mementos!
Afterwards, we grabbed some tubes, lifejackets, and headlamps and set out on a 30 minute hike to the start of the cave tubing. It's a leisurely float in the cool, crystal clear waters of the Caves Branch River through the mouth of an ancient Maya underground cave. This is another great GoPro opportunity as they have helmets to attach the camera to.
Find cave tubing and zip-lining tours here.
Try Out Kayaking or Stand Up Paddle Boarding
We were lucky that our resort provided kayaks and stand up paddle boards for us to use anytime while on the island. We definitely took advantage of them and explored around the island multiple times.
One day we kayaked around the entire Coco Plum Island; another day we kayaked around a neighboring island resort; and another day we took the paddle boards out for a short trip. We even got the kayaks out to go find the manatees that liked to visit the island in the mornings, and we actually saw one up close!
There are also kayaking tours at Nohoch Che'en that allow you to explore the cave system, kayaking on the Mopan River, and more.
Find Belize kayaking tours here.
Get a Relaxing Massage
Your honeymoon in Belize is your chance to unwind. This is the perfect time to indulge in a little spa serenity.
While at Coco Plum, I got pampered with a massage on the outdoor spa deck, breathing in the fresh ocean air and listening to the waves crash against the shore. Nothing has made me feel more relaxed.
Where to Eat on Your Romantic Honeymoon in Belize
Since we spent most of our days on the island at Coco Plum, I don't have a lot of recommendations for food. But I do have three great places we stopped at during our mainland excursions that I can recommend!
Benny's Kitchen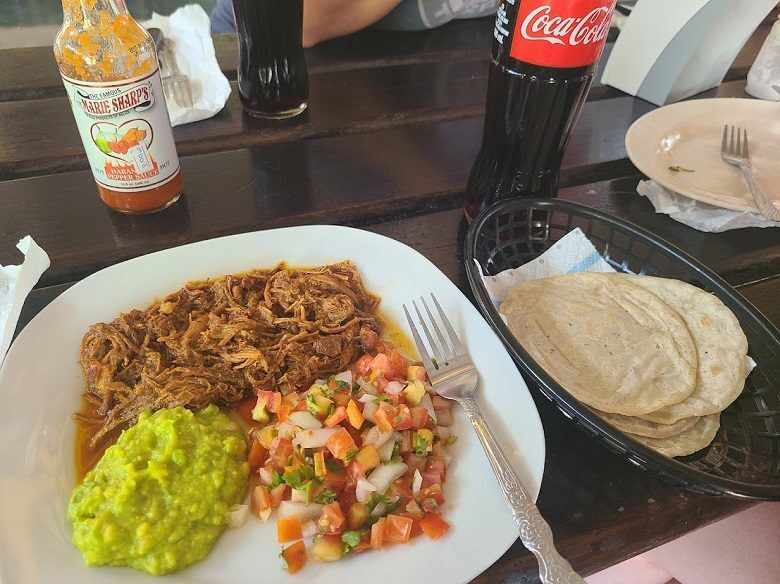 Benny's Kitchen in San Jose Succotz is just down the street from the river crossing to Xunantunich. This open-air restaurant serves authentic Maya dishes. If you like pork, order the Pibil, a slow-roasted pork dish cooked for hours underground.
Miss Bertha's Tamales
Miss Bertha's Tamales in Middlesex is a roadside stop on the Hummingbird Highway. The tamales are hot and spicy, the prices are great, and our tour guide said they're second-best only to his own mothers' tamales!
Splash Restaurant and Bar
Splash is located at the Nohoch Che'en Archaeological Reserve and serves delicious Belizean cuisine like stewed chicken, wings, and beans & rice.
Start Planning Your Romantic Belize Honeymoon!
Start planning your one-of-a-kind honeymoon getaway to Belize! I hope this handy guide to this beautiful country helps you discover all that Belize has to offer.
More Belize Travel Tips
---
Ready to honeymoon in Belize? Plan your trip with these tips.
---
Cheers!
Paige
Have you spent a romantic honeymoon in Belize? Let me know in the comments!