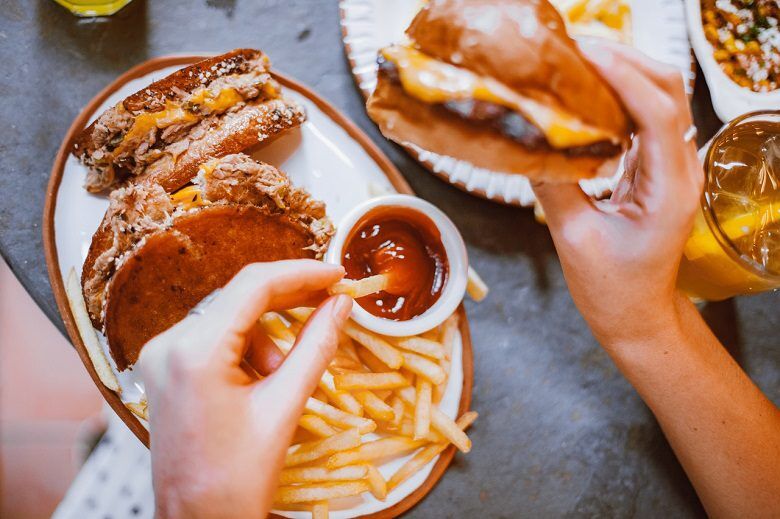 Decatur is one of the most popular areas in Atlanta. Located inside the Perimeter just a few miles from Downtown Atlanta, Decatur is a great location for foodies with plenty of delicious restaurants to explore. Check out the best restaurants in Decatur here.
Are you a foodie looking to explore Decatur, Georgia's vibrant restaurant scene? Then you've come to the right place!
From upscale gastropubs to cozy coffee houses and everything in between, there are so many delicious eateries to choose from in this charming Southern city.
Whether you're a local looking for new favorites, or a visitor wanting a unique taste of Decatur's culture, here are the best must-visit restaurants in Decatur.
Top Restaurants in Decatur
This small town within the big city is full of delicious eats. From brunch to burgers to Asian fusion, here are the best restaurants and places to eat in Decatur, Georgia.
1. Ms. Icey's Kitchen & Bar
Ms. Icey's Kitchen & Bar in North Decatur is one of the top brunch spots in Atlanta. In addition to brunch offered Wednesday to Sunday from 11 a.m. to 4 p.m., Ms. Icey's also offers a comfort-filled dinner menu.
On the menu, you'll find a fusion of Southern and Caribbean cuisine with a little global fare. You can expect everything from Chicken & Waffles to succulent jerk lamb ribs to a savory Dominican saltfish mangu.
1371 Clairmont Rd, Decatur, GA 30033
2. Grindhouse Killer Burgers
Grindhouse Killer Burgers has been known as the place to get great burgers in Atlanta since opening in 2009. You can get their killer burgers all over the city, including locations in Downtown Decatur, on Piedmont Avenue, on Memorial Drive, in Brookhaven, in Athens, and even at two terminals at the Atlanta airport.
Style your own burger or get it in one of their fun signature burger styles like Hillbilly Style (with pimento cheese, jalapenos, chili, and red onion) or Yankee Style (with bleu cheese, bacon, grilled onions, and mixed greens).
433 N McDonough St, Decatur, GA 30030
3. Chai Pani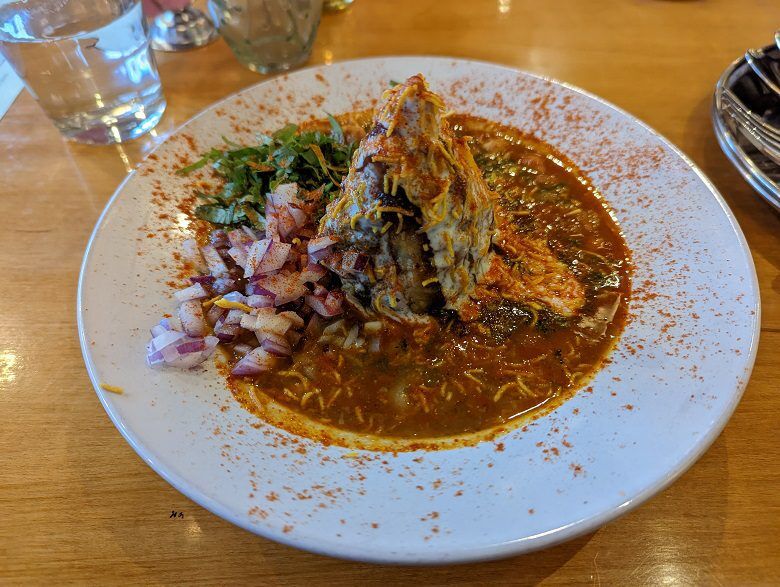 Chai Pani in Downtown Decatur serves delicious Indian street food that will make you feel like you're in the middle of Mumbai. Their menu also offers traditional Indian dishes, but they're most known for their street snacks, or chaat, like samosas covered in chutney, okra fries, and crunchy kale fritters.
Their meat and vegetables are sourced from local and regional farmers in the U.S., like chicken and catfish from North Carolina and sustainably raised lamb from Pennsylvania.
406 W Ponce de Leon Ave, Decatur, GA 30030
4. Leon's Full Service
Leon's Full Service is located in the restaurant hub of Downtown Decatur. This unique restaurant has transformed an old gas station into a modern restaurant. They've kept the service, hospitality, and guest satisfaction of the good old days at a full-service gas station, though.
On the menu, you'll find an array of dishes from burgers to scallops and tasty craft cocktails. Their heated covered patio is a perfect outdoor experience, and they have a bocce ball court to help keep you and the kids entertained while you wait for your food.
131 E Ponce de Leon Ave, Decatur, GA 30030
5. Kimball House
The Kimball House occupies a space that was once an 1891 train station. This sleek restaurant resembles something out of The Great Gatsby and is a great spot for seafood lovers. You can enjoy fresh oysters from the raw bar while you sip a carefully crafted cocktail from their unique menu.
The Kimball House is a great date night spot; you and your sweetie can grab a drink at the big wooden bar or head out to the patio to enjoy the night air.
303 E Howard Ave, Decatur, GA 30030
6. The Po'Boy Shop
The Po'Boy Shop in Decatur is a no frills restaurant that specializes in the po'boy. Their po'boy sandwiches are made with genuine New Orleans Leidenheimer bread and are offered in a wide variety of meats from shrimp to catfish to alligator to slow-roasted beef.
They also serve authentic muffalatas, fried seafood platters, and Cajun classics like gumbo, jambalaya, and red beans and rice. Check out their expanded restaurant with an upstairs dining room and a basement bar with table service.
1369 Clairmont Rd, Decatur, GA 30033
7. Louisiana Bistreaux Seafood Kitchen
Louisiana Bistreaux Seafood Kitchen serves classic Cajun favorites like fresh seafood, steaks, gumbo, jambalaya, étouffée, and more. Try their signature dishes like the Crawtator Grouper crusted with Zapp's crawtator chips in a Cajun crawfish cream sauce and served with jalapeno gouda grits, Redfish Louisianne topped with shrimp and étouffée sauce served with corn maque choux and dirty rice, or Sriracha Chicken made with spicy Sriracha basil chili sauce and served with Brabant potatoes.
This popular Cajun restaurant has locations in Decatur, Buckhead, and East Point, with a new location coming soon to Perimeter.
1496 Church St, Decatur, GA 30030
8. Kafenio Avondale
Kafenio Avondale is a Greek café serving coffee, all day breakfast, gyros, salads, wraps, domestic craft beer, and an assortment of Greek and Mediterranean wine. This upbeat and modern version of the traditional Mediterranean kafenio puts an emphasis on the flavors of the Mediterranean.
Try the Greek Omelet with lamb gyro, feta, and sliced tomato, or the Classic Gyro Wrap with rotisserie lamb/beef, tzatziki, and a feta spread.
2700 E College Ave #3000, Decatur, GA 30030
9. Gokul Sweets
Gokul Sweets is a unique Indian restaurant that specializes in all-vegetarian cuisine, Indian snacks, and heavenly desserts. This popular spot has locations in Decatur and Duluth.
The restaurant is a confectioner's dream with heavenly, sugary creations like badam barfi (buttery almond candy cut into squares) and adventurous options like a Falooda (a saffron or pistachio flavored milk shake with vanilla ice cream, black jelly beans, and noodles).
1707 Church Street, 8 C-8 C, Decatur, GA 30033
10. The Iberian Pig
The Iberian Pig is a modern Spanish tapas restaurant with a menu of tapas, entrees, cocktails, and wine. Their menu is inspired by the Iberian Peninsula, so you can find plenty of cured meats and cheeses, including the famed Jamon Iberico.
I loved their Iberico Croquetas and Gambas Al Ajillo. I've also had a pitcher of their house sangria and it was phenomenal.
They have another location in Buckhead that is perfect for a girls' night out, too
121 Sycamore St, Decatur, GA 30030
Decatur Restaurants Map
Are you ready to get a taste of Decatur? Decatur is filled to the brim with fantastic restaurants! Use the map below to help you plan out your next meal in Decatur, Georgia.
Decatur is sure to have something that will satisfy even the most experienced foodie. Make sure you add these top Decatur restaurants to your must-eat list! Bon appétit!
Read next: Decatur Ghost Tour Review: Discover Haunted Downtown Decatur, Georgia
Where to Stay in Atlanta
Find the perfect place to rest your head on your visit to Atlanta, from the top rated accommodations to unique stays you can't get anywhere else.
Top Atlanta Tours
With so much to see, Atlanta can be overwhelming for any first-time traveler. To take some of the stress out of planning your visit, opt for a guided tour! Check out this list of the top Atlanta tours to help you make the most of your time in Georgia's capital city.
Craving More Atlanta Activities?
If you need more things to do while visiting Atlanta, check out these top posts:
---
Ready to visit Atlanta, Georgia? Plan your trip with these tips.
---
Cheers!
Paige
What are your favorite restaurants in Decatur, Georgia? Let me know in the comments!