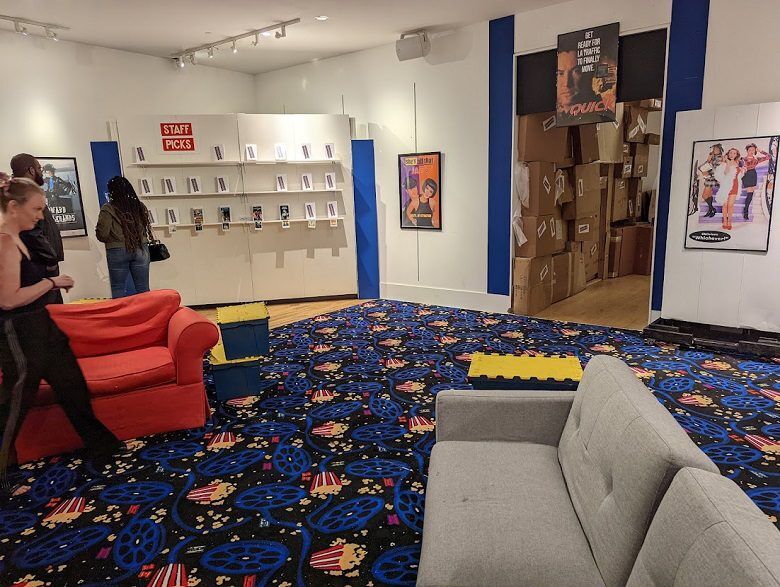 Calling all 90s kids — there's a new immersive experience in town, and it's just for you! During the Save the Video Store immersive theatrical experience, you'll help save the MovieBuster video rental store from almost certain doom.
Note: This experience has ended. I will update the post if they return (which they have done before, so stay tuned!).
A special thanks to Save the Video Store for providing us with VIP tickets to this experience! As always, all opinions are my own.
Save the Video Store at The Avenue West Cobb is a trip back in time to a doomed VHS store. For 75 minutes, you get to live your 90s nostalgia dreams and enjoy an immersive theatrical experience full of over-the-top movie tropes and zany characters.
Save the Video Store Review
It's the 1990s again and you're off to rent a movie from the local MovieBuster video store. Don your best 90s garb and join the line as you wait for the teenage employees to open up the store.
Once you're in the store and looking for your next rental, everything starts to go wrong. First, they don't have Titanic. Then there's everything from a bomb to a volcano eruption to an alien invasion. You and your peers, along with the employees and video store regulars, will have to save MovieBuster from destruction.
To save the store, you'll have to take part in a series of games. There's one where you have to find and sort candy, another where you have to race to re-shelve the VHS returns, and a trivia game for the 90s film aficionados.
You'll recognize plenty of iconic 90s movie tropes and characters used in the story line, from the annoying kid brother to the nerd trying to get the popular girl. Sometimes the 90s references are subtle and it takes you a minute to catch it. The recreated video store has some nice touches, like movie posters with the names changed and parodied. There's a lot of nostalgia that 90s kids and 90s fanatics will love.
Your experience can be as interactive as you'd like. You can just sit and watch, or you can join in on the games and fun.
Employee Lounge Bar
After saving the video store, assuming the store is still standing, the employees will invite you back to the Sci-Fi-themed Employee Lounge bar.
You can grab a movie-themed cocktail (or mocktail) made with things like Capri Sun and Kool-Aid Burst. They also sell 90s merchandise and snacks like chips and candy.
Save the Video Store Details
Note: This experience has ended. I will update the post if they return (which they have done before, so stay tuned!).
The original run of Save the Video Store is over, as is the Save the Video Store 2.0: A Y2K Horror Experience for the Halloween season. The experience will run every weekend from September 16, 2022 through November 6, 2022.
The experience is rated PG-13, so anyone under 13 must attend with an adult.
Tickets cost $38.50 per person.
90s attire is encouraged, but not required, in order for you to fit in with the cast and get the full movie experience.
The experience lasts 75 minutes. Arrive at least 15 minutes early in order to check-in; due to the dangers of time travel, no one will be admitted more than 15 minutes after the scheduled start time.
Save the Video Store 2.0 is located at Underground Atlanta on Upper Alabama St.
Get your tickets here!
Craving More Atlanta Activities?
If you need more things to do while visiting Atlanta, check out these top posts:
Where to Stay in Atlanta
Find the perfect place to rest your head on your visit to Atlanta, from the top rated accommodations to unique stays you can't get anywhere else.
---
Ready to visit Atlanta, Georgia? Plan your trip with these tips.
---
Cheers!
Paige
Have you been able to Save the Video Store? Let me know in the comments!