Take a short but slightly challenging hike up to the top of Kennesaw Mountain for great views of the Atlanta skyline and the surrounding city. Read more about hiking the Kennesaw Mountain Trail here.
Kennesaw Mountain National Battlefield Park is an expansive nature preserve offering miles of hiking trails and breathtaking mountain views.
Whether you want to explore an old Civil War battle site or a hiker looking for a short but challenging hike, the Kennesaw Mountain Trail has something for you.
About Kennesaw Mountain National Battlefield Park
Kennesaw Mountain National Battlefield Park preserves a Civil War battleground of the Atlanta Campaign. The park's 22 miles of trails makes it a popular hiking destination in Atlanta. The park's Kennesaw Mountain Trail is its most popular trail, offering amazing views of the Atlanta skyline and the metro-Atlanta area.
Hiking the Kennesaw Mountain Trail
The hike up the mountain takes the Kennesaw Mountain Trail. The trail begins at the base of the mountain behind the visitors center.
First, the trail climbs sharply at the start; this is by far the most difficult part of the hike. The trail then takes you up a total of 680 feet in one mile, passing entrenchments, Civil War-era fences, and historical markers.
Kennesaw Mountain Overlook
The path levels off at a 19th century mountain road, then continues to climb the rest of the way to the top of the mountain. Up a steep set of stairs you'll come to a parking lot offering the first set of spectacular views.
But the trail continues up the stairs and on a paved path, past the Georgia Memorial and a display of cannons, to the summit of the mountain. Here you can see Cobb County, Buckhead, Stone Mountain and Atlanta to the south and Kennesaw and the southern tip of the Appalachian Mountains to the north.
Heading back down the mountain, the green space at the summit parking lot is the perfect place to lay back, catch your breath, and enjoy the weather, and to take cute selfies.
The trail is all downhill from there back to the visitor's center, making for a much more manageable hike than the way up. The hike completes at about 2.4 miles back at the parking lot.
Hiking Essentials
Come prepared for your hike by making sure you pack the essentials. Check out this must-have hiking gear before you set off on the trails:
Nearby Hiking Trails
Looking for more hiking trails in Atlanta? Check out more of these amazing Georgia hikes:
---
Ready to visit Atlanta, Georgia? Plan your trip with these tips.
---
Cheers!
Paige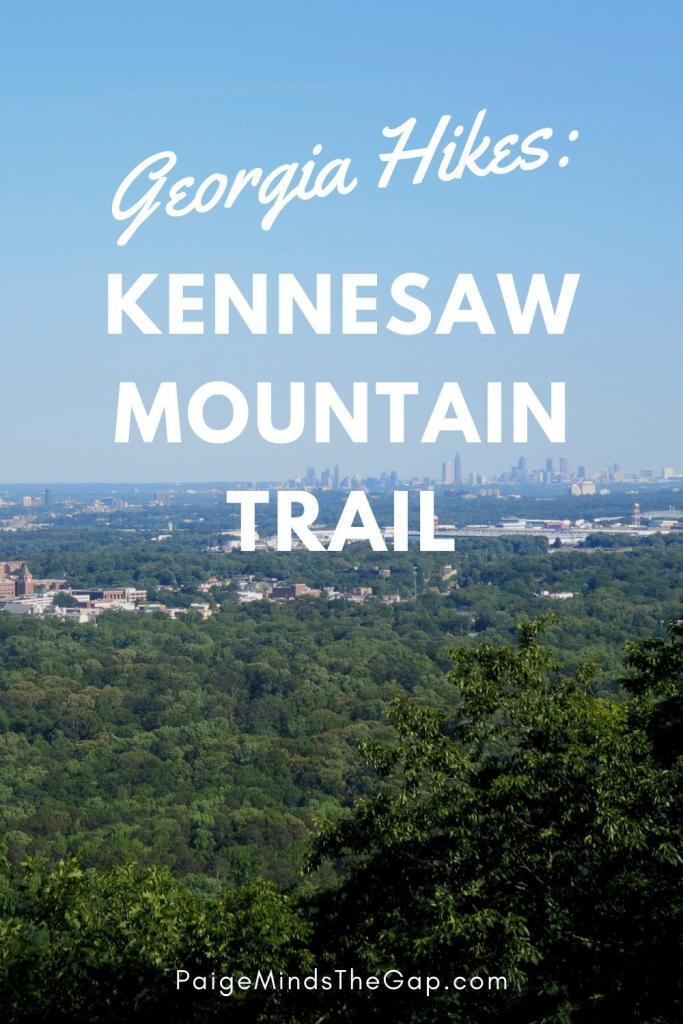 Have you hiked the Kennesaw Mountain Trail? Let me know in the comments.