You may have seen an AmazingCo Mystery Picnic popping up in your search for great gifts for travelers or cute date ideas in your area. What is an AmazingCo Mystery Picnic, and is it worth buying? I answer these questions with my honest AmazingCo Mystery Picnic Review.
My Mystery Picnic experience was hosted by AmazingCo. As always, all opinions are my own.
AmazingCo Mystery Picnic Review
About AmazingCo
AmazingCo offers unique experiences for couples, families, and friends. These experiences range from mystery picnics and mystery weekend getaways to food walks and secret menu tasters.
They offer a variety of experiences in 50 cities across North America, Australia, New Zealand, and the United Kingdom.
Mystery Picnic Review
An AmazingCo Mystery Picnic is a self-guided food and adventure tour. Your whole day is already planned out for you with 5 mystery stops with your final picnic destination a complete surprise. You only get to your next destination by solving clues on your smart phone.
Kevin and I did one of the Mystery Picnic Dates in Roswell. This was a great outing to spend together just a couple weeks before our wedding.
Read next: AmazingCo Mystery Weekend Review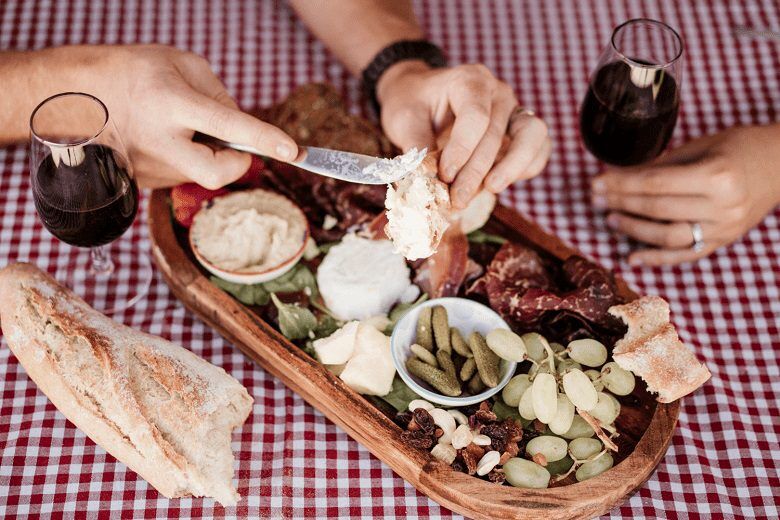 Starting Your Mystery Picnic
The day before your Mystery Picnic, AmazingCo will send you access to your clues. If you want to keep everything a surprise, you should only solve the first clue for your first stop before you head out.
If you need to plan for traffic or travel time, you should solve your first clue the day before. Otherwise, it keeps with the fun and mystery to save that first clue for the day of your adventure.
You can start your adventure any time you want. But since you're picking up items for a picnic lunch and your adventure can take around 3 hours, you'll probably want to get an early start. One problem we ran into was being too early and one of our stops not being open yet. If you start around 10 a.m., most shops and stops on your adventure should be open.
You'll collect your picnic basket and utensils at your first stop along with your first food item.
If you have any trouble figuring out the clues, don't worry — there is a hint button and a final reveal button. I'd recommend always going through to the reveal to double check you got it right before heading on to your next stop. The answer page also gives you more information about your next location.
What to Bring on Your Picnic
Your confirmation email will tell you if there's anything specific you need to bring on your Mystery Picnic. Here are a few ideas:
Your smartphone
A picnic blanket
Extra water
Comfortable walking shoes
A pen and paper for solving clues
The Food
With 4 different stops that included picking up food items at each, there was plenty of food for the two of us. We even had some left over to take home. Here's some of the food we picked up on our Mystery Picnic:
A meat and cheese plate with bread, olives, pickles, and sauces
A small bottle of olive oil
Artisanal chocolates
Salads
A fruit medley
Two sparkling waters
The Activities
Throughout your adventure, AmazingCo will provide bonus stops in the area that you can explore. Some of our recommendations included an art gallery that was within walking distance and a hiking trail that was within driving distance. Many of the experiences include a hiking trail option.
My only problem with this is that it isn't clear when you'll need to drive to an additional location and when you can just walk. We were already familiar with the area and knew that the hiking location would require driving; and it didn't make sense to us to drive out to hike and then have to come right back to where we started for our next location.
AmazingCo also provides some extra activities like conversation starters and a trivia game. These were fun for passing the time and connecting with each other while we ate our picnic spread.
Add-ons
When you book your Mystery Picnic, you have the option of the regular all-inclusive picnic or a premium experience. The premium experience includes a specialty snack, a hot drink on-the-go, and a bonus stop.
You can also add on a bottle of red wine, a bottle of white wine, and a luxe picnic setup that includes rented servingware ready at your last location.
I didn't do any of the upgrades, so I can't really speak to their quality.
The Picnic Location
The final picnic location is likely a popular park in the area, so you shouldn't expect a secluded picnic experience.
Parking was a little tricky at our location, but we had no trouble finding a spot to picnic once we were in the park.
If you don't like the location, can't find parking, or it's too crowded, you can always pick one of the spots you explored along the way. Since most of the experiences include hiking, you can probably head over to the hiking spot and find a place to picnic.
AmazingCo Mystery Picnic Pros and Cons
Pros:
You don't have to plan a thing. Just solve the clues and head to your next stop! It's a stress-free date day or family outing.
The self-guided nature of the experience means you get to take your time and spend the day how you want to.
It's a fun way to explore an area, whether you're already familiar with the place or not.
You get to try food and gourmet items from local shops and restaurants.
You get plenty of food and fun. It's a great value for a 3-4 hour experience.
Cons:
Having everything planned out can be pretty restrictive. If you don't like relinquishing control, this isn't the experience for you. While you can specify any dietary restrictions or needs when you book, you still don't have a say in what food you're provided, so this certainly isn't a tour for picky eaters.
It's not always clear when you should walk or drive between locations. If you're not as familiar with the area, this may complicate some things.
Review: Is an AmazingCo Mystery Picnic Worth It?
Overall, we really enjoyed our Mystery Picnic experience. It's fun to have the whole day planned out for you with a little mystery thrown in.
The clues were a medium difficulty, so we didn't have much trouble solving most of them. If we got stuck, we had the handy hint and reveal buttons to help us out.
We had no problems going into each store and picking up our items. Everyone was ready and aware that we were coming for the Mystery Picnic and had our items ready for us.
I think it was a great value for the money. It's certainly a unique way to spend the day; I haven't seen another experience like it. If you like surprises and like having the day planned out for you, then you'll love an AmazingCo Mystery Picnic!
Read next: The Best Travel Experience Gifts You Can Give
---
Ready to take a vacation? Plan your trip with these tips.
---
Cheers!
Paige
Was this AmazingCo Mystery Picnic Review helpful? Have you taken an AmazingCo Mystery Picnic? Let me know what you thought in the comments below!