Satisfy your cravings for pasta, pizza, and seafood at these delicious Italian restaurants in Atlanta. Whether you're in the mood for an upscale ristorante, a cozy neighborhood trattoria, or a quick and easy pizza joint, these top Italian restaurants in Atlanta will hit the spot.
The Top Italian Restaurants in Atlanta
1. Osteria Mattone
Osteria Mattone in Roswell's historic district is a Rome-inspired Italian restaurant that's a favorite of locals. The restaurant's name comes from the Italian word "osteria", referring to a place to enjoy great wine and simple food.
The wine list at Osteria Mattone has won awards every year since they opened in 2013, and their menu consists of simple Italian classics like spago pomodoro with tamato, basil garlic, and parmesan or a tagliolini Bolognese with beef ragu.
1095 Canton St, Roswell, GA 30075
2. il Giallo Osteria & Bar
il Giallo Osteria & Bar in Sandy Springs focuses on the foods and flavors found in Italy's coastal villages, the hand-made pastas found in the mountains and plains, and the cured meats, cheeses, and olive oils from the north and south of Italy.
You can watch your pasta being prepared fresh in the open kitchen. Their popular fresh-caught seafood comes from the Georgia coast.
5920 Roswell Rd B-118, Sandy Springs, GA 30328
3. Double Zero
Double Zero is located on the outskirts of Emory University in Druid Hills. Since opening in 2011, this modern Italian restaurant has served up authentic cuisine inspired by southern Italy.
On the menu, you'll find Neapolitan Pizza, fresh handmade pasta, and classic dishes reimagined as small plates. Their bar has one of the largest liquor collections in Atlanta and an extensive Italian wine selection to pair perfectly with your meal.
1577 N Decatur Rd, Atlanta, GA 30307
4. Campagnolo Restaurant + Bar
Campagnolo Restaurant + Bar in Midtown is a cozy and casual neighborhood trattoria with a large patio space, which opened in 2012 and quickly became a neighborhood favorite.
Their changing, seasonal menus offer classic Italian favorites with creative twists, like the pappardelle with duck confit, and the fettuccine capricciose with wild mushrooms and arugula topped with pecorino cheese.
980 Piedmont Ave NE, Atlanta, GA 30309
5. Storico Fresco Alimentari e Ristorante
Storico Fresco Alimentari e Ristorante in Buckhead is part restaurant, part market, and part pasta company. In the market, you can shop unique imported and hand-crafted retail products. They offer pasta-making classes at their production facility and host chef's tables in their restaurant.
In the restaurant, Storico offers a seasonal menu of freshly made pasta, a hand-crafted Italian wine list, and a covered patio that is open for dining year-round.
3167 Peachtree Rd NE Suite S, Atlanta, GA 30305
6. BoccaLupo
BoccaLupo is an intimate Italian restaurant located in Inman Park. They specialize in handmade pasta dishes made with seasonal ingredients.
From Chef Bruce Logue, BoccaLupo offers a menu of Italian-American cuisine that is full of flavor including pasta, fish, poultry, and meat dishes. They offer a tasting menu that gives you a chance to try several of their amazing dishes.
753 Edgewood Ave NE, Atlanta, GA 30307
7. Sotto Sotto Restaurant
Sotto Sotto Restaurant has been an Italian dining destination in Atlanta's Inman Park since 1999. Their fresh and simple dishes are rooted in centauries of Italian tradition. Chef and owner Riccardo Ullio traveled throughout Italy to study regional Italian cuisine before opening his own restaurants.
On the menu, you'll find traditional dishes like tortelli di Michelangelo Buonarroti, a 15th century dish consisting of ravioli stuffed with veal, chicken and pork in a butter-and-sage sauce, and classic favorites like Fettuccine Alfredo.
313 North Highland Avenue Northeast, Atlanta, GA 30307
8. La Grotta Ristorante
La Grotta Ristorante in Buckhead has been an Atlanta tradition since 1978. This fine dining Italian restaurant overlooks a courtyard garden. They have a dress code of business casual to elegant attire.
Their award-winning menu features Northern Italian cuisine and wines from around the world. Their chefs can even create your favorite dishes that aren't on the menu if they have the ingredients in house.
2637 Peachtree Rd NE, Atlanta, GA 30305
9. Amalfi Cucina & Mercato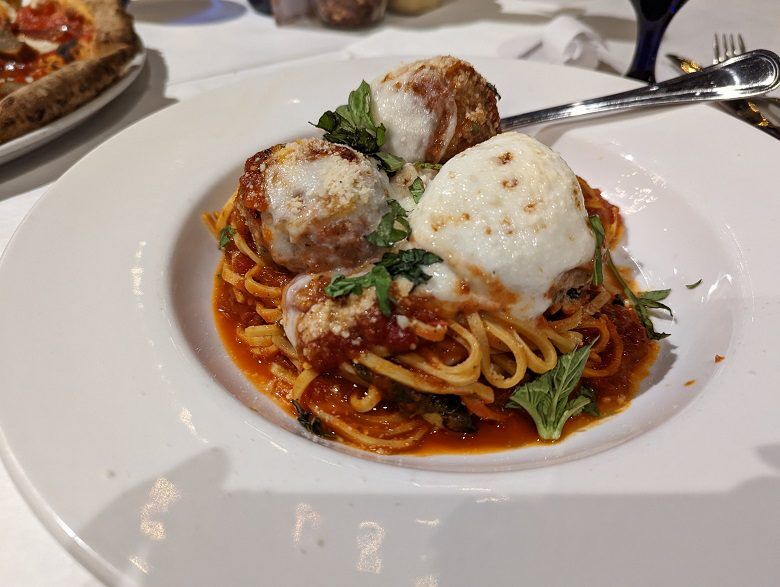 Amalfi Cucina & Mercato is one of the best restaurants for authentic Neapolitan-style pizza. They have two locations, one in Downtown Atlanta and the other in Buckhead.
They're most known for their pizzas ( and the 6,000 pound wood-burning brick oven the pizzas are baked in), but Amalfi has delicious pasta dishes, appetizers, salads, and desserts as well. Go for the Calamari appetizer, Nonna's Spaghetti and Meatballs, the Carne Pizza, and for dessert the Tre Mini Cannolis and Pistachio Tiramisu.
Downtown: 17 Andrew Young International Blvd NE 2nd Floor, Atlanta, GA 30303
Buckhead: 3242 Peachtree Rd NE Ste A, Atlanta, GA 30305
10. La Tavola Trattoria
Located in Virginia-Highland, La Tavola Trattoria is a neighborhood restaurant for classic Italian comfort food housed in a cozy, exposed-brick space with a back patio. Chef Brian Moll's menu focuses on fresh, local ingredients and time-honored culinary traditions.
On the menu, you'll find fan favorites like the classic veal meatballs, a rich tagliatelle Bolognese, and seasonal specials that combine Italian flavors with local Southern ingredients.
992 Virginia Ave NE, Atlanta, GA 30306
Where to Stay in Atlanta
Find the perfect place to rest your head on your visit to Atlanta, from the top rated accommodations to unique stays you can't get anywhere else.
Craving More Atlanta Activities?
If you need more things to do while visiting Atlanta, check out these top posts:
---
Ready to visit Atlanta, Georgia? Plan your trip with these tips.
---
Cheers!
Paige
What are your favorite Italian restaurants in Atlanta? Let me know in the comments!