Go on a ghost tour of Historic Downtown Decatur, Georgia led by a professional psychic medium and paranormal investigator! The Decatur Ghost Tour is a popular Halloween activity in Atlanta with claims of paranormal activity at every stop. Check out my review of the Decatur Ghost Tour here.
For our yearly Halloween tradition, a couple girlfriends and I set out on a ghouls' night out ghost tour around Atlanta. In the past, we've explored Roswell's dark past and Marietta's bloodied history. This time, we made our way to Downtown Decatur for the Decatur Ghost Tour.
Come along as we explore some of the most haunted spots in Decatur, and find out if the Decatur Ghost Tour is worth it!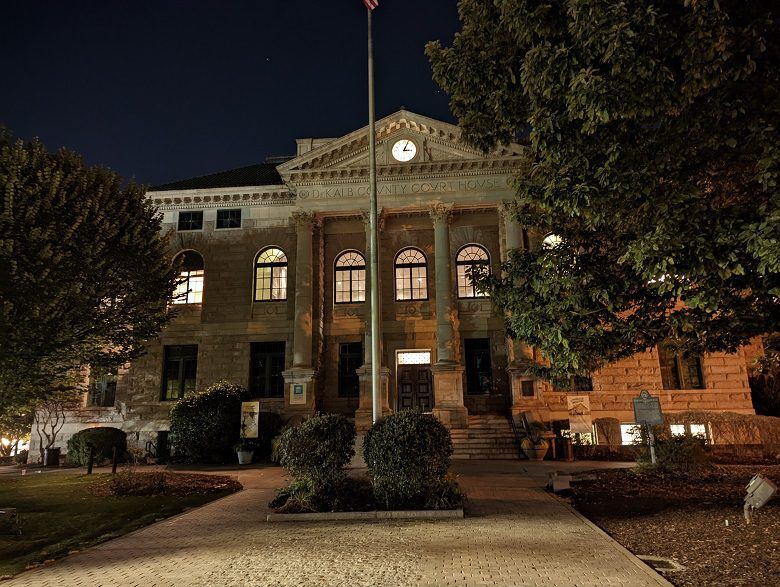 Decatur Ghost Tour Review: About the Tour
You don't have to wait until Halloween to enjoy the Decatur Ghost Tour because it's offered on Saturday nights year-round, but they add more dates in October as it gets closer to Halloween.
Decatur Ghost Tour is led by owner Boo Newell, a professional psychic medium and paranormal investigator and author of Between the Realms: What Ghosts Teach Us About Life and Death, and are assisted by guide Beth.
Boo is clairvoyant and clairsentient, so she can see and feel the energies around her. The stories on this tour are based on a mix of Boo's clairvoyance, firsthand experiences, and some local legends and history.
This tour doesn't have any actors to jump out and scare you. If you think you see something abnormal, it's not part of the show, you might actually be seeing a ghost!
Boo is able to "see" ghosts at every stop of the tour, and at the cemetery stop you'll get to try out divining rods. Her clairvoyance may come off as gimmicky to some, but I guess it all depends what you're into. Even as someone who never feels the cold spot or sees the orb, I still enjoyed Boo's style as her "sight" sets the tour apart from other Atlanta ghost tours.
The ambiance on this tour isn't particularly spooky, and I think that's owing to Boo's relaxed approach to the ghosts. She focuses on why the ghosts haven't moved on, and this understanding of the feelings that keep them tethered to our world takes away the scare factor (dare I say, it humanizes them?).
If you catch a photo of something interesting, you can show it to your guide because they definitely want to see it, and be sure to email it to them later so they can show future tour groups. Beth will also be taking pictures during your tour and will show you anything interesting she catches as well.
Decatur's Ghosts and Haunted Sights
From what I can tell, the route is the same no matter when you take the tour, so I don't want to spoil all the stories for you. But these are a few of the interesting haunted sites we visited.
Old DeKalb County Courthouse
The Historic DeKalb Courthouse, now the home of the DeKalb History Center and a wedding venue, has a few resident ghosts. The courthouse burned down and was rebuilt multiple times, so it already wasn't off to a great start. As a functioning courthouse, it saw some pretty gruesome cases as well as public hangings out on the lawn by the bandstand.
One staircase in the building is closed off to the public — this staircase was once used to move prisoners from their holding cells to the courtroom. Workers feel a heavy presence there and sometimes hear phantom footsteps on the stairs.
In the bushes outside the courthouse, you may find the spirit of a man who was publicly executed for killing his wife and children in a fit of rage.
BOHO115
The spot where Decatur restaurant BOHO115 now resides used to be an alleyway and sort of red light district. Prostitutes would solicit clients in the alleyway, and one in particular, Vanessa, is still claiming her territory even after death.
She's been known to harass patrons at the restaurant, which has changed hands a few times over the years. Vanessa doesn't like women encroaching on her territory. Sometimes, she even takes to scaring the life out of women who go into the tiny bathroom behind the bar.
Decatur Presbyterian Church
The female ghost at the Decatur Presbyterian Church doesn't seem to realize that she's dead. She stands by the bench inside the wrought iron gate and waits for her son, who died in the war, to come home. Sometimes, she wanders the property and some have reported hearing her sobs at night.
There is also a presence at the top of the bell tower, and you may catch an orb or two there, though not much is known about this spirit.
218 Barry Street
218 Barry Street is haunted by a skirt-chasing ghost named Jimmy. In his life, he liked to mess around with all kinds of women, whether they were single or not. As you can imagine, this is eventually what got him killed by the husband of one of his married lovers.
If you're lucky, Boo will find Jimmy waiting at the top of the steps from the sidewalk. Jimmy loves the ladies even in the afterlife, so Boo will invite any brave women in the group to come feel Jimmy's cold spot. You may even catch a photo of Jimmy getting a little handsy, with orbs showing up in some pretty naughty places.
I have some great pictures of my friend stroking the air, but unfortunately no orbs of Jimmy.
Decatur Cemetery
Decatur Cemetery is one of the oldest public cemeteries in Georgia, so it's no wonder there are still a few souls lingering.
There are a lot of spirits that show themselves in the cemetery. For this reason, Boo brings along divining rods, or dowsing rods, so that you can communicate with the ghosts yourself. These two L-shaped metal rods are supposed to be able to find the energy of the ghosts and use that energy to answer "yes" or "no" questions (crossed rods for "yes" and separated rods for "no").
Boo will steer you toward one of the cemeteries many ghosts and you can try the dowsing rods for yourself to learn about the ghost's life!
Important Decatur Ghost Tour Info
Admission for Decatur Ghost Tour is cash only and costs $20 for adults and $12 for children 10 and under. You'll need to book in advance online.
The tour begins at the bandstand in the Decatur Square by the Old DeKalb County Courthouse. There are parking lots, parking decks, and street parking all around Downtown Decatur. Metered parking is free after 6 p.m.
The tour is rain or shine, but they will contact you if they have to cancel for bad weather. You can expect your tour to last 2 to 2.5 hours. You're only covering about a mile of ground, but the walk is pretty flat and it's not strenuous.
We definitely had a great time on the Decatur Ghost Tour. It's worth checking out!
Top Atlanta Ghost Tours
The best way to see even more of Atlanta's haunted spots is to take a ghost tour! Check out these top-rated Atlanta ghost tours for a scary good time:
Atlanta Ghosts: Haunted Dark History Walking Tour — This 60 minute walking tour takes you to the haunted sights in Midtown Atlanta.
Fox Theatre Ghost Tour — Each October, you'll get the chance to explore the darkened Fox Theatre after hours and hear from the ghosts themselves on this theatrical ghost tour.
Ghosts of Marietta Tour — Choose from a haunted walking tour of downtown Marietta, a haunted pub crawl, and a haunted bus tour to explore the spooky sights in this Atlanta city with a bloodied past.
Where to Stay in Atlanta
Find the perfect place to rest your head on your visit to Atlanta, from the top rated accommodations to unique stays you can't get anywhere else.
Want More Haunted Travels?
Check out these other spooky locations around the world:
---
Ready to visit Atlanta, Georgia? Plan your trip with these tips.
---
Cheers!
Paige
Did you find this review of the Decatur Ghost Tour helpful? Let me know in the comments!