Big Rock Nature Trail is a 0.75 mile loop trail at Fort Mountain State Park that offers a moderate hike past small cascades and waterfalls. This is a great hike for when you're looking for a short trail in North Georgia.
The hike along Fort Mountain State Park's Big Rock Nature Trail is a beautiful outing that offers a moderate challenge over a rocky terrain.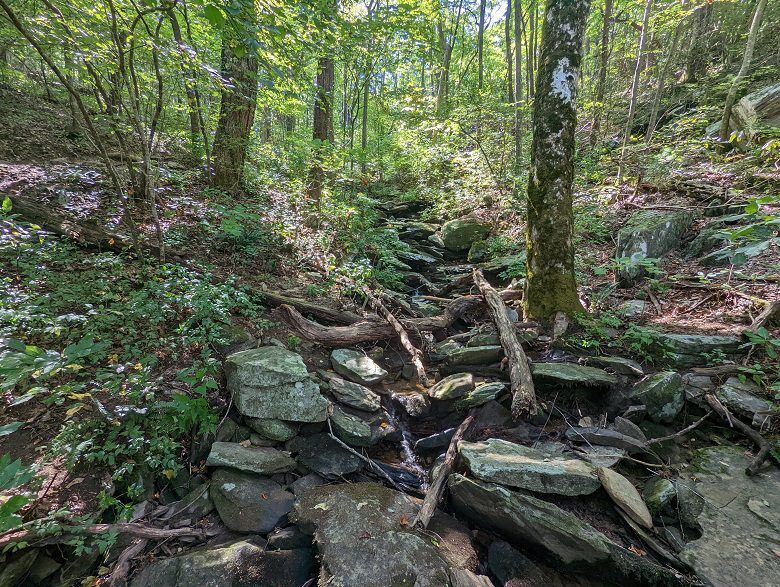 About Fort Mountain State Park
Located in the Cohutta Mountains in Chatsworth, Georgia, Fort Mountain State Park is a popular destination for hiking, camping, horseback riding, and mountain biking. The 4,058-acre state park features a 17-acre lake, backcountry trails, a large stone fire tower, and an ancient rock wall.
Hiking the Big Rock Nature Trail
Big Rock Nature Trail departs from a small parking are just across the street from the trailhead. The trail is blazed yellow and is well-marked as you descend into the cover of the trees.
It's not long before the trail meets Gold Mine Creek and the small cascades it creates. Here, the trail merges with the longer Gahuti Backcountry Trail; the bridge to the left leads to the Gahuti Trail while the path to the right continues the Big Rock Nature Trail loop as it merges with the Gahuti.
Follow the yellow blazes around the ridge. The hike offers a glimpse of mountain views through the trees. The view is more open in the winter months when there are no leaves on the trees.
You'll hear the sounds of water as the trail meets up with Gold Mine Creek again. This section of the creek has larger cascades and waterfalls.
Follow the steep and rocky climb up the creek. The trail will then depart from the Gahuti Trail keeping right.
As you exit the forest, the trail takes you up the steep incline of the lake's dam. The Big Rock Nature Trail ends at the road a few yards away from its trailhead. Complete you 0.75 mile hike by crossing the road and returning to the parking area.
If you'd like to turn it into a longer hike, there is direct access across the road to the 1.2 mile Lake Loop Trail.
Read next: Cabin Weekend at Fort Mountain State Park
Hiking Essentials
Come prepared for your hike by making sure you pack the essentials. Check out this must-have hiking gear before you set off on the trails:
Things to Do Near Fort Mountain State Park
After your hike, you may also want to get outside the park to explore more of North Georgia. Here are some great nearby attractions and itineraries:
---
Ready to visit Chatsworth, Georgia? Plan your trip with these tips.
---
Cheers!
Paige
Would you hike the Big Rock Nature Trail at Fort Mountain State Park? Let me know in the comments!