This mountain getaway near the Cohutta Wilderness has some of the most beautiful trails in North Georgia. Learn more about visiting Fort Mountain State Park in this guide.
Head to the mountains to explore the popular Fort Mountain State Park, which is the perfect place for a remote getaway.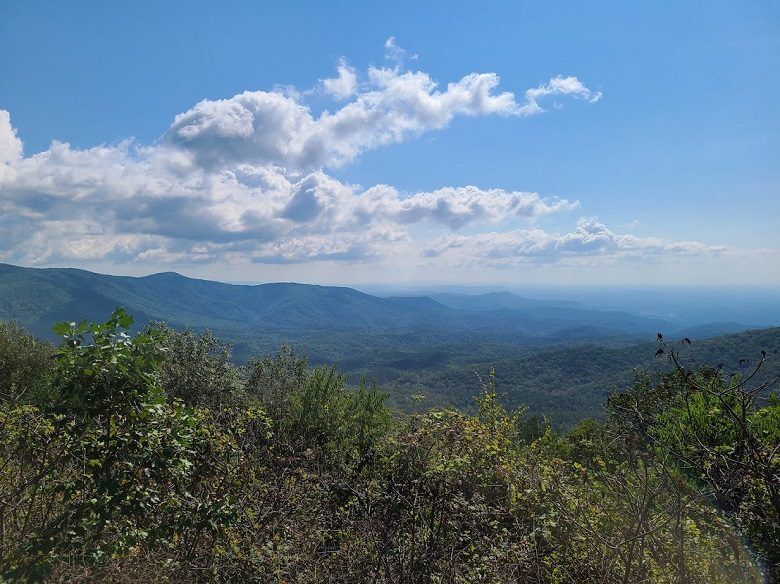 Whether you're looking for a peaceful day lounging lakeside or a weekend of exploring the trails and scenic overlooks, this beautiful park has plenty for you to do.
Here are some tips to help you get the most out of your visit to Fort Mountain State Park.
Fort Mountain State Park
Fort Mountain State Park is a popular destination for hiking, camping, horseback riding, and mountain biking. It's location at the southwestern end of the Cohutta Mountains near the Cohutta Wilderness make for an idyllic location for outdoor enthusiasts.
The 4,058-acre state park sits at 2,850 feet above sea level and features a 17-acre lake, backcountry trails, a large stone fire tower, and an ancient rock wall.
The park officially opened in 1936. Much of its infrastructure was built by the Civilian Conservation Corps, including the lake, several buildings, many hiking trails, and the fire tower.
Located in Chatsworth, Georgia, this state park is great for a remote getaway in the Cohutta Mountains.
Dogs and pets are allowed at all Georgia State Parks as long as they're leashed.
Parking at Fort Mountain State Park costs $5. The park is open daily from 7 a.m. to 10 p.m. The park's office is open daily from 8 a.m. to 5 p.m.
Stone Fire Tower and Ancient Rock Wall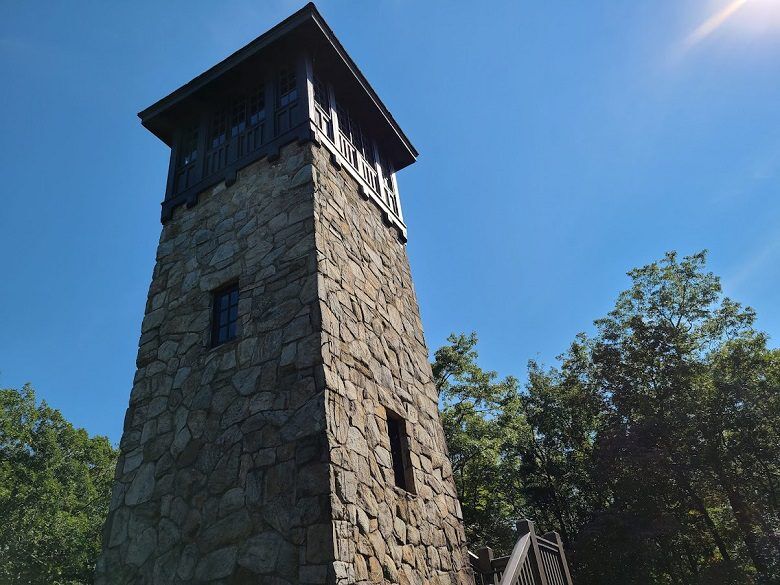 The park's stone fire tower was used to detect fires for nearly 30 years until it was replaced by a newer metal tower. The stone tower stands four stories tall and allowed rangers to spot fires up to 40 miles away.
The building of the tower was led by local stone mason Arnold Baily, who carved a large stone heart into the tower for his sweetheart, Margaret.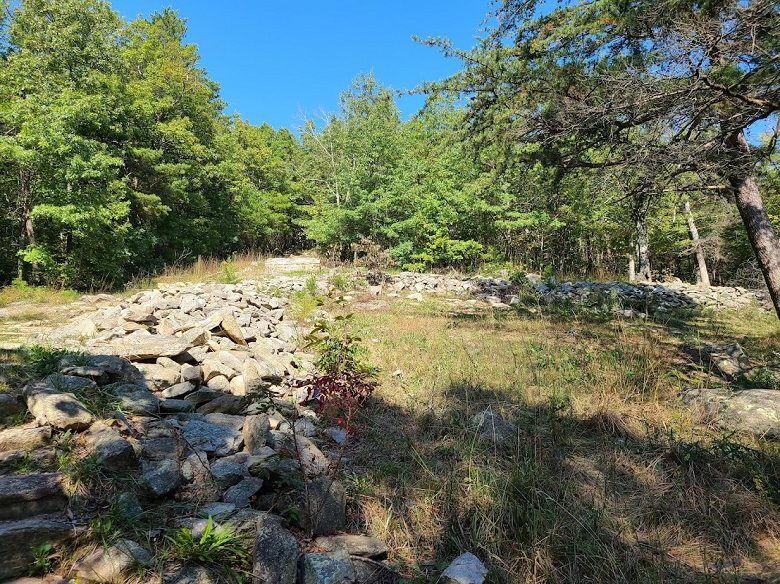 The state park gets its name from an ancient rock wall that spans the mountain for 855 feet. The stone wall is estimated to have been constructed between 550-1500 AD.
Cherokee lore says that the "Moon-eyed people" built the wall. They were said to be light skinned and could see better during the night than during the day.
The wall's true purpose, and whether the Moon-eyed people actually existed, remains a mystery to this day.
Fort Mountain State Park Facilities
For those looking to stay overnight at the state park, there are 70 tent, trailer, and RV campsites; 15 cottages; 6 platform campsites; 4 walk-in campsites; 4 backcountry campsites; and 3 pioneer campsites.
If you just want to picnic in the park for the day, there are 7 picnic shelters, 1 group shelter, and plenty of picnic tables throughout the park. The park has a playground by the lake.
There is a sand beach on the lake for swimming. You can also rent watersport equipment like kayaks, canoes, paddleboards, Aquacycles, pedal boats, and Jon Boats.
There is a gift shop in the visitor center that sells snacks, clothing, and toys.
Fort Mountain State Park Hiking Trails
Fort Mountain State Park boasts over 25 miles of hiking trails throughout the wilderness.
The approximately 1.5 mile loop West Overlook, Stone Wall, and CCC Fire Tower Trails explores the park's most popular landmarks. Enjoy mountain views from the West Overlook before cutting through to the Stone Fire Tower and then explore the ancient Stone Wall.
The 0.75 mile loop Big Rock Nature Trail explores the ridgeline and Gold Mine Creek near the lake.
The 8.7 mile loop Gahuti Trail and Cool Springs Overlook explores the edge of the park with views of the Holly Creek Valley and Cohutta Mountains at the Cool Springs Overlook.
The 1.2 mile Lake Loop Trail explores the lake shores and is accessible from the campgrounds and cottage areas.
The approximately 1 mile Goldmine Creek Trail can be accessed via the Gahuti Trail or the Lake Trail.
The 14.6 mile loop 301 Mountain Bike Trail is also open to hikers and explores from mountain ridge top to valley floor.
Hiking Essentials
Come prepared for your hike by making sure you pack the essentials. Check out this must-have hiking gear before you set off on the trails:
More Things To Do at Fort Mountain State Park
This Georgia State Park has even more fun things to do, including educational programs, fishing, biking, horseback riding, miniature golf, and geocaching. You can even have your wedding here!
There are 27 miles of mountain biking trails and more than 25 miles of horseback riding trails.
Seasonal activities like swimming, water sports, and mini golf are only available in the warmer months, so plan accordingly.
Important Things to Know
Fort Mountain State Park has a high density of black bears. This makes it my new favorite state park, but it also makes it a huge safety concern even for bear-enthusiasts like myself.
The most important thing to know in this state park is how to be BearWise, whether you're hiking, camping, or just having a look around. There are 6 BearWise basics that will keep you safe and keep black bears alive.
Stay Alert & Stay Together: Pay attention to your surroundings, and keep kids and pets close by. Making noise helps keep away the bears, so its best to hike in groups and make noise periodically.
Leave No Trash or Food Scraps: Leave No Trace is essential in bear country. Don't leave food or trash along the trails or at the campgrounds. Leaving scraps teaches bears to associate trails and campsite with food.
Keep Dogs Leashed: Don't let your dog chase or bark at a bear; this will force the bear to defend itself.
Camp Safely: Set up camp away from dense cover and a bear's natural food sources. Cook far away from your tent, and don't store food in your tent.
Know What To Do If You See a Black Bear: Bear safety is different for different bear species. Black bears are a less aggressive species, and you may see a bear before it notices you; stand still and don't approach, enjoy the sight, then move away quietly. If a black bear sees you, you want to back away slowly, never run. Hold your ground if a black bear approaches and make a lot of noise, waving your arms to make yourself seem bigger. If a black bear makes contact wit you, fight back aggressively.
Carry Bear Spray & Know How To Use It: Bear spray is a high intensity pepper spray. It is the easiest and most effective way to deter a bear that threatens you, so always have some with you and know how to use it.
Fort Mountain State Park FAQ
How much does it cost to go to Fort Mountain State Park?

There is a small $5 parking fee to enter Fort Mountain State Park.

What is the best trail at Fort Mountain State Park?

Fort Mountain State Park's most popular trails are the Stone Wall, Stone Tower, and West Overlook Trails Loop and the Gahuti Backcountry Trail.

Can you drive up Fort Mountain?

It's a scenic drive up Highway 52 to get to Fort Mountain State Park.

Is there cell service at Fort Mountain State Park?

There is little to no cell service at Fort Mountain State Park.

Things to Do Near Fort Mountain State Park
During your camping trip at this mountain getaway, get outside the park to explore more of North Georgia.
---
Ready to visit Chatsworth, Georgia? Plan your trip with these tips.
---
Cheers!
Paige
Have you visited Fort Mountain State Park? Let me know about your trip in the comments!