Winter in the South is a wonderful time! And Georgia is one of the best Southern states for festive winter fun! If you're planning an winter getaway in Georgia, check out these top destinations.
Whether you're looking for festive holiday light displays, unforgettable winter hikes, or just a mild climate for sweater season, Georgia has you covered!
There are tons of beautiful state parks for winter camping and enjoying incredible mountain views. Georgia is also home to some many fun festive light shows and holiday events. And you can even enjoy outdoor ice skating and snow tubing.
Georgia is the perfect place for a winter getaway!
Best Places to Visit in Georgia During Winter
Explore my top picks for the best places to visit in Georgia during winter. I'll tell you why they're the perfect destinations for holiday cheer and cold-weather fun, as well as all the seasonal activities you can enjoy in each location.
1. Atlanta
If you want to visit the city during the off-season, winter is perfect. Winter in Atlanta means fewer crowds at the tourist hotspots, and you can enjoy Atlanta's top sights without sweltering in the Southern heat and humidity.
Atlanta festivities are in full swing during the holiday season. From outdoor ice skating to magical light displays to Christmas markets, there's plenty to do during winter in Atlanta.
Go for a winter hike or check out some of the other spots on this list — many of them are just a day trip away from Atlanta! With so much to do in the city and easy access to other top winter destinations in Georgia, Atlanta is my favorite place to be during the holiday season.
2. Pine Mountain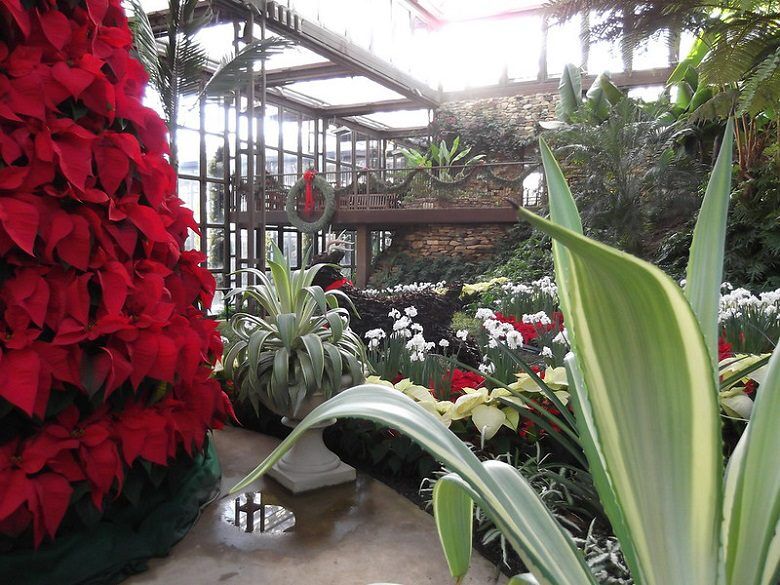 Pine Mountain is most known for being home to Callaway Gardens, a year-round resort and beautiful natural gardens. During the winter, they put on an award-winning Christmas light display, Fantasy In Lights.
Beyond the gardens, Pine Mountain has plenty of outdoorsy things to do. Winter is a great time for hiking and biking the trails in the foothills of the Appalachian Mountains.
The Pine Mountain Gold Museum has its own festive holiday tradition. The Winter Wonderland Train takes you through a forest full of thousands of lights and lets you meet Santa and friends.
3. Savannah
Savannah is one of the top cities in Georgia. Known for its Southern Charm and historical setting, Savannah is a magical place to visit during the winter.
The cooler weather makes winter a great time for exploring the city. Take a bike ride, a walking tour, or a horse-drawn carriage ride around Savannah's historic squares while enjoying the cool winter air.
For festive activities, head to the Savannah Christmas Market at Plant Riverside District for events, live performances, and fireworks. There is also a Tree Lighting Ceremony and a Boat Parade of Lights that you won't want to miss. You could even take a private Christmas Magic walking tour or a fun Charles Dickens-themed Ghosts of Christmas walking tour to see the city's best holiday lights.
4. Blairsville
If you like the outdoors, then Blairsville is the perfect winter destination for you! Located in the heart of the Blue Ridge Mountains, this small town offers plenty of outdoor adventures. (Get amazing views like the photo above at the SumVue cabin here!)
Hike to the top of Brasstown Bald for an amazing sunset or sunrise hike; explore Vogel State Park; or spend some time on the Appalachian Trail. Blairsville is full of great scenery even in the winter, from waterfalls to deep gorges.
Around the holidays, Blairsville hosts plenty of festive events from holiday markets to the Tour of Trees. A short trip away in Hiawassee is the Mountain Country Christmas Lights at the Georgia Mountain Fairgrounds; this festive light display is sure to delight!
5. Blue Ridge
Blue Ridge is a quintessential Georgia mountain town and is one of the best small towns to visit. During the winter, the crowds thin out and Blue Ridge makes for a great mountain retreat.
For the outdoorsy types, there are plenty of hiking opportunities. In the winter, the views open up and you can really see the beauty of the Appalachian Mountains. Or you could take a horseback ride through the mountains. Afterwards, treat yourself to a home-made apple cider and award-winning pies at Mercier Orchards.
The day after Thanksgiving is always the Light Up Blue Ridge event with the Great Tree lighting, a parade, and pictures with Santa. During December, you can hop aboard a festive Christmas version of the popular Blue Ridge Scenic Railway. Throughout the holiday season, you can enjoy events like the Gingerbread Village and Santa's Mailbox. Then in February, head to the Annual Downtown Blue Ridge Fire and Ice Festival where you can taste chili and view incredible ice sculptures.
6. Dahlonega
Dahlonega is another quaint North Georgia mountain town. Its picturesque Square makes the town look like something out of a Hallmark movie — in fact there have been several Hallmark Christmas movies filmed here including Christmas in Homestead and A Taste of Christmas.
This town is perfectly situated in the middle of North Georgia Wine Country. Take a tour around the mountain vineyards to sample locally-produced and award-winning wines. Dahlonega is also located near some great trails for a winter hike and is perfect for a cabin getaway. Head out on the nearby Appalachian Trail, Blood Mountain, or Amicalola Falls to witness incredible mountain views.
During December, you can enjoy Dahlonega's Old Fashioned Christmas on the Square for brilliant lights worthy of a holiday movie, festive events, and Santa visits. There is a Christmas Market if you need to do some last-minute gift shopping, and the Holly Theater puts on a holiday play each year.
7. Jekyll Island
In the summer, Jekyll Island is full of beach-goers enjoying the Southern sun. But a beach getaway in the winter can also be a great idea!
You can find great lodging deals for the off-peak season and save some money. You also won't need your winter coat since temperatures on the coast average in the mid-60s.
Holly Jolly Jekyll is one of the best holiday events in Georgia. The event features activities like a light tour, holiday tea, breakfast with Santa, and more. And in January and February, you can take part in a treasure hunt for beautiful handmade glass orbs hidden around the island; when you find one, it's yours to keep!
8. Stone Mountain Park
Just outside of Atlanta, Stone Mountain Park is a fun getaway for the season. The park is transformed for the winter into an unforgettable wonderland of lights and snow.
Stone Mountain Christmas is the park's annual holiday event that includes a parade, holiday lights, visits with your favorite holiday characters, and more. Snow Mountain is the park's winter event that goes until February. This is one of the only places in Atlanta where you can expect to regularly see snow, snow tube, sled, and build a snowman.
Winter is also a great time to see the park's usual attractions. Go for a hike to the top of Stone Mountain and take the Skyride back down for amazing views. Take a ride on the scenic railroad. And explore the collection of historical Georgia homes.
9. Cloudland Canyon State Park
Cloudland Canyon State Park is one of Georgia's largest and most scenic state parks. Located on the edge of Lookout Mountain, this beautiful park features a gorge, two waterfalls, and 64 miles of hiking trails through the mountain wilderness.
Their waterfalls are especially gorgeous during the winter. Their flow is strongest in cooler months when the water doesn't evaporate as quickly.
This state park also offers horseback riding, mountain biking, and caving opportunities. There are so many unique ways to explore this state park during the winter!
10. Lanier Islands
Just north of Atlanta, Lanier Islands is a resort complex on Lake Lanier, the largest lake in Georgia. Lake fun doesn't have to be reserved just for summer; Lanier Islands proves it's still a fun retreat in the winter.
The complex's main holiday attractions are License to Chill Snow Island and Margaritaville's Lakeside Lights Spectacular. Enjoy snow tubing, ice skating, snowball fights, and carnival rides at Snow Island. When the sun goes down, check out the dazzling display of holiday lights along the lake.
During the season, Lanier Islands has daily winter activities like a Reindeer Dash Scavenger Hunt, holiday crafts, gingerbread house building, story time with Mrs. Clause, and a visit from the Coca-Cola Polar Bear.
What the Winter Weather is Like in Georgia
What's the weather like in Georgia during the winter? Winter weather in Georgia is pretty mild with temperatures averaging around 50 degrees. From December into February, you can expect daytime highs averaging around 50 to 60 degrees and evening lows around the 30s. Some evenings drop into the 20s.
The weather in South Georgia will be much warmer than in North Georgia. It's very rare that South Georgia sees snow, but the North Georgia Mountains will often get wintery mix, ice, and even snow.
While North Georgia can see snow, Middle and South Georgia rarely get snow. So if you're visiting Atlanta or Savannah, don't expect a White Christmas.
If you go for a winter hike, temperatures in the higher elevations of the North Georgia Mountains are about 10 to 20 degrees cooler than the state's average temperatures. Mountain hikes like Brasstown Bald may shut down their access roads due to ice in the winter.
The sunset in Georgia happens around 5:30 p.m. in November and January, around 5 p.m. in December, and around 6 p.m. in February.
For what to pack and wear during winter in Georgia, I recommend layers, a coat, a scarf, gloves, and boots. If you're visiting the mountains, plan to pack winter jacket and boots. When packing your layers, keep in mind that you could be ice skating in short sleeves and 60 degree weather during the day but need a coat for the 40 degree nights looking at holiday lights.
Read next: The Best Winter Destinations in the South
Winter in Georgia FAQ
What is Georgia like in the winter?

In Georgia, winter is a season of chilly temperatures, but rarely below freezing. It's a nice respite from our usually warmer weather. You could see daytime temperatures as high as the 50s and 60s F, whereas the lows average in the mid 30s.

What are the winter months in Georgia?

Winter in Georgia lasts from November through February.

What is the coldest month in Georgia?

January is typically the coldest month all over the state of Georgia.

Does Georgia have harsh winters?

The state of Georgia does not have harsh winters. Winter here is typically mild and its rare to see snow unless you're in the mountains in North Georgia.

Winter in Georgia Map
Ready to explore Georgia during the winter? Use the map below to help you plan out your winter getaway and find the perfect accommodation.
I hope you have an amazing time exploring Georgia in the winter!
---
Ready to take a vacation? Plan your trip with these tips.
---
Cheers!
Paige
What are your favorite winter destinations in Georgia? Let me know in the comments!