Vincent van Gogh's paintings are brought to life at this immersive experience in Atlanta. Van Gogh: The Immersive Experience in Atlanta allows you to step inside famous paintings by Van Gogh for an unforgettable digital art experience.
A special thanks to Exhibition Hub for providing us with VIP tickets to Van Gogh: The Immersive Experience! As always, all opinions are my own.
Van Gogh: The Immersive Experience is brought to life by European entertainment producer Exhibition Hub. The exhibit made its North American debut in Atlanta in 2021.
And now Van Gogh: The Immersive Experience has finally come back to Atlanta! It is showcased at the Exhibition Hub Art Center in Doraville. Get your tickets here.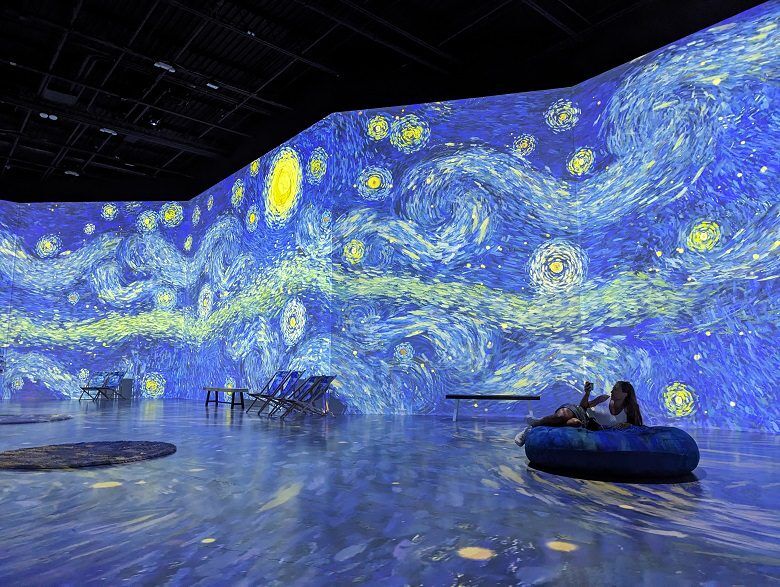 The 360-degree digital art experience allows you to step inside Van Gogh paintings to encounter the artworks like never before. The exhibit uses digital projections, light, sound, and virtual reality to bring the artist's paintings to life.
The new, reimagined experience features two immersive rooms, an all-new virtual reality experience, a new soundtrack, and an immersive gallery dedicated to the influence of Japanese art on Van Gogh's work.
Van Gogh: The Immersive Experience
Your journey begins with a more traditional, museum-like exhibit detailing the life and works of Vincent van Gogh. You'll read about the artist's struggles with his mental health and see recreations of his most influential works.
Next, you'll enter the first immersive experience, which is dedicated to Van Gogh's Japanese-inspired works. You'll get to see Van Gogh's works displayed side-by-side with the original art that inspired him.
The next gallery showcases larger-than-life 3D recreations of works like "Bedroom in Arles". This second museum-like gallery also provides more information abut the artist and his life.
Then you'll enter the second immersive multi-media experience, a cutting-edge 360-degree digital projection with new projections and a new score.
Even if you visited the experience when it was first in Atlanta, you'll still want to come again and see the new projection because it is a little different than before.
Two-story-tall projections of Van Gogh's artwork illuminate the walls and floors of the 20,000-square-foot space. A train travels across the artist's landscape paintings, iris blossom petals fall across the screen stirred by the wind, stars whirl in the night sky, and water flows onto the ground.
Grab a seat on one of the benches, lawn chairs, or poofs or lay back on the plush carpet as you watch the multi-media show go through hundreds of the artist's paintings and sketches, from his most famous works to lesser known art.
In the next room, you can experience total immersion in a one-of-a-kind Virtual Reality (VR) interactive experience that guides you through "A Day in the Life of the Artist in Arles, France" to discover the inspiration behind eight iconic works.
Then, try your hand at coloring your own Van Gogh work of art. Choose from a selection of coloring sheets depicting Van Gogh's most famous works, add your own artistic flair, and project your artwork onto the wall.
Once you're done, you'll exit through the gift shop and café area.
What Was Great About the Experience
I loved the addition of new displays and a second immersive experience. This isn't just the exact same experience we saw before; it is different, and it was worth coming back again.
The addition of bean bag seating made the experience extra cozy (the previous experience only had benches and carpet spots). Plus, the bean bag chairs are perfect for cuddling on a date night!
The immersive experience and new score were beautifully put together and were absolutely mesmerizing.
What Was Not So Great
I would have liked more context within the new Japanese immersive display. You don't read any about Van Gogh's Japanese influence until after the display.
Van Gogh: The Immersive Experience Details
Tickets for Van Gogh: The Immersive Experience in Atlanta are on sale now!
Van Gogh: The Immersive Experience is open Mondays, Wednesdays, Thursdays, and Fridays from 10 a.m. to 7 p.m. (last entry); Saturdays from 9:30 a.m. to 9 p.m. (last entry); and Sundays from 9:30 a.m. to 6:30 p.m. (last entry).
Ticket prices start at $34.90 for adults and $20.90 for children. Ticket prices vary based on date and time of experience as well as type of admission. There are discounts for seniors, students, military, family bundles, and group bundles.
Standard Admission includes entry to the experience. VIP Admission includes entry to the experience, the VR experience with skip-the-line, and a poster. Standard Admission ticket holders can purchase entry to the VR experience separately on-site.
The entire experience will take about 60 to 75 minutes. The main projection experience lasts about 35 minutes, and the VR experience lasts 10 minutes. The gallery, coloring, and gift shop can be enjoyed at your own pace. We spent about 90 minutes taking our time going through everything.
Van Gogh: The Immersive Experience is showing now through September 2023 at the Exhibition Hub Arts Center Atlanta on Buford Highway in Doraville.
Parking at the Exhibition Hub Arts Center is free!
Where to Stay in Atlanta
Find the perfect place to rest your head on your visit to Atlanta, from the top rated accommodations to unique stays you can't get anywhere else.
Craving More Atlanta Activities?
If you need more things to do while visiting Atlanta, check out these top posts:
---
Ready to visit Atlanta, Georgia? Plan your trip with these tips.
---
Cheers!
Paige
Have you visited this Van Gogh immersive experience in Atlanta? Let me know in the comments!