Santa, reindeer, light displays, and a lot of rocket-themed decorations — Christmas in Huntsville has just about everything but snow (usually)! Christmas in Huntsville is out of this world!
After spending 20+ Christmases in Huntsville, Alabama, I am well-versed in spending the holiday in the Rocket City. Here are my top tips on how to have a merry Christmas in Huntsville.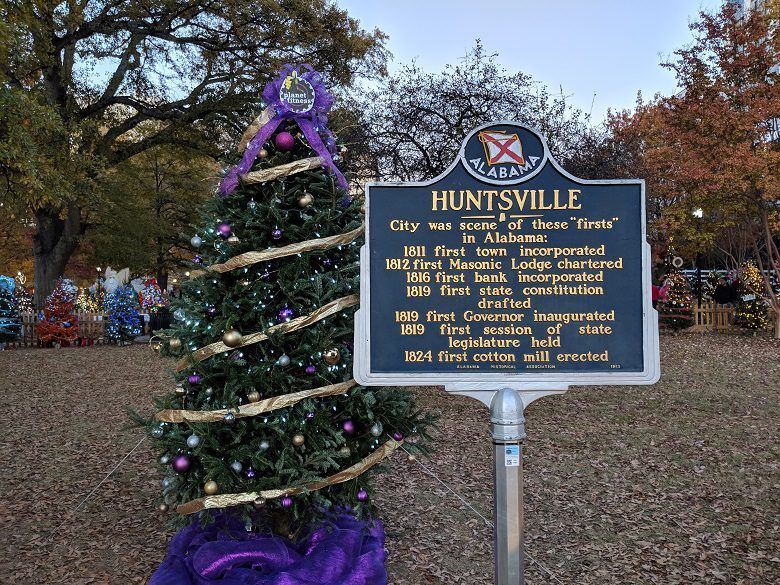 Top Christmas Activities in Huntsville, Alabama
1. Drive Through the Galaxy of Lights
The Galaxy of Lights is Huntsville's best and brightest holiday tradition celebrating its 28th anniversary in 2023. In the winter, hundreds of volunteers turn the Huntsville Botanical Garden into a winter village with a trail lined by Christmas light displays.
Driving through the Galaxy of Lights is the most popular way to experience the Galaxy of Lights. But you can also walk the lights (and with your furry friend on designated nights) or run and bike the lights on special race days. Tune your radio to the special holiday music station (they'll remind you what station at the gate) so you can jam along and learn about this year's lights display, like how many strands of lights and bulbs make up the Galaxy.
The displays change a little each year, but you can usually expect to see traditional holiday scenes, scenes from popular Christmas songs, flowers and nature, dinosaurs, and lots and lots of rockets and space-themed lights, of course!
This year's Galaxy of Lights takes place from November 17, 2023 through December 31, 2023.
Walking Nights
The Galaxy of Lights Walking Nights take place November 17-26, 29, 30, and December 1-3 and 16-24 from 5:15 p.m. — 8:30 p.m. (closed on Thanksgiving Day and Christmas Day). Dog Walking Nights take place every Monday and Tuesday during Walking Nights.
Admission costs costs $16 for adults and $9 for children ages 3-15 for pre-purchased tickets on non-peak nights; $20 for adults and $12 for children for pre-purchased tickets on peak nights; and $25 for adults and $15 for children when purchased at the gate on all nights. Check their website for non-peak and peak dates.
Discounts are available for Garden member adult and child tickets, as well as Museums for All with EBT Card holders.
Admission for dogs costs $5 on all nights, whether pre-purchased or purchased at the gate.
Driving Nights
The Galaxy of Lights Driving Nights start December 4-15 and 26-31 from 5:30 p.m. — 9 p.m.
Admission costs $30 per car for pre-purchased tickets on all dates; tickets will cost $35 at the gate on non-peak nights and $40 at the gate on peak nights. Check their website for non-peak and peak dates.
Tickets are good for one vehicle with up to 10 passengers; an additional charge of $3 per person will apply for more than 10 people.
Discounts are available for Garden members and on Mondays at the gate for military members with ID.
2. Take Care of Your Christmas Shopping at Harrison Brothers
Downtown Huntsville's favorite general store, Harrison Brothers Hardware has been on the Square since 1897. The store sells locally made arts and crafts, kitchen items, gourmet foods, books, and classic toys. It's the perfect place to stop for a unique Christmas gift for anyone on your shopping list.
Harrison Brothers is open Monday through Saturday from 10 a.m. — 5 p.m.
3. Meet Santa During the Nights of Santa
Last year, EarlyWorks Museums reimagined the popular Santa's Village as Nights of Santa at EarlyWorks Children's Museum.
Santa will be in Downtown Huntsville every night during the event to listen to children's wish lists. His elves will be there as well.
There will also be fun North Pole activities like nightly snowfalls, writing a letter to Santa, decorating a gingerbread cookie, making holiday crafts, a holiday themed experiment in the Tinker Lab, costumed characters, sock skating, shopping in Santa's gift shop, and playing in snow.
The event will be held from December 12, 2023 through December 23, 2023 starting at 5 p.m. on weeknights, 3 p.m. on Saturday, and 12 p.m. on Sunday. Tickets cost $12 per person, $10 for members, and free for children 1 year and younger.
4. Feel the Spirit of Christmas Past at the Twickenham Tour of Homes
Every year, Alabama's largest antebellum district, the Twickenham Historic District, holds a "Spirit of Christmas Past Homes and Luminary Tour".
This tour of homes takes you inside four private residences plus the Weeden House Museum (Alabama's oldest house open to the public), First United Methodist Church, Central Presbyterian Church, and the Church of the Nativity. The residences are decked out in holiday décor, the roads are lit by luminaries, and special musicians entertain you with holiday music.
The tour will take place Saturday, December 9, 2023 from 5 p.m. to 9 p.m.
Tickets cost $20 for adults and $5 for kids under 12, and they can be purchased at the door.
5. Walk Down the FREE Tinsel Trail
The Tinsel Trail through Downtown Huntsville is a free display of decorated live Christmas trees that line the walk through Big Spring Park. Sponsors decorate the trees, from local businesses to foundations to families. 300 trees get unique decorations befitting their sponsors and the city of Huntsville.
One of my favorite trees from years past was a Bumble tree from Rudolph the Red-Nosed Reindeer (my family calls me Bumble because I, like the Abominable Snow Monster, can reach the top of the Christmas tree). Every year there's something new and exciting!
The trees are lit starting the day after Thanksgiving (November 24, 2023) through December 31, 2023 from dusk until midnight.
6. Go Skating in the Park
Once you've walked down the Tinsel Trail, you'll end up at Skating in the Park at the Huntsville Museum of Art, Huntsville's first outdoor ice skating rink. This open air ice skating rink is in its 11th year, and it has quickly become a popular tradition!
They also offer hot chocolate, coffee, cold drinks, shaved ice, and snacks like hot dogs, nachos, chips, and candy.
The rink opens November 17, 2023 through January 87 2024, and it is open Christmas Eve and Christmas Day.
Skating in the Park's hours are Monday-Thursday from 4 p.m. — 9 p.m.; Friday from 4 p.m. — 10 p.m.; Saturday from 10 a.m. — 10 p.m.; and Sunday from 12 p.m. — 8 p.m.
Admission costs $15 for ages 10 and up and $10 for ages 9 and under. You also get a $5 discount on admission if you bring your own ice skates.
7. Or Go Skating Under the Stars
For another ice skating opportunity, head to the MidCity District to skate under the stars in The Orion Amphitheater bowl. This is the second year the ice rink has been open, and it's definitely been a hit!
During Winter Park at The Orion Amphitheater, you'll be able to enjoy ice skating, photos with Santa, train rides on the Orion Express, holiday movies, carolers, and a variety of food and drinks.
Winter Park is open from November 30, 2023 through January 1, 2024. Their regular hours are Thursdays from 4 p.m. to 9 p.m., Fridays from 4 p.m. to 10 p.m., and Saturdays-Sundays from 12 p.m. to 9 p.m. Check their website for more info on extended hours, Santa's Storybook hours, and Orion Express hours.
Admission for ice skating costs $14.99 for adults and $12.99 for kids ages 12 and under. You also get a $5 discount on admission if you bring your own ice skates.
8. Marvel at the Rocket City Christmas Light Show
Head to Toyota Field, home of the Rocket City Trash Pandas, for a magical holiday show featuring hundreds of thousands of lights on display.
During the Rocket City Christmas Light Show, you'll drive through a mile-and-a-half-long show of Christmas lights, this year with a North Pole theme, accompanied by holiday music on the radio. Then you'll get to enter the Winter Wonderland for holiday activities including hot chocolate, cookie and ornament decorating, s'mores, character visits, and more.
The Drive-Thru Light Show and Winter Wonderland takes place from November 17, 2023 through December 31, 2023, daily from 5 p.m. to 9 p.m.
Admission costs $30 per car, $60 for passenger vans or larger. Admission includes access to Winter Wonderland, but there may be additional costs for individual activities inside Toyota Field.
9. Check Out the Giant Decorations at Bridge Street
Bridge Street Town Centre goes all out every year with giant Christmas decorations adorning the outdoor shopping center: huge glistening reindeer, oversized ornaments, and one giant Christmas tree are the main attractions.
Besides hitting up Bridge Street for some luxury gift shopping, you can also take part in their many seasonal festivities. The shopping center holds an annual tree lighting event every year in late November or early December. You can expect live music, an appearance by Santa Claus, fireworks, and the lighting of the 45-foot Christmas tree.
You can also check out their calendar of events to find out when you can meet Santa, have your kids and pets take professional photos with Santa, and take part in workshops like wreath-making.
10. Have a Festive Drink
Nothing says good cheer like a festive holiday drink at a local bar or coffee shop!
I'm a huge fan of apple cider, so I definitely had to try the Apple of My Eye apple cider cocktail from MELT in downtown Huntsville. This drink has spiced apple cider, cinnamon syrup, and whiskey to warm you up on those cold winter evenings.
You can also warm up with coffee or hot chocolate from any of Huntsville's amazing local coffee shops around town.
This year, Huntsville even has a trendy Christmas-themed pop-up bar! You can indulge in festive drinks and be surrounded by Christmas overload!
11. Go Christmas Shopping at a Craft Show
Each year in early December, the NEACA (North East Alabama Craftsmen's Association) holds a Christmas Craft Show at the Von Braun Center. This show has over 100 tables with a wide range of handmade crafts and gifts that are perfect for your holiday shopping.
This year's shows take place December 1-3, 2023. The show runs on Friday and Saturday from 9 a.m. — 6 p.m. and on Sunday from 12 p.m. — 5 p.m.
12. Take a Holiday Lantern Tour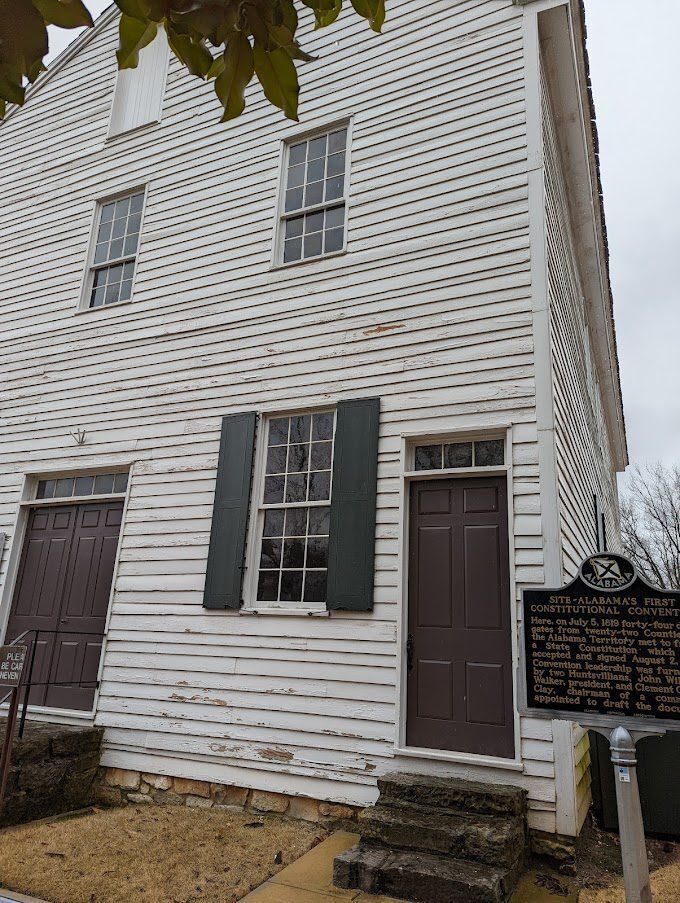 Alabama Constitution Hall Park is getting into the historical holiday spirit with Holiday Lantern Tours. Travel back in time to Christmas in the 19th century.
The historic village will be cozy and decked out for the holiday season. You'll go on a lantern lit stroll as a guide takes you through the birthplace of Alabama. You'll learn all about the 19th century holiday traditions in Huntsville and how they differ from today.
Holiday Lantern Tours take place on December 8, 2023 and December 9, 2023 from 6 p.m. to 8 p.m.
Tickets cost $10 per person 4 and up, $8 for members, and kids 3 and under are free.
Where to Stay in Huntsville, Alabama
Find the perfect place to rest your head on your visit to Huntsville, from the top rated accommodations to unique stays you can't get anywhere else.
More Things To Do in Huntsville, Alabama
Just can't get enough of the Rocket City? Check out these other things to do in Huntsville.
---
Ready to visit Huntsville, Alabama? Plan your trip with these tips.
---
Cheers!
Paige
Have you spent Christmas in Huntsville, Alabama? Let me know in the comments!