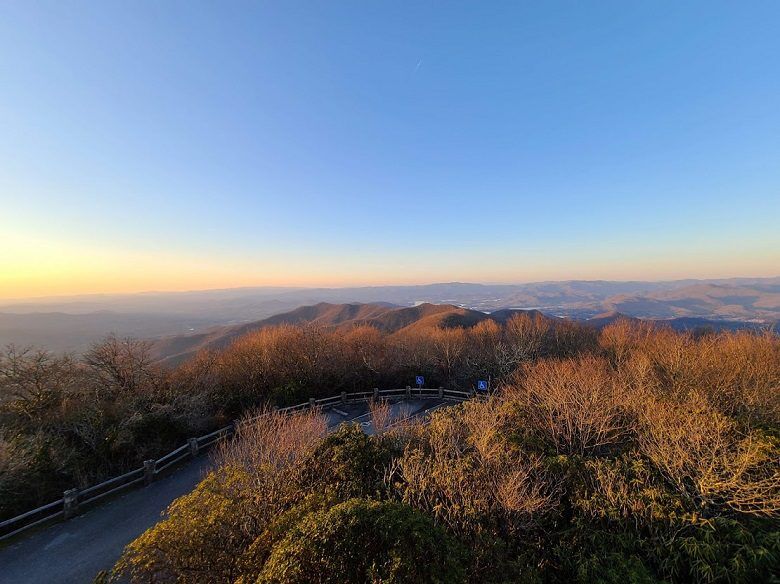 Looking for the best day trips from Atlanta, Georgia? As an Atlanta local, I'm sharing the best Atlanta day trips for hikers, wine-lovers, urban explorers, and more.
With hundreds of different things to do in Atlanta, you're not likely to get bored on your visit. Still, you may find yourself wanting to get out of the city and explore more of the area.
Just a few hours north of Atlanta, you'll be amazed by the hidden gems you can find in the North Georgia Mountains and beyond. Head out of the congestion of the city in any direction to find quiet towns with loads of history to explore. And don't be afraid to cross over state lines and see what neighboring states Alabama, Tennessee, North Carolina, and South Carolina have to offer.
As an Atlanta local, I am sharing the best day trips from Atlanta that everyone can enjoy. Keep reading for some of the top day trips from Atlanta, Georgia.
Fill up your Atlanta itinerary here.
Best Day Trips From Atlanta
1. North Georgia Mountain Towns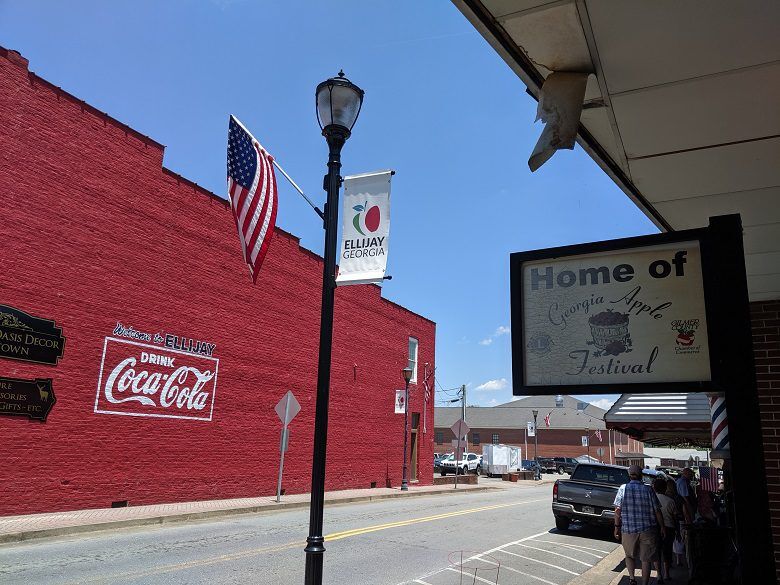 Travel time: approximately 1 hour to 2 hours, depending on which town
The North Georgia Mountains are a quick getaway from Atlanta. They offer rugged, scenic beauty among their peaks and hills that make up the southern end of the Blue Ridge Mountains and the Appalachian Mountain range.
This region is most known for its quaint mountain towns, its numerous local wineries, and gorgeous hiking trails that feature everything from waterfalls to mountain views.
Each North Georgia mountain town has its own unique qualities and quirks. You can spend a day trip exploring just one of the towns, or make a road trip out of spending a few hours in each town.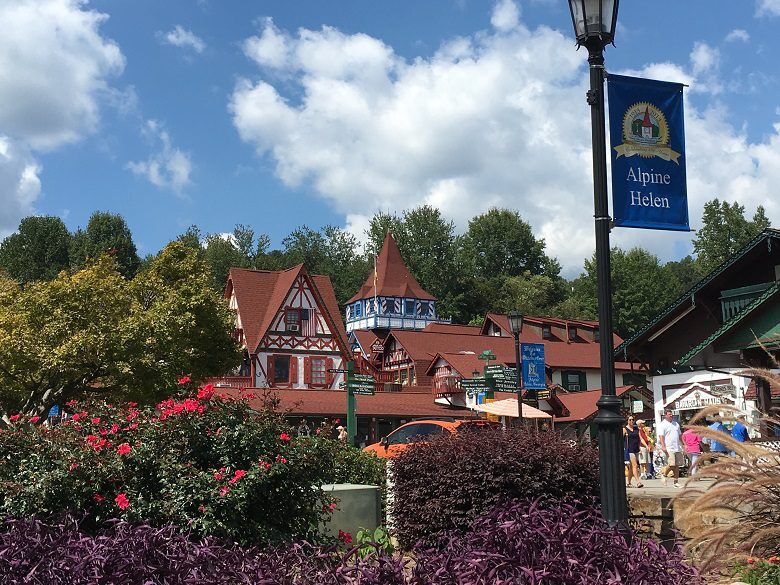 My favorite North Georgia Mountain towns to see on a day trip from Atlanta include:
Blue Ridge — Named for the mountain range, Blue Ridge is the perfect mountain town. Take a ride on the Blue Ridge Scenic Railway before experiencing downtown's dining and shopping scene.
Dahlonega — Dahlonega was the site of the first major Gold Rush in the U.S. You can explore historic gold mines, shop and dine on the historic square, and check out local art, orchards, and vineyards. Here is a Mystery Picnic adventure in Dahlonega to spice up your trip.
Ellijay — Ellijay is the Apple Capital of Georgia and is home to an annual apple festival and great apple picking in the late summer/early fall. This small town has also experienced a boom in restaurants, bars, and shops opening up in its now-bustling downtown area. Here is a Mystery Picnic in Ellijay where you won't have to plan anything yourself.
Helen — Modeled to look like a Bavarian Village straight out of Germany, Helen is Georgia's Alpine town. You can dine on German cuisine, shop local crafts, take a ride on the state's only alpine roller coaster, tube on the river, or enjoy some time at the waterpark. Here is a Mystery Picnic in Helen that is perfect for a day trip.
2. North Georgia Wineries
Travel time: approximately 1 hour to 2 hours depending on which winery
The North Georgia Mountains are also known as Georgia's Wine Country. The combination of the terrain, soil, drainage, and elevation produce award-winning wines.
This area has dozens of vineyards and wineries with amazing mountain views, luxury accommodations, and chef-driven eateries.
You could chose to spend your day at just one or two wineries or spend the whole day vine-hopping from place to place. You can even book a private or group winery day tour so you have a driver to transport you from winery to winery.
Here are some guides to help you plan your North Georgia winery day trip from Atlanta:
Winery Day Tour of North Georgia: The Perfect Girls' Trip — My friends and I booked a private winery day tour from Atlanta where we were able to customize our itinerary. We were able to visit Montaluce Winery, The Cottage Winery & Vineyard, and Frogtown Cellars all in one fun-filled day.
A Wine Weekend Getaway in North Georgia Wine Country — On this two-day couples trip, we stopped at 3 vineyards each day. On day one, we visited Kaya Vineyard & Winery, Yonah Mountain Vineyards, and The Cottage Winery & Vineyard. On day two, we visited CeNita Vineyards Winery & Tasting Room, Habersham Winery & Vineyards, and Creekstone Winery.
Ellijay Winery Tour: The Best Girls' Trip Itinerary — My friends and I were hosted by the local service Murphy's Winery Transport who took us to the top wineries in Ellijay. We were able to visit Chateau Meichtry, Ott Farms and Vineyard, Buckley Vineyards, and Fainting Goat Vineyards and Winery. ((If you book with Murphy's, let them know Paige Minds The Gap sent you!)
Visiting Big Door Vineyards — Big Door Vineyards is one of the closest North Georgia wineries to Atlanta, located in White, Georgia.
Visiting Bear Claw Vineyards — Bear Claw Vineyards in Blue Ridge is great North Georgia winery that is known for its luxury tree house accommodation.
3. Athens, Georgia
Travel time: approximately. 1 hour and 15 minutes
Athens, Georgia is known for being the college town of the University of Georgia, but that's not all there is to it. Athens also has a vibrant musical history and was home to bands like R.E.M. and The B-52s. It's no surprise then that the town has such a lively music and nightclub scene.
The town is also great for touring antebellum homes. Athens has the T.R.R. Cobb House, the Taylor Grady House, and the Church-Waddel-Brumby House for those interested in historical homes.
You can also visit the Georgia Museum of Art and the State Botanical Garden of Georgia, both at the University of Georgia.
I also recommend checking out the free Bear Hollow Zoo where you can see black bears, eagles, owls, and other native Georgia species that have been rescued.
4. Macon, Georgia
Travel time: approximately 1 hour and 30 minutes
Head south of Atlanta for a day trip to Macon, Georgia. This central Georgia city has historic sites, music landmarks, cultural museums, and antebellum architecture to explore.
In the spring, you can see the cherry blossoms bloom on 350,000 Yoshino cherry trees. And any time of the year, you can explore the city's unique museums and fascinating historical sites.
Macon has two famous antebellum homes that you can tour: the Hay House and the Cannonball House. There's also the Tubman Museum, the Southeast's largest museum dedicated to African American art, history, and culture. The Allman Brothers Band even called Macon home from 1970-1973, and you can tour their house. And if you want to enjoy the great outdoors, you can explore the site of the Ocmulgee Indian Mounds, the largest ancient earthwork mounds in Georgia.
Visiting Macon's top sights can take a lot of time, but you can still see plenty of the city in just a quick day trip to Macon.
5. Amicalola Falls State Park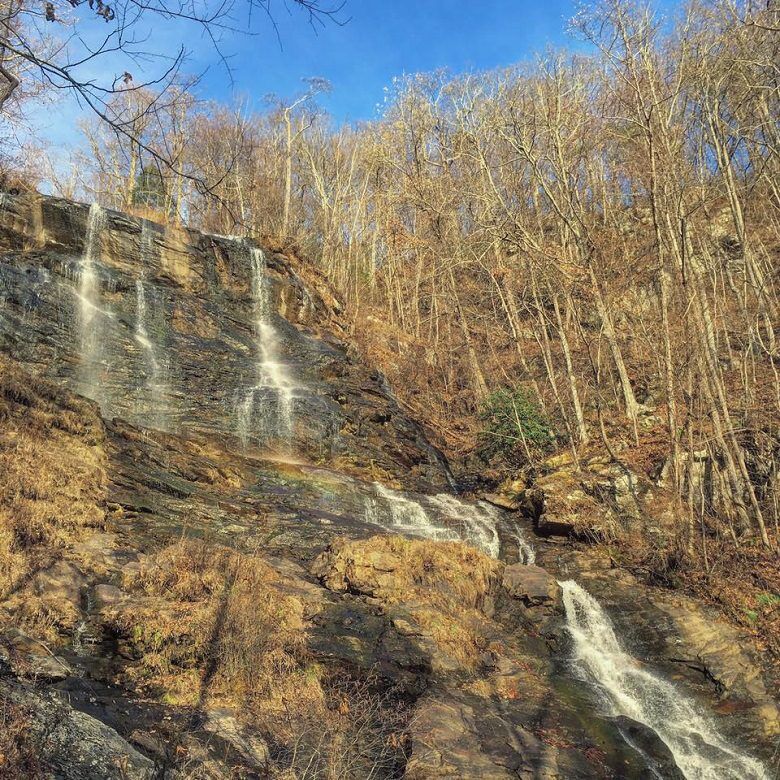 Travel time: approximately 1 hour and 30 minutes
Amicalola Falls State Park is one of Georgi's most popular state parks and a great day trip from Atlanta. It is located at the heart of the Chattahoochee National Forest and is named for its 729-foot tall waterfall: "amicalola" is a Cherokee word meaning "tumbling waters".
A hike to the top of Amicalola Falls is a must for visiting this state park. It is the tallest cascading waterfall in Georgia and the Southeast. From the top, you can look out over the falls and the gorgeous mountain views.
The park also has plenty of picnic shelters for a day of picnicking with the family. Or you can dine at the park's Maple Restaurant. You can also spend your day exploring the other hiking trails, ziplining, seeing animals at the animal meet-and-greet, or testing your skills at archery, a tomahawk challenge, or a wilderness survival trip.
6. Chattanooga, Tennessee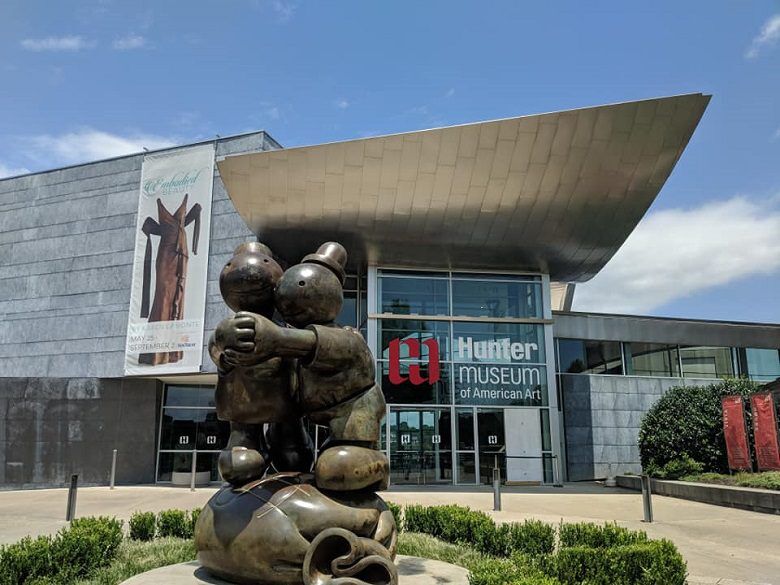 Travel time: approximately 1 hour and 45 minutes
Chattanooga, Tennessee is known as the Scenic City. Set along the Tennessee River in the foothills of the Appalachian Mountains, the scenery is absolutely breathtaking.
This city is most known for the underground Ruby Falls waterfall, Rock City Gardens with its unique formations, and the expansive Tennessee Aquarium.
But those are only a few of the things Chattanooga has to offer. Your day trip from Atlanta will be filled with fun things to do like riding the Incline Railroad, exploring the Hunter Museum of American Art, visiting the Chattanooga Zoo, trying Chattanooga's best restaurants, and so much more.
7. Unicoi State Park
Travel time: approximately 1 hour and 45 minutes
Unicoi State Park and Lodge is a great day trip for adventurers; it is known as Georgia's Adventure Lodge, after all. Take a day to unplug and enjoy the great outdoors here.
At this state park, you can picnic for the day, enjoy the park's playgrounds, or head to the beach and swimming area at Unicoi Lake. There are 12 miles of hiking trails, like the popular Unicoi to Helen Trail.
You can also spend your day paddleboarding, kayaking, fly fishing, mountain biking, ziplining, or trying your hand at archery to shooting at the Air Gun Range. There's a little something for every type of adventurer at this state park.
8. Tallulah Gorge State Park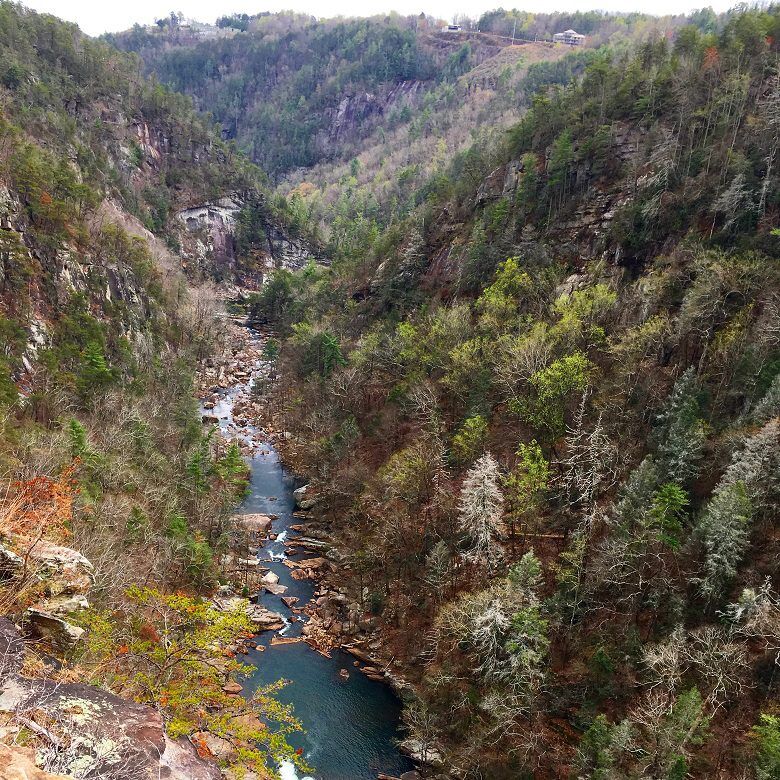 Travel time: approximately 1 hour and 45 minutes
Home to one of the most gorgeous canyons in the eastern U.S., Tallulah Gorge State Park has been a popular getaway since the 1800s. The gorge itself is even considered North Georgia's first tourist attraction. In 1882, a railroad was built just for servicing all the tourists visiting from Atlanta (though it doesn't exist any more).
The 2-mile long, 1,000-foot deep Tallulah Gorge canyon has stunning views into its depths, a series of six rushing waterfalls, and a 63 acre lake.
A day trip to Tallulah Gorge State Park may consist of hiking any of the 20 miles of trail, like the strenuous Hurricane Falls Loop Trail that takes you into the gorge and over a suspension bridge; swimming at Bridal Veil Falls; kayaking on the river; whitewater boating in the spring and summer; rock climbing; exploring the park's history at the interpretive center; or adventurous activities like archery, biking, fishing, or tennis.
9. Anna Ruby Falls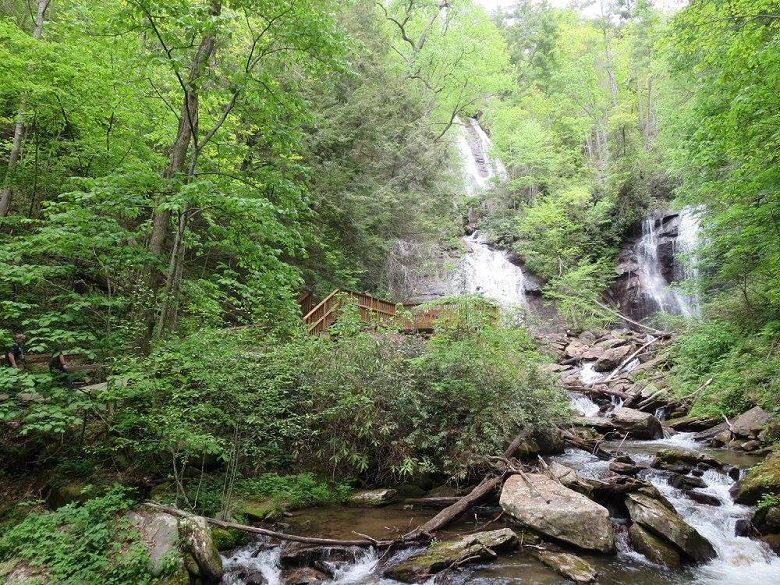 Travel time: approximately 2 hours
The hike to Anna Ruby Falls is one of the most popular hikes in Georgia. It's a quick and easy 0.5 mile hike on a paved path to the twin waterfalls' viewing platforms, making it a great hike for families. The taller falls has a drop of 153 feet, while the smaller falls has a drop of 50 feet; together they make a stunning pair.
Anna Ruby Falls is named for the daughter of John H. Nichols, a wealthy White County resident who owned much of the land nearby. The story goes that that Nichols found these twin falls while riding through the mountains shortly after the death of his wife and child.
In addition to the Anna Ruby Falls hike, there are two other trails: the Lion's Eye Trail is a 0.1 mile paved walking trail for the visually impaired; and the Smith Creek Trail is a 4.6 mile unpaved trail that leads from the vase of Anna Ruby Falls to Unicoi State Park and is quite strenuous.
10. Birmingham, Alabama
Travel time: approximately 2 hours and 15 minutes
Birmingham is the largest city in Alabama and has tons for you to do on a day trip from Atlanta. A visit to the Magic City is perfect for everyone.
Birmingham is known for the Barber Vintage Motorsports Museum, the Birmingham Civil Rights Institute, and the Vulcan statue at the Vulcan Park and Museum.
Also known as the Dinner Table of the South, Birmingham is an excellent foodie destination. If you love new and exciting food experiences, carefully crafted cocktails, and a bustling craft beer scene, then you'll love dining out in Birmingham.
11. Cloudland Canyon State Park
Travel time: approximately 2 hours and 15 minutes
A day trip to Cloudland Canyon State Park allows you to take in the scenic views of the gorge, hike to two rushing waterfalls, and participate in any number of adventurous activities. At 3,488 acres, this is Georgia's largest state park.
For day trippers, the park offers 6 picnic shelters, a group shelter, and a playground in addition to an impressive 64 miles of hiking trails, like the popular Waterfalls Trail that takes you into the canyon to the park's two stunning waterfalls.
You can also spend your time mountain biking, horseback riding, a cave system for experienced cavers to explore, a disc golf course, bike rentals, and fishing.
12. Brasstown Bald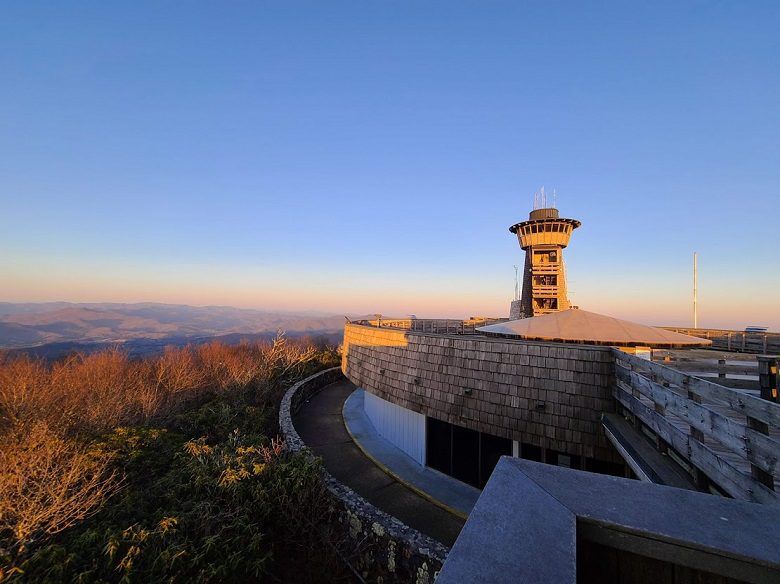 Travel time: approximately 2 hours and 20 minutes
One of the best day trips from Atlanta is a hike to the highest summit in Georgia. From the observation deck at the top of Brasstown Bald, you can get unparalleled panoramic views of the foothills of the Appalachian Mountains.
At the top of this mountain 4,784 feet above sea level, you'll find an observation deck with 360-degree views of four states (Georgia, Tennessee, South Carolina, and North Carolina), and you can even see the skyscrapers of Downtown Atlanta on a clear day. There is also a small Visitor Center and museum located at the summit.
To make your trip really special, I highly recommend taking a sunset hike to the summit. You'll be able to witness the exact moment the sun dips below the horizon and the sky is lit up with amazing colors. It's a steep 1 mile hike to the top, but it is well worth it for the view.
13. Montgomery, Alabama
Travel time: approximately 2 hours and 20 minutes
Alabama's capital city makes for a great road trip. Montgomery has a lot going on from Alabama history to Civil Rights history to fine arts museums.
The city is most known for its sights such as the domed Alabama State Capitol building, the Civil Rights Trail, the Hank Williams Memorial, and the Montgomery Museum of Fine Arts.
The city even has a surprising literary history with attractions like Zelda and F. Scott Fitzgerald's last home together and the Alabama Shakespeare Festival.
14. Greenville, South Carolina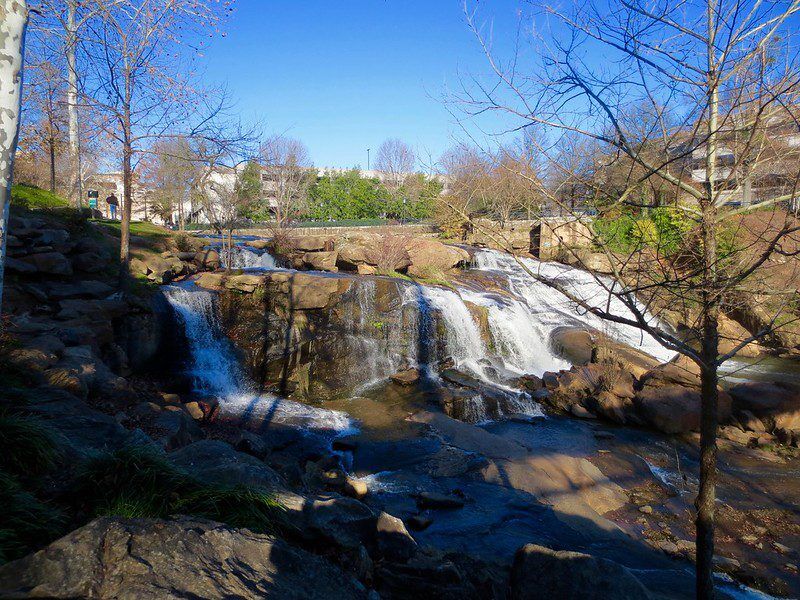 Travel time: approximately 2 hours and 30 minutes
Greenville, South Carolina makes for a memorable day trip with plenty of fun activities, surprising discoveries, and unforgettable memories.
Greenville is home to Falls Park on the Reedy, the perfect spot for nature-lovers that is walkable from downtown. The park has riverside gardens, a suspension bridge, and waterfall views.
In addition, you can spend your day exploring the Greenville Zoo with popular animals like African lions and several primate species, the Greenville County Museum of Art with works by Southern artists, or the Upcountry History Museum with displays on the history of upstate South Carolina.
15. Bryson City, North Carolina
Travel time: approximately 3 hours and 10 minutes
While it's one of the longer day trips from Atlanta, a visit to Bryson City, North Carolina is well worth the drive. This beautiful town is right in the middle of outdoor adventures.
As a gateway to the Great Smoky Mountains, there are plenty of outdoorsy activities to enjoy. You can spend your day white-water rafting on the Tuckasegee River, rafting or kayaking on the Nantahala River, boating and fishing on Fontana Lake, or mountain biking on the Tsali trails.
And don't miss a ride on the Great Smoky Mountain Railroad, a rail excursion that takes you through this remote corner of North Carolina, through tunnels, across rivers and lakes, through mountain valleys, and into a deep river gorge.
Where to Stay in Atlanta
Find the perfect place to rest your head on your visit to Atlanta, from the top rated accommodations to unique stays you can't get anywhere else.
Craving More Atlanta Activities?
If you need more things to do while visiting Atlanta, check out these top posts:
---
Ready to visit Atlanta, Georgia? Plan your trip with these tips.
---
Cheers!
Paige
Have you taken any of these top day trips from Atlanta, Georgia? Which are your favorite? Let me know in the comments!