Even the food here in the Rocket City rocks! Check out these fantastic restaurants in Huntsville, Alabama that will blow you away.
Are you ready for a dining experience that is out of this world?
Whether you're looking for melt-in-your-mouth barbeque, delectable pizza, or your Southern-style favorites, Huntsville has it all — and more.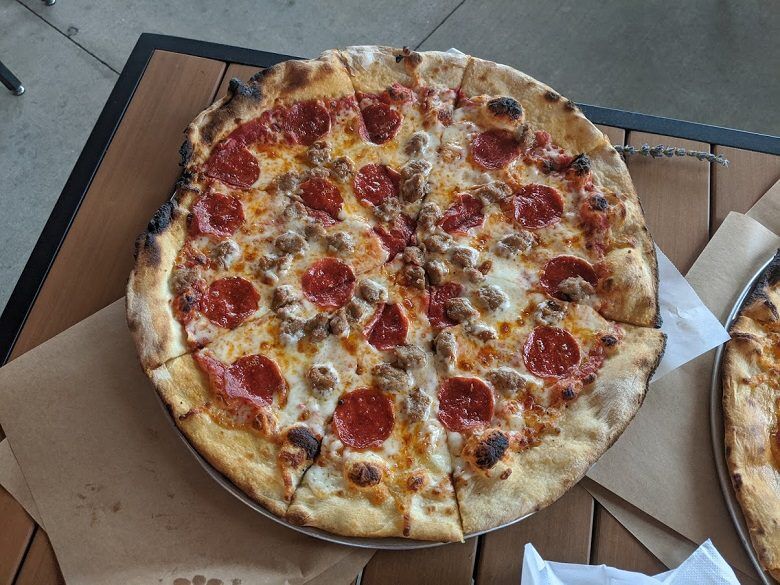 From cozy bistros to high-end fine dining options, you'll be sure to find something that suits your taste. With so much to choose from, you'll never run out of options!
Get ready to salivate as you get an inside look at some of the most exciting restaurants in Huntsville, Alabama.
The Best Huntsville Restaurants
From local dives to upscale eateries, Huntsville has something to please everyone's palate. Discover the fantastic restaurants Huntsville has to offer.
1. MELT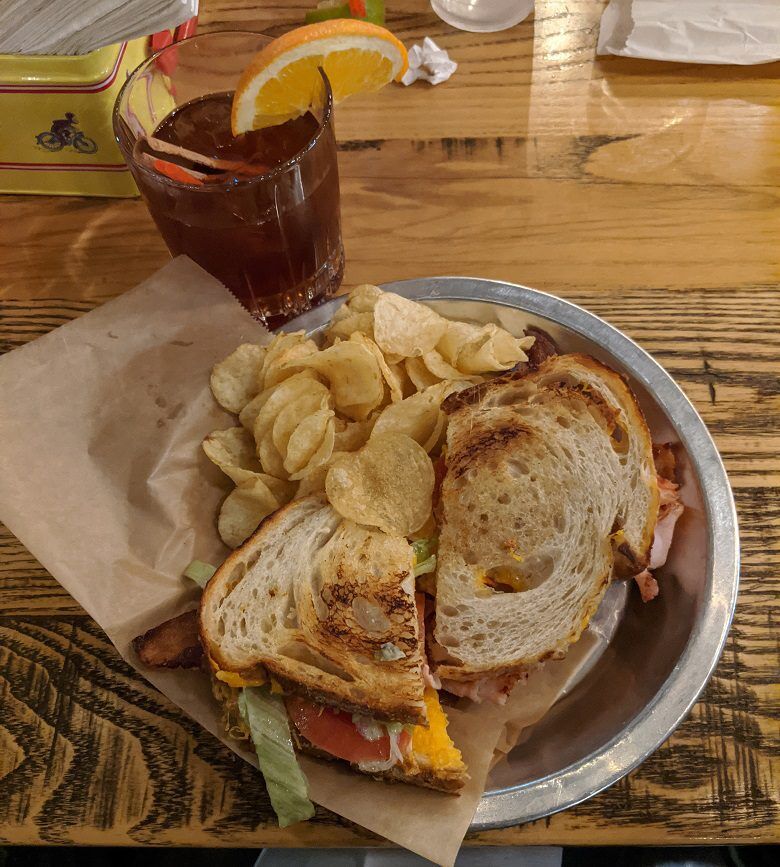 MELT originally started as a grilled cheese food truck in 2011. Now, the food truck is retired, but they have three brick-and-mortar locations in Alabama serving classic comfort food with a twist.
While you can still get a Classic Grilled Cheese, I highly recommend branching out and trying any of their other amazing sandwiches. I always love the Ole Smokey or the Chicken Pesto.
201 Jefferson St N Suite I, Huntsville, AL 35801
2. Char Restaurant
Char Restaurant is an upscale, Southern-style modern steakhouse. On the menu, you'll find USDA Prime and Choice cuts of meat, fresh seafood, home-style sides, brunch, and a selection of classic cocktails, wine, and bourbon.
On Sunday, you can join in for a New Orleans style jazz brunch. In their piano bar at the front of the restaurant, they feature nightly entertainment and a jazz trio on Sunday mornings.
931 Bob Wallace Ave SW Suite 201, Huntsville, AL 35801
3. Earth and Stone Wood Fired Pizza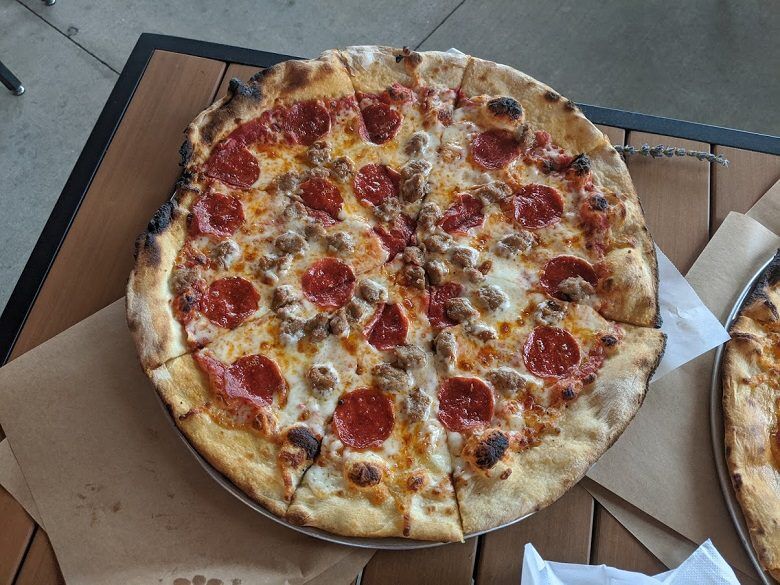 Earth and Stone Wood Fired Pizza started in 2013 as a mobile pizza vendor and caterer. Two short year's later, they collaborated with Yellowhammer Brewing to open their pizza joint inside the Yellowhammer brewery building located at Campus 805.
Craft pizza and craft beer make for a perfect combo, but Earth and Stone pushed it even further with their house-made ice cream, making a perfect trio. Try their signature adult ice cream flavor, Bourbon Butter Pecan, along with a featured pizza like The Infamous Tommy G with red sauce, pepperoni, bacon, Italian sausage, spinach, basil, and mozzarella and provolone.
2600 Clinton Ave W, Huntsville, AL 35805
4. Rhythm on Monroe
Rhythm on Monroe is one of Huntsville's hottest rooftop bars and restaurants. Their downstairs dining room serves music-inspired dishes like the Classic Rock Burger and the Yardbird Jive Club Sandwich.
The rooftop is first-come-first-served with a small shareable menu and delicious drinks. Grab a Back in Blackberry Mojito and enjoy the view of Downtown Huntsville!
700 Monroe St SW, Huntsville, AL 35801
5. Oshi Poke Bowl and Sushi
Oshi Poke Bowl and Sushi has a swanky corner location in Downtown Huntsville. You can grab a sushi roll at the sushi bar while you dine under a digital fish bowl projected on the ceiling; or you can create your own sushi bowl, grab a boba tea, or have a warm bowl of ramen.
This is only one of a couple places where you can get a poke bowl in the city. They have a number of signature bowls, or you can build your own. They also have Sushiritos, a burrito version of your favorite sushi rolls.
201 Jefferson St N, Huntsville, AL 35801
6. Sam & Greg's Pizzeria Gelateria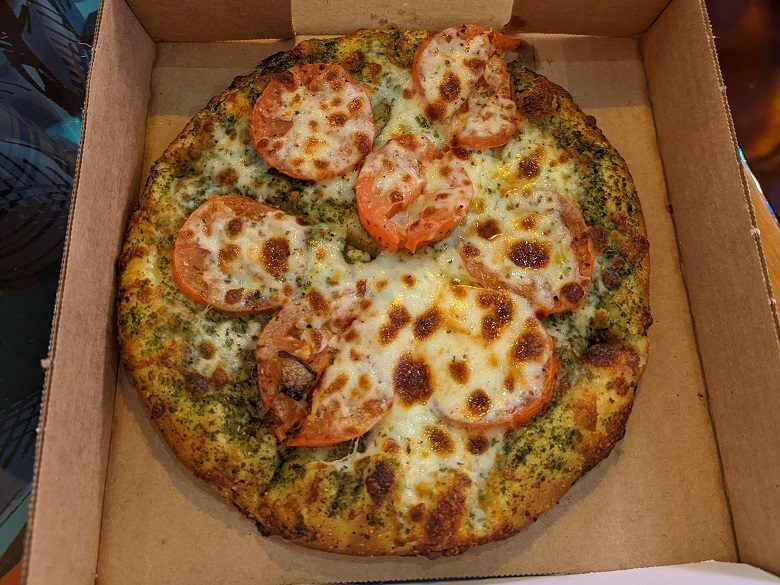 Located on the Square in Downtown, Sam & Greg's Pizzeria Gelateria has been a Huntsville staple for years. Sam & Greg's offers handmade pizza, gelato, and espresso.
Try a fresh, made-to-order pizza like the Deluxe with mozzarella, pepperoni, Italian sausage, ham, and bacon or the Key West with mozzarella, chicken, ham, artichokes, black olives, and mango. For dessert, choose from their variety of gelato flavors from classic vanilla and chocolate to unique flavors like Lavender or Spicy Hot Chocolate.
116 Southside Square, Huntsville, AL 35801
7. Drake's
Drake's has over 20 craft beers on tap, big burgers, and fresh sushi. It's the mashup you never knew you needed! Try one of their Steaks & Combos, like the Filet With Crab Rangoon or Filet With California Roll.
And if sushi combos aren't your thing, you can't go wrong with a delicious burger, sandwich, or traditional bar foods.
4800 Whitesburg Dr #14, Huntsville, AL 35802
8. Rosie's Mexican Cantina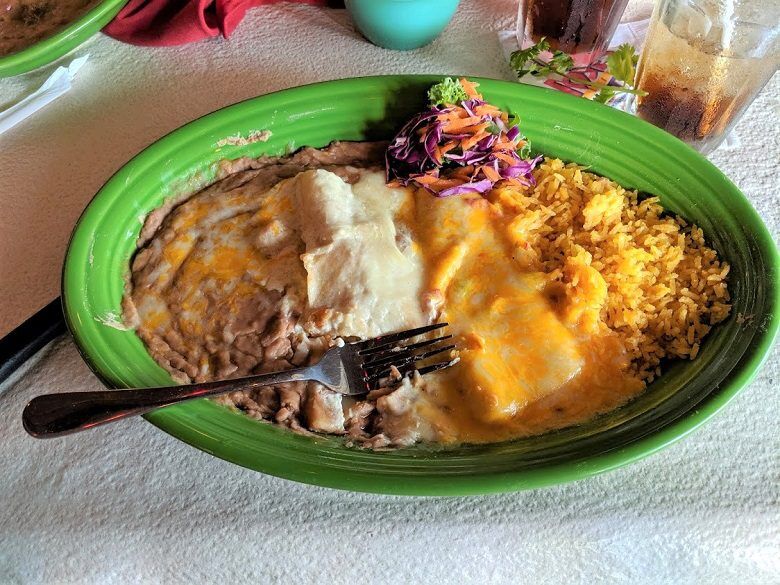 Rosie's Mexican Cantina has been one of Huntsville's favorite Tex-Mex restaurants since opening in 1995. This restaurant serves Tex-Mex classics from quesadillas to enchiladas to fajitas. And definitely order one of their amazing margaritas, frozen or on the rocks!
Rosie's has two restaurants in Huntsville and one in Florence, as well as Little Rosie's, a fast-food version of your Tex-Mex favorites.
South Memorial Parkway: 7540-A Memorial Pkwy SW, Huntsville, AL 35802
University Drive: 6196 University Dr NW, Huntsville, AL 35806
9. Hildegard's German Cuisine
Hildegard's German Cuisine has been providing Huntsville with great German food for over 15 years. They strive to prepare their food authentically, making sure to boil, peel, fry, and mash over 700 pounds of potatoes, and hand-trim almost as many pounds of pork, chicken, and veal every week.
Try their Pork Schnitzel or go for the Schlachteplatte for a sampling of Polish Sausage, Bratwurst, and Bier Bratwurst
2357 Whitesburg Dr, Huntsville, AL 35801
10. West End Grill
West End Grill is a great neighborhood pub near Bridge Street Town Centre. They have a menu with a little bit of everything, so you're sure to find something you like.
Choose from a selection of burgers, sandwiches, grilled favorites, and Southern classics. Go for the Fried Chicken Sandwich or the Southern Country Fried Platter. They also offer an Express Lunch Menu perfect for those with a short lunch break.
6610 Madison Pike #109, Huntsville, AL 35806
11. Supper Heroes
Supper Heroes is a no-frills sandwich and burger restaurant with a superhero theme. The small space only has about 15 tables, but their extensive menu of uniquely crafted hamburgers and sandwiches packs a big punch.
In the back of the restaurant is small arcade with retro games, making this a favorite spot for families with small children who love all things superhero.
1812 Winchester Rd NE, Huntsville, AL 35811
12. New Ichiban Japanese Steak Seafood and Sushi
New Ichiban is a delicious Japanese restaurant offering hibachi grill fare and a sushi bar.
You can enjoy dinner and a show at their hibachi grill tables in the front of the restaurant, or head to the back for freshly prepared sushi.
4851 Whitesburg Dr, Huntsville, AL 35802
13. Cajun Steamer
Cajun Steamer is a Louisiana-style bar and grill where it's always Mardi Gras.
Enjoy authentic bayou fare like steamed or boiled crawfish, seafood gumbo, gator bites, oysters, and po'boys.
301 Pelham Ave SW Suite C-1, Huntsville, AL 35801
14. Peppered Pig
Peppered Pig is a food truck (and soon-to-be brick-and-mortar location) with some of the best burgers in Huntsville.
You can get a gourmet burger with unique flavor combinations, like the Bulgogi Burger with a beef burger marinated in Korean BBQ sauce topped with a fried sesame sushi rice cake, kimchi, garlic mayo, and grilled scallions.
11110 Memorial Pkwy SW, Huntsville, AL 35803, located in the Packards Antique Center parking lot beside Pep Boys
15. Fire & Spice TexMex
Fire & Spice TexMex combines Tex-Mex flavors with old school Texas-style barbecue. This food truck got its start in 2015. You can find them at events and food truck rallies around town; just check their calendar for their current locations.
Their menu offers barbecue plates, street tacos, burritos, rice bowls, and more.
3200 Leeman Ferry Rd SW, Huntsville, AL 35801
16. Bark & Barrel BBQ
Bark & Barrel BBQ at Stovehouse serves Alabama barbecue with a twist. They serve up house-smoked wings, turkey, BBQ, homemade chips, and great sides.
Keep an eye out for daily specials like the coveted Brisket French Dip. And for dessert, you'll want to try their smoked chocolate chip cookies.
3414 Governors Dr SW #535, Huntsville, AL 35805
17. The Revivalist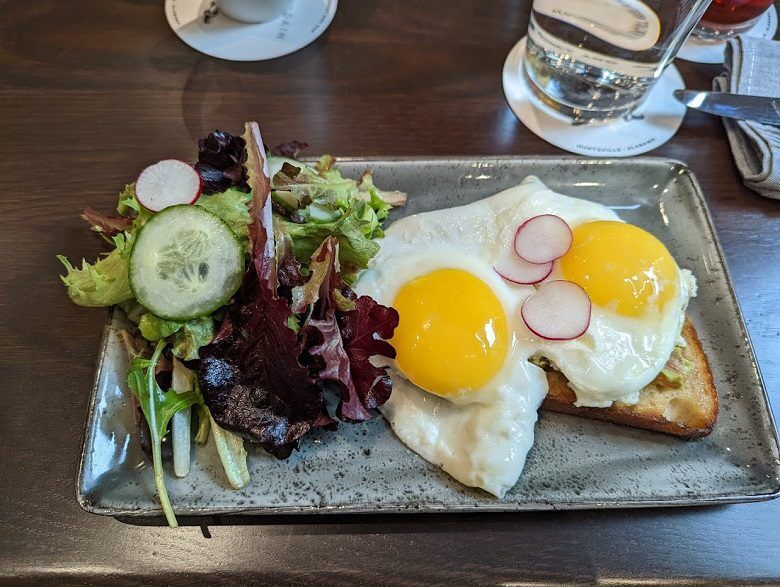 The Revivalist is the restaurant at the 106 Jefferson hotel. The theme is an homage to a historic Huntsville tavern that once occupied this location.
The restaurant exudes Southern Charm and old-time hospitality. Their dishes are inspired by European classics and American regionalism. Start your day off with Avocado Toast for breakfast, the Revivalist Burger for lunch, and the Shrimp & Grits for dinner.
106 Jefferson St S, Huntsville, AL 35801
18. Jack Brown's Beer & Burger Joint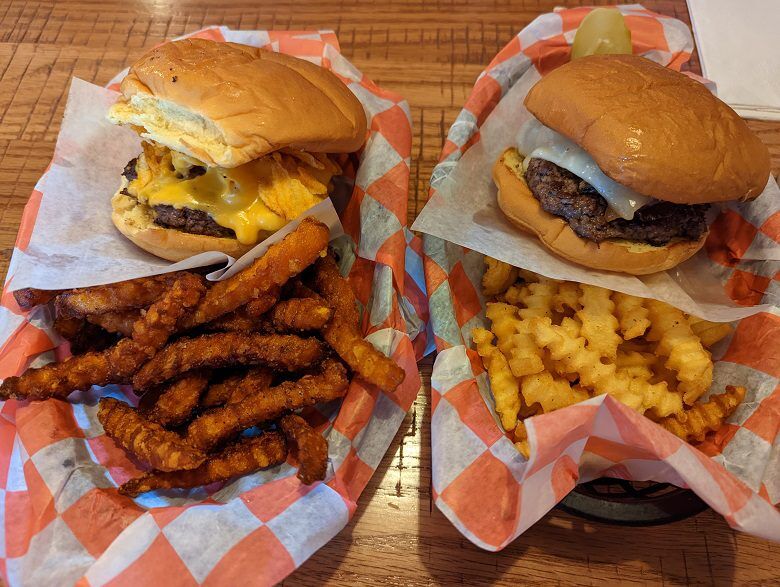 Jack Brown's Beer & Burger Joint is a small downtown restaurant that packs a whole lot of flavor into their burgers. Their décor is funky, with walls covered in beer labels and stickers. Outside, they have a nice little patio area on the Square.
Their menu offers an array of burgers made with 100% American Wagyu beef. Their simple and basic burgers are all created with a twist on an American classic. Try the Dr. Gonzo topped with mushrooms and bacon or the Greg Brady topped with mac n' cheese and BBQ potato chips.
123 North Side Square Ste 100, Huntsville, AL 35801
19. The Bottle Restaurant
The Bottle is a fine dining restaurant that specializes in Southern cuisine with a French influence. Their menu features rotating seasonal creations, so you're always in for something new and exciting.
On the menu, you'll find a variety of dishes like raw oysters, jumbo crab cakes, veal chops, lamb racks, and steaks. Pictured above is the Springer Mountain Chicken Pasta with roasted heirloom tomatoes, wild mushrooms, peppers, spinach, and bacon.
101 Washington St NE, Huntsville, AL 35801
Huntsville Restaurants Map
Are you ready to get a taste of Huntsville? Huntsville is filled to the brim with fantastic restaurants! Use the map below to help you plan out your next meal in Huntsville, Alabama.
Huntsville is sure to have something that will satisfy even the most experienced foodie. Make sure you add these top Huntsville restaurants to your must-eat list! Bon appétit!
Where to Stay in Huntsville, Alabama
Find the perfect place to rest your head on your visit to Huntsville, from the top rated accommodations to unique stays you can't get anywhere else.
More Things To Do in Huntsville, Alabama
Just can't get enough of the Rocket City? Check out these other things to do in Huntsville.
---
Ready to visit Huntsville, Alabama? Plan your trip with these tips.
---
Cheers!
Paige
What are your favorite restaurants in Huntsville, Alabama? Let me know in the comments!