The hike to Preacher's Rock is one of the shortest day hikes on the Appalachian Trail. This 2-mile round-trip hike starts from Woody Gap and climes to a rocky outcropping with incredible mountain views.
Take this short but sweet hike near Dahlonega to get some of the most amazing views out over the North Georgia Mountains.
About Preacher's Rock
Preacher's Rock is an overlook on the Appalachian Trail in Lumpkin County, Georgia located not far from the popular towns of Dahlonega and Helen.
This exposed rock outcropping is so named because it would be a great place for a preacher to deliver a sermon to the valley below.
Hiking to Preacher's Rock from Woody Gap
The hike to Preacher's Rock begins at Woody Gap on GA Hwy 60. There is parking on both sides of the highway, with additional mountain views from the south parking area. At the north parking area, there are outhouse-style restrooms and the trailhead.
The trail begins at the north parking area, following the white-blazed trail that branches to the right. You're officially on the Appalachian Trail! Along the way, you'll pass campsite clearings that are perfect for AT through-hikers.
The hike starts off fairly easy and flat but gains altitude quickly near Preacher's Rock. For that reason, I'd call this a moderate hike.
There will be a slight dip in elevation and then the trail climbs quickly through sharp, rocky switchbacks and large boulders.
You'll be teased with a view through the trees from a rock outcrop at about 0.9 miles. You're almost there, but that remaining 0.1 mile is a tough climb!
The trail finally reaches Preacher's Rock at about 1 mile, near the summit of Big Cedar Mountain. This broad rock outcrop gives incredible views of the southeast. It's the perfect spot for a picnic, and you'll be glad for a rest.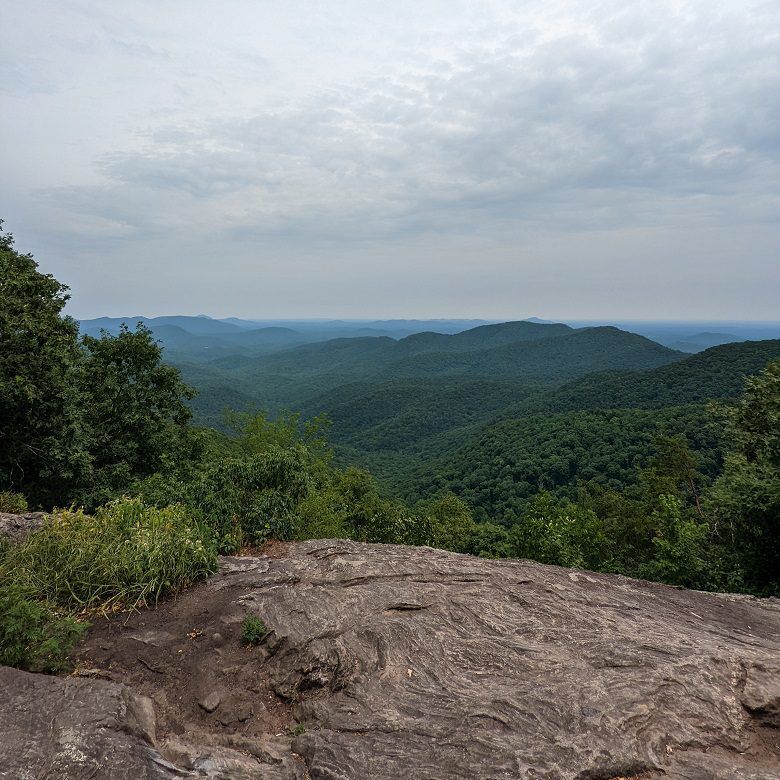 Once you're well rested, the hike returns to the trailhead, retracing its step on a much quicker and easier hike down. The hike is completed at about 2 miles.
Hiking Essentials
Come prepared for your hike by making sure you pack the essentials. Check out this must-have hiking gear before you set off on the trails:
Where to Stay in Dahlonega
Find the perfect place to rest your head on your visit to Dahlonega, from the top rated accommodations to unique stays you can't get anywhere else.
More North Georgia Hikes
Looking for more hiking trails in North Georgia? Check out more of these amazing Georgia hikes:
---
Ready to visit Dahlonega, Georgia? Plan your trip with these tips.
---
Cheers!
Paige
Have you hiked to Preacher's Rock on the Appalachian Trail? Let me know in the comment section below!