Dahlonega is the perfect place for a weekend getaway in the North Georgia Mountains! Known for its Gold Rush history, award-winning wineries, and beautiful hiking trails, Dahlonega is a go-to mountain escape in Georgia.
I love going out and exploring the small towns in the North Georgia Mountains. Once you've discovered Dahlonega, Georgia's Wine Country, you'll never want to leave!
If you're planning a weekend escape to Dahlonega, this post will tell you everything you need to know about the best things to do, where to eat, and where to stay.
Things To Do on a Weekend in Dahlonega
Fill your weekend itinerary with all these amazing things to do in Dahlonega, Georgia. From history to wine tastings to scenic hikes, there's something for everyone to enjoy.
Discover Dahlonega Historic Sights
History buffs will love a weekend stay in Dahlonega. The town was the site of the first major Gold Rush in the U.S. in 1829, and the name "Dahlonega" comes from a Cherokee word meaning "yellow" or "gold". Check out Dahlonega's top historic sights and things to do.
1. Dahlonega Gold Museum State Historic Site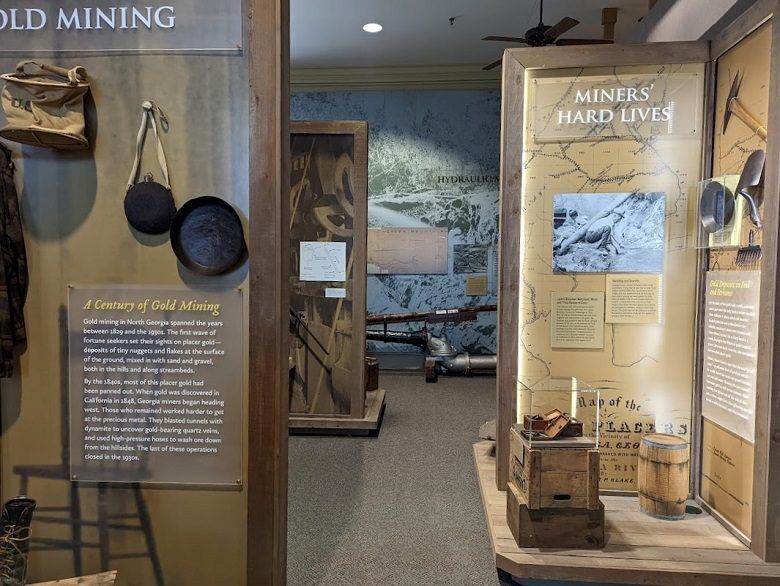 Dig into Dahlonega's history as a gold mining town the Dahlonega Gold Museum, located in the historic Old Lumpkin County Courthouse. The courthouse was built in 1836 and is one of the oldest courthouse buildings in the state.
The museum's exhibits showcase the town's rich (literally) history of gold mining. You'll learn about the methods used to mine for gold, the rise and decline of the town's Gold Rush, and see gold coins minted at the Dahlonega Mint.
2. Consolidated Gold Mine
The Consolidated Gold Mine is the site of the largest hard rock gold mine east of the Mississippi River. Several extremely large veins of quartz containing gold formed one giant vein 22 feet thick here. It's still one of the largest veins of quartz discovered in the world containing gold.
A tour of the old mine takes you 200 feet underground where you can see the mined "Glory Hole" vein and the tools miners used to extract the quartz and gold. After the tour, you can pan for gold and find tiny fleck through hard work of sloshing sand and water in a pan.
3. Auraria
Auraria, named for the Latin word for "gold", is the Gold Rush's forgotten ghost town. This was the real boomtown during the Gold Rush, with thousands of miners moving in and turning a one-cabin town into a thriving settlement with hotels, general stores, and taverns.
This only lasted a short time before Dahlonega was determined to be a better spot to build on, and most of the community and businesses moved northward. All that remains are a few abandoned buildings, including the General Store that remained open until 1997.
4. Dahlonega's Mustering Grounds
Dahlonega's Mustering Grounds is historical site is where soldiers would line up to be mustered, or be accounted as members of a military unit during the Civil War. It was also a rallying site for troops to show support during other conflicts within the U.S.
This historical marker is a little hidden. You'll find it on North Grove Street just across from Smith Gold Nugget Lodge.
5. Historic Holly Theater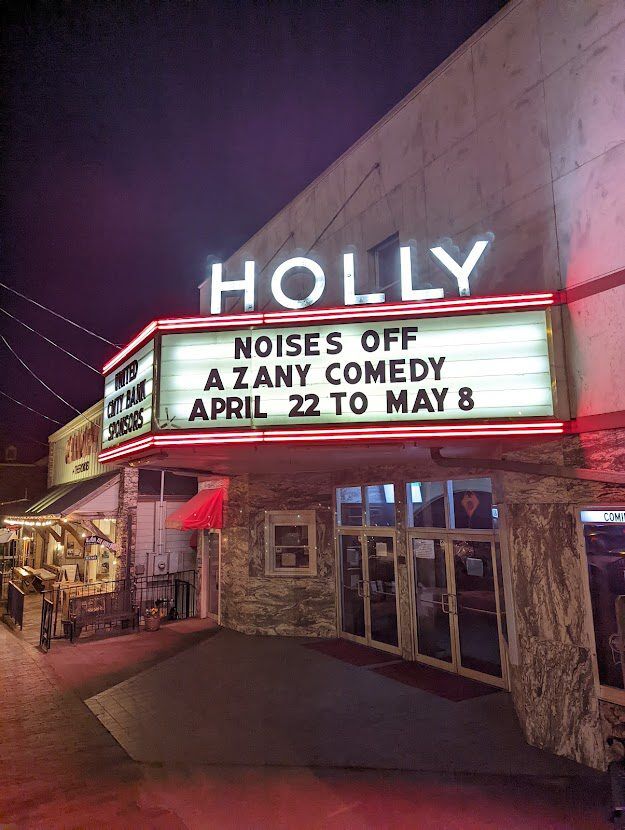 The Historic Holly Theater was constructed as a movie theater in 1948. The theater had a good run until the 1960s. By the 1970s, the theater was completely closed down, and it had a short-lived life as the Harvest Bible Church in 1980. It sat in ruin until 1993 when the town worked to restore the building.
Today, this gorgeous old theater is a venue for plays and concerts.
6. Chestatee Wildlife Preserve & Zoo
The Chestatee Wildlife Preserve & Zoo is home to over 100 animals who have been orphaned, abused, illegally purchased, or for whatever reason were in need of a forever home. Their animals include bears, tigers, camels, and even a zedonk (half zebra, half donkey).
Go Shopping on Dahlonega Square
Dahlonega Square is great for shopping local.
Laid out around the historic courthouse, the Square is easily walkable and lined with local shops, cafes, and restaurants that make great use of their historic digs. Be sure to read the plaques on the outside of the buildings to learn about their rich history!
Check out some of the Square's best shops.
Dahlonega General Store — This old-fashioned general store sells the things a traditional general store would sell, like home-made jams, jellies and relishes; old-fashioned candy; marbles by the pound; and wooden toys. You'll also find a bunch of modern gifts and Dahlonega souvenirs.
Antique Shops — Walk down Main St. just off the Square and you'll find great antique stores. Shops like Gateway Antiques, Antiques & Collectables, and Gold City Antique Gallery are perfect for finding hidden gems.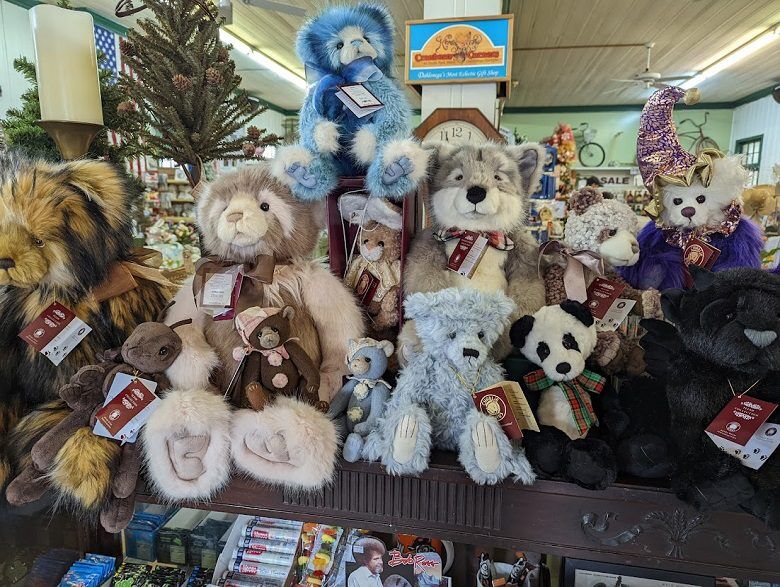 Cranberry Corners (pictured above) — Located in what used to be the town square post office, this eclectic gift shop has unique gift ideas from hand-crafted creations to antiques to the year-round Christmas room.
The Humble Candle — This mom-and-pop gift shop is a breath of fresh air. They sell candles in all sizes and fragrances, accessories, décor, aromatherapy, and more. The store is housed in the old Bank of Dahlonega building where you can still see the old bank vault and a rare cannonball safe; that's also why there are bars on many of the windows!
Paul Thomas Chocolates (pictured above) — Paul Thomas Hoffman quit his rocket engineering job to start a candy-making business in Florida in 1975. Eventually, he moved to North Georgia to retire, but instead founded Paul Thomas Chocolates. You can get all kinds of truffles, candies, chocolates, and sweets, and you can watch them being made in the back of the shop.
Grateful Days (pictured below) — This funky store offers clothing and accessories for the hippie in all of us. Shop unique band t-shirts, Baja hoodies, incense, home décor, retro band posters, and more. Oh, and it's located in one of the most haunted buildings in Dahlonega.
The Spice & Tea Exchange of Dahlonega — Shop for fine spices, handcrafted seasonings, loose-leaf teas, salts, sugars, and even spice-scented candles. With over 85 handcrafted seasonings, it's easy to add a little spice to your life!
Bleu Gallery — This eclectic art gallery is made up of 25+ local artists offering everything from paintings to pottery to photography to jewelry. They even offer wine tastings, which is the perfect lead-in to my next segment!
Do a Wine Tasting on the Square
At the heart of Georgia's wine country, a wine tasting in Dahlonega is a must.
On your weekend getaway to Dahlonega, you may not have time to squeeze in an entire vineyard tour, but you can easily do a bunch of tastings on the Square!
There are plenty of tasting rooms in Downtown Dahlonega offering wines from local vineyards all over the state of Georgia, and you can easily walk between each one.
Naturally Georgia (in Bleu Gallery) (pictured above) — Naturally Georgia at the Bleu Gallery offers wine tastings from multiple Georgia vineyards and boasts the largest Georgia Grown wine list in the world. You can choose tastings from more than 40 local wines.
Dahlonega Tasting Room (pictured above) — Dahlonega Tasting Room offers wines from Habersham Vineyards & Winery as well as mead from Etowah Meadery, so this place isn't just for wine-lovers. They also sell cute honeybee home décor, garden decorations, and wine accessories.
Grapes & Ghosts Tasting Room (pictured above) — An offset of Dahlonega Walking Tours, the Grapes & Ghosts Tasting Room serves wine from Georgia Winery in Ringgold. The tour company is known for their ghost tours, and yes, they do a haunted wine tour that will take you to all these tasting rooms on the Square and tell you ghost stories.
Canvas and Cork Wine Tasting (pictured above) — Canvas and Cork is an art gallery that offers wine tastings, art classes, and wine and paint parties. Their wines come from Gin Creek Vineyards in South Georgia.
Dahlonega Square Hotel Wine Tasting — This wine tasting at the Dahlonega Square Hotel & Villas offers tastings from Kaya Vineyard & Winery in the hotel lobby.
Visit Wineries in Dahlonega
Dahlonega is the heart of Georgia Wine Country with 8 vineyards and wineries in the city limits.
You're not confined to just these vineyards, though, as there are so many North Georgia wineries perfect for a day trip that are less than an hours drive, like the Ellijay wineries and vineyards in the Helen/Cleveland area.
Here are my recommendations for vineyards and wineries in Dahlonega.
1. Montaluce Winery & Restaurant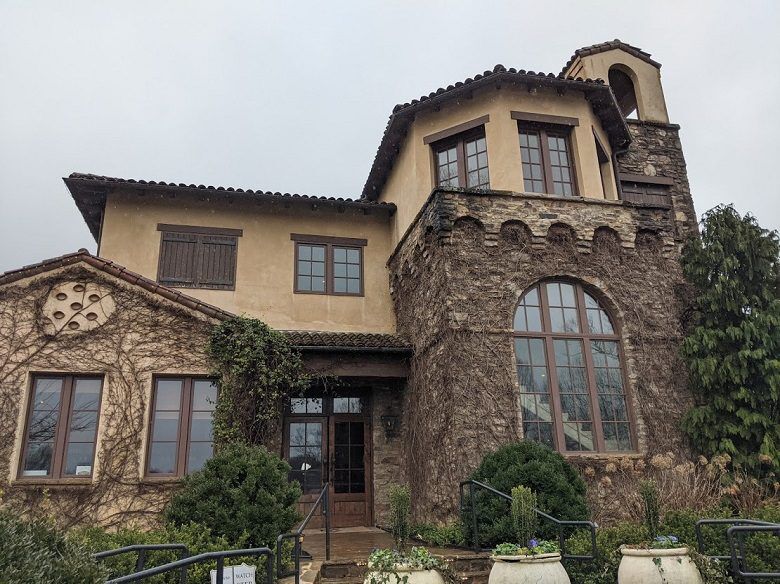 Visiting Montaluce Winery & Restaurant is like being transported to a vineyard in Tuscany. Their restaurant is housed in a beautiful Italian-style villa with large windows overlooking the vineyards and pond.
Both the food and the wine are delicious. You can enjoy a meal and a glass of wine inside their cozy trattoria or out on their spacious patio with a vineyard view. They also offer villa rentals in their beautiful Tuscan villas.
2. Frogtown Cellars
You'll enter Frogtown Cellars through an idyllic lush setting across a small bridge and a koi pond. Their cozy tasting room overlooks their vineyards and a pond.
They offer wines from their North Georgia vineyard as well as Muscadines from their South Georgia vineyard. If you need something to eat, definitely go for a slice of their apple pie made onsite with fresh apples!
3. Kaya Vineyard & Winery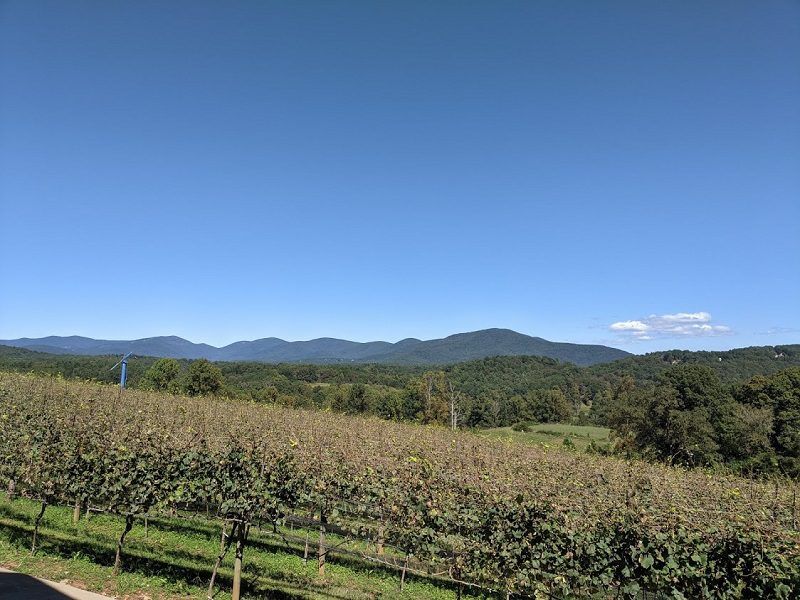 Kaya Vineyard & Winery has an awesome setup atop a ridge overlooking its vineyards and the mountains. Their 2,000 square-foot covered deck is the perfect place to sip and enjoy the views. There are also tables set up all around the property so you can enjoy your wine anywhere you please.
All of Kaya's wines are made from estate-grown grapes. They also offer food and live music. If you want to stay on the property, they offer Kaya Cottages that come with garden views and fully-equipped kitchens.
Get Outdoors on a Dahlonega Hike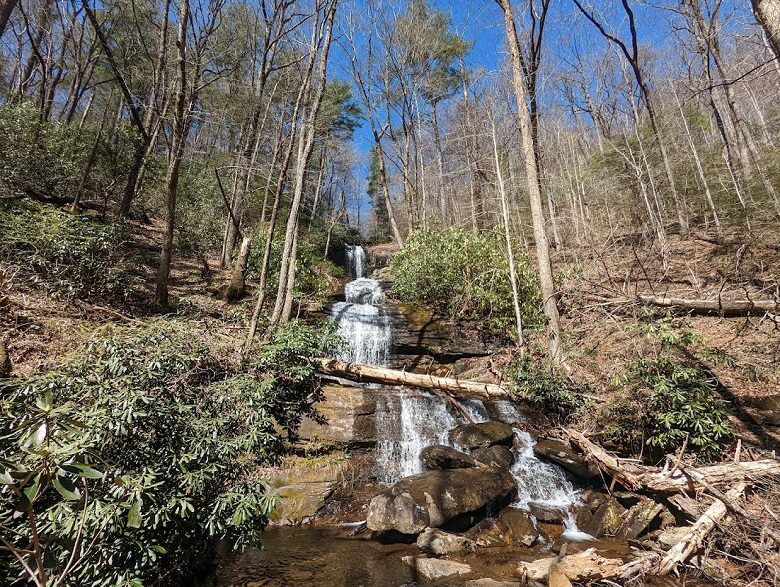 Dahlonega's mountain wilderness is a great place for hiking. There are plenty of beautiful waterfall hikes in the area as well as access to the iconic Appalachian Trail nearby.
Check out some of the top quick hikes for your weekend in Dahlonega.
DeSoto Falls (pictured above) — A 2 mile out-and-back trail to two gorgeous waterfalls
Amicalola Falls — A 2 mile out and back trail to the tallest cascading waterfall in Georgia
Appalachian Trail — The famed 2,180+ mile trail along the Appalachian Mountain Range has its southern terminus near Dahlonega. Popular access points include Springer Mountain, Neels Gap, and Woody Gap
Cane Creek Falls — A 0.5 mile out and back trail to a cascading falls located on the grounds of Camp Glisson
Lake Zwerner Trail — A 3.2 mile loop around Lake Zwerner, a.k.a. the Yahoola Creek Reservoir
Hiking Essentials
Come prepared for your hike by making sure you pack the essentials. Check out this must-have hiking gear before you set off on the trails:
Where to Eat in Downtown Dahlonega
You can find plenty of great local restaurants on Dahlonega's Square. Whether you're looking for a quick breakfast, a fueling lunch, or a leisurely dinner, there's something for everyone. Check out these top places to eat in Downtown Dahlonega.
1. Shenanigans
Shenanigans serves traditional Irish pub food in a packed historic house that was once home to the first female mayor of Dahlonega, Mayor Jessie Garner. The walls are covered with dollar bills, they have a covered patio and a pet-friendly deck, and there is live music almost every day of the week.
Their classic Irish dishes will transport you to Dublin. Try the Irish Stew with Guinness-marinated beef, the Bangers and Mash with authentic Irish sausages on top of mashed potatoes, cabbage, and bacon, or the Fish and Chips with Guinness tempura-battered fried code and signature pub potato chips.
2. North Georgia BBQ Dahlonega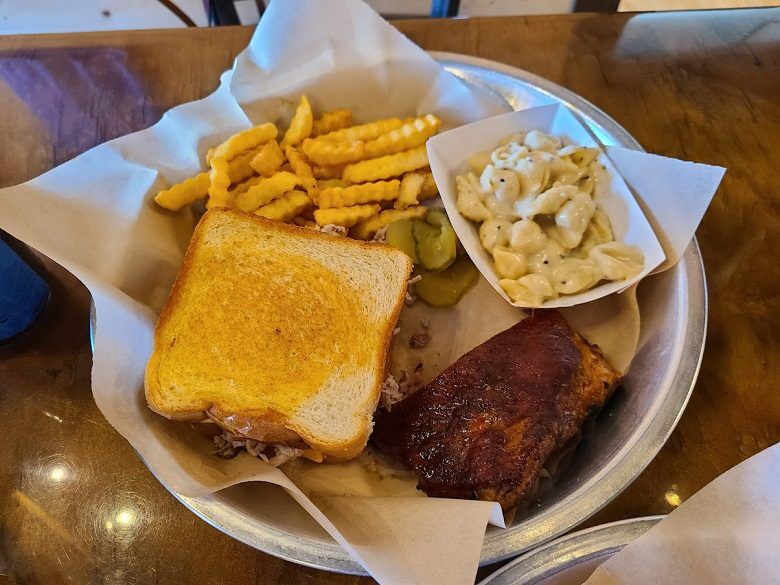 For some old-fashioned Southern barbecue, head to North Georgia BBQ Dahlonega. You'll get prime cuts of meat smoked daily and juicy and flavorful barbecue.
They're known for their Pig Melt, a signature sandwich made with grilled cheese on Texas toast, chopped pork, and your choice of barbecue sauce.
3. GrapeVine's Italian Restaurant
GrapeVine's Italian Restaurant serves traditional Italian dishes like Spaghetti with Meat Sauce, Lasagna, and Baked Ziti. Each dish is filled with flavor and made with homemade sauces, made fresh daily.
This casual Italian restaurant has been a Dahlonega staple for more than 30 years. They offer a full bar with a great wine selection that pairs well with any dish. The restaurant offers live entertainment every first Monday and third Saturday of the month.
4. Picnic Cafe and Dessertery
Picnic Cafe & Dessertery is a small café on the Square that is locally owned by a former Dahlonega mayor and his wife (who also own The Humble Candle). They strive to serve simple, Southern food that satisfies.
All of their dishes are prepared fresh daily using family recipes. This is a great spot for breakfast, lunch, or a sweet treat. You can enjoy everything from chicken salad to sausages with gravy to beautifully-designed cakes.
5. Canopy + The Roots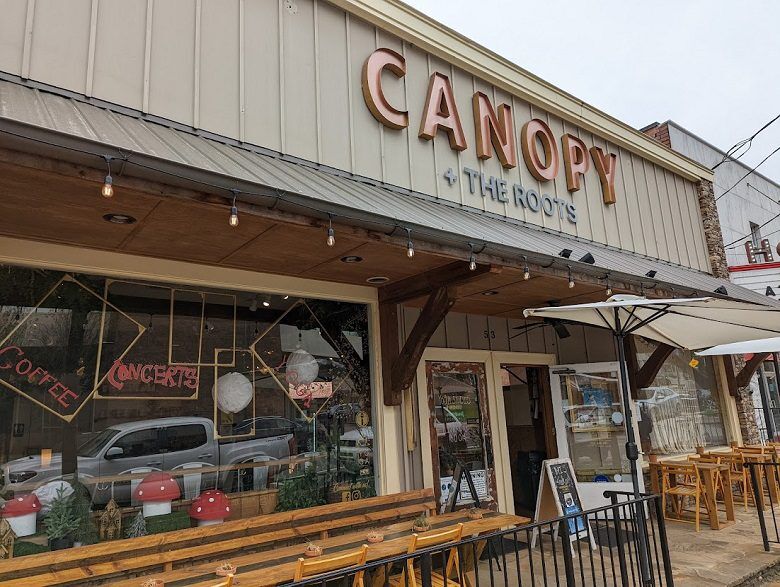 Canopy + The Roots is a coffee bar / music venue / yoga studio. Grab a breakfast of Costa Rican, fresh-ground coffee and a homemade pastry and enjoy sitting in the social house lounge filled with floor to ceiling plants.
In their listening room, you can catch live performances of poetry, stand-up comedy, music concerts, gallery art shows, and film screenings. The glass yoga studio offers daily classes and workshops.
Where to Stay for a Weekend in Dahlonega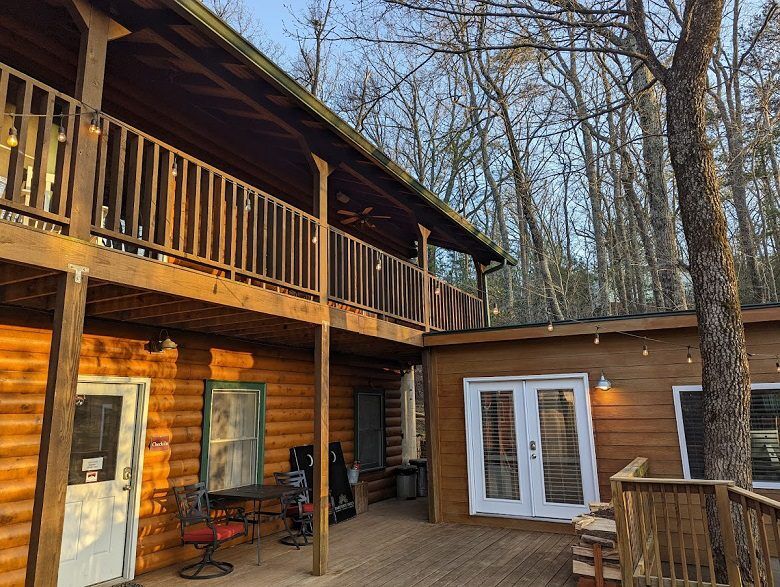 Dahlonega has every type of stay for your weekend, from campsites to bed & breakfasts to tiny homes to traditional hotels.
We stayed at the Barefoot Hills Hotel, located just a few miles from Downtown Dahlonega and nestled in the mountains. The hotel has long been a favorite of the Appalachian Trail hiking community as it's not far from the start of the AT.
There's a maximum occupancy of 28, so you get a quiet and secluded stay. The hotel has a variety of rooms and lodging options, including a hiker hostel, traditional hotel-type rooms, cabins, and eco-container cabins.
We had a modern hotel-style room that came with a pillowtop Queen bed, free Wi-Fi, a smart TV, a mini-fridge, a microwave, a claw foot tub, and a stand-up shower.
Read next: Barefoot Hills Hotel Review: Where to Stay in Dahlonega, Georgia
Where to Stay in Dahlonega
Find the perfect place to rest your head on your visit to Dahlonega, from the top rated accommodations to unique stays you can't get anywhere else.
Weekend in Dahlonega Map
Ready to spend your weekend exploring all that Dahlonega has to offer? Use the map below to help plan out your trip!
I hope you enjoy your weekend in Dahlonega, Georgia discovering what makes this small North Georgia town golden!
More Dahlonega Tips
See why Dahlonega is golden! Check out these other Dahlonega itineraries:
---
Ready to visit Dahlonega, Georgia? Plan your trip with these tips.
---
Cheers!
Paige
How would you spend a weekend in Dahlonega, Georgia? Let me know in the comments!