Are you looking for a fun and exciting things to do in Dahlonega, Georgia?
Dahlonega is the quintessential small town in the foothills of North Georgia. With majestic views, unique shopping opportunities, great dining experiences, and plenty of outdoor activities, Dahlonega has it all.
So if you're looking for a fun-filled getaway, these are the best things to do in Dahlonega, from visiting the historic square and tasting local wines to exploring the surrounding nature and finding one-of-a-kind antiques.
Best Things to Do in Dahlonega
1. Dahlonega Gold Museum State Historic Site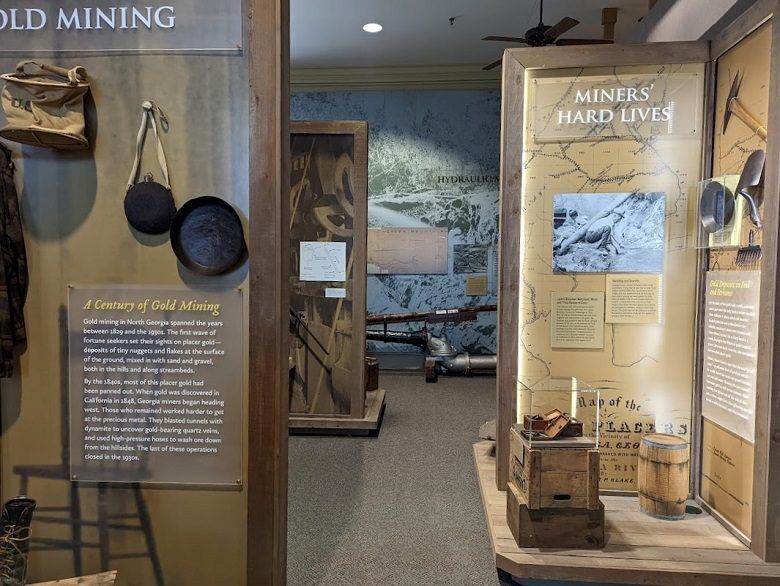 Dahlonega has its roots as a gold mining town. In fact, Dahlonega was the site of the first major Gold Rush in the U.S. in 1829. The name "Dahlonega" comes from a Cherokee word meaning "gold".
So a visit to the Dahlonega Gold Museum State Historic Site is a must!
Located in the Old Lumpkin County Courthouse, which was built in 1836 and is one of the oldest courthouses in the state (and is one of the most haunted spots in Dahlonega), this gold museum showcases the town's rich history of gold mining.
You'll learn about the methods used to mine for gold, the rise and decline of this Gold Rush boomtown, see gold coins minted at the Dahlonega Mint, and more.
2. Consolidated Gold Mine
The Consolidated Gold Mine is one of Dahlonega's most famous gold mines. This is because it is the largest hard rock gold mine east of the Mississippi River.
This mine struck gold with several extremely large veins of quartz and gold. These veins combined to form one giant vein that was 22 feet thick. And it's still one of the largest veins of quartz in the world that contains gold.
A tour of the old mine takes you 200 feet underground where you can see the mined "Glory Hole" vein and the tools miners used to extract the quartz and gold. After the tour, you can pan for gold and find tiny fleck through the hard work of sloshing sand and water in a pan.
3. Crisson Gold Mine
Crisson Gold Mine is Dahlonega's other famous gold mine. It's the oldest mining establishment in North Georgia, dating back to 1847.
Unlike at the Consolidated Gold Mine, you unfortunately don't get to see the actual mine here. But you do get to see a lot of antique gold mining equipment. There's even a 130-year-old stamp mill that they still operate occasionally to crush quartz.
This is a great place to pan for gold and gemstones. Anything you find is yours to keep. For the gemstones you find, they can make custom jewelry. I found a ruby and had it made into a necklace as the perfect souvenir to take home.
4. Historic Holly Theater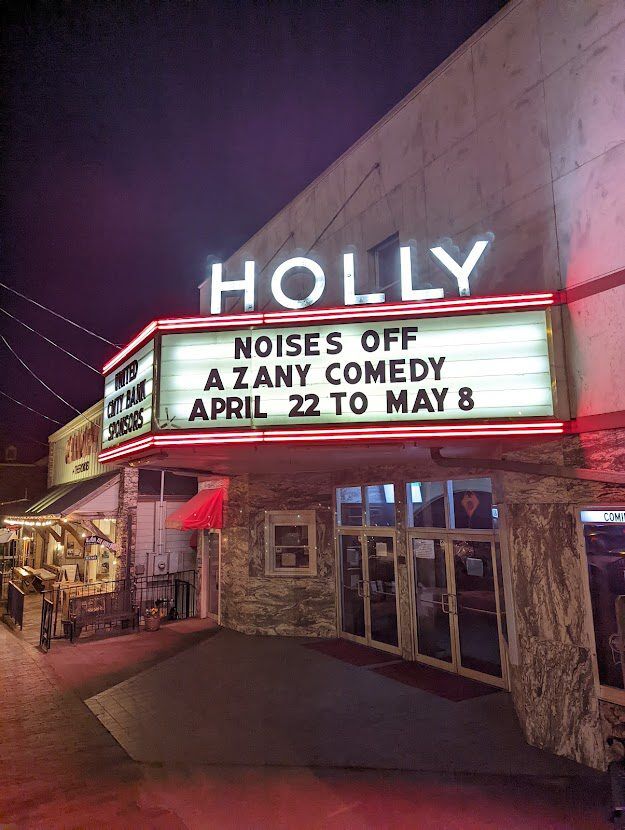 The Historic Holly Theater was a movie theater when it was built in 1948. But like a lot of old theaters, it had a period of decline and sat in ruin until the 1990s when the town worked to restore the building.
This gorgeous old theater is now a venue for plays and concerts, and even the occasional movie. It has breathed new life into Dahlonega's arts community.
5. Chestatee Wildlife Preserve & Zoo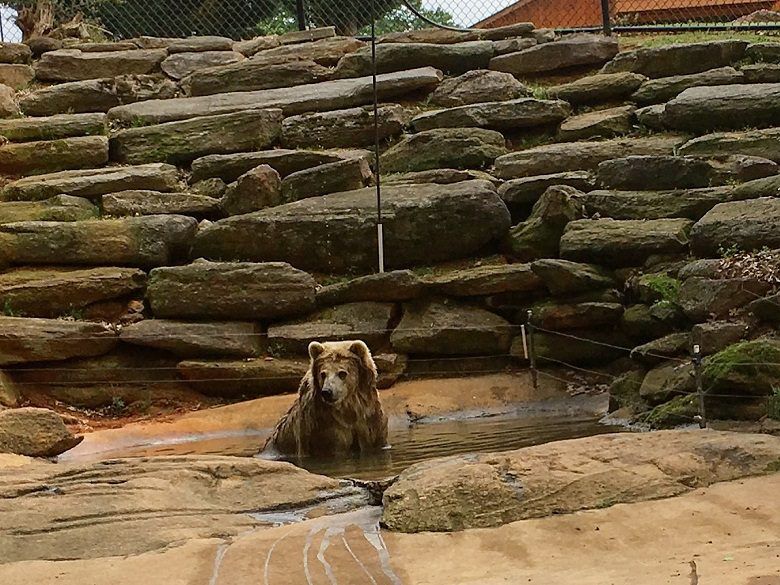 The Chestatee Wildlife Preserve & Zoo is a small zoo that takes in orphaned and rescued animals and gives them a new home.
Over 100 animals have come here after being orphaned, abused, illegally purchased, and living in other terrible conditions. They've found their forever home at Chestatee Wildlife Preserve, and you can visit them!
Their animals include bears, tigers, camels, and even a zedonk (half zebra, half donkey).
6. Shopping on the Square
Dahlonega Square is great for shopping local and supporting small businesses.
Laid out around the historic courthouse, the Square is easily walkable and is lined with local shops, cafes, and restaurants that make great use of their historic buildings. Be sure to read the plaques on the outside of the buildings to learn about their rich history!
You can shop at the Dahlonega General Store, plenty of antique malls, The Humble Candle, Paul Thomas Chocolates, Grateful Days, The Spice & Tea Exchange of Dahlonega, and Bleu Gallery, just to name a few.
7. Wine Tasting on the Square
Dahlonega is at the heart of Georgia's wine country, so a wine tasting is a must. While you're shopping on the Square, you can even do some wine tastings.
There are plenty of tasting rooms in Downtown Dahlonega offering wines from local vineyards all over the state of Georgia, and you can easily walk between each one.
Naturally Georgia, the Dahlonega Tasting Room, Grapes & Ghosts Tasting Room, Canvas and Cork Wine Tasting, Dahlonega Square Hotel Wine Tasting, and Taste Georgia Farm Wines are all great tasting rooms around Downtown Dahlonega.
8. Montaluce Winery & Restaurant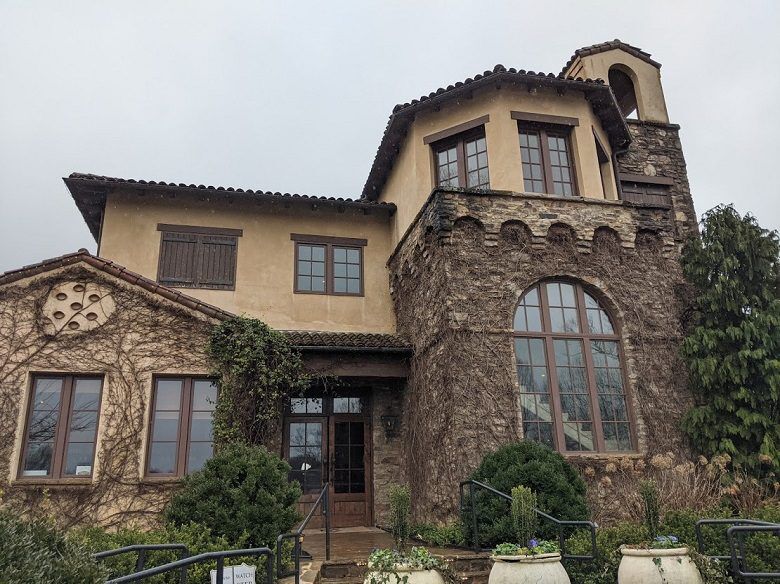 When you enter the long driveway to the Montaluce Winery and Restaurant, it's like you've been transported to a wine tasting on the Tuscan countryside.
The restaurant is housed in a beautiful Italian-style villa with large windows showing off the view over the vineyards. They have an expansive patio area where you can sip wine as you enjoy the views.
9. Hike to Preacher's Rock
Explore the beauty of the Appalachian Trail with a short, yet moderate day hike to Preacher's Rock!
This two-mile round-trip starts from Woody Gap and gains altitude quickly, leading you to a rocky outcropping with spectacular mountain views – the perfect spot for a picnic. Once you reach the summit, you can relax as you take in the sights of this hidden gem in Dahlonega.
10. Frogtown Cellars
Frogtown Cellars is a cozy tasting room that overlooks their vineyards and a pond. Their wines are some of the most nationally recognized of the Dahlonega Plateau AVA.
Most of their wines are from their North Georgia vineyard, while their Muscadine wines are from their South Georgia vineyard.
They also have an Italian Bistro that serves lunch and snacks so you can dine while you sip.
11. Hike to DeSoto Falls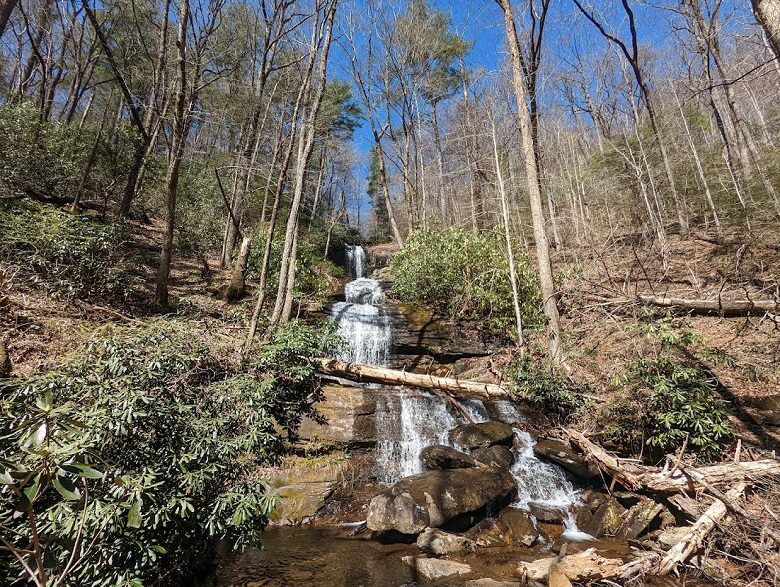 DeSoto Falls is actually two waterfalls on a short hike near Dahlonega in the Chattahoochee National Forest.
The Upper DeSoto Falls are 0.75 miles upstream of the trailhead, while the Lower DeSoto Falls are 0.25 miles downstream. The Upper falls has a nice viewing platform across its base where you can admire the waterfall.
The hike to both falls is only about a 2 mile round trip.
12. Kaya Vineyard & Winery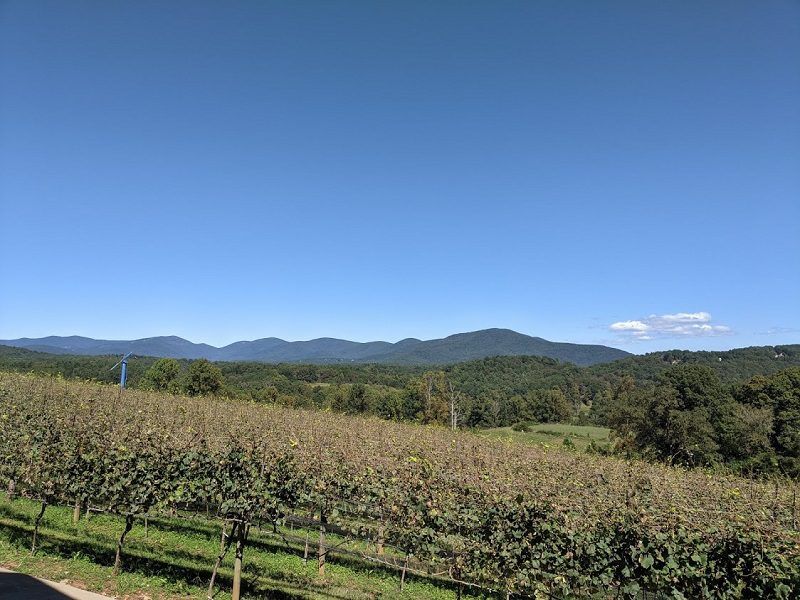 Kaya Vineyard & Winery is a slice of paradise with breathtaking mountain views and a 2,000 square-foot covered deck. You can savor the scenery alongside a glass of estate-grown, hand-harvested wine while you enjoy the views, farm-fresh food, and live music.
For a complete getaway experience, rent one of their four quaint and cozy cottages, each outfitted with modern amenities. Whether you're looking for a romantic evening or a special occasion, Kaya provides the perfect spot for wine lovers to take in the view and the sip the sweet nectar of the vines.
Kaya wines are also offered at the Dahlonega Square Hotel Tasting Room and at the Dahlonega Resort & Vineyard.
13. Cavender Creek Vineyards
Cavender Creek Vineyards & Winery is a small winery with a rustic tasting room and log cabin, as well as a charming patrolling of donkeys. Relax and sip on a variety of wines from the vineyard's covered terrace and patio, with views of the lush vineyard.
They produce some wines from their own vineyard, including Petit Manseng, Cabernet Sauvignon, Cabernet Franc, and several Norton blends. Other varietals they source from California, Washington, and New York. Their menu changes often so there will also be something new you can try.
You can even spend the night at the vineyards in their historic log cabin or their small winemaker's cottage.
14. Catch a show at Canopy + The Roots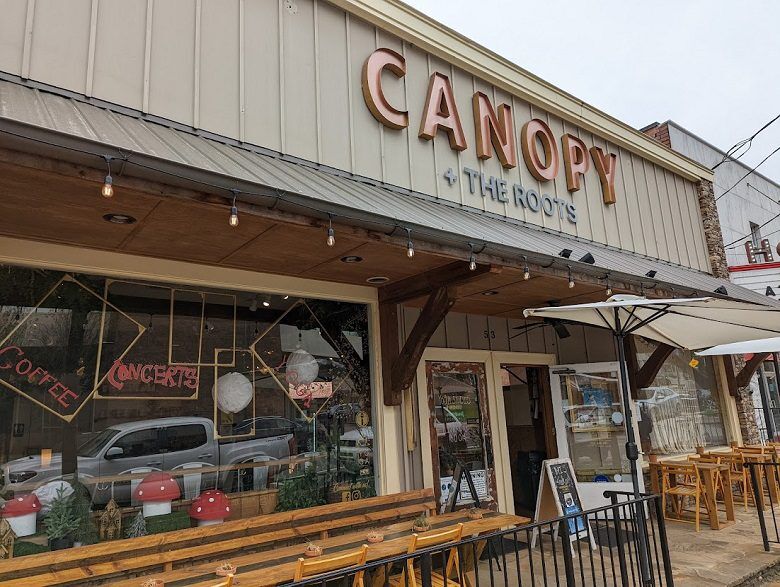 Canopy + The Roots is an all-in-one coffee bar / music venue / yoga studio. Grab a breakfast of Costa Rican, fresh-ground coffee and a homemade pastry and enjoy sitting in the social house lounge filled with floor to ceiling plants.
In their listening room, you can catch live performances of poetry, stand-up comedy, music concerts, gallery art shows, and film screenings. The glass yoga studio offers daily classes and workshops.
15. Kayak on the Chestatee River
Outdoor enthusiasts looking for a fun, adventurous activity to do in Dahlonega will love the Chestatee River! This river is a great place for kayaking, canoeing, or tubing.
Whether you're a seasoned kayaker and have your own equipment, or just looking to rent, the area has plenty of options. Chestatee River Adventures and Appalachian Outfitters provide kayak rentals, guided trips, and even transportation. It's so easy to get out on the water and explore.
16. University of North Georgia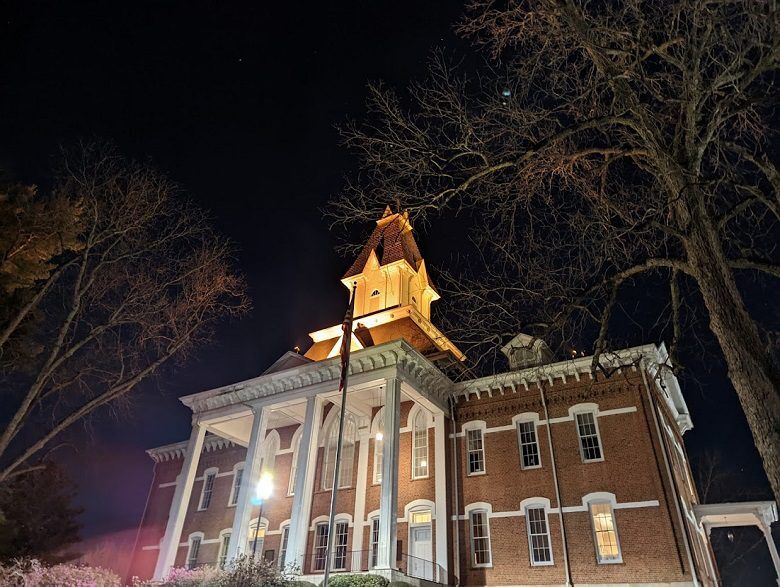 The University of North Georgia Dahlonega Campus opened in 1873 in the old U.S. Mint building that had minted Dahlonega's gold coins. The college's first graduating class consisted on 3 men and 1 woman, making it the first Georgia public institution to award a degree to a woman.
It's a short walk from Dahlonega Square to the UNG campus. The Price Memorial Hall with its gold-leafed steeple was built on the site of the Dahlonega Mint.
17. Auraria
Auraria is the Gold Rush's forgotten ghost town. Just a few miles from Dahlonega, this was the real boomtown during the Gold rush, with thousands of miners moving in and turning a one-cabin town into a thriving settlement.
This boomtown in Auraria only lasted a short time before Dahlonega was determined to be a better spot to build on, and most of the community and businesses moved northward.
All that remains now are a few abandoned buildings, including the General Store that stayed open until 1997.
18. Dahlonega's Mustering Grounds
Dahlonega's Mustering Grounds is historical site is where soldiers would line up to be mustered, or be accounted as members of a military unit during the Civil War. It was also a rallying site for troops to show support during other conflicts within the U.S.
This historical marker is a little hidden. You'll find it on North Grove Street just across from Smith Gold Nugget Lodge.
19. Dahlonega Butterfly Farm
The Dahlonega Butterfly Farm is a family-owned nature preserved that provides a safe place for butterflies and other pollinators to thrive.
Visit the 760 square foot butterfly conservatory, the containment room where the butterflies are born, and the outdoor caterpillar habitat to learn about the life-cycle of butterflies and the importance of pollinators.
Spend time in the butterfly garden, shop for local gifts for nature lovers, and buy a plant from their greenhouse to take home with you.
20. Lake Zwerner Trail
The Lake Zwerner Trail is a 3.2 mile loop around the Yahoola Creek Reservoir, the reservoir for the city's drinking water. You'll get both lake and mountain views on this moderately challenging hike.
Late evening and early morning are great times to take this hike: there won't be a lot of people, and you have a good chance to see deer, hawks, and other wildlife.
21. Dicks Creek Falls
Dicks Creek Falls is one of the best waterfalls in Georgia. The entire hike is about 1.2 miles round trip.
The waterfall is located int he Chattahoochee National Forest. The falls tumble over a 60 foot bluff. This is a great hike any time of year, but it's especially popular in summer for swimming and wading, and it's a very picturesque spot in the fall when the leaves start to change color.
22. Mount Hope Cemetery
Mount Hope Cemetery is a pre-Civil War cemetery just a short walk from Dahlonega Square.
The cemetery is known for its "slot and tab" grave markers or "box" tombs, a type of grave that is unique to a small part of North Georgia, southeast Tennessee, and southwest North Carolina. The tombs were constructed by fitting together stone slabs with notches or tabs, creating a box that you put over the grave, while the body is still buried underground.
The style might have been used so that animals and livestock that roamed freely throughout the countryside wouldn't trample over a person's grave.
23. Big Creek Distilling Co.
Big Creek Distilling Co. is a distillery that specialize in making small-batch spirits like bourbon whiskey, gin, and more (like the occasional moonshine).
Their tasting room is open for tours, tastings, and cocktails. They have a large outdoor patio with fire pits and heaters, comfy seating, and cornhole. I had a couple fall cocktails from their seasonal menu (I'm a sucker for anything spiced apple), but they have classic cocktails as well.
24. Accent Cellars
Accent Cellars is Dahlonega's urban winery that's located just a couple minutes from the square.
They source grapes from all around Georgia, California, Washington, and Texas to create their craft wines. The tasting room is open daily for wine tastings.
25. Etowah Meadery
Etowah Meadery makes mead (a honey-based wine) and wine. They have both sparkling mead (which usually has a lower alcohol content) and traditional meads (usually with the higher alcohol content).
They have a lot of great flavors, and you can try so many different meads at their tasting room. I like their RB&B Mead best (raspberry, blueberry, and blackberry). They also have an adorable bear on their labels, so I love it even more.
26. Tesnatee River Winery & Meadery
Tesnatee River Winery & Meadery is a small boutique winery located in Cleveland, only about 20 minutes from Downtown Dahlonega. They started out as a honey farm before branching out into mead and wine.
When you do a tasting here, you have a choice of either wine or mead. You also get to try out all of their local honey varieties and see their bees.
Taking the trip outside of Dahlonega is worth it for this meadery. Every time we're in the area, we have to stop by and pick up some of Kevin's favorite honey (their Holly Honey).
Things to Do in Dahlonega Map
Ready to explore Dahlonega, Georgia? Use the map below to find all the best things to do.
I hope this guide helps you plan the perfect trip to Dahlonega, Georgia's golden mountain town!
Getting Around Dahlonega
Dahlonega is really easy to get around.
If you're staying on the Square, you'll be within walking distance of most things you want to do. You could spend a whole weekend just exploring the shops, restaurants, and wine tastings on the square!
For everything else, you'll need a car. Be sure to be extra careful on the winding North Georgia roads, especially at night. Keep an eye out for wildlife, especially deer, near dawn and near dusk.
If you want to do a winery tour, there are a few transportation options if you don't want to drive yourself. North Georgia Wine Tours, Dahlonega Wine Tours, and DSH Transportation are popular choices. If you decide to drive yourself, please don't drink and drive!
Dahlonega FAQ
Is Dahlonega, Georgia worth visiting?

Dahlonega is absolutely worth visiting if you're interested in the outdoors, wineries, gold mining history, and local shopping.

What is Dahlonega, Georgia best known for?

Dahlonega is known for being the site of the first major U.S. Gold Rush. It's also the heart of Georgia Wine Country.

What is the best time of year to go do Dahlonega?

Dahlonega is great in the fall when the mountain leaves change color and the weather gets cooler. Dahlonega is also amazing in the winter for a Hallmark-like experience.

How do you pronounce "Dahlonega"?

Dahlonega is pronounced "duh·laa·nuh·guh"

Where to Stay in Dahlonega
Find the perfect place to rest your head on your visit to Dahlonega, from the top rated accommodations to unique stays you can't get anywhere else.
Wrap Up: Fun Things to Do in Dahlonega
Dahlonega, Georgia is a hidden gem in the foothills of the North Georgia Mountains. Whether you are looking for a day of shopping, wine tasting, or outdoor activities, Dahlonega has something for everyone.
From historic gold mining sites and centuries-old courthouses to charming wineries and a one-of-a-kind butterfly sanctuary, Dahlonega won't disappoint.
So, if you're looking for a fun getaway destination, explore this treasure trove of experiences in Dahlonega.
More Dahlonega Tips
See why Dahlonega is golden! Check out these other Dahlonega itineraries:
---
Ready to visit Dahlonega, Georgia? Plan your trip with these tips.
---
Cheers!
Paige
What are your favorite things to do in Dahlonega, Georgia? Let me know in the comments!