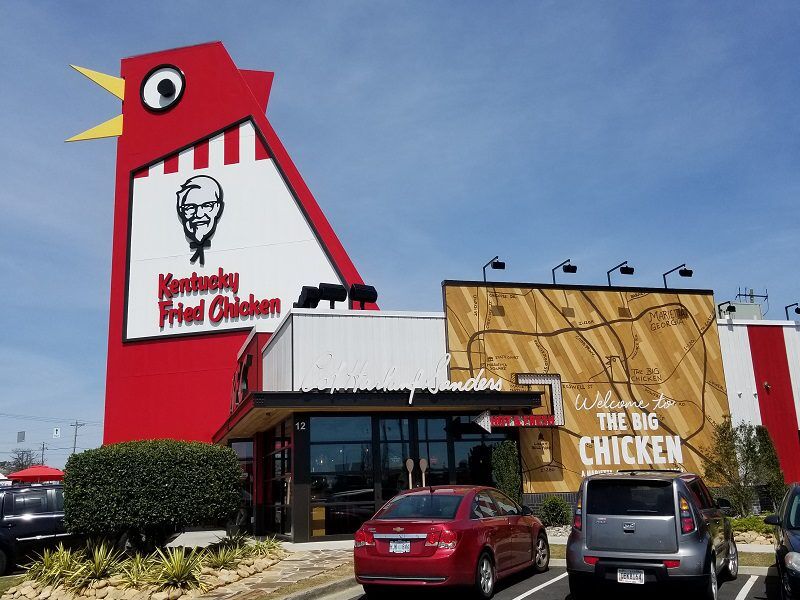 Atlanta, Georgia has plenty of quirky restaurants that have what you need when you're craving an experience that's a little out of the ordinary.
Atlanta's Quirkiest Restaurants
1. The Big Chicken
Marietta's favorite roadside landmark, The Big Chicken (pictured above) had closed for renovation momentarily but reopened in May 2017 with a fresh coat of paint, two new patios, a screened-in porch, more square footage in the dining room, and a shiny new sign out front. And I must say, it looks better than ever!
Built in 1963 for a restaurant called Johnny Reb's Chick-Chuck-'N'-Shake, the 56-foot-tall steel-sided chicken structure, designed by Georgia Tech architectural student, changed ownership to a man who turned the restaurant location into a KFC franchise.
Inside it's just a regular, but roomy, KFC. It even appears the remodel removed the giant chicken legs that straddled the dining room. But that's okay – it's the giant chicken on the outside that really matters because if locals can't tell you to "turn at The Big Chicken", then how will you know where to turn?
12 Cobb Pkwy, Marietta, GA 30062
2. Chick-fil-A Dwarf House
Chick-fil-A began when founder S. Truett Cathy and his brother Ben opened a diner in Hapeville called The Dwarf Grill, which was later renamed The Dwarf House.
The success of that restaurant led Cathy to open the first Chick-fil-A in the Greenbriar Shopping Center. Chick-fil-A has a few other Dwarf Houses in the metro Atlanta area, each one with waitstaff and a full menu that includes hamburgers, steak, and Southern-style sides in addition to the famed chicken sandwich, but this spot marks the original.
The restaurant has been renovated and expanded, but it still maintains a bit of its old façade with a cottage feel and a small "dwarf" sized door that you can enter through (there's a regular sized door around the side). Inside, you can get the regular Chick-fil-A menu as well as classic diner items. There is sit-down, counter, and drive-thru service.
461 N Central Ave, Hapeville, GA 30354
3. The Vortex
The Vortex Bar and Grill (for 21 and over only) was opened by three siblings in 1992. Both the original location in Midtown and the second location in Little Five Points are decked out with kooky and often raunchy decorations.
The Little Five Points location is an Atlanta landmark with its 20-foot "Laughing Skull" façade over the front door.
The Vortex is known for having the best burgers in Atlanta, particularly their Coronary burgers (classic, bypass, double bypass, triple bypass, and quadruple bypass), which are topped with cheese, fried egg, bacon, mayo, and Texas toast, and the bypasses are served on top of a mound of cheesy fries with bacon bits. It's ridiculously massive and undeniably delicious.
Midtown: 878 Peachtree St NE, Atlanta, GA 30309
Little Five Points: 438 Moreland Ave NE, Atlanta, GA 30307
4. Orient Express
Have you ever eaten in a dining car on a train? How about in a train-car-turned-restaurant? That's exactly what you'll do at Orient Express in Vinings.
Orient Express is located just off the railroad tracks in an old train car. The restaurant features three different rooms, each with its own atmosphere and cuisine, as well as an outdoor seating area.
Climb aboard and taste their delicious Chinese, sushi, and hibachi cuisine in this unique rail car elegance.
2921 Paces Ferry Rd SE, Atlanta, GA 30339
5. The Varsity
When you walk into The Varsity, don't be alarmed when all the workers start yelling "What'll ya have!" This iconic Atlanta restaurant is the largest drive-in fast food restaurant in the world, so you have the option to drive in, drive thru, or sit in.
The Varsity has also developed its own interesting lingo as a way to speed up the ordering process. So expect to hear a lot of yelling about naked dogs and strings; that's just a plain hot dog and fries.
Really lean in to the craziness by donning a paper hat, ordering using the lingo, and grabbing a seat by the window so you can enjoy the downtown views along with your Atlanta classic.
61 North Avenue NW, Atlanta, GA 30308
Craving More Atlanta Activities?
If you need more things to do while visiting Atlanta, check out these top posts:
Where to Stay in Atlanta
Find the perfect place to rest your head on your visit to Atlanta, from the top rated accommodations to unique stays you can't get anywhere else.
---
Ready to visit Atlanta, Georgia? Plan your trip with these tips.
---
Cheers!
Paige
What are your favorite quirky Atlanta restaurants? Give me recommendations in the comments!