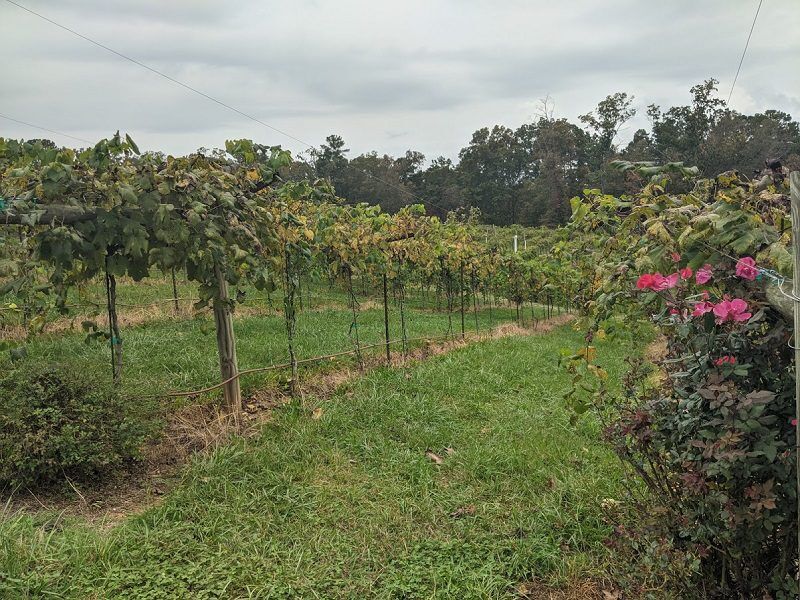 You don't have to drive far from Atlanta to find great vineyards! There are some amazing vineyards and wineries that are less than an hour away from Atlanta that make for a great day trip. Get out of the city and enjoy a glass of wine among the vines.
Whether you're looking for a romantic date activity or a fun outing with the girls, a wine tasting is always a great idea! There are so many vineyards near Atlanta to choose from, and you don't have to travel far for these wineries less than an hour from the city.
Before we get started, here are the most popular wine tasting tours from Atlanta:
Popular Wine Country Tours from Atlanta
Top Vineyards Near Atlanta, Georgia
1. Painted Horse Winery and Vineyard
Milton, GA
The Painted Horse Winery and Vineyard began in the 1990s as Pamelot Farm, a working horse farm. In 2017, the makings of a winery and vineyard began. The winery became the first farm winery in Fulton County.
Painted Horse Winery offers artisanal and handcrafted wines, live music on their outdoor stage, and special events. They currently have three wines: a white, a red, and a rosé; but they have 10 more in various stages of production.
Drive from Atlanta: approximately 36 minutes
2. Little Vine Vineyards and Winery
Villa Rica, GA
Before Prohibition, this area of West Georgia was a major winery and vineyard center. Little Vine Vineyards and Winery is bringing back that fine wine tradition with the first grapes planted in West Central Georgia since 1907 and with the first winery here in over 100 years.
In addition to red, white, rosé, and dessert wines, Little Vine Vineyards also offers wine tastings and craft beers to enjoy. The vineyard has patio seating, live music on the weekends, and a wine club. Like most vineyards, Little Vine also does weddings and special events of all sizes
Drive from Atlanta: approximately 42 minutes
3. Qualusi Vineyards
Acworth, GA
"Qualusi" means "grapes" in Cherokee, a fitting name for a vineyard. Qualusi Vineyards is a family owned and operated winery built on the land that's been in the family for generations.
The vineyard offers tastings of their red, white, and sweet non-grape wines. They are pet-friendly and family-friendly with both indoor and outdoor seating and space for private events and weddings. You can expect live music and food trucks on the weekends.
Drive from Atlanta: approximately 43 minutes
4. Big Door Vineyards
White, GA
Big Door Vineyards is a beautiful winery set in a valley of vine-covered hills. A small pier juts out into a pond fed by a relaxing waterfall. You can enjoy sipping your wine in the covered outdoor seating, out on the covered patio, or inside the tasting room.
The winery offers wine tastings during the week, live music, a small selection of cheese trays and sandwiches, and wines bottled by their sister winery Horse Creek in South Georgia. They also are available for private event rentals and weddings.
Drive from Atlanta: approximately 48 minutes
Atlanta Vineyards Map
Locate these Atlanta vineyards and top places to stay nearby using the map below.
More Georgia Wineries
Visit more amazing wineries in Georgia with these helpful itineraries:
---
Ready to visit vineyards near Atlanta, Georgia? Plan your trip with these tips.
---
Cheers!
Paige
Have you visited these vineyards near Atlanta? Let me know in the comments.