Plan the perfect day out with the girls: take a day tour of North Georgia's fantastic wineries! A North Georgia winery day tour is the perfect girls' trip from Atlanta.
Have a wine tasting experience like no other! North Georgia wine country is only about a 1 to 2 hour drive from Atlanta. You can easily sample wines from vineyards in Dahlonega, Helen, and more in a single trip.
For Galentine's Day, three friends and I opted for a full day private wine tour to celebrate, and we had an absolutely amazing time!
Grab your glass, and I'll show you how to have an incredible journey through North Georgia wine country!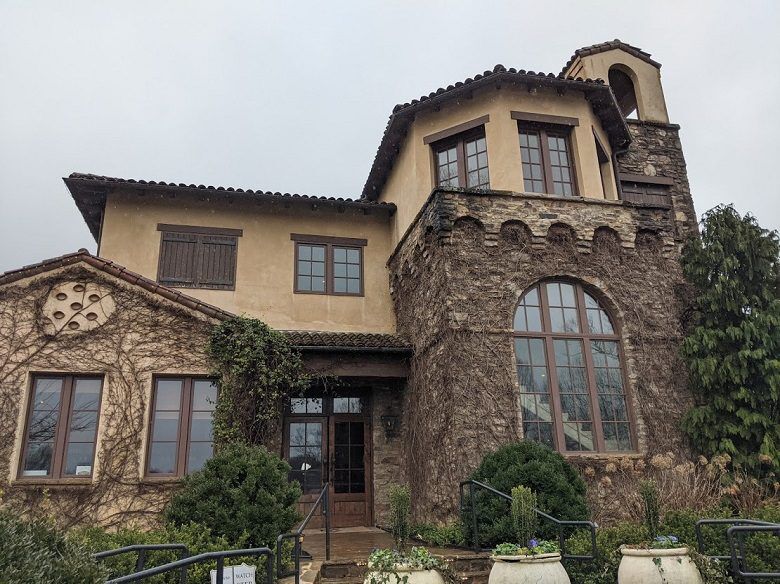 North Georgia Wine Country Tour from Atlanta
A North Georgia wine country tour is the perfect getaway from Atlanta! Here are some tips to help you plan your winery girls' trip.
Full Day North Georgia Wine Tour
When planning out your girls' trip winery tour, you basically have three options.
You can do it yourself, in which case someone would need to be the designated driver. We've done this previously with a weekend in North Georgia wine country.
You can join a group tour, which can have anywhere from 10 to 50 people total, depending on the vehicle size.
Or you can book a private winery tour for just you and the girls.
We opted to do a private winery tour of North Georgia with just the four of us, which was perfect for our Galentine's Day bonding.
With these tours, transportation is provided so you don't have to worry about anything but having a good time! Here are some great wine tour options for you:
Private North Georgia Wine Tour Options
North Georgia Group Wine Tour Options
North Georgia Winery Day Tour Itinerary
We did a build-your-own winery tour where we selected our preferred wineries ahead of time, and the company made any reservations necessary. We were able to decide along the way which wineries we wanted to stop at next.
Our pick up time was 10:30 a.m. and they got us home around 7 p.m. Since we had reservations at two wineries and liked to take our time at each one, we ended up visiting three wineries total for the day. (If you wanted to, you could probably squeeze in a couple more wineries between stops to throw back a glass, but why rush it?)
Lunch and a Glass of wine at Montaluce Winery
We had reservations for lunch at Montaluce Winery and Restaurant. When you enter the long drive to the property, it's like you've been transported to a wine tasting on the Tuscan countryside.
The restaurant is housed in a beautiful Italian-style villa with large windows showing off the view over the vineyards.
For lunch, we all decided on the chicken alfredo pasta and a different white wine.
Afterwards, we headed out to their large patio area to admire the views. If it hadn't been such a cold, rainy day, we would have loved to explore the grounds. Still, it was a pretty view.
Wine Tasting and a Bottle at The Cottage Vineyard
Next, we set off to The Cottage Vineyard & Winery for our wine tasting reservation. The Cottage has a small tasting room that packs a big punch with its sweeping mountain views.
On a nice day, you'll definitely want to spend your time outside at The Cottage.
But even on a rainy day, the vineyard still offers great wine and live music.
We did their wine tasting of five different wines each. Then we agreed on a bottle to share.
Wine Tasting at Frogtown Cellars
Our final stop of the day was Frogtown Cellars. This cozy tasting room overlooks their vineyards and a pond. The entrance is an idyllic lush setting crossing a small bridge over a koi pond to get to the front door.
We each did a tasting of three different wines. Most of their wines are from their North Georgia vineyard, while their Muscadine wines are from their South Georgia vineyard.
We also snacked on a slice of apple pie made onsite with fresh apples. It was a great compliment to the wine.
North Georgia Wine Tour FAQ
How many wineries are in the North Georgia Mountains?

There are more than 40 wineries and tasting rooms in North Georgia, so you'll have plenty of vineyards to choose from for your North Georgia Wine Tour!

Do you need a reservation for Chateau Elan?

At Chateau Elan, you'll need a reservation for a winery tour. Advanced tickets are encouraged for tastings, but walk-ins are also welcomed.

Are there any black-owned wine tours of Georgia?

Wicks and Wines, Pop the Cork Wine Tours, and Cana Wine Tours are all great black-owned wine tour operators in Georgia! They also all do wine tours of North Georgia departing from Atlanta.

Final Thoughts: North Georgia Wine Tour from Atlanta
We had an incredible time on our private North Georgia winery day tour, and so can you! Whether it's for Galentine's Day or just a weekend getaway, you're in for a great experience.
From the Tuscan-style villa to the cozy atmosphere of Frogtown Cellars, the wineries we visited were definitely above and beyond expectation. Not to mention, the live music, the delicious food, and most importantly – the wine.
A day in North Georgia's wine country is nothing short of a memorable experience.
More Things to Do in North Georgia
Looking for more fun things to do in North Georgia? Check out these options:
---
Ready to visit North Georgia Wine Country from Atlanta, Georgia? Plan your trip with these tips.
---
Cheers!
Paige
Have you taken a winery day tour of North Georgia from Atlanta? Let me know about your experience in the comments!