Are you looking for the perfect place to go out for a night of fun in Valdosta, Georgia? You've come to the right place! Here are three of the most fun bars in Valdosta.
Whether you're looking to listen to live music or have a crazy night of karaoke, this list of best Valdosta bars has you covered.
So grab your friends and put on your dancing shoes! It's time to discover the best bars for a fun night out in Valdosta, Georgia.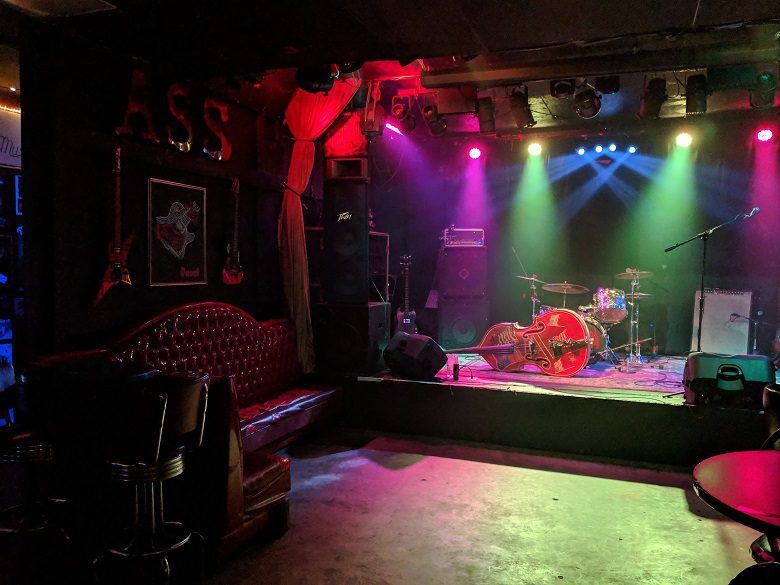 Top 3 Bars For a Night Out in Valdosta, Georgia
From a lively live music spot, to an intimate brewery, to a karaoke bar, this article shares three unique bars for an unforgettable night out. And all of these bars come highly recommended by Valdosta locals!
1. Georgia Beer Co.
Georgia Beer Co. is Georgia's southernmost brewery and taproom located in downtown Valdosta, Georgia.
Georgia Beer Co. crafts artisanal beer specializing in seasonal ales, stouts and IPAs. They brew most of their beers true to traditional style, but with as many Georgia-grown ingredients as they can. Kevin and I aren't beer drinkers, so we went for their fruitiest option: the Raspberry Blonde.
They have plenty of outdoor seating, as well as card games and board games galore, including giant Jenga sets.
Different food trucks usually set up in the parking lot across the street so you have something to munch on while you drink. It's a great spot to just hang out for a few hours, whether you're in a party mood or a relaxed mood.
109 S Briggs St, Valdosta, GA 31601
2. Ashley Street Station
Ashley Street Station, or ASS as our local friends affectionately referred to it, is a dive bar for debauchery and live music. There is a small cover charge here, unlike the other bars we went to.
Inside, they have pool tables set up in one room with an outdoor patio off of it and a bar and stage in the next room. This bar has live music at least 4 days a week, sometimes even more.
This is the bar you go to when you really want to party it up with loud, live music. They pack a lot of fun inside a small space.
607 Baytree Rd, Valdosta, GA 31602
3. Rum Runner Sports Bar
You go to Rum Runner Sports Bar for the karaoke.
Rum Runners has over 35,000 karaoke songs to choose from rock, country, hip-hop, classic or contemporary; you want it, they've probably got it.
Rum Runners also has trivia nights and a darts league, and you can practice your dart-throwing in the back of the bar.
3988 N Valdosta Rd, Valdosta, GA 31602
Valdosta Bars Map
Ready to explore these fantastic bars in Valdosta, Georgia? Use the map below to help plan your night out in Valdosta!
I hope you found this list of best bars in Valdosta helpful and that you have a wonderful night out on the town!
Where to Stay in Valdosta, Georgia
Find the perfect place to rest your head on your visit to Valdosta, from the top rated accommodations to unique stays you can't get anywhere else.
More Things to Do in Valdosta, Georgia
Explore more fun things to do in and around Valdosta with these helpful itineraries:
---
Ready to visit Valdosta, Georgia? Plan your trip with these tips.
---
Cheers!
Paige
Have any more suggestions for fun bars to try in Valdosta, Georgia? Leave them in the comments below!