What do you get when you combine roller coasters, thrill rides, tigers, and bears? You get Wild Adventures! Learn more about visiting Wild Adventures Theme Park in Valdosta, Georgia in this comprehensive guide.
Are you looking for an amazing place to take your family (or just yourself) for a wild adventure? Look no further than Wild Adventures Theme Park in Valdosta, Georgia – the ultimate experience for all thrill-seekers!
From top-notch roller coasters and water rides to fun family attractions and exotic animals, this wild and wonderful park provides something for everyone.
Get ready to explore everything that Wild Adventures has to offer in this ultimate guide to visiting this amazing theme park.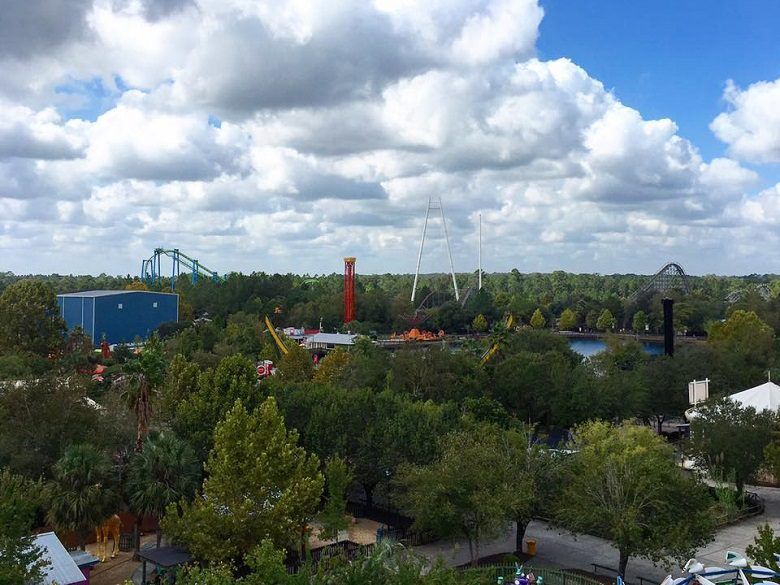 About Wild Adventures Theme Park
Wild Adventures Theme Park is a 170-acre zoological theme park in Valdosta, Georgia.
The park has 8 roller coasters, tons of thrill rides, exotic animals, Splash Island water park, and concerts throughout the year. The park also features other attractions like mini golf, holiday theme attractions, and rotating exhibits.
Kent and Dawn Buescher started the Wild Adventures Theme Park on a plot of farm land outside of Valdosta, Georgia in 1996. The park began as a small petting zoo but soon added rides in 1998.
In 2003, Wild Adventures opened the Splash Island Waterpark, which has been the park's largest expansion and includes several water slides and attractions. Parts of the ending to the 2009 movie Zombieland were filmed at Wild Adventures as the park where the undead cornered the main characters.
Exploring Wild Adventures Theme Park
This 170-acre zoological theme park has over 40 thrilling rides and attractions, a water park, and hundreds of native and exotic animals. Explore this popular park and see what's in store for your day of fun.
Theme Park Rides
The park has 29 thrill rides, 12 of which are rideable by young kids. There are 6 roller coasters.
There are roller coasters, flying rides, swings, towers, trains, Ferris Wheels, bumper cars, and more. Popular rides include the Boomerang, the Rattler, Swamp Thing, Twisted Typhoon, and Swingin' Safari.
Since this is a small amusement park, you'll never have to wait in long lines like those of Six Flags or Disney World. The most we had to wait was an extra couple minutes for the front of the ride. And since there are only 6 roller coasters, it's not difficult to try them all in a single day.
The rest of the thrill rides are more numerous and would be harder to complete a full round of. Luckily, you can purchase a ticket with a free consecutive day, so you can come back for a second day of fun.
Splash Island Waterpark
The waterpark has 10 slides and water attractions, 6 of which are perfect for young kids.
The 27-acre Splash Island Waterpark is the perfect way to beat the heat in the summer. It's been voted one of the Top 30 Waterparks in the country.
There are slides, rapids, pools, and rivers to explore. Popular rides include the Bonzai Pipelines, Kona Cliffs, Catch-A-Wave Bay wave pool, Paradise River lazy river, and Ohana Bay for the little ones.
You can also reserve your own space with a private cabana or lounger.
Animal Park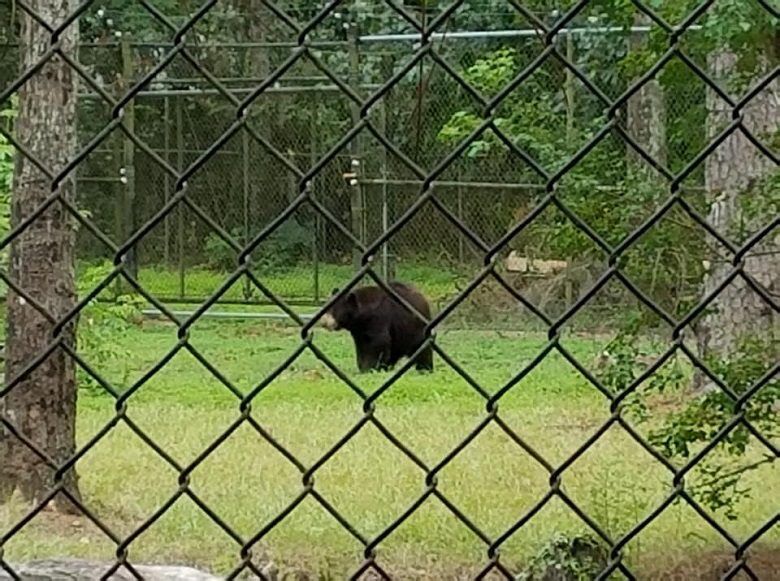 Wild Adventures' zoo has lots of native and exotic animals for you to discover!
The highlight for me was, of course, the black bear. But they have tons of other animals too.
Other animals in the zoo area of the park include water buffalo, capybara, coatimundi, giraffes, zebras, rhinos, lions, and a lot of exotic birds and reptiles.
There is also the Liberty Farms Petting Zoo, paying homage to the park's humble beginnings. And you can feed alligators and birds, and enjoy the Wanyama Observation Deck & Botanical Garden overlooking the giraffe habitat.
More Family Attractions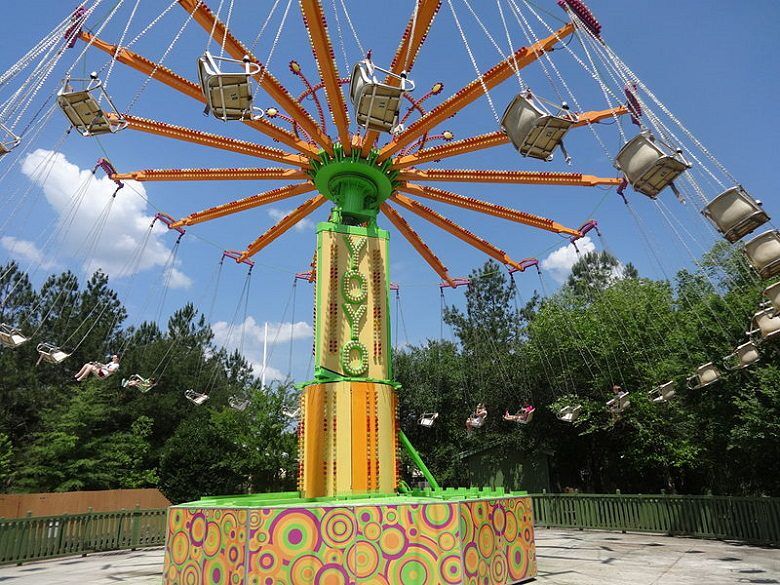 Oasis Outpost is the newest park addition. These 3-acres feature an adventurous family ride, immersive animal encounters, a playful water attraction, new food, and an engaging play zone.
The park also has an Adventure Arcade, a Big Bounce and a Lil Bounce bounce house, the Discovery Outpost for kids of all ages, face painting stations, Gator Games carnival games, and the Geronimo skydiving/hang-gliding ride.
Things to Do at Wild Adventures Theme Park
Discover more things to see and do on your visit to Wilde Adventures Theme Park in Valdosta, Georgia.
Live Entertainment and Shows
Throughout the season, Wild Adventures holds live performances and concerts featuring well-known and up-and-coming singers and musicians.
These performances are featured at the Wild Adventures LIVE! Amphitheater and at the Water's Edge lakeside stage at the heart of the park.
Animal Encounters and Keeper Talks
Get up close and personal with the animals during animal encounters, feedings, and keeper talks with animals ranging from spider monkeys to tigers.
Eat Your Way Around the Park
Wild Adventures has tons of food options for you to choose from:
Congo Wings
Dippin' Dots
Jungle ICEE
Lonstar BBQ
Mayfield Ice Cream Shop
Outpost Canteen
Paradise Pizza
Pounce's Pizza
Refill & Refresh
Safari Burger
Splash Snacks
Sugar Shack
Surfside Cafe
The Grill at Wanyama
The Island Chicken Fry Co.
Typhoon Tacos
Water's Edge Brews & Bites
Shop for Gifts and Souvenirs
You can do plenty of shopping for the best gifts and souvenirs at the park. There are plenty of stores to choose from:
Adventure Emporium
Expedition Market
Safari Outfitters
Waterside Streets
Wave Gear
Attend a Special Seasonal Event
Wild Adventures isn't just for the summer! When the season is over, there are still special seasonal events going on.
During the summer, you can enjoy the popular Wild Food Weekends. In October, attend the Great Pumpkin LumiNights. For holiday fun, attend the Wild Adventures Christmas. And for New Year's, you can enjoy the Family First Night Celebration.
Discovery Tours – Swamp Tour
This 45-minute guided tour takes you deep into the park's Alapaha Trail where you can learn more about Wild Adventures' animals native to South Georgia and North Florida. You'll be able to interact with creatures one-on-one and hold snakes, gators, frogs, and more.
Visiting Wild Adventures Theme Park
Address: 3766 Old Clyattville Rd, Valdosta, GA 31601
Admission: General admission costs $44.99 when you buy in advance online and $59.99 when you buy at the gate. Admission includes entry to Wild Adventures Theme Park and Splash Island Waterpark, plus animal exhibits, live shows, and special events.
You can also get Admission + Next Day Free for $54.99 in advance, which gives you entry to the park on the next operating day after your initial visit.
The park also offers discounted admission for military.
You can leave the park and re-enter the same day as long as you get your hand stamped at the exit.
Hours: Operating dates and hours vary throughout the season. You can check the calendar here for current hours. Wild Adventures Theme Park's season runs from March to December, while Splash Island Water Park's season runs from April to September.
Parking: Parking costs $18 per vehicle. You can save $3 when you purchase your parking in advance.
Where to Stay Near Wild Adventures Theme Park
Find the perfect place to rest your head on your visit to Wild Adventures Theme Park in Valdosta, from the top rated accommodations to unique stays you can't get anywhere else.
Wild Adventures Theme Park FAQ
What movie was filmed at Wild Adventures in Valdosta, GA?

Zombieland was filmed at Wilde Adventures Theme Park in Valdosta, Georgia.

How many rides are there at Wild Adventures Theme Park?

The park has over 40 thrill rides and attractions. These include 6 roller coasters and 9 water slides.

Can I buy concert-only tickets to Wild Adventures?

Wild Adventures' concert venue is located inside the theme park and they do not offer "concert-only" tickets. You should plan to enjoy a full day at the park on concert days.

Can I bring food and drinks into Wild Adventures Theme Park?

You can bring 1 sealed bottle of water per person into the park. There are water fountains available around the park. Aside from baby food, you cannot bring any outside food or drinks into the park.

Can I bring a backpack into Wild Adventures Theme Park?

You can bring a backpack, however it may be searched before you enter the park.

More Things to Do in Valdosta, Georgia
Explore more fun things to do in and around Valdosta with these helpful itineraries:
---
Ready to visit Valdosta, Georgia? Plan your trip with these tips.
---
Cheers!
Paige
Have you visited Wild Adventures Theme Park in Valdosta, Georgia? Let me know in the comments!