Biking is not only great exercise but also a great way to explore the city. Atlanta, Georgia has more than 40 different bike trails to explore. Bring your own bike or rent a bicycle for the day as you check out these fantastic bike paths in Atlanta.
The Best Bike Paths in Atlanta
Atlanta Beltline
The Atlanta Beltline has converted an old railway corridor into paved paths for walking, biking, rollerblading, scootering, and more. So far, the Atlanta Beltline has 11 miles paved and open of the 22 miles planned.
The Beltline trails connect many of Atlanta's iconic neighborhoods. Go for a bike ride from Piedmont Park to Ponce City Market to Old Fourth Ward to Krog Street Market.
Silver Comet Trail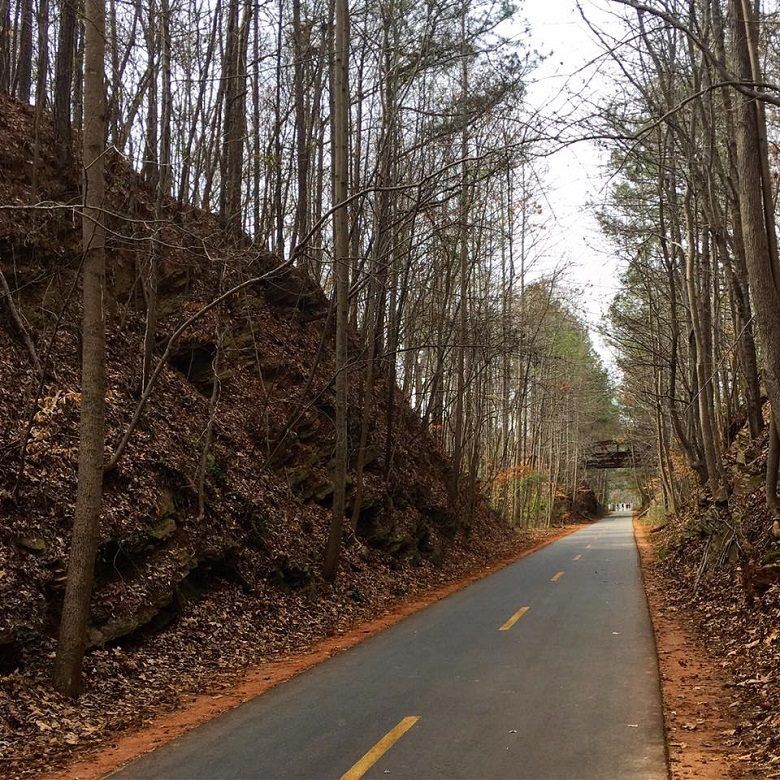 The Silver Comet Trail is another old railway corridor that has been converted into a multi-use path. This paved trail stretches for 60 miles from Smyrna to the Alabama-Georgia border.
A bike ride along the Silver Comet Trail will take you through ravines, farmlands, forest, and even past old mill ruins. The PATH Foundation, which is behind many of Atlanta's paved biking and walking trails, even has plans to connect the Silver Comet Trail to Centennial Olympic Park in Downtown Atlanta.
Stone Mountain PATH Trail
The Stone Mountain PATH Trail is a 18.4 mile path that starts at Centennial Olympic Park and ends at Stone Mountain Park. The trail rides along Piedmont Avenue, the Freedom Parkway trail, through Candler Park and Clarkston to the outskirts of Stone Mountain Village.
This ride passes near top Atlanta attractions like Martin Luther King Jr. National Historic Site, the Carter Center, Fernbank Museum of Natural History, downtown Decatur, and Stone Mountain Park.
Arabia Mountain PATH Trail
Located in the Arabia Mountain National Heritage Area, the Arabia Mountain PATH Trail is a 30+ mile paved biking trail designed to link the historical, ecological, and cultural landmarks of the area.
A bike ride on this trail takes you past the lunar-like landscape of monadnocks, the oldest homestead in Rockdale County, granite ruins, and more. The Arabia Mountain PATH Trail is broken down by beginner, intermediate, and advanced levels.
Big Creek Greenway
The Big Creek Greenway is a trail through Roswell, Alpharetta, and Forsyth County following along the banks of Big Creek for much of the way. The trail runs for about 11 miles through Roswell and Alpharetta, and for about 16.5 miles through Forsyth County; it is not fully completed yet, however, and not all portions of the trail are connected.
It's location in the suburbs means that it's typically less crowded than other trails. The trail is a combination of paved concrete and wooden boardwalks. It's a relatively flat ride making it perfect for beginning bikers and families.
Suwanee Creek Greenway
The Suwanee Creek Greenway in Gwinnett County is a 4 mile paved trail that meanders through wooded areas, wetlands, and wildlife habitat.
This bike path connects 400 acres of parkland, residential areas, and commercial areas. The Suwanee Creek Greenway offers a great opportunity to see wildlife like frogs, turtles, and fish while you ride.
Noonday Creek Trail
The Noonday Creek Trail is a paved path that is currently two disconnected sections: a 1 mile section in Woodstock and a 6 mile section in Cobb County. There are plans to eventually connect the two sections.
A ride along the 6 mile section takes you from Bells Ferry Road to Kennesaw Mountain National Battlefield Park, where you can explore Civil War history and hike.
South Peachtree Creek Trail
The South Peachtree Creek Trail is a 3.6 mile long PATH greenway that connects Emory University with various parks in the area. You'll ride through Medlock Park to Mason Mill Park and Emory University.
This biking trail features a mile of boardwalk through a forest and over a wetland where you can watch wildlife or the trains on the nearby track.
Proctor Creek Greenway
The Proctor Creek Greenway is another PATH trail that stretches 2.4 miles. The trail follows along Proctor Creek from the Bankhead MARTA station to Grove Park and West Highlands neighborhoods. The ride features a few hills, but the path is considered generally suitable for all levels of bikers.
The greenway is planned to link Maddox Park and the Beltline's Westside Trail for a total of 7 miles that would let you ride out to the Chattahoochee River.
Nancy Creek Trail
The Nancy Creek Trail is a 2.3 mile PATH trail that connects the lake at Murphey-Candler Park to Blackburn Park.
This mostly greenway trail is great for bikers. The off-road trail winds through the scenic Blackburn Park in Dunwoody and passes by the Marist School and a local retirement community. This family-friendly bike and walking path is very popular and can often attract crowds.
Craving More Atlanta Activities?
If you need more things to do while visiting Atlanta, check out these top posts:
Where to Stay in Atlanta
Find the perfect place to rest your head on your visit to Atlanta, from the top rated accommodations to unique stays you can't get anywhere else.
---
Ready to visit Atlanta, Georgia? Plan your trip with these tips.
---
Cheers!
Paige
Where are your favorite bike paths in Atlanta? Let me know in the comments below!