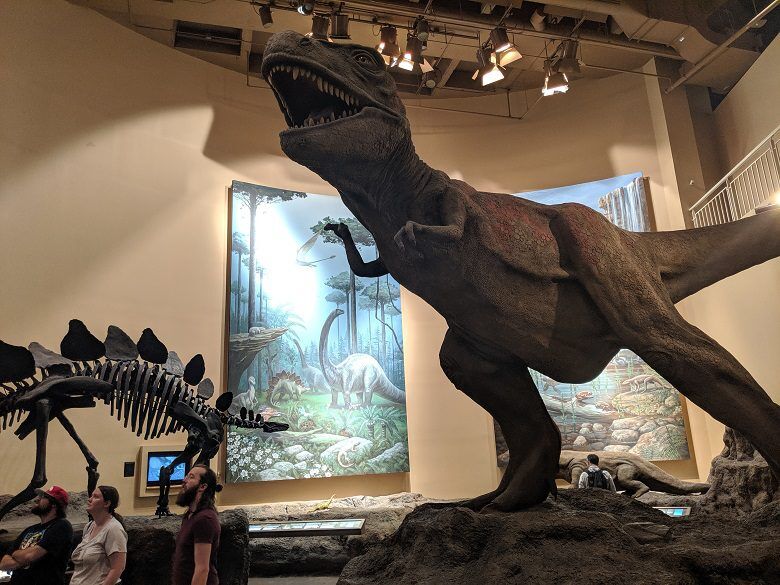 Drinks and dinosaurs! Check out this review of Fernbank After Dark, the adult-only night of science and fun at Fernbank Museum of Natural History.
Kevin and I enjoyed the sold-out premier of the Fernbank After Dark series, happening the 2nd Friday of each month.
Fernbank After Dark Review
Fernbank Museum of Natural History kicked of its debut Fernbank After Dark event in 2017, and it's proven to be a winner. This event is just for adults 21+ to experience the fun of science along with some drinks, tapas, movies, and live music.
Night at the Science Fair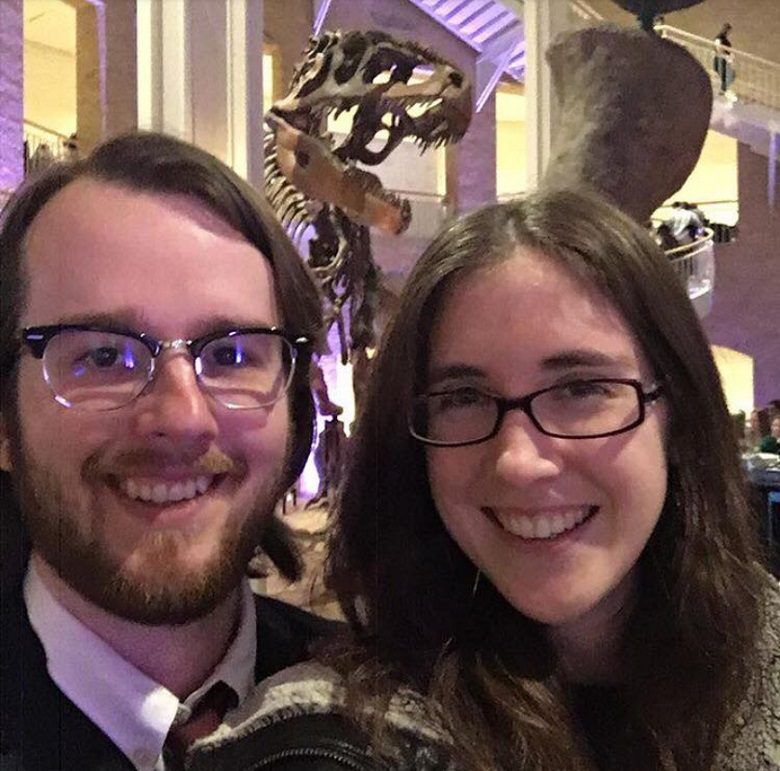 The theme when we visited was Night at the Science Fair. With drinks in hand, we were transported back to our grade-school science fair days with fun experiments and activities to try out.
These activities are exactly the kinds of experiments you would find at an elementary school science fair, and some that you may even have already tried before.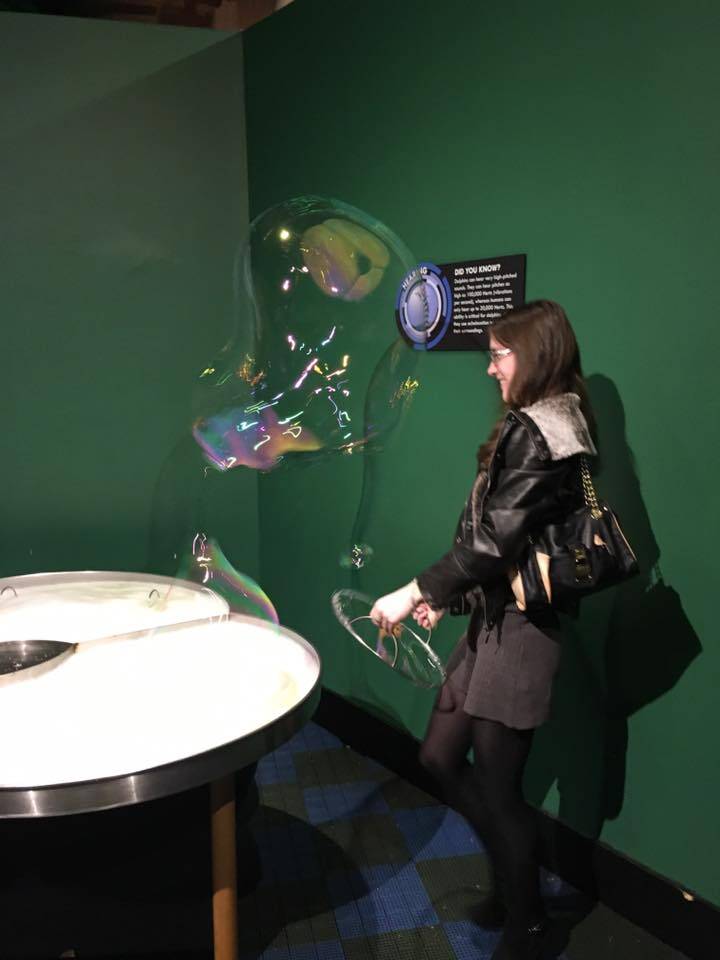 We spent the evening making dry ice bubbles, making the most aerodynamic paper airplanes, trying to balance books inches above the table on one sheet of folded paper, launching Alka-Seltzer rockets, and dropping eggs without cracking them.
Food and Drinks
They serve light bites at the Fernbank Café and drinks from cash bars set up around the museum. Prices for the cash bar range from $6 to $10 for beer, wine, and cocktails.
Exploring Fernbank Museum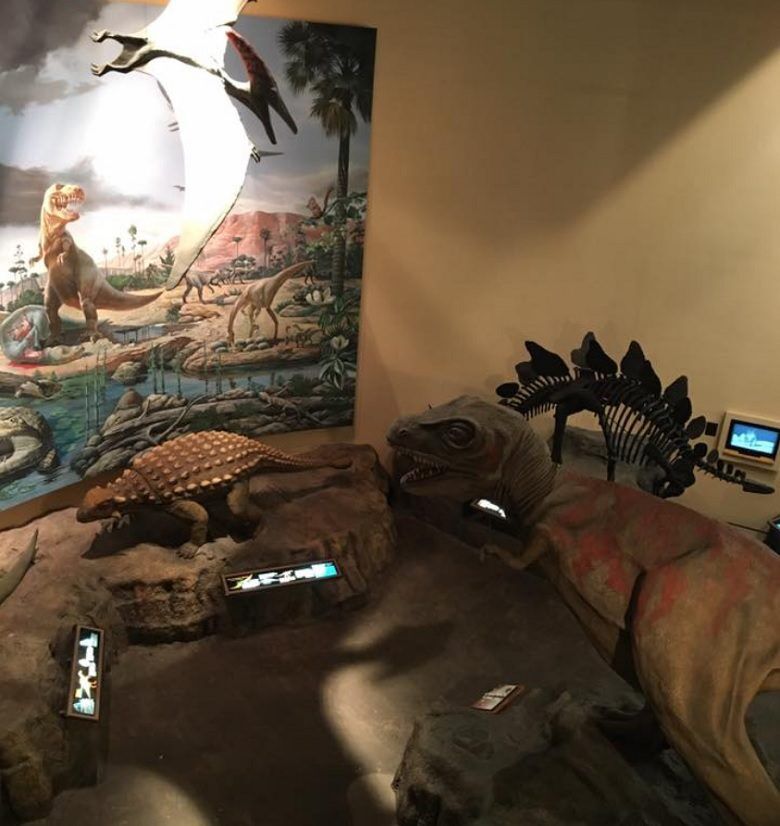 During the event, we were also able to wander through the museum's permanent and rotating indoor exhibits, which was perfect since neither of us had been to the museum before.
The Argentinosaurus and Giganotosaurus loomed over us as we waited in line for drinks from the Mesozoic Bar. Then we took A Walk Through Time In Georgia, exploring the state's different geographic regions and the dinosaur gallery. If you're attending during the warmer months, don't miss out on walking through the WildWood outdoor exhibit.
We flew into the eye of a hurricane and created tornado's in the special Wild Weather exhibit. We finished the night Sensing Nature, playing with optical illusions and dazzling our senses.
Read more about exploring the exhibits at Fernbank Museum of Natural History in my guide here.
What to Know About Fernbank After Dark Before You Go
Fernbank After Dark takes place on the 2nd Friday of each month. There's a new theme every month, and sometimes they are holiday themed around Valentine's Day, Halloween, and Christmas.
You can expect themes like Night At The Science Museum, Art + Science, Ecology + Mixology, Night of Knights, and more.
Tickets for Fernbank After Dark cost $39.95 for non-members and $34.95 for members when purchased in advance. When purchased at the box office, tickets cost $2 more.
The event takes place after hours at the museum from 7 p.m. to 11 p.m. It is exclusively for ages 21+ and makes for an amazing date night in Atlanta!
Fernbank After Dark FAQ
What is Fernbank After Dark?

Fernbank After Dark is a special adults-only, after-hours event at Fernbank Museum of Natural History that lets you explore the museum with a different science experience each month.

Does Fernbank After Dark have food?

Fernbank After Dark does serve food. They have a light snack or tapas menu as well as a cash bar where you can purchase beer, wine, and cocktails.

What is the dress code for Fernbank After Dark?

There is no dress code for Fernbank After Dark. Many people where what they would for a casual date night out. Where whatever makes you most comfortable!

Where to Stay in Atlanta
Find the perfect place to rest your head on your visit to Atlanta, from the top rated accommodations to unique stays you can't get anywhere else.
Craving More Atlanta Activities?
If you need more things to do while visiting Atlanta, check out these top posts:
---
Ready to visit Atlanta, Georgia? Plan your trip with these tips.
---
Cheers!
Paige
Was this review of Fernbank After Dark helpful? Let me know in the comments!