Atlanta, Georgia is known for its southern charm, culinary delights, vibrant local art scene, and rich history. It's easy to fall in love with Atlanta, especially when you see the strides local businesses have taken to become more sustainable. Find out which Atlanta attractions are most eco-friendly in this guide.
Top 10 Eco-Friendly Attractions in Atlanta
Zoo Atlanta
Zoo Atlanta began in 1889 with a jaguar, a hyena, a black bear, a raccoon, an elk, a gazelle, a Mexican hog, lionesses, pumas, camels, and snakes, all former residents of a traveling menagerie that went bankrupt on its way through town and left the animals abandoned. Today, the zoo has blossomed into a conservation organization that promotes the preservation of threatened species.
The zoo has implemented a number of award-winning environmental programs. Their elephant manure and bamboo composting program won 1st place for Waste Reduction and Recycling in the 2008 Keep Georgia Beautiful Awards. The zoo estimates that it diverts over 1,800 cubic yards of waste from the landfill each year by composting elephant manure and shredding bamboo waste to be burned as fuel by Georgia Power.
Zoo Atlanta also has 12 different recycling programs, constructs all new buildings with LEED certification, and has several water-saving and energy reduction initiatives.
Georgia Aquarium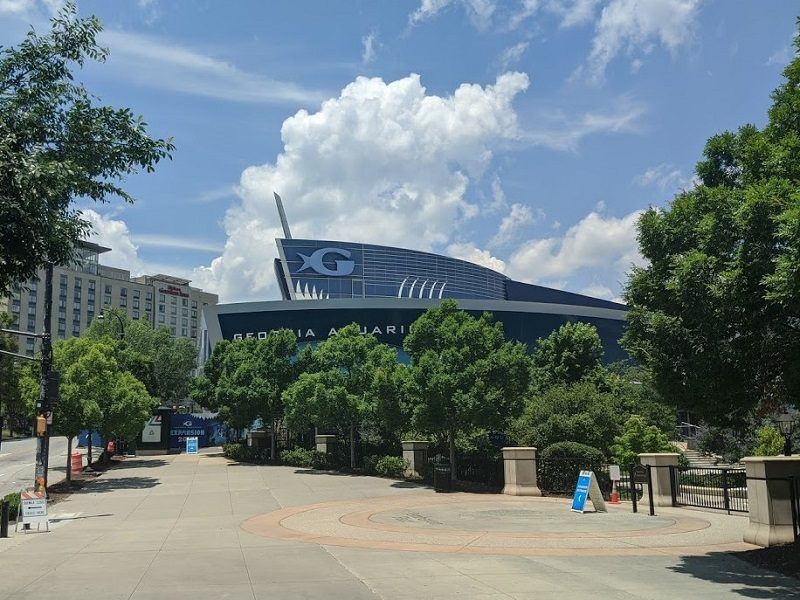 The Georgia Aquarium is one of the world's largest aquariums. It's home to thousands of animals that live in more than 10 million gallons of water. This is the only aquarium outside of Asia home to whale sharks, so naturally the whale shark exhibit is on of the aquarium's major attractions. The aquarium consists up of seven exhibits each focusing on a different aquatic environment: Tropical Diver, Ocean Voyager, Cold Water Quest, River Scout, Dolphin Coast, Pier 225, and Aquanaut Adventure: A Discovery Zone.
In addition to rescue research, veterinary research, and conservation efforts, the Georgia Aquarium has implemented many sustainable practices and programs throughout its facilities. The Seafood Savvy program encourages consumers and restaurants to make more sustainable seafood choices.
With so much water in its exhibits, the aquarium also focuses on water recycling. The Georgia Aquarium recycles about 99.5% of its exhibit water. The aquarium also has ten reusable bottle filling stations installed throughout building, encouraging guests to ditch the plastic. The aquarium has saved and estimated 85,736 plastic bottles from landfills with these practices. They also stopped using plastic straws in 2005, and the facility recycles an estimated 21 tons of solid waste each year.
Atlanta History Center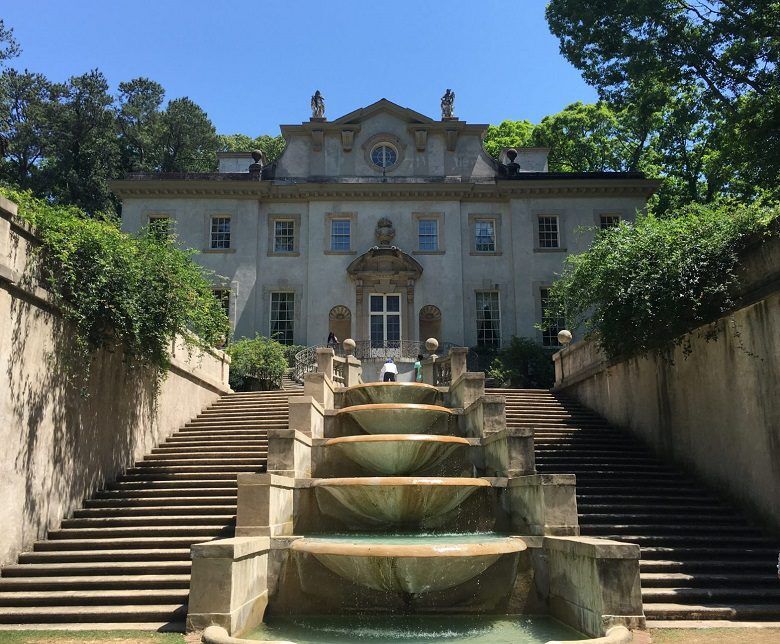 In 1926, 14 Atlanta enthusiasts came together to preserve Atlanta's history through the Atlanta Historical Society. In 1990, the Atlanta Historical Society officially became the Atlanta History Center. The Atlanta History Center's mission is to connect people, history, and culture.
The Atlanta History Center has taken a number of steps to become eco-friendly. They recycle bottles, cans, plastic cups, and office paper. In addition, they have a composting program that takes scraps from their campus eateries to be used across their 33-acre campus. Instead of over-using harsh chemicals, the center uses integrated pest management within the Goizueta Gardens and uses physical controls whenever possible.
The Atlanta History Center's buildings have been recognized for their water and energy conservation practices, and they used enery-efficient equipment and sustainable materials for the construction of the new Cyclorama Building.
Atlanta Botanical Garden
The Atlanta Botanical Garden covers an impressive 30 acres of land with themed gardens and a variety of plants. The different gardens include: the Japanese garden; a rose garden; the 5 acre Upper Woodland; the 10 acre Storza Woods; the Skyline Garden; the Dorothy Chapman Fuqua Conservatory; the Fuqua Orchid Center; and even more.
The Garden has a number of sustainable features throughout its property. During their Green Expansion Plan, which doubled the size of the Garden, they recycled all trees that were removed and utilized energy-saving strategies. In 2007, the Garden installed a 100,000-gallon underground cistern, which aids in water conservation; the rainwater collected in this cistern waters about 40% of the gardens.
The Garden visitor center even has a green roof half covered in plants, which provides natural cooling, sound insulation, and an additional garden area.
Fox Theatre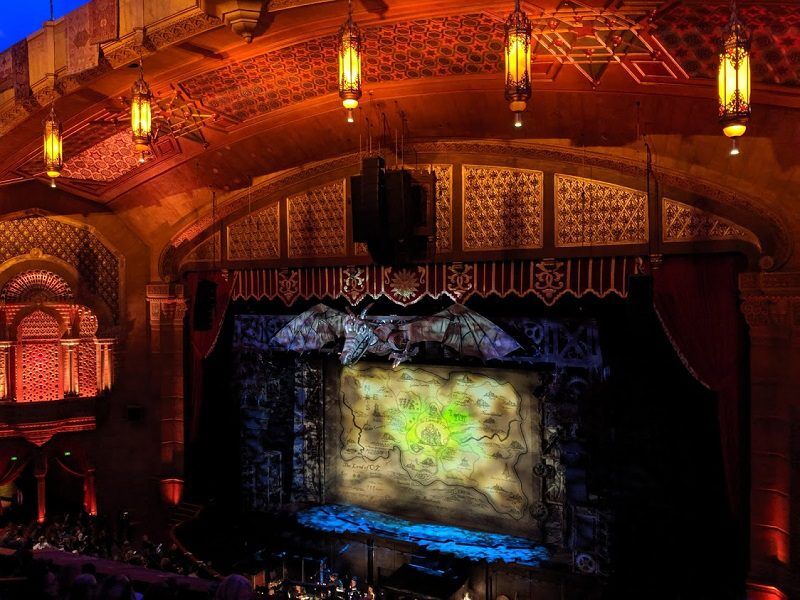 The Fox Theatre is a former movie palace opened in 1929. Today, it is a performing arts venue unlike any other. The theater was originally built as part of a temple for the Shriners organization, and the theater maintains Islamic architecture combined with Egyptian elements for a truly unforgettable experience.
Atlanta's historic Fox Theatre commits itself to strengthening its sustainability practices. In 2019, the Fox implemented Southface's BIT Building program to identify and implement changes to make the historic building higher performing. The program helps the Fox improve water and energy use, improve indoor air quality, and reduce waste. These include fixes such as tweaking the automatic flush in the bathrooms and ionizing the water.
The Fox Theatre has worked with Southface in the past to address sustainability practices, like upgrading to LED bulbs in the theater's iconic marquee.
Fernbank Museum of Natural History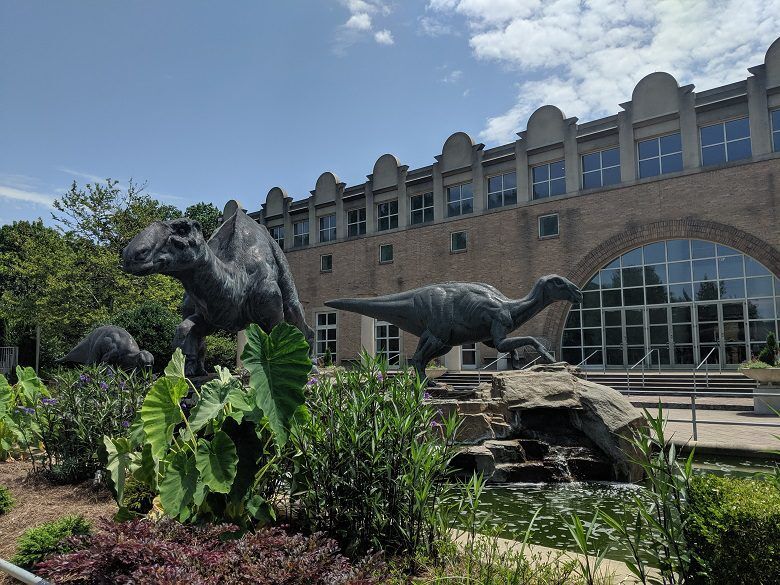 The goal of Fernbank Museum of Natural History is to preserve and protect the Fernbank Forest, the woodland area the museum is named for, so it's no surprise that they've adopted a number of sustainability practice. The museum features exhibits on dinosaurs, culture, and hands-on science experiments suitable for both children and adults. Through the museum's outdoor exhibits, you can explore the WildWoods and the Fernbank Forest, which make up 2 miles of hiking paths through an old-growth forest.
As one of the oldest conservation non-profit organization in the United States, Fernbank Museum commits itself to maintaining green practices. In addition to their conservation work with the Fernbank Forest, the museum implemented an onsite recycling program and water conservation in its restrooms.
Fernbank Museum also educates its visitors on ways to practice sustainability through special programs, exhibits, and IMAX features.
Atlanta BeltLine
The Atlanta BeltLine is a proposed 33-mile loop of paved multi-use trails with the goal to make Atlanta a global beacon for inclusive and sustainable city life.
A third of the trails have already been developed. They connect parks and communities while providing an inner-city greenspace and alternative methods of getting around the city. Millions of people walk, bike, roller blade, and scooter the BeltLine each year.
Sustainability has always been a main feature of the Atlanta BeltLine project. While paving trails, workers will remove and clean soil contaminated from decades of industrial use. The project plans to create or improve 1,300 acres of parks and greenspace around the trail corridor. There are also plans for a streetcar network as an alternative transportation for local Atlanta residents and tourists alike.
Serenbe
Serenbe is an eco-friendly community just outside of Atlanta. It was established in the mid-2000s with nature, creativity, and community as its core values.
The community of over 400 residents was built using New Urbanism planning principles. These type of planning emphasizes walkability, in-community jobs, and a range of housing types and sizes.
The community promotes eco-friendly habits. It's local 25-acre organic farm has seasonal Saturday Farmer's Markets, and the community has year-round cultural events. The housing options consist of geothermal, solar, and net zero homes. The planning of the Serenbe community protects the wetlands and preserves over 70% of community land as greenspace.
Sweetwater Creek State Park
Atlanta has a ton of great outdoor, environmentally friendly place to go hiking. But Sweetwater Creek State Park is notable for it's sustainable Visitor Center, one of the most environmentally responsible buildings in the United States.
Sweetwater Creek State Park consists of more than 2,500 acres of hardwood forest and 15 miles of hiking trails, like the easy Red and White Trails and the moderate Yellow and Orange Trails. It's a popular hiking destination that's known for being a set for The Hunger Games: Mockingjay Part 1.
The Visitor Center's green features include: a 37% landscaped roof; rainwater harvested and stored in a 10,000 gallon cistern for non-potable uses; composting toilets and water-less urinals; recycling stations easily accessible to the public; an optimal shape and orientation of the building to maximize solar exposure; and more.
Atlanta City Tour by Electric Car
An electric car tour offers a very eco-friendly way to see all of Atlanta's top attractions and get to know the different neighborhoods. You'll have a personal guide and driver to take you on a 90 minute tour of the city. On the tour, you can learn about Midtown, Inman Park, Old Fourth Ward, the Martin Luther King Jr. National Historical Site, the World of Coca-Cola, Centennial Olympic Park and more.
An Atlanta City Tour by Electric Car offers tourists an eco-friendly, low emission way of seeing the city. Eoc-conscious travelers can take relief in the fact that this tour emits less greenhouse gases and air pollutants than driving around the city in a non-electric car.
Segway Tour
A Segway tour of Atlanta is a unique way to get to know the city. A guided Segway tour will give you fascinating insight into the city's history. It's a fun and eco-friendly way to see top Atlanta attractions like the Georgia State Capitol, the Sweet Auburn District, and Georgia Aquarium, the CNN Center, and more.
Because a Segway is fully battery-powered, taking a Segway tour is an eco-friendly way to see Atlanta. Segways are easy to use, too, since they are designed to balance with little effort from the operator.
Travel Sustainably With These Eco-Friendly Posts
Where to Stay in Atlanta
Find the perfect place to rest your head on your visit to Atlanta, from the top rated accommodations to unique stays you can't get anywhere else.
---
Ready to visit Atlanta, Georgia? Plan your trip with these tips.
Book Your Flight: Find the cheapest flights using Skyscanner, my favorite flight search engine.
Find Accommodation: You can find top hotels in Atlanta using Hotels.com.
Save on Attractions: Save 40% on admission to Atlanta's top attractions using the Atlanta CityPASS.
---
Cheers!
Paige
What are your favorite eco-friendly attractions to visit in Atlanta, Georgia? Let me know in the comments!