School's out and summer is in full swing in Atlanta! The water park at Margaritaville at Lanier Islands is the perfect place to cool off in the summer heat. Here's everything you need to know to enjoy the water park this season.
A special thanks to Margaritaville at Lanier Islands for hosting us for a day at the water park! As always, all opinions are my own.
Margaritaville at Lanier Islands is the perfect destination soak up the summer sun. With adrenaline-pumping water slides, delicious lake-front restaurants, and refreshing margaritas at every turn, there's something for the whole family to enjoy.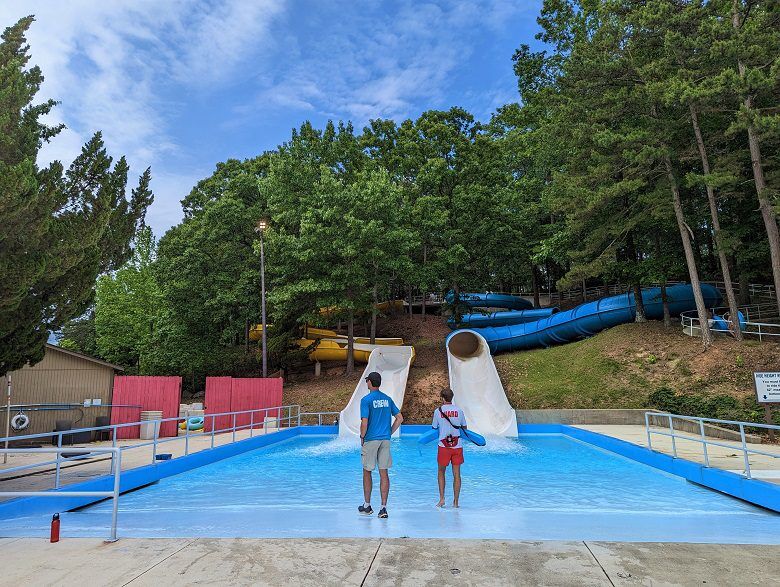 Soak up the sun and get a taste of island life at this oasis resort located just an hour away from Atlanta in Buford, Georgia. At Margaritaville at Lanier Islands, you can lounge by the lake, take on the park's wild water slides, or enjoy a cold drink by the wave pool.
Learn all about what you can expect from the water park at Margaritaville at Lanier Islands, as well as tips on how to make the most of your trip.
So pack your sunscreen and your flip-flops, and get ready for some fun in the sun this summer!
About Margaritaville at Lanier Islands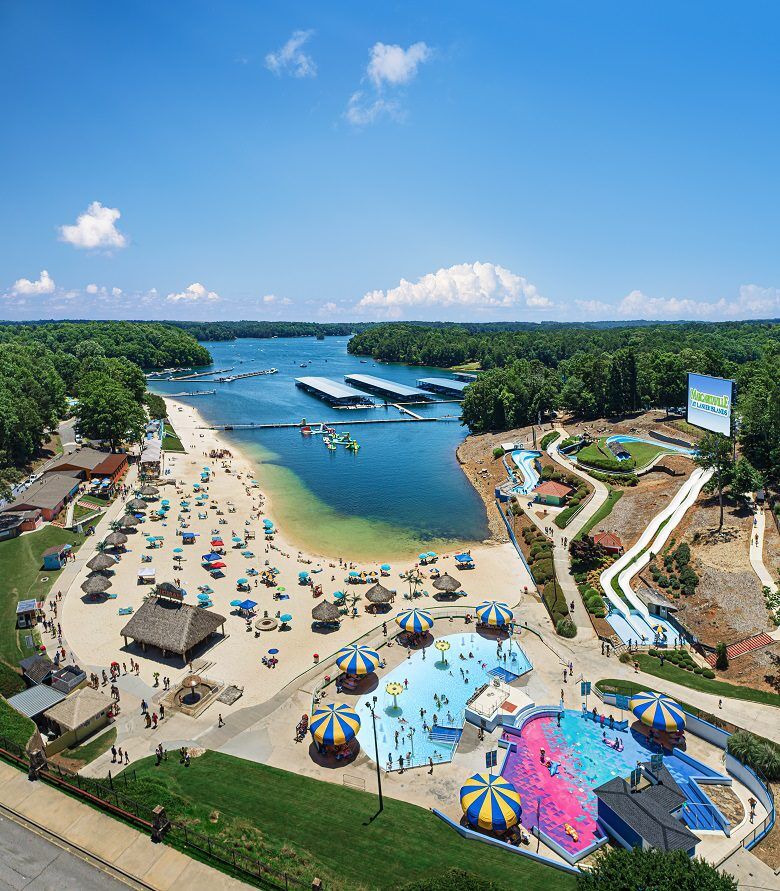 Margaritaville at Lanier Islands is a lakeside paradise at Lake Lanier in Buford, Georgia.
It features a water park in the summer, a snowy wonderland in the winter, lakefront dining, entertainment, a marina, and an RV resort campsite, cabins, and glamping tent cottages.
Margaritaville's Thrilling Water Rides and Attractions
Margaritaville has water slides and fun attractions for all ages, from toddlers to teens to adults. With 18 rides and attractions, there's something for everyone to enjoy.
New for 2023
Newly renovated Wave Pool
New-and-improved Aquatic Adventure
A newly renovated front area of Parakeet Springs kids' zone
Return of the Fin Dunker Bucket
Opening of the New Parrot Mountain summer tubing slide
Water Slides
There are all kinds of thrilling water slides at the Water Park at Lanier Islands!
You have inline tube slides where you'll zip down a slide riding solo or with a partner on an inner tube. These include Raging River, Twister, CAT 4, Typhoon, and the Parrot Mountain Summer Tubing. CAT 4 is interesting because you get to race down on a dry slide that ends in the lake. The new Parrot Mountain Summer Tubing is also a dry slide where you can race a friend down half of the park's giant hill.
Then you have the tubeless water slides that shoot you out full speed. These include the Intimidator and the Triple Threat, two adrenaline-pumping drop slides, as well as the dark and enclosed Blackout, the two-lane Racing Waters, the two-lane Splash Down where you'll race down on a mat, and the Fin Dunker Drop that dumps you out through a funnel.
Water Attractions and More
The park has plenty of non-slide fun, too, whether you're looking to head back into the water or are in the mood to stay dry.
For getting wet and wild, you have the new Aquatic Adventure inflatable on-water obstacle course, Parakeet Springs kiddie splash area, Wild Waves Wave Pool and the accompanying Foam Parties for kids, the Fin Dunker Bucket, and watersport rentals at LandShark Landing for kayak, paddle board, and FLY Board rentals.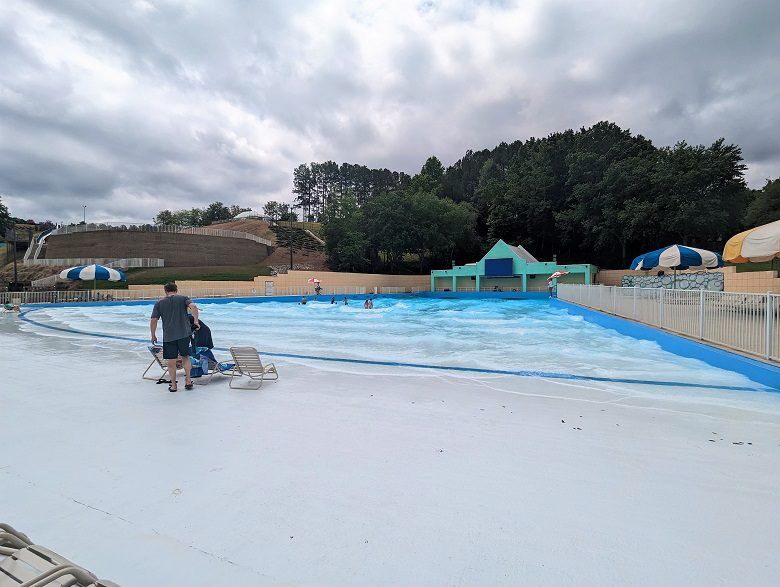 The Aquatic Adventure and watersports are located on the lake and offer the only lake access through the water park. You'll access the Aquatic Adventure via the floating dock, and you'll access the watersports from the beach at LandShark Landing.
If you're looking to stay dry, there's the Arcade, Lakeside Links Mini Golf, and relaxing on the beach.
Relaxing on Lake Lanier's Beach
You can still relax on the beach even though, unfortunately, Margaritaville at Lanier Islands no longer allows lake access for swimming at the Water Park or LandShark Landing for safety reasons.
And while the fence isn't the prettiest thing to add to the scenery, the beach is still very nice. There are lounge chairs and sand chairs available on a first-come, first-serve basis as are the large umbrellas. On busier days, individual chairs and lounge clusters will be available to rent, so you may want to bring your own.
You can still access a little bit of the lake, so if you have toddlers that want to splash in the water or if you want to get some water for building sandcastles you still can, you just can't go beyond the fence.
Dining at Margaritaville at Lanier Islands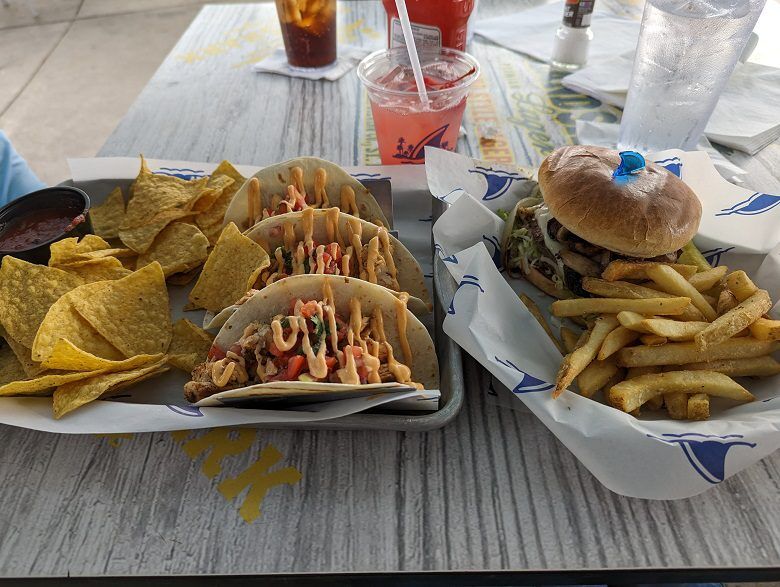 Margaritaville at Lanier Islands has tons of options for eating and drinking. You're never too far from a tiki bar, and it's always 5 o'clock somewhere!
The LandShark Bar & Grill is a personal favorite. They have lakefront dining, burger, seafood, beer, and margaritas. Kevin likes their fish tacos.
Paradise Cantina offers casual Mexican food. Frank and Lola's Pizzeria has pizza, wraps, and salads. Feeding Frenzy Fried Shack is the go-to for shrimp baskets and chicken tenders. L2C has gourmet hot dogs, burgers, and fries. There are tons of other concessions for a quick snack, drinks, hot dogs, and hamburgers as well.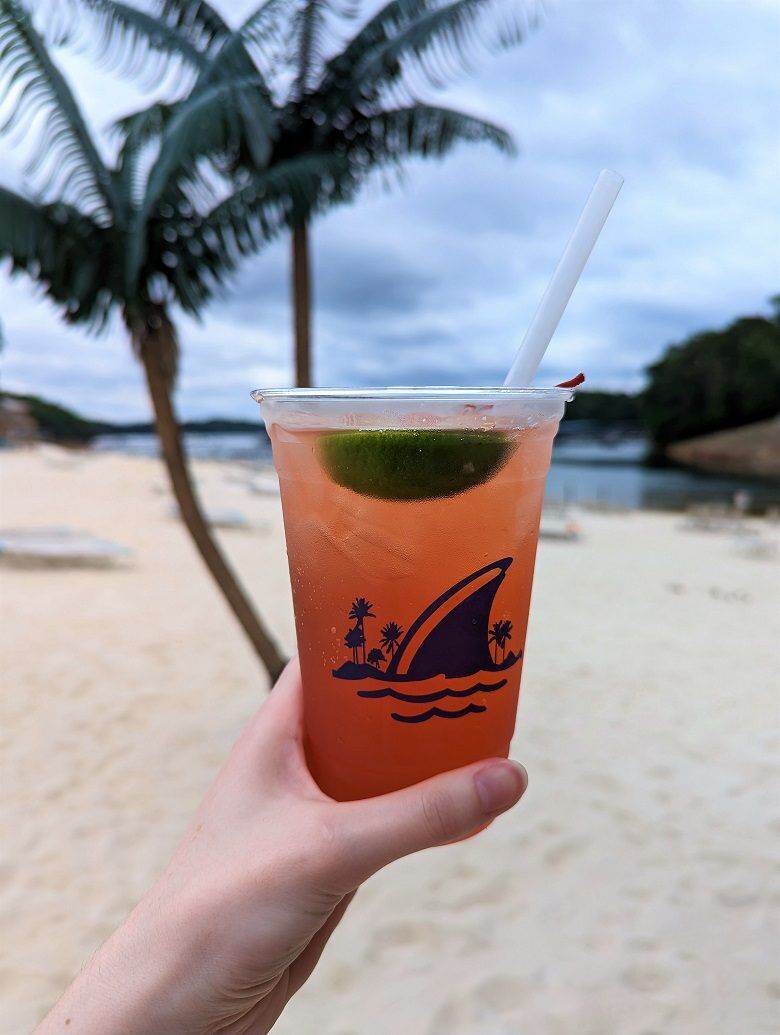 For drinks, the Tiki Bar has a central location on Paradise Beach where you can get beer buckets, cocktails, and margaritas. I like the Pink Cadillac, Stranded On A Sandbar, and the classic 5 O'clock Somewhere. The License to Chill Bar is also a great spot to get into the vacation state of mind.
Visiting Margaritaville at Lanier Islands Water Park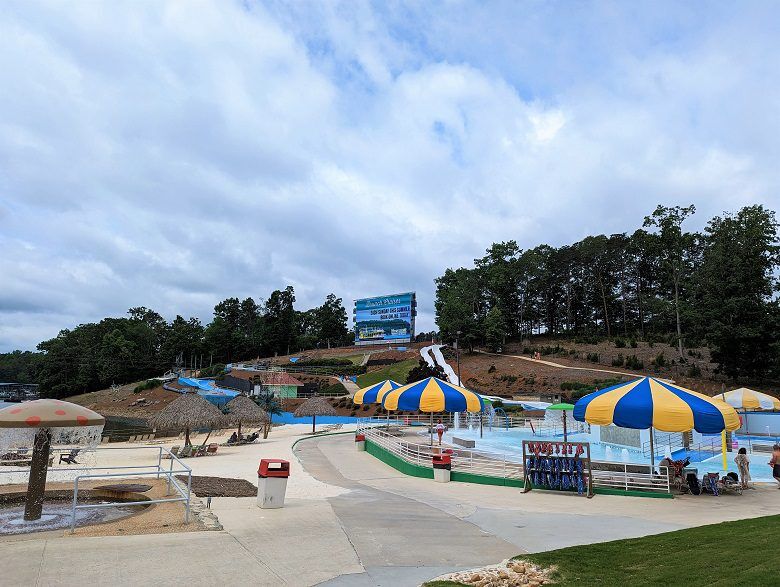 The water park at Margaritaville at Lanier Islands is open seasonally from May to September. Check the 2023 hours of operation here.
Admission for the water park costs $54.99 per person for a day pass. They also offer a season pass, the Summer Chill Pass, for $149.99 per person but it's on sale for $99.99 through June 15, 2023.
If you only want to access LandShark Landing for special events, holidays, and holiday weekends and aren't interested in accessing the water park or beach area, you can get a pass for $9.99 per person. On all other dates, this area is free to access.
Parking at Lanier Islands costs $20 per vehicle (parking is included in the season pass).
Margaritaville at Lanier Islands Water Park Review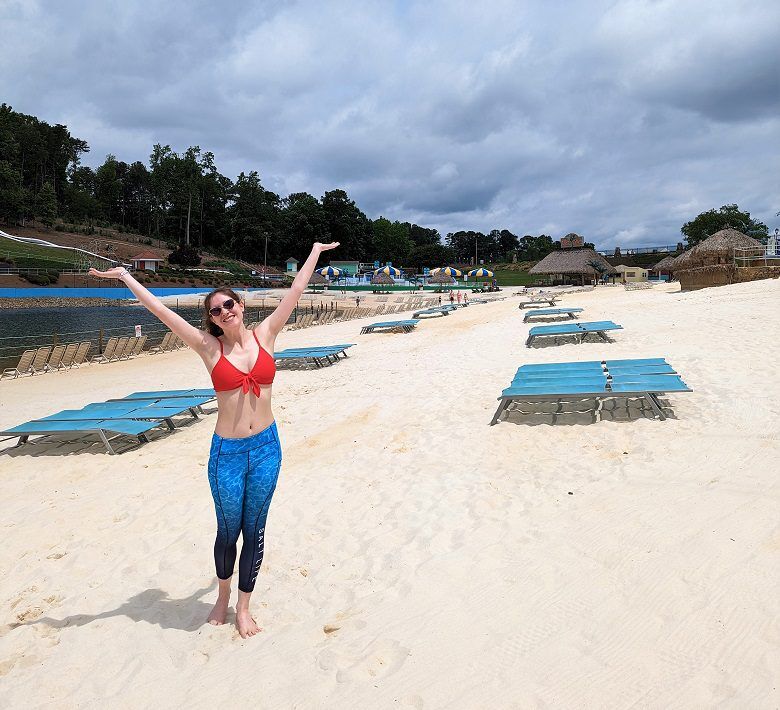 Overall, we loved our time at the Margaritaville at Lanier Islands Water Park! It was a great day out, and Kevin and I were in need of a little fun in the sun.
Here's a quick review of what we loved about the water park and what we didn't, as well as some tips to help you plan your vacation.
What We Loved
A beach getaway an hour from Atlanta – what's not to love? These are a few of our favorite things at Margaritaville at Lanier Islands.
The slides were all great, the perfect amount of thrill for both kids and adults.
The beach was nice and clean. They've done a great job to make it feel like you're at the ocean instead of on a lake.
Everyone working the park was very friendly.
The food at LandShark Bar & Grill is always good. The drinks throughout the park are delicious as well.
Favorite Water Slide: Kevin and I both agree that the Splash Down slide was our favorite. We liked racing each other, and being able to ride headfirst on a mat made it even more fun.
Things To Watch Out For
Nothing's perfect. Here are a few things we didn't love about the water park.
The food and drinks are pricey, which is to be expected at any sort of amusement park.
There are a lot of uphill walks, and those uphill walks can be steep! They started to wear out the balls of my feet and made me wish I'd brought water shoes.
The park is pretty spread out and I feel like it can be easy to miss a fun slide. For instance, you have to leave the park to get to the Fin Dunker.
Tips for a Spectacular Visit
Want to have the best time ever at Margaritaville at Lake Lanier Water Park? Follow these tips and suggestions!
Bring plenty of sunscreen and reapply throughout the day.
If you want to avoid the crowds, come to the water park early in the season! We were here the second weekend the park was open, and we had practically no lines. The longest lines were about three people long.
If you're worried about the weather/water being chilly early in the season, wear a rash guard and swim leggings over your bathing suite for extra warmth. When we visited it was in the 70s and cloudy all day, and we weren't cold on the rides (mostly from a breeze while we were sitting in wet clothes and the wave pool was chillier).
You can re-enter the water park as long as you're wearing your wristband. This means you can exit to have lunch at LandShark Bar & Grill or you can pack a picnic lunch in the car and eat outside of the park to save some money.
Bring your own unopened bottled water; this is the only outside food/drink you can bring into the park.
Water shoes aren't necessary since the park is so clean. That said, they aren't a bad idea because a lot of the slides are an uphill trek that starts to wear on your feet.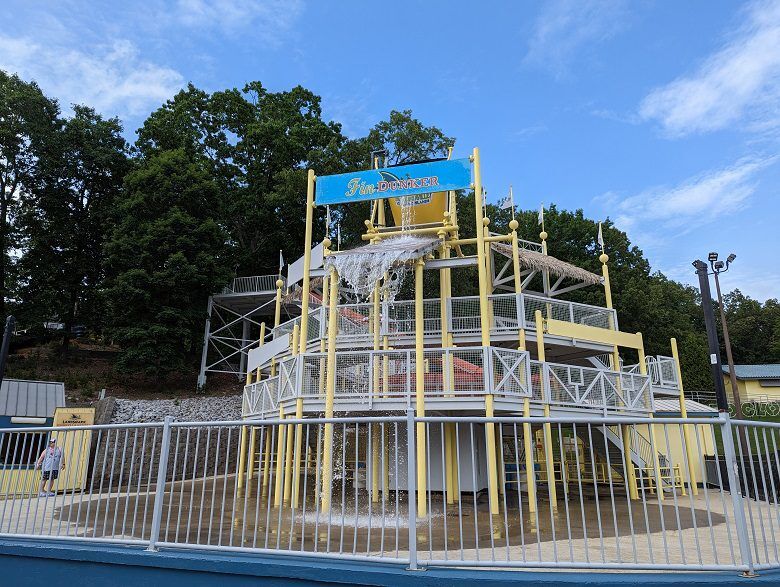 Final Thoughts: Margaritaville at Lanier Islands Water Park
Margaritaville at Lanier Islands Water Park offers the perfect summer escape for fun-seekers of all ages. From thrilling water slides to relaxing beach experiences, this tropical-themed oasis has something for everyone.
Embrace the laid-back vibes, gather your friends and family, and make lasting memories at this fantastic water park.
Where to Stay Near Margaritaville at Lanier Islands
Find the perfect place to rest your head on your trip to Margaritaville at Lanier Islands Water Park, from the top rated accommodations to unique stays you can't get anywhere else.
More Summer Fun in Atlanta
Summer in Atlanta is a blast! Enjoy more fun things to do in and around Atlanta with these itineraries:
---
Ready to visit Margaritaville at Lanier Islands in Buford, Georgia? Plan your trip with these tips.
---
Cheers!
Paige
Have you visited the Margaritaville at Lanier Islands Water Park? Let me know in the comments!