Escape to the breathtaking natural beauty of Gibbs Gardens. This 300-acre estate has 16 flourishing gardens that bloom during all seasons and offer a stunning oasis in the North Georgia mountains. Learn more about visiting Gibbs Gardens here.
Gibbs Gardens in Ball Ground, Georgia is a place of timeless beauty, offering an escape into 16 breathtaking gardens with a variety of plants, trees, and flowers.
Whether you're an avid outdoor enthusiast or simply looking for a great day trip for the family, visiting Gibbs Gardens is the perfect activity. A paradise for nature-lovers, with more than 300 acres of rolling hills, peaceful meadows, and flowing streams, Gibbs Gardens is a must-see destination in North Georgia.
Read on to find out what makes Gibbs Gardens an ideal day trip from Atlanta and a must-visit North Georgia destination and to get an insider's guide to making the most of your visit.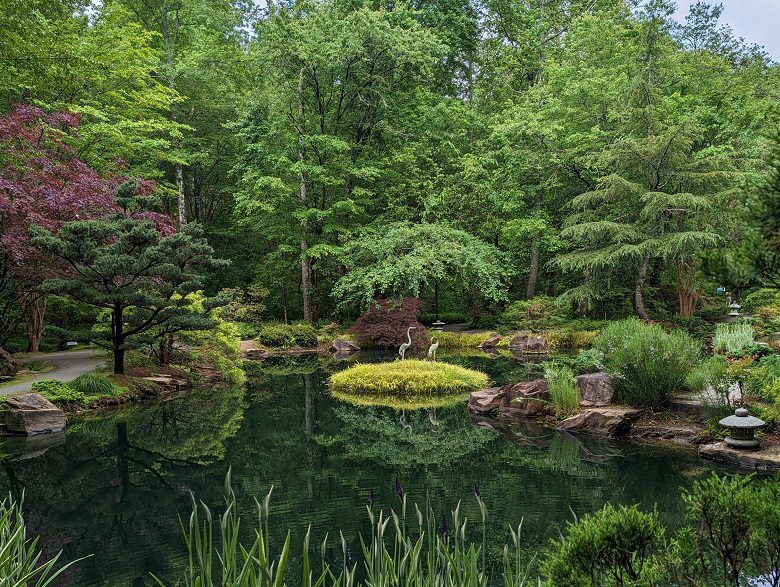 About Gibbs Gardens
Located on more than 300 acres, this spectacular garden in Ball Ground, Georgia is a mecca of natural beauty. From the vibrant blooms of azaleas to the towering magnolias, this garden paradise offers visitors a stunning, natural escape any time of the year.
Atlanta landscaper Jim Gibbs began sprucing up the grounds around his private family estate in 1980. For more than 30 years, he designed a world-class garden with spring-fed streams, ponds, lakes, and hillsides covered with mature woodlands.
Gibbs Gardens opened to the public in 2012 and has been a hit with nature-lovers ever since.
Exploring Gibbs Gardens
There are 16 beautiful gardens for you to explore around the estate. Explore some of the most popular gardens and see what's in bloom.
Valley Gardens
The Valley Gardens cover over 100 acres and include the Japanese Gardens, Monet Waterlily Gardens, Grandchildren's Sculpture Gardens, Rose Gardens, The Fern Dell, The Pleasance and Daylily Gardens.
See some of the most popular garden displays below.
Waterlily Gardens & Monet Bridge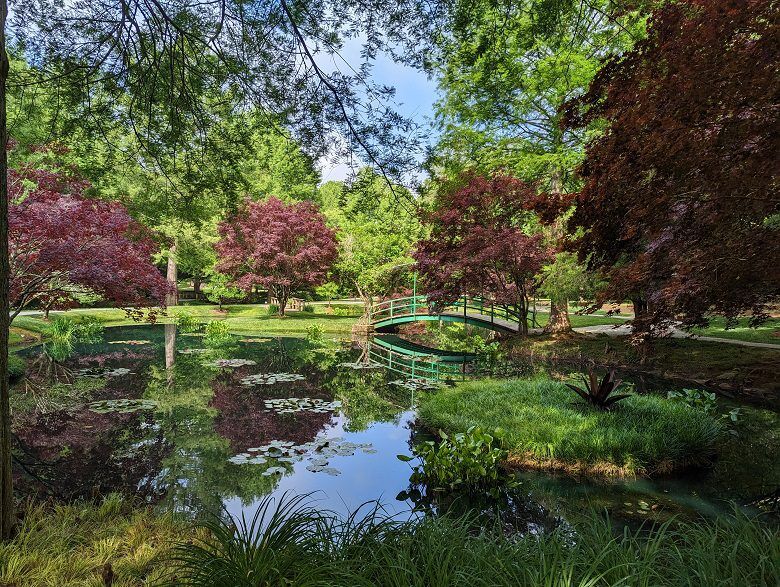 The Waterlily Gardens has 5 ponds and over 140 varieties of waterlilies. The ponds all originate from underground springs, making this the largest natural display of waterlilies in the country.
Mr. Gibbs was inspired by Monet's Garden at Giverny, France and recreated the famed Monet Bridge in his own Gardens.
Rose Gardens
In the Rose Gardens, Knockout Roses are planted in long curved beds across the lush green lawns. There are over 1,000 roses ranging in color from reds to pinks to whites to yellows.
There are also four levels of roses near the Manor House that cover the the wooden arbor, metal arches, and rose terraces.
Japanese Gardens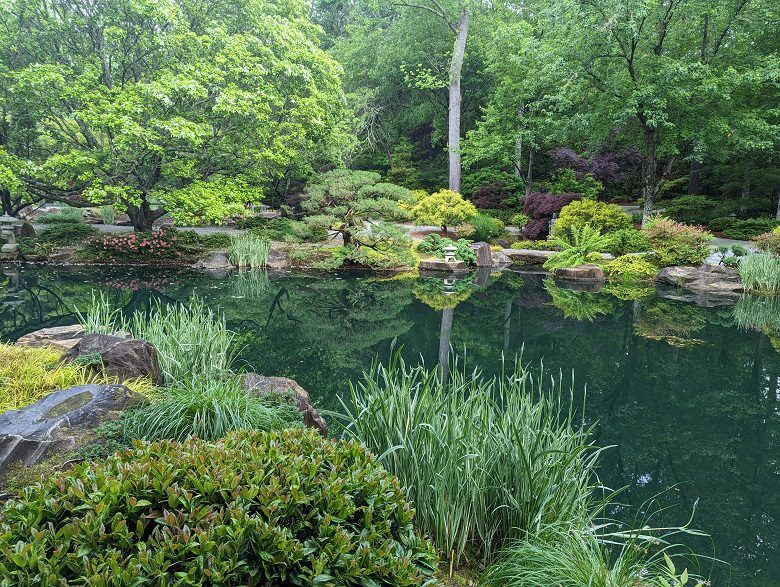 The Japanese Gardens feature more than 40 acres with spring-fed ponds, islands, bridges, boulders, rocks, and 40 handcrafted Japanese lanterns. It is the largest Japanese Garden in the country.
A collection of more than 1,000 Japanese maples provide brilliant color in the fall. Yoshino and Kwanzan Cherry Trees blossom in the spring.
Wildflower Meadow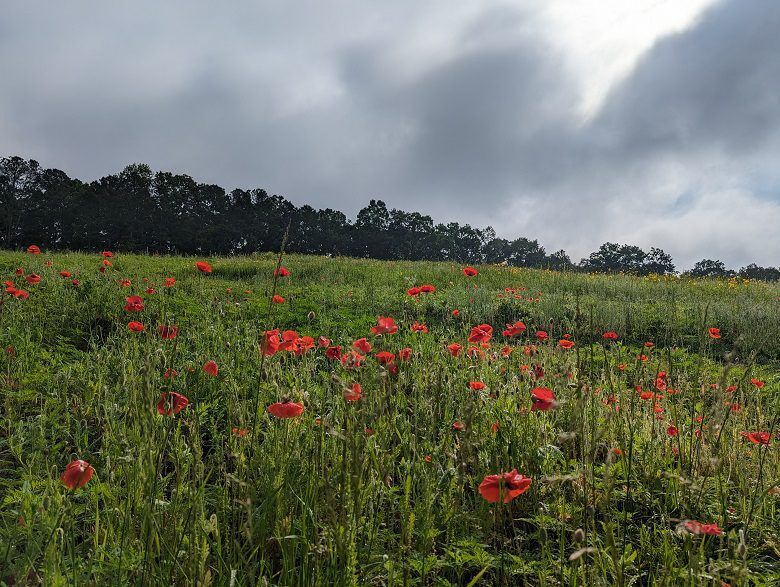 The Wildflower Meadow is made up of a series of mowed paths along 30 acres of sloping hills.
The meadow affords sweeping views of color in the springs, summer, and fall with seasonal wildflower varieties in bloom at different times.
Fern Dell
The 70 acre Fern Dell is comprised of millions of ferns that form a dense carpet. A stream winds through the valley and there are several raised viewing decks along the walkways.
Manor House Gardens
The Manor House Gardens include seasonal floral displays such as the Daffodil, Azalea, Rhododendron and Hydrangea Gardens, the Rose Arbor, the Woodland Shade Gardens and Nature Canopy Walk.
See some of the most popular garden displays below.
Rhododendron & Hydrangea Gardens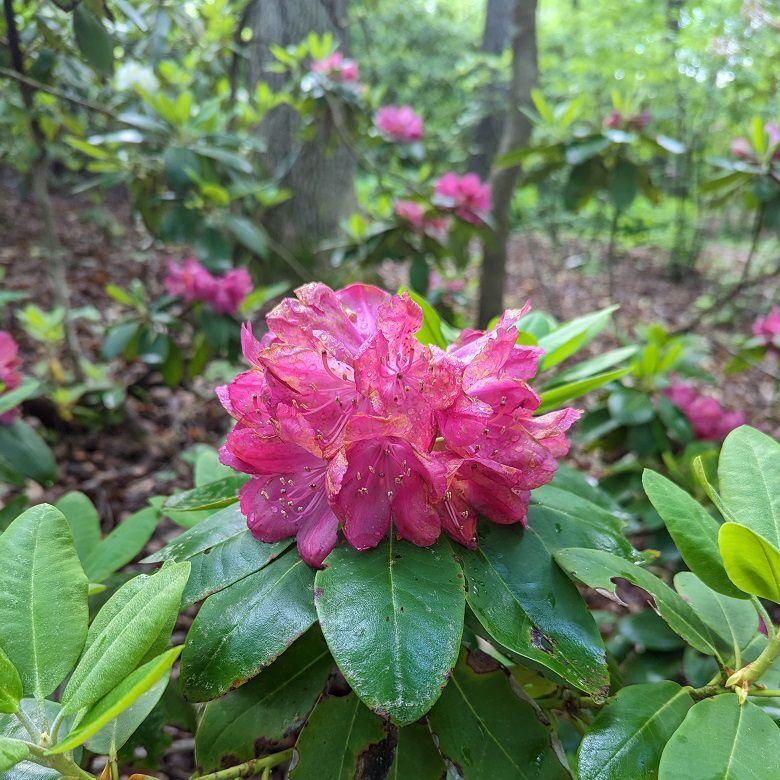 The Rhododendron Garden began in 1988 with 750 plants of 150 varieties. There are now over 1,000 plants in colors of pink, red, white, purple, and lavender.
Interspersed with the Rhododendrons are more than 1,000 Hydrangeas of blue, pink, white, lavender, and purple colors, depending on the variety and soil acidity.
Manor House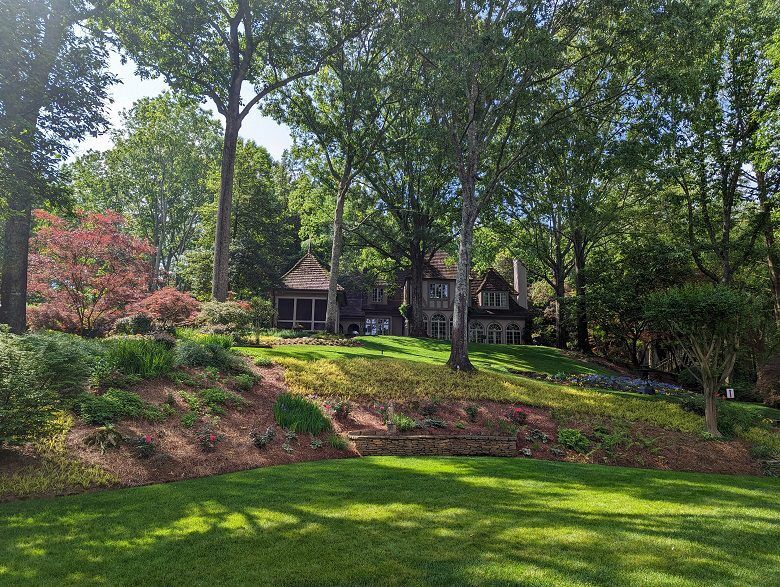 The Manor House is a mix of European architecture with accents purchased in Europe, like the 12-foot 14th century French limestone fireplace, 17th century French interior doors, and 18th century French beveled and leaded glass doors and windows.
The home overlooks the gardens and the north Georgia mountains.
The Gibbs family does still live in the Manor House, but they allow you to walk around the gardens and on the home's patio, and enjoy the same views they get to see every day.
Inspiration Garden
The 7.5 acre Inspiration Garden features Azaleas, Dwarf Drift Roses, Knockout Roses, Japanese Maples, and Dwarf Conifers.
This garden began after Tropical Storm Irma wiped out a forested hillside of mature trees in 2017. Mr. Gibbs planned to turn Irma's mess into a new 15-acre garden with plant collections that will inspire visitors. Part 1 of the plan is complete, with more still to come.
Things to Do at Gibbs Gardens
Discover more things to see and do on your visit to Gibbs Gardens.
See What's in Bloom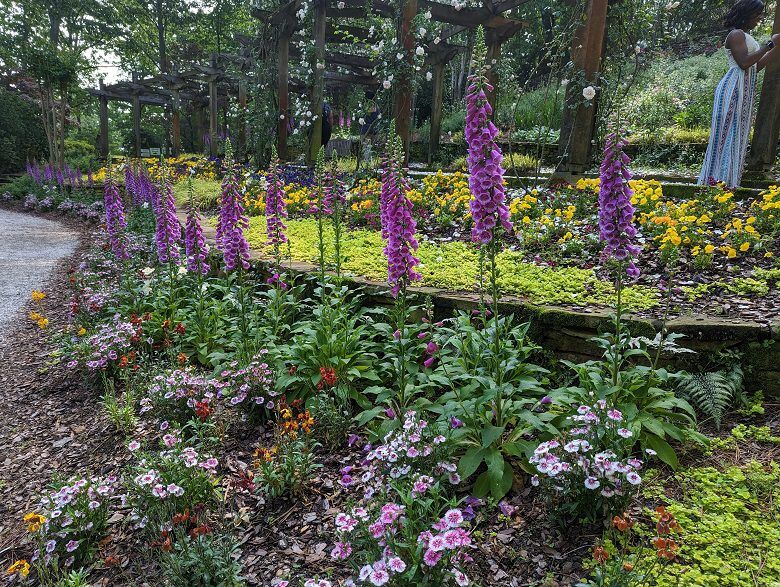 The best time to visit Gibbs Gardens is when your favorite flowers are in bloom! Here are the most popular blooms and when you can see them in color at the Gardens:
Early Spring: Daffodils (early March to mid-April); Cherry Blossoms (mid-March and lasts 2 weeks); Tulips (March to early May); Dogwoods (early April and lasts 2-3 weeks).
Spring and Early Summer: Azaleas (early April to early Fall); Fern Dell (mid-April to late October); Dwarf Drift Roses (April through November); Native Azaleas (April to June); Encore Azaleas (April to June); rhododendrons (early May and lasts 2-3 weeks); Knockout Roses (early May through November); Hydrangeas (mid-May through October); Waterlilies (mid-May through November).
Summer: Daylily (June through July); Crape Myrtles (early July through August); Annuals and Perennials (Spring-Fall with the peak in Summer).
Fall: Wildflowers (early September through November); Encore Azaleas (September to November); Japanese Maples (mid-October through mid-November).
Attend Special Events
Attend special events in the Gardens, like their Twilight Concerts that feature live music in the spring, late summer, and early fall.
Eat at the Arbor Cafe
You can enjoy a sandwich or snack under the canopy of shaded trees beside the waterlilies ponds and the valley waterfalls.
The cafe is open from 10 a.m. to 4 p.m. when the Gardens are open.
Shop at the Seasons Gift Store
The Seasons Gift Store offers one-of-a-kind items including art, home décor, paintings, locally harvested and processed specialty food items, jewelry, children's gifts, books and DVD's.
The gift store is open from 10 a.m. to 4 p.m. when the Gardens are open.
Visiting Gibbs Gardens
Address: 1987 Gibbs Dr, Ball Ground, GA 30107
Admission: Tickets to Gibbs Gardens cost $25 for adults, $18 for seniors 65+, $10 for children ages 3-17, and free for children 2 and under.
You do not need reservations to visit the Gardens, and tickets can be used any day the Gardens are open. Keep in mind that spring time is very busy and you may want to buy your tickets in advance rather than at the door.
Hours: The days the Gardens are open changes seasonally, but the hours are always from 9 a.m. to 4 p.m., with the gate closing at 4 p.m.
From March 1 to July 4, they are open on Tuesday-Sundays, including on the 4th of July. From July 5 to October 1, they are open Wednesdays-Sundays, including on Labor Day. From October 2 to November 13, they are open Tuesdays-Sundays. From November 14-December 3, they are open Wednesdays-Sundays, except on Thanksgiving when they are closed. They are closed for the winter.
You should allow 3-4 hours for your visit.
Parking: On-site parking at the Gardens is free.
Accessibility: The Valley Gardens are level and wide, accessible for wheelchairs. There are 126 benches in the Valley Gardens for a place to rest. Paths are not paved but are covered with a granite composition that is firm in dry weather but may soften after rain.
The Manor House Gardens and Wildflower Meadow are not wheelchair accessible. The Inspiration Gardens are also not wheelchair accessible due to their steep terrain, but the garden is viewable from above.
The Gardens do not provide wheelchairs, scooters, golf cars, a tram, or a trolley. You can call the day of your visit to double check any pathway restrictions. There will also be "weather alert" notices posted on their website and social media.
Gibbs Gardens FAQ
What is the best time of year to visit Gibbs Gardens?

Early spring is one of the most popular times to visit Gibbs Gardens when you can see the Daffodils, Cherry Blossoms, Tulips, and Dogwoods in bloom. But the Gardens are beautiful any time of year, with incredible blooms in late spring, summer, and fall.

How long is the walk at Gibbs Gardens?

Gibbs Gardens has miles of trails. You can expect to walk about 4 miles to see everything in the Gardens and spend about 3-4 hours making your way through the blooms.

Does anyone live in the Manor House at Gibbs Gardens?

Yes, Jim Gibbs and his wife live in the Manor House at Gibbs Gardens.

Who owns Gibbs Gardens?

Gibbs Gardens is owned by Atlanta landscaper Jim Gibbs.

Are dogs allowed at Gibbs Gardens?

Pets are not permitted at Gibbs Gardens. Service dogs are allowed.

Is photography permitted at Gibbs Gardens?

Staged photography and photo shoots are not permitted, so no engagement, maternity, senior class, or modeling photos. Otherwise, photography is fine.

Where to Stay Near Gibbs Gardens
Find the perfect place to rest your head on your visit to Gibbs Gardens, from the top rated accommodations to unique stays you can't get anywhere else.
More to Do in North Georgia
Looking for more things to do in North Georgia to complement your trip to Gibbs Gardens? Check out the suggestions below:
---
Ready to visit Ball Ground, Georgia? Plan your trip with these tips.
---
Cheers!
Paige
Did you find this guide to visiting Gibbs Gardens in Ball Ground helpful? Let me know in the comments!