Are you looking for the best Mexican restaurants in Atlanta, Georgia? If so, then you're in luck! Atlanta is home to some incredible Mexican restaurants serving up mouthwatering classics.
From tamales to freshly made guacamole, mouth-watering tacos, and delicious margaritas, this is an exploration into the best Mexican food in the city.
Whether you're in the mood for street tacos or sizzling fajitas, these top Mexican restaurants in Atlanta are serving up delicious cuisine from south of the border. Check out these amazing Mexican restaurants in Atlanta that will have your taste buds watering.
Best Atlanta Mexican Restaurants
If you're looking for a delicious fiesta of flavor, make sure you add these Atlanta Mexican restaurants to your must-visit list. Get ready to explore some of Atlanta's tastiest Mexican eateries and enjoy a flavorful meal in a fun atmosphere.
1. Nuevo Laredo Cantina
Nuevo Laredo Cantina opened its doors to Atlanta in 1992 and has been serving authentic, home-cooked Mexican food ever since.
The setting of this restaurant may be campy, and you may have to travel off the beaten path to find it, but the food is amazing.
The Nuevo Laredo Cantina menu has everything from quesadillas and tortas to huevos dishes and seafood specials to tacos and burritos. For something you can't get anywhere else, try their Holy Tacos filled with mashed potatoes, cheese, onion, and cabbage.
1495 Chattahoochee Ave NW, Atlanta, GA 30318
2. Taqueria del Sol
The first Taqueria del Sol location opened in 2000. They serve inventive and delicious Mexican cuisine with a cross-cultural flair for lunch and dinner.
The restaurant has a fast-casual design, but the food is made to order from scratch. They have a very simple menu of tacos, soups, enchiladas, and sides.
Taqueria del Sol has four locations in the metro-Atlanta area: Westside, Cheshire Bridge, Decatur, and Chamblee.
Westside: 1200-B, 1200-B Howell Mill Rd NW, Atlanta, GA 30318
Cheshire Bridge: 2165 Cheshire Bridge Rd NE, Atlanta, GA 30324
Decatur: 359 W Ponce de Leon Ave, Decatur, GA 30030
Chamblee: 5001 Peachtree Blvd Suite 910, Chamblee, GA 30341
3. El Rey del Taco
El Rey del Taco on Buford Highway is on a mission to bring the best authentic tacos to Atlanta. Their name even means "the king of tacos," so they're off to a pretty good start. They've certainly earned their spot as one of the best restaurants in Doraville.
This family-owned business has been making authentic Mexican food for over15 years. Their menu has a varied list of taco options, including pork butt, tongue, cow's cheek, goat meek, and beef flank. El Rey del Taco does other Mexican food well, too, like their fajitas, seafood specialties, and quesadillas.
5288 Buford Hwy, Doraville, GA 30340
4. Tin Lizzy's Cantina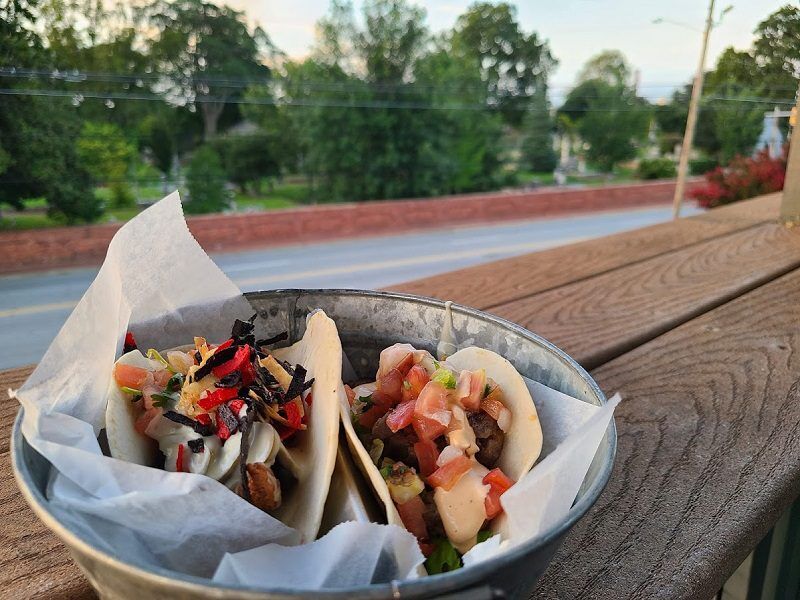 Tin Lizzy's Cantina is a unique taqueria popular for its fresh margaritas, street tacos, skillets, and live music. Their flavors transcend borders and combine different flavors like buttermilk fried chicken, Korean BBQ, Philly Cheesesteak, and grilled mahi-mahi.
Whether you're in the mood for a taco or a skillet, you really can't go wrong with either. I like the Chicken Con Queso and the Steak & Mushroom tacos and the Cowboy Skillet.
Tin Lizzy's has eight Atlanta locations: Buckhead, Downtown, East Cobb, Grant Park, Kennesaw, Mall of Georgia, Midtown, and Perimeter. My favorite location is the Grant Park one because they have a rooftop bar overlooking the Historic Oakland Cemetery.
Buckhead: 3639 Piedmont Rd NE, Atlanta, GA 30305
Downtown: 26 Andrew Young International Blvd NE, Atlanta, GA 30303
East Cobb: 4475 Roswell Rd #1510, Marietta, GA 30062
Grant Park: 415 Memorial Dr SE, Atlanta, GA 30312
Kennesaw: 3470 George Busbee Pkwy NW, Kennesaw, GA 30144
Mall of Georgia: 3333 Buford Dr, Buford, GA 30519
Midtown: 77 12th St NE, Atlanta, GA 30309
Perimeter: 121 Perimeter Center W, Atlanta, GA 30346
5. Poblano's Mexican Grill
Poblano's Mexican Grill in Acworth provides a fun, upbeat environment where their love for family and Mexican food is very apparent. Catch up with friends over ice cold margaritas or celebrate with family over tasty dishes inspired by traditional Mexican home cooking and Latin flavors.
Their menu includes seasonal specials, vegetarian options, nachos, quesadillas, enchiladas, burritos, tacos, and traditional Mexican specialties. They offer daily food specials and drink specials on Monday-Thursday and Sunday.
3344 Cobb Pkwy N, Acworth, GA 30101
6. Mariscos El Veneno
Mariscos El Veneno, a beachy seafood restaurant on Buford Highway, serves up huge plates of fried snapper as well as brimming bowls of shrimp, crab, and mussels.
They have an extensive menu full of options from oysters on the half shell to fried shrimp to stuffed crab claws. You'll also be served the spicy house habanero salsa alongside the complimentary marlin tostadas before your meal. Mariscos El Veneno is a must for both seafood and Mexican food lovers.
5072 Buford Hwy NE, Doraville, GA 30340
7. Alma Cocina
Alma Cocina is a Downtown Atlanta restaurant serving up contemporary Mexican fare. This restaurant combines contemporary Mexican and Latin American cuisine for delicious dishes you can't find anywhere else in Atlanta.
On the menu, you can expect to find items like tortas and taquito spreads, seasonal guacamoles and salsas, and traditional chicken mole Oaxaca. They also have the most diverse tequila selection in the city, for a truly happy Happy Hour.
191 Peachtree St NE, Atlanta, GA 30303
8. No Mas! Cantina
No Mas! Cantina brings the best of Mexico to Atlanta's Castleberry Hill neighborhood. With a large dining room, a gorgeous outdoor patio, and artisan crafted décor, the atmosphere at No Mas! is next to none.
Their menu combines Mexican favorites and regional dishes with a unique flair. Stand-out dishes include Tacos de Pescado, Parrillada Los Reyes, Camarones Alambres, and for dessert the Cuatro Leches Cake.
And if you've fallen in love with the décor, everything in the restaurant is available for purchase, or you can head to the No Mas! Hacienda Artisan Market next door that sells gifts, jewelry, furnishings, accessories, lighting, and art that are all handcrafted from over 500 artisans in Mexico.
180 Walker St SW ste b, Atlanta, GA 30313
9. Chido & Padres
Chido & Padre's in Buckhead serves Baja Californian and coastal Mexican fare. This super Instagrammable restaurant transports you to the colorful eateries of Mexico's most celebrated food regions.
On the menu, you'll find familiar favorites as well as adventurous dishes, including aguachiles, hand-smashed guacamole, duck sopes, an octopus tostada, and smoked beef cheek barbacoa. They have an extensive Mexican spirits collection full of mezcals and tequilas, and a creative cocktail menu of margaritas and Palomas.
128 E Andrews Dr NW, Atlanta, GA 30305
10. Casa Grande Bar and Grill
If you're looking for grande portions, head to Casa Grande Bar and Grill in Austell. Part of the Marietta Family Restaurant Group (the people who brought us the famed Marietta Diner), Casa Grande has a sprawling menu, huge portions, delicious cakes, and great service.
The menu is full of options including burritos, nachos, tacos, quesadillas, fajitas, traditional dishes, sandwiches, and desserts. You have your pick of steak, chicken, seafood, pork, and vegetarian dishes.
2810 East-West Connector, Austell, GA 30106
Where to Stay in Atlanta
Find the perfect place to rest your head on your visit to Atlanta, from the top rated accommodations to unique stays you can't get anywhere else.
Craving More Atlanta Activities?
If you need more things to do while visiting Atlanta, check out these top posts:
---
Ready to visit Atlanta, Georgia? Plan your trip with these tips.
---
Cheers!
Paige
Have you visited any of these top Mexican restaurants in Atlanta, Georgia? Let me know in the comments!