Oakland Cemetery is not your typical tourist destination, but it is a must-see for those who want to delve deep into Atlanta's history. Get a glimpse into the city's past at the Historic Oakland Cemetery in Atlanta, Georgia.
Ready to explore history with both feet firmly planted in the present? Then a visit to Atlanta's Historic Oakland Cemetery is exactly what you need.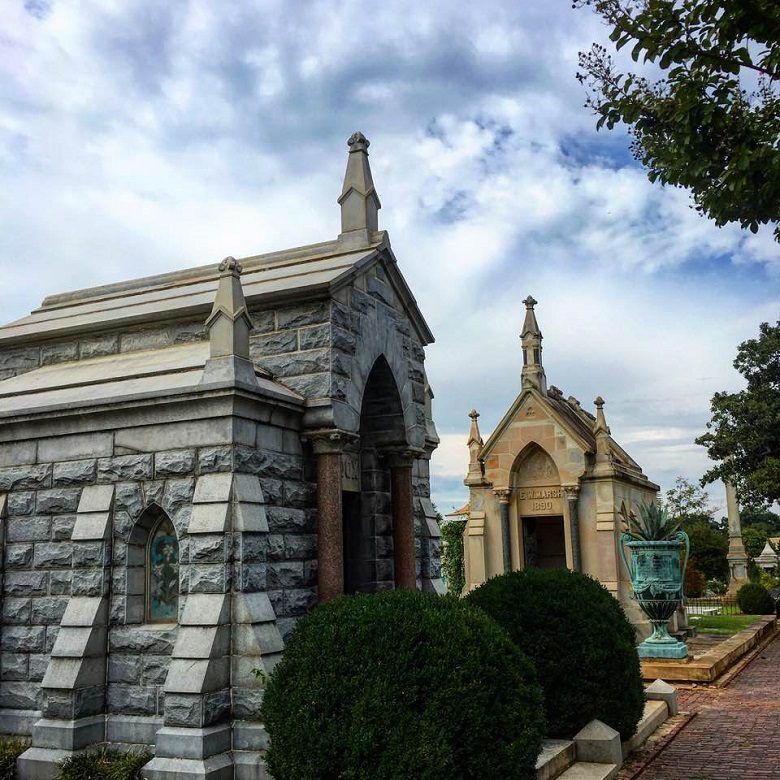 The Historic Oakland Cemetery is the oldest cemetery in Atlanta, providing 48 acres for the final resting place of many notable Atlanta residents.
From the its incredible architecture to its expansive history, Oakland Cemetery is a must-visit off-beat destination in Atlanta.
About Historic Oakland Cemetery
Oakland Cemetery was founded in 1850 on 6 acres of land, though at that time it was known as "Atlanta's Cemetery". Twelve years later, the cemetery had been renamed "Oakland" because of the number of oak trees in the area and it had grown to its current 48 acres of land.
By 1884, all of the traditional plots of the cemetery had been sold, meaning that the only option to be buried here was to buy a plot from a private owner or to be buried in Potter's Field.
Oakland is a notable example of a garden cemetery, which was a popular movement during the Victorian era. This movement promoted larger, park-like public spaces.
Traditionally, families would tend to the gardens of their family plot, and families would take outings to the cemetery as popular social activities. The first greenhouse in Atlanta was built to grow flowers for the cemetery, and the Victorians used the language of flowers in the gardens to express their mourning of deceased loved ones.
A visit to Oakland Cemetery is perfect any time of year, but I'm especially fond of visiting during the fall when the cemetery is in full swing with festivals and ghost tours! Whenever you decide to visit, though, you'll have a great time exploring Atlanta's oldest cemetery.
Exploring Atlanta's Oakland Cemetery
From the beautiful landscape to the stones that tell the stories of Atlanta's past, there's a lot more to Oakland Cemetery than you might think. Explore what there is to offer beyond the cemetery walls.
Notable Gravesites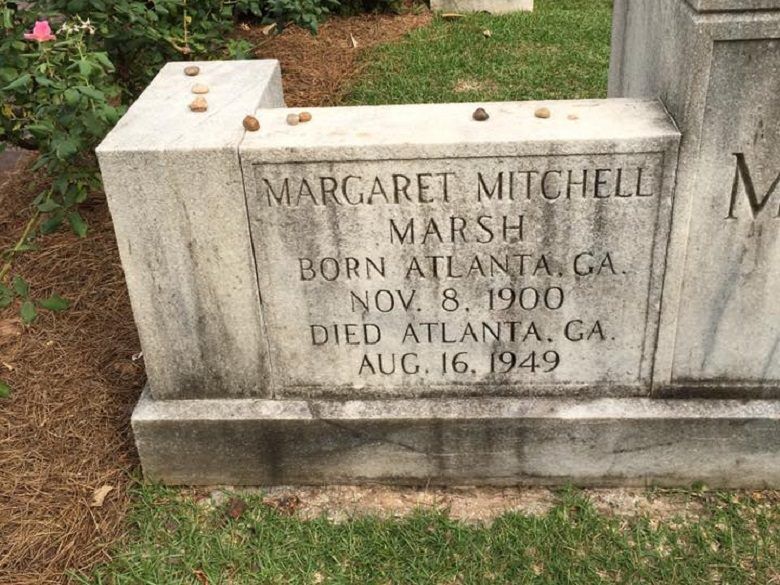 There are a lot of notable residents buried at Oakland Cemetery. With about 70,000 graves, there's way too many to name here! But here's an idea of just a few famous Atlantans you'll find headstones for.
Oakland's first resident since being established as a cemetery is Dr. James Nissen, a medical doctor visiting Atlanta who fell ill and died in 1850. Dr. Nissen shared a common fear of the day of being buried alive. Before his death, he asked that his corpse's neck be cut before burial to ensure he was truly dead. Let's certainly hope he didn't wake up later 6 feet under.
Bobby Jones is buried in the original 6 acres of Oakland Cemetery. Jones was an Atlanta-native amateur golfer known for being the only person to win the Grand Slam of four major golfing titles in one year (1930) and the founder of the Augusta National Golf Club and of the Masters Tournament.
Twent-seven former Atlanta mayors are buried in Oakland. These include Atlanta's first mayor, Moses Formwalt, and Atlanta's first African-American mayor, Maynard Jackson.
Margaret Mitchell, author of Gone With the Wind, is buried with her husband John Marsh.
A striking life-sized statue sits atop the mausoleum of Jasper Smith, a real estate investor who financed buildings downtown. His statue is carved without a necktie because he had a bad experience with them as a child and refused to wear them. However, his burial clothes reportedly do include a necktie.
Gardens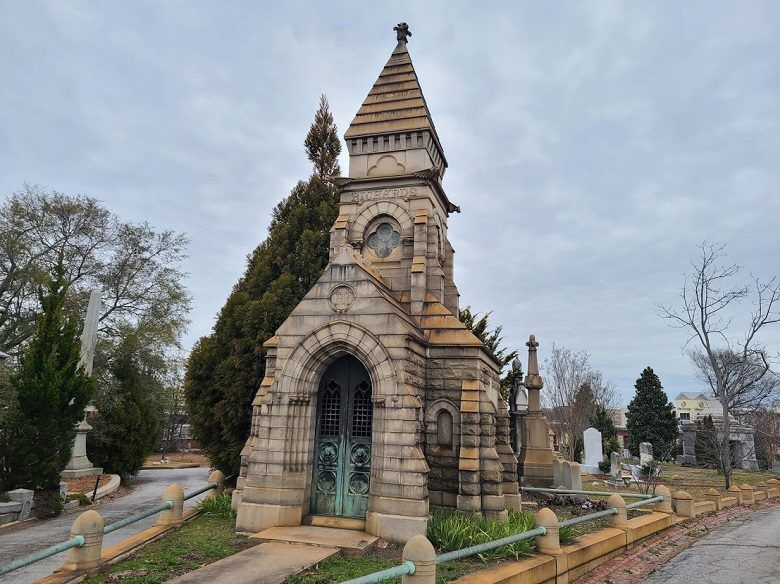 The Victorians created cemeteries as public gardens where you could come spend an afternoon with family, those who are still living as well as those that have passed.
Oakland Cemetery still maintains this garden cemetery tradition. Their gardens are beautiful year-round, with daffodils in the springs to irises in the summer to the beautiful blazes of autumn trees to evergreens in the winter.
So you're not only visiting a cemetery but a botanical oasis as well.
A small staff and plenty of volunteers maintain these beautiful gardens.
Things to Do at Oakland Cemetery
Discover more things to see and do on your visit to Atlanta's Historic Oakland Cemetery.
Cemetery Tours
Tours of the cemetery are offered year-round. They have both guided and self-guided tours.
Their standard tour covers the Sights, Symbols, and Stories of Oakland. This tour is offered Saturdays, Sundays, and Wednesdays. You'll get a great overview of the cemetery on this 90-minute tour led by a knowledgeable guide. Tickets cost $12 for adults, $6 for children, students, and seniors.
They also offer special topic tours on Saturdays and Sundays. These 75-minutte walking tours cover specific topics that range from African American history to Victorian symbolism. Tickets cost $12 for adults, $6 for children, students, and seniors.
You can purchase a digital Self-Guided Tour Map for $5 that covers over 55 marked stops so that you can explore the cemetery at your own pace.
During the Halloween season, the cemetery will also offer sunset tours where you can see the cemetery after dusk and hear haunting tales. The Capturing the Spirit of Oakland is a favorite autumn tour that brings some of the cemetery's most notable residents to life to tell their own stories!
Cemetery Events
The cemetery regularly holds special events.
There are award-winning arts exhibitions, music festivals, plant sales, seasonal tours, a pumpkin patch, and more.
Sunday in the Park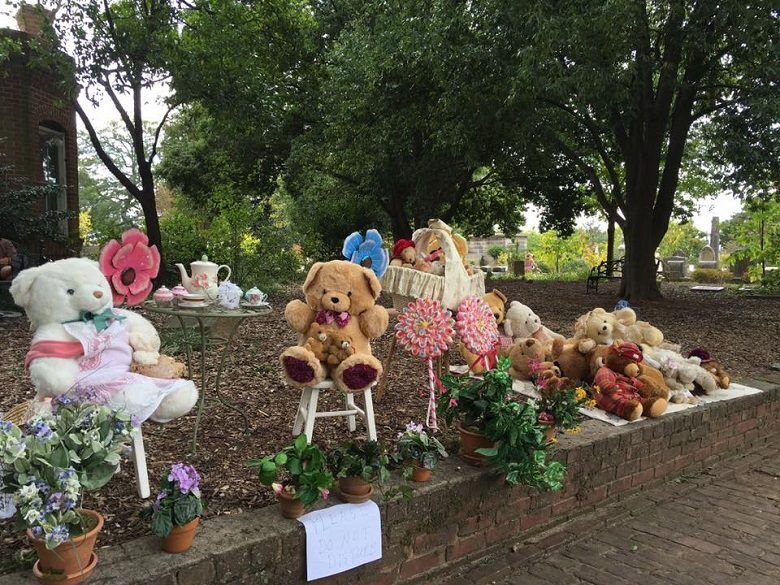 For 45 years, Oakland Cemetery has hosted Sunday in the Park in late September or early October. This event is a Victorian street festival encourages guests to dress in costume and participate in the historical costume contest. Events include story tellers, historic walking tours, carriage rides, live music, an artists' market, and food trucks.
This year's Sunday in the Park, featuring Tunes from the Tombs, takes place on September 24, 2023.
The event costs $20 for adults if you pre-order and $25 at the gate, $10 pre-order for kids ages 6-17 and $15 at the gate, and free for children 5 and under. There is also a VIP option that is $80 pre-order and $90 at the gate.
You can enjoy cemetery tours, craft beer and alcoholic beverages, an artist market, a Museum Store pop-up shop, a line-up of food trucks, a vendor market, and more.
Headlining this year's Tunes from the Tombs music festival are Fireside Collective and Jon Stickley Trio along with local acts The Aint Sisters and Black Lion Reggae.
Sunday in the Park is a good way to get out, experience some history, and enjoy the gardens of the cemetery the way the Victorians intended.
Oakland Cemetery Museum Store
Oakland Cemetery has one of the few museum stores affiliated with a historic cemetery. You can shop for books, jewelry, gifts, and even handcrafted items made from the fallen branches of cemetery trees.
The museum store is open Monday through Friday from 10 a.m. to 2 p.m. and Saturday through Sunday from 10 a.m. to 4 p.m.
Visiting Oakland Cemetery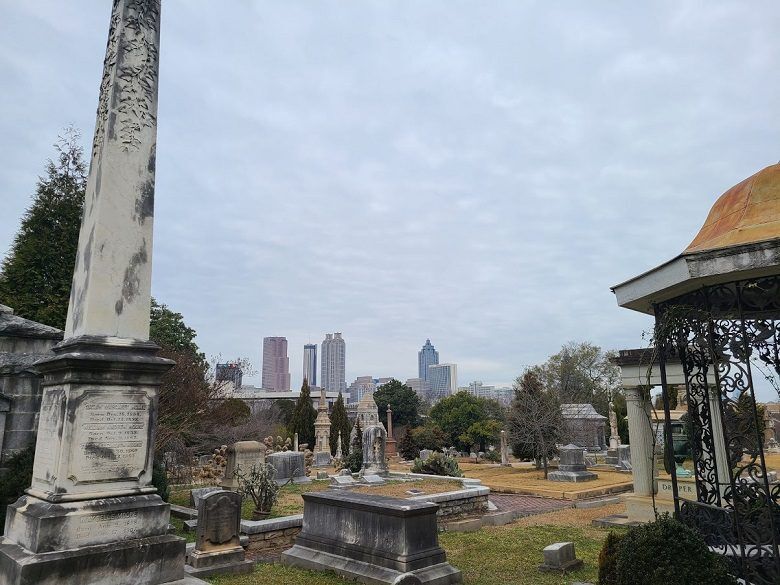 Address: 248 Oakland Ave SE, Atlanta, GA 30312
Admission: Oakland Cemetery is free to visit. Tours and special events may require a ticket purchase.
Hours: The cemetery is open daily from dawn until dusk.
Parking: There is parking available in a small lot outside the front gate, along the street on Martin Luther King, Jr. Drive, along the street on Oakland Avenue, and inside the cemetery. If parking inside the cemetery, be sure to pull off to the right, leave enough space for cars to pass, and avoid damaging walls and trees.
Handicap parking is available inside the cemetery behind the Visitors Center and Museum Store.
Accessibility: Not all areas of the cemetery are wheelchair accessible. The main entrance is paved with cobblestones.
Oakland Cemetery FAQ
Are dogs allowed in Oakland Cemetery?

Dogs are allowed in Oakland Cemetery as long as they are on a leash. Dogs are not permitted at some of the cemetery's larger special events, however.

Can I have a picnic in Oakland Cemetery?

You can have a picnic in Oakland Cemetery! Victorians loved picnicking in cemeteries, and Oakland Cemetery continues that tradition. Picnics are permitted, however grills and fires are now.

How many people are buried at Oakland Cemetery?

There are more than 70,000 people buried at Oakland Cemetery, even though there are only about 40,000 markets.

Why is Oakland Cemetery famous?

Oakland Cemetery is famous because there are many famous Atlantans buried here. There are mayors, governors, authors, and other local trailblazers from Atlanta's history buried at Oakland Cemetery.

Top Atlanta Tours
With so much to see, Atlanta can be overwhelming for any first-time traveler. To take some of the stress out of planning your visit, opt for a guided tour! Check out this list of the top Atlanta tours to help you make the most of your time in Georgia's capital city.
Where to Stay in Atlanta
Find the perfect place to rest your head on your visit to Atlanta, from the top rated accommodations to unique stays you can't get anywhere else.
More Fall Fun in Atlanta
Find even more fun fall activities in and around Atlanta, Georgia! Check out these posts for your autumn inspiration:
---
Ready to visit Atlanta, Georgia? Plan your trip with these tips.
---
Cheers!
Paige
Have you visited Atlanta's Historic Oakland Cemetery? Let me know in the comments!