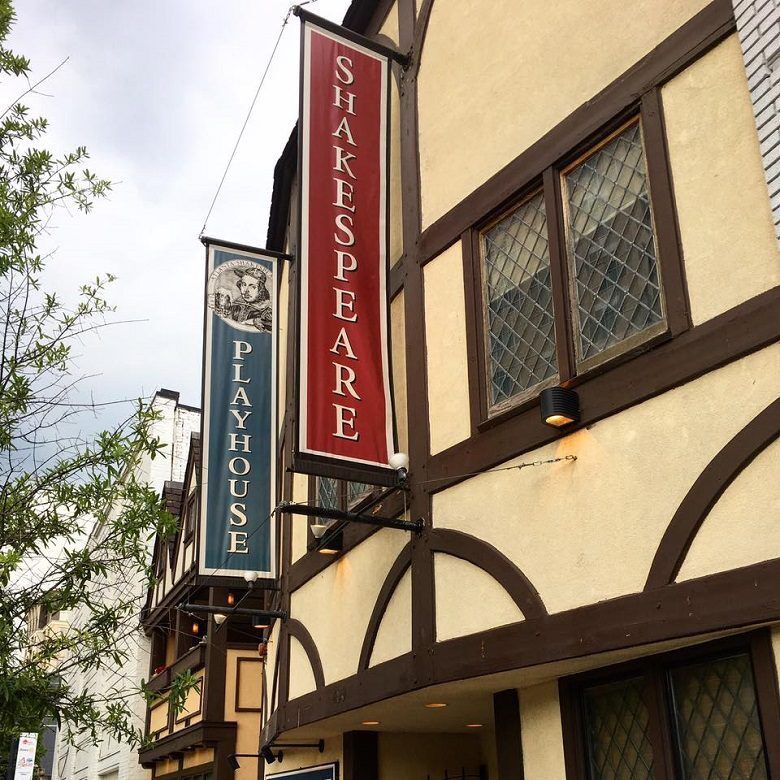 There's only one place in Atlanta that can really transport you from Midtown to Shakespeare's Globe Theatre, and that is the Shakespeare Tavern. See what what a night out is like at this iconic Atlanta playhouse.
As a literature nerd, I have been introducing Kevin to the wonderful world of Shakespeare and taking him to see a new play every few months. I was thrilled to find out there was a whole playhouse dedicated to the plays of Shakespeare, and in a building made to look like the Globe Theatre, no less!
History of the Shakespeare Tavern Playhouse
The Atlanta Shakespeare Company began in 1984 at Manuel's Tavern on North Highland Avenue before moving to its present location on Peachtree Street. The Shakespeare Tavern at this new location was designed with a Globe-inspired stage to better connect the players and the audience for what the playhouse calls "Original Practice" performances.
In 1999, the tavern was renovated and expanded to include a balcony. Today, you'll enter the Shakespeare Tavern Playhouse through a gorgeous Globe-inspired façade added in 2006 that sticks out on this strangely deserted stretch of midtown Atlanta street.
Original Practice
The Original Practice approach to theatre centers around the audience experiencing a play in a manner consistent with its creator intent.
For an Elizabethan and Shakespearean play, this means that the audience is acknowledged. When a cell phone goes off during the performance, the actors will acknowledge the interruption and mock you, particularly during a comedy. If you walk in front of the stage during the performance, you will become part of the performance, even in the midst of a sword fight.
Eat, Drink, and Be Merry
Shakespeare Tavern features a British pub-style menu put together by Chef For A Night Catering. Food service is cafeteria-style and is available one hour and fifteen minutes before the performance; food service ends ten minutes before show time. Dessert and beverages are available during intermission. They also have a bar with select wines, beers, and soft drinks.
The Plays
In 2011, the Atlanta Shakespeare Company became the first American company to perform the entire canon of Shakespeare's plays: the 37 attributed to Shakespeare and the 2 plays of questionable Shakespearean authorship, Edward III and Double Falsehood.
Shakespeare is obviously the main focus of the Shakespeare Tavern, but if you need a break from the bard, they also sprinkle in a few non-Shakespearean plays, from A Christmas Carol every Christmas to The Crucible to The Complete Works of William Shakespeare (Abridged).
Where to Stay in Atlanta
Craving More Atlanta Activities?
If you need more things to do while visiting Atlanta, check out these top posts:
---
Ready to visit Atlanta, Georgia? Plan your trip with these tips.
---
Cheers!
Paige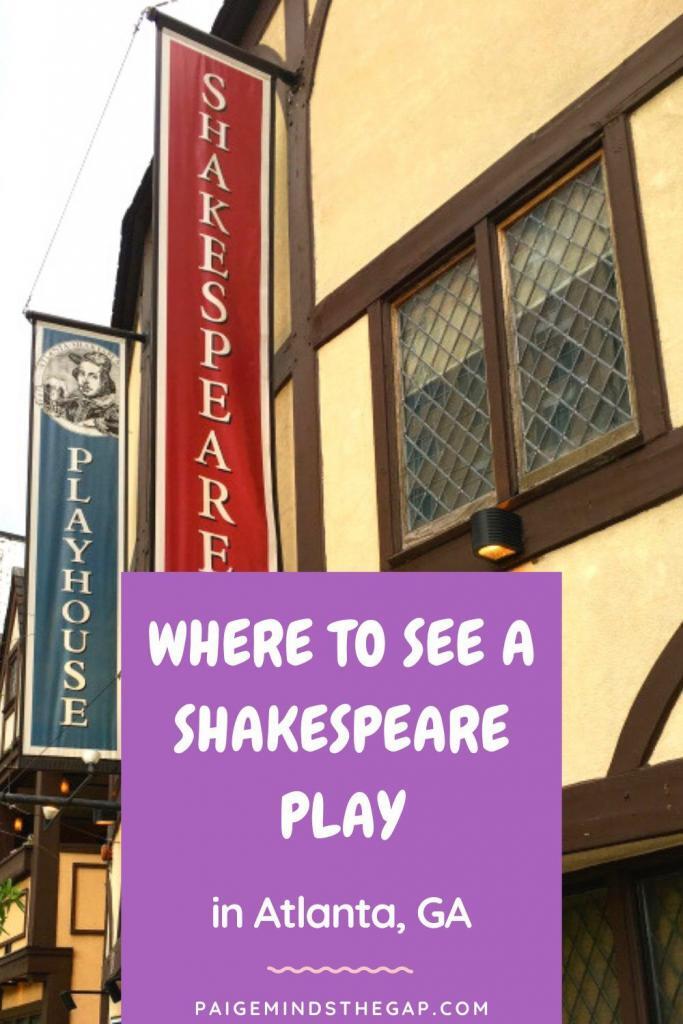 Have you seen a play at the Shakespeare Tavern in Atlanta, Georgia? Let me know in the comments!