Kennedy Space Center is billed as a great family attraction, but what about if you're child-free (like us!) or aren't sure if you'll enjoy it as much as the kiddos? Is Kennedy Space Center still worth it for adults? Read on to find out all the fun adults can have at Kennedy Space Center and what activities make it worth a visit.
A special thanks to Kennedy Space Center Visitor Complex for hosting our visit! As always, all opinions are my own.
Located on Merritt Island, Florida, Kennedy Space Center is NASA's primary launch center for human spaceflight, and the Visitor Complex is an amusement-park-like museum dedicated to space history.
With all the historic spacecraft, memorabilia, and unique experiences, a visit to Kennedy Space Center is definitely worth it for adults. Whether you're an avid space geek, a history fan, or just interested in the future of space travel, KSC is an incredible place to visit!
7 Reasons to Visit Kennedy Space Center as an Adult
At $75 (plus tax) per adult, a visit to Kennedy Space Center comes at a high price. There's a lot included that make the price worth it, though, like access to all the exhibits and the famed Kennedy Space Center Bus Tour.
But if you need more reason to visit as an adult, then check these out: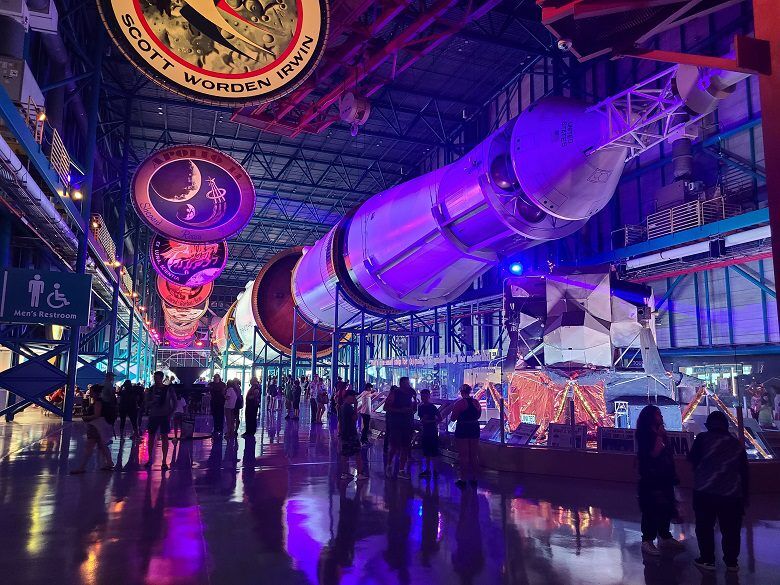 Read about the history you grew up with.
For those who grew up during the Space Race, it can be cool to re-experience all of those memories.
We've all grown up through some amazing space history, from the beginnings of Project Mercury to the historic Apollo missions to the end of the Space Shuttle program.
Kennedy Space Center offers a unique opportunity to relive some of those childhood memories through a fresh, adult perspective.
There are some really amazing artifacts from the U.S.'s early space exploration, like the 1966 Gemini 9A capsule, the control center from Project Mercury, Gus Grissom's suborbital flight suit from 1961, lunar samples from Apollo 15 and Apollo 17, and a Moon rock that you can actually touch.
And it's amazing to see just how far we've come, and where we're going with the Artemis program. You'll have a whole new appreciation for the history we've made being able to relearn it all as an adult.
Learn about space technology in depth.
If you're a real space nerd, you're in luck! Kennedy Space Center has tons of in-depth descriptions of the technology used to blast us to space.
Sure, there's plenty of simplified explanations for those of us who are not engineers and have the technology comprehension of kids. But KSC knows the space nerds want thorough geek-speak and they give you thorough geek-speak.
If you like technology, you'll love learning all about things like the Space Shuttle Atlantis, from the engines to the cargo bay to the heat deflectors; or seeing the Saturn V suspended in segments above your head.
There's loads of information and interactive exhibits so you can take your time and really delve into the background of each exhibit.
See these larger-than-life spacecraft and really put things into perspective.
Rockets are BIG. I mean, everything seems big when you're a kid, so seeing it all as an adult really drives home just how big these things are and puts into perspective what it took to actually get to space.
Being from Huntsville, AL with the U.S. Space & Rocket Center, you know I love a rocket.
Kennedy Space Center has them standing up, lying down, you can walk under them, you can walk around them. You can sit in a capsule and remember that this is just one tiny piece of a much bigger picture.
Take it all in from every angle because this was such a huge feat.
Learn all about the future of space travel.
Ready for history in the making? We've been talking a lot about the past, and that's great and all, but what about the future?
Or the literally happening right now?
Because it is, it's happening y'all. We're going back to the Moon! Billionaires are trying to colonize Mars! I may become a Space Travel Blogger!
Kennedy Space Center's newest exhibit is Gateway: The Deep Space Launch Complex. It's all about the current and upcoming, cutting-edge space innovations.
You'll see things like the Orion capsule, a SpaceX Cargo Dragon COTS-2 Capsule, a Deep Space Habitat, an ultra-modern Boeing Space Suit, mock-up capsules, the Sierra Space Dream Chaser, and the SpaceX Falcon 9 First Stage Rocket Booster.
Go behind-the-scenes with the Kennedy Space Center Bus Tour.
Adults will truly appreciate the Kennedy Space Center Bus Tour.
On the tour, you get to go behind the gates at NASA to see historic launch sites and operational spaceflight facilities.
You'll get to see the massive Vehicle Assembly Building, one of the largest buildings in the world and the largest single-story building in the world. I mean, what else would you expect from a building that holds vertically-stacked space vehicles like the Saturn V rocket and the space shuttle?
And you'll see the crawler-transporter that takes the rockets from the VAB to the launch pad. This is the largest self-powered land vehicle in the world. As it drives down the massive Crawlerways, it goes at an astounding speed of 1 mph.
Watch a live rocket launch.
Here's one for the bucket list: watch a live rocket launch.
Kennedy Space Center Visitor Complex is the closest public viewing of rocket launches, and you get live launch commentary from space experts.
And launch viewing at the main visitor complex is always included in your daily admission if the launch takes place during the museum's operational hours!
There are other viewing areas, too, like the Banana Creek Launch Viewing Area at the Apollo/Saturn V Center and the LC-39 Observation Gantry. These require an additional ticket to transport you to the viewing location.
For launches outside of operational hours, you'll have to buy a Launch Viewing Package. So be ready to pay a premium to watch the Artemis launch!
The rides and simulations are fun for adults, too.
Sure, we're not likely to become astronauts now that we're adults, but we can still pretend!
KSC's Astronaut Training Simulators let you learn to pilot the space shuttle, dock with the International Space Station, and land at Kennedy Space Center's Shuttle Landing Facility.
Meanwhile, the Shuttle Launch Experience ride simulates the space shuttle's 8.5 minute ascent into orbit. It's the next best thing to actually flying onboard the space shuttle!
Spaceport KSC is the newest ride. You can choose one of four space journeys to embark on: Red Planet, Daring Explorers, Cosmic Wonders and Uncharted Worlds.
Top Tips for Visiting Kennedy Space Center
Buy your ticket ahead of time online. That way, you won't have to wait in line to buy when you get there.
Get to Kennedy Space Center early in the morning, and plan to spend the whole day exploring. KSC opens at 9 a.m., but the parking lot opens at 8:30 a.m. if you want to get in as soon as the doors open.
Parking costs $10 per car.
The restaurants serve your standard amusement park food, slightly overpriced but not like Disney overpriced. If you're looking for a healthier option, try the Space Bowl Bistro inside the Gateway exhibit for acai bowls and build-your-own savory bowls.
You can exit and re-enter the park, just make sure you get your hand stamped. And know that you might not be able to find good parking when you return.
Kennedy Space Center is most crowded during the summer, Christmas holidays, and spring break (you know, when all the kids are out of school). Avoid those peak seasons if you don't want to deal with crowds. Weekdays are also better than weekends. Even a Friday during July, when we visited, was pretty tame.
Be sure to bring plenty of sunscreen and water. While the exhibits are mostly indoors, you'll have to walk outside in the hot Florida sun between each one. And if you visit on a busy day, you may be standing in line in the sun.
Wear comfortable shoes since visiting Kennedy Space Center requires a lot of walking.
Where to Stay Near Kennedy Space Center
More Things to Do on Florida's Space Coast
---
Ready to visit Kennedy Space Center, Florida? Plan your trip with these tips.
---
Cheers!
Paige
What are your favorite things to do at Kennedy Space Center for adults? Let me know in the comments!