Nestled in the heart of the North Georgia Mountains, Blue Ridge is the perfect destination for a romantic weekend getaway. From unforgettable hikes to relaxing spa days, here are the top things for couples to do in Blue Ridge, Georgia on a romantic weekend together.
Love is in the air in Blue Ridge, Georgia! This North Georgia mountain town is full of outdoor fun, relaxation, and romantic indulgences. If you're looking for an unforgettable escape for two, this charming destination has everything you need for a perfect romantic weekend.
Kevin and I had a Valentine's Day getaway to Blue Ridge complete with a cozy cabin, spa day, wine tastings, and easy hikes. Check out our top recommendations for romantic things to do on your Blue Ridge trip!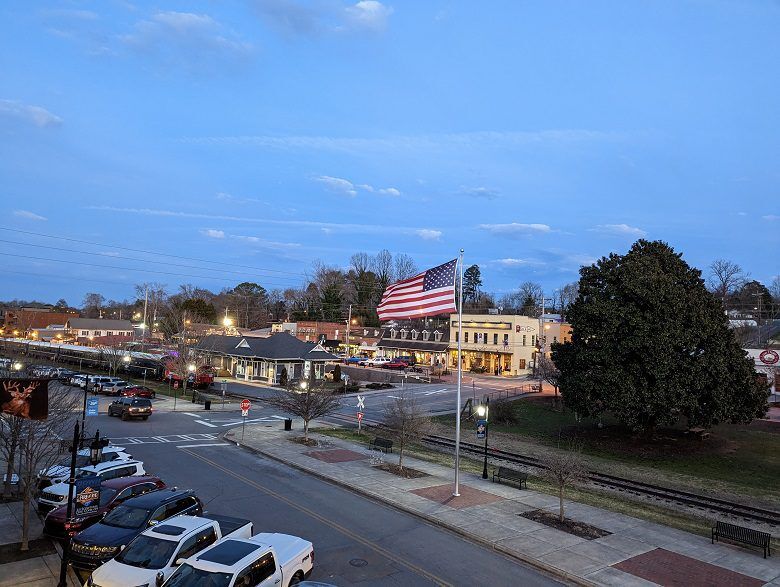 Romantic Things to Do in Blue Ridge, GA
Whether you're looking for a stress-free weekend or an adventure-filled one, Blue Ridge has something special to offer. Here are my top things for couples to do in Blue Ridge for the perfect romantic weekend.
Sip Wine at Serenberry Vineyards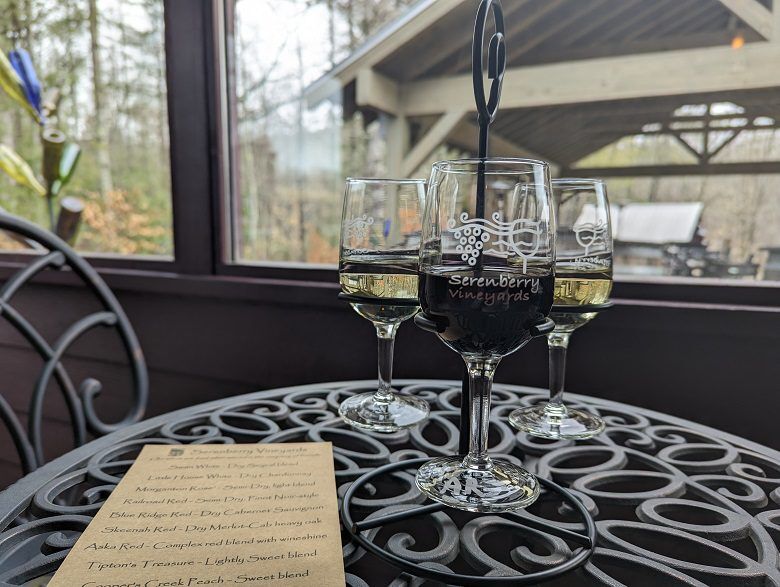 Serenberry Vineyards is a farm winery just 10 miles from Downtown Blue Ridge. They offer guided wine tastings inside their Tasting Barn, three different wine flights that you can enjoy under their covered pavilion, and glasses and bottles that you can sip while walking through the grapevines.
For those chilly days, they also have an outdoor fireplace, space heaters, and a firepit.
We did their Sweet Delight wine flight. What they offer changes seasonally, but we tried their Aska Red, Tipton's Treasure, and Cooper's Creek Peach.
Do a Tasting at Bear Claw Vineyards
You know I'm a sucker for anything bear-related! Bear Claw Vineyards is only a few minutes away from Downtown Blue Ridge. They offer wine flights, wine by the glass, or wine by the bottle. You can enjoy live music on their covered patio, sit by the fire pit, picnic under the trees, and wander around the vineyard and relax in the serenity of their grape vines. I've visited this vineyard before with a friend, so I was excited to bring Kevin with me this time.
This vineyard is even 100% female-owned! They produce and bottle their own wine on-site, and you can watch the process happen inside the tasting room.
Their wine flights are also bear-themed — we did their Polar Bear Flight of white wines, which included mostly their own wines and one from Paulk Vineyards in South Georgia, which Kevin and I love.
Hike Long Creek Falls Trail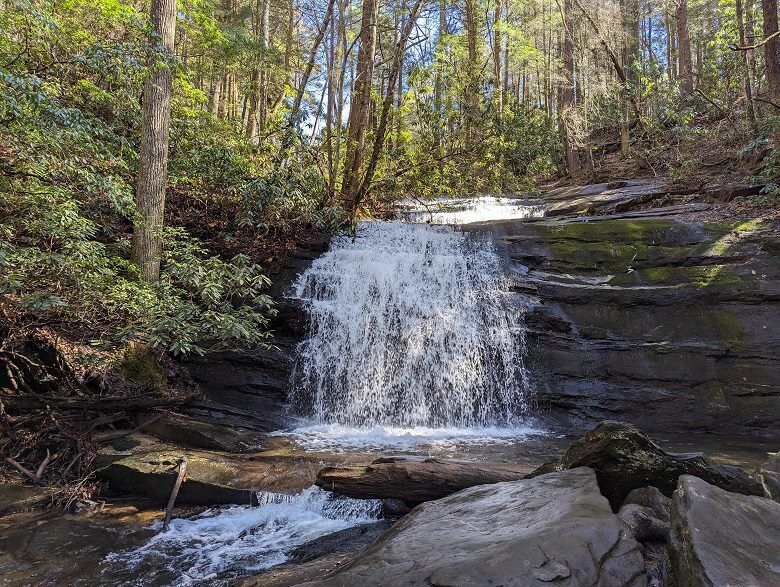 Long Creek Falls is a beautiful two-tiered waterfall on the Appalachian Trail and the Benton MacKaye Trail (two long-distance hiking trails that converge briefly for this hike).
The waterfall is over 50 feet tall and cascades over a rocky cliff. Large boulders at the base of the falls provided a great spot for us to picnic. We also met a lot of thru-hikers who were starting out on their Appalachian Trail journey.
The hike to Long Creek Falls is 2 miles there and back. To get to the trail, you'll have to drive a few miles on the unpaved Forest Road 58.
Learn more about hiking the Long Creek Falls Trail here.
Hike to the Swinging Bridge on the Toccoa River
Further up on the Benton MacKaye Trail is the Swinging Bridge on the Toccoa River. I'm not suggesting you hike all the way from Long Creek Falls to the Swinging Bridge (unless you're just really into that); this is a separate, very short hike altogether.
This 270-foot-longing pedestrian bridge over the Toccoa River is the longest swinging bridge east of the Mississippi River. It was built in 1977, and I was surprised with how much bounce the bridge had.
It's only a 0.5 mile hike to the swinging bridge and back. To get to the trail, you'll have to drive a few miles on the unpaved Forest Road 816.
Learn more about hiking to the Swinging Bridge on the Toccoa River here.
Explore The Zoo Groovy Metal Yard Art
Ever wanted to visit a zoo where you can buy the animals? The Zoo Groovy Metal Yard Art in Mineral Bluff is just that! It's a store/art installation that's home to thousands of metal yard art animals.
The art is organized by animal type and has informational plaques just like at a real zoo. You can walk through and enjoy the art, and if you find something you like, you can take it home.
There are life-sized animals from bears to giraffes, flowers and cacti, metal signs, wood products, and more, too.
Have a Spa Day at Serenity in the Mountains
Blue Ridge was once a popular mountain town for its healing mineral springs. Today, you can enjoy a luxury spa day at Serenity in the Mountains complete with massages, nail treatments, facials, and a salt cave.
Kevin surprised me with a spa package for our trip. A spa day a Serenity in the Mountains is truly an all-day affair! We arrived at 10 a.m. and didn't leave until around 4:30 p.m.
We were treated to a facial, a pedicure, a massage, and a session in the salt cave. In the lounge and quiet rooms you can sip on coffee, tea, water, and hot chocolate that are provided. They do also have a dining area so you can bring your own lunch since you're there all day. In the locker rooms, they have showers, a sauna, and a steam room.
The salt cave is probably their most unique aspect. Inhaling Himalayan salt is supposed to help respiratory conditions, allergies, and even be good for your skin.
Visit Downtown Blue Ridge
Downtown Blue Ridge is a great place to go for shopping and dining. There are plenty of clothing boutiques, gift and souvenir shops, art galleries, local wine and beer tasting rooms, and restaurants to explore.
Downtown is also where you'll find the Blue Ridge Scenic Railway. This train takes you from the historic depot through North Georgia to Copperhill, Tennessee. We unfortunately didn't get to try it out this trip as the train doesn't operate in the first part of the year.
Eat at Chester Brunnenmeyer's Bar & Grill
Chester Brunnenmeyer's Bar & Grill serves classic American bar food in Downtown Blue Ridge. The restaurant is located in the old Gartrell Hotel, which was a popular accommodation in the 1920s and 30s for people coming to visit the town's mineral springs.
Our pedicurist at Serenity in the Mountains recommended Chester's to us, and it didn't disappoint!
We had the Pimento Cheese Chicken Sandwich, the Shaved Prime Rib Sandwich, and ciders from Reece's Cider Co., which is our favorite Ellijay cidery.
Taste Cider and Wine at Mercier Orchards
Mercier Orchards is a 300-acre apple orchard that was started in 1943. They have a U-Pick season; a market selling seasonal fruits, vegetables, and local goods; a café; and a hard cidery and winery.
Their cider and wine tasting room are available year-round. You can get a cider flight, a wine flight, a glass, or a bottle.
We opted to do both a wine and a cider flight to get the full range of tastes. They only have a few wines, but they have a ton of cider options, some of which are seasonal. They also offered wines from Serenberry Vineyards. Our favorite wine was the Spring Strawberry, and our favorite ciders were the Grumpy Granny and Adele's Choice.
Visit Expedition: Bigfoot!
Expedition: Bigfoot! is a Sasquatch museum in Cherry Log all about the mysterious cryptid and its reported sightings. It's the country's largest display of Bigfoot artifacts, photos, sketches, and sighting maps.
Inside, you'll find an intriguing display. There are tons of Bigfoot footprint casts, the world's only Bigfoot research and tech vehicle, a Bigfoot butt print cast, Sasquatch feces, a Yeti scull cap, and more.
Bigfoot sightings are everywhere. The museum details the history and mythology of these unattainable creatures in communities across the world and throughout time. Will you come out of this experience a believer?
Where to Stay for Your Romantic Blue Ridge Getaway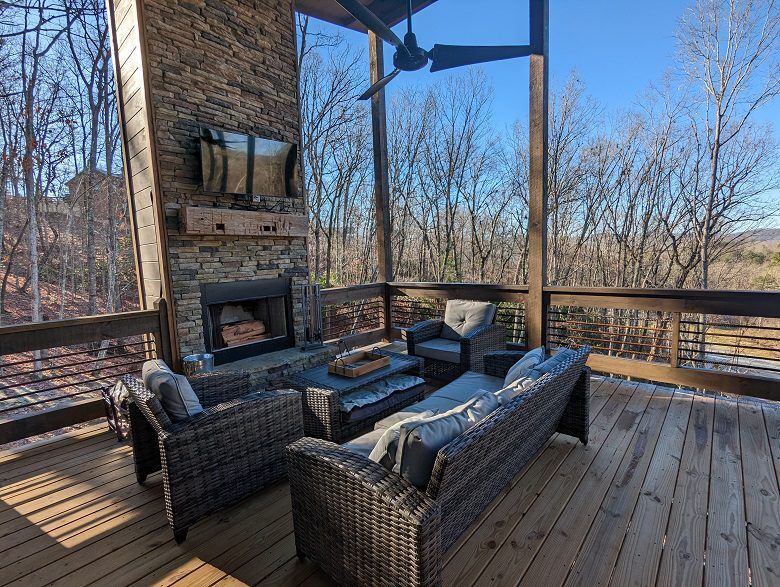 Blue Ridge has tons of romantic cabins, treehouses, and hotels, so you have plenty of options for your weekend stay.
We were hosted for this trip by the Honeysuckle Chalet from Overlook Cabin Rentals. This beautiful 3 bed/3 bath cabin had a cozy and modern design, 3 fire places, a fire pit, a hot tub, a game room, a bar, a huge deck with outdoor dining, and a large kitchen. The cabin was only 15 minutes from Downtown Blue Ridge.
More Places to Stay in Blue Ridge, GA
Driving from Atlanta? Here are a few extra stops to add on the way:
Want to really make your trip from Atlanta to Blue Ridge into a fun road trip? Check out these fun stops along the way.
Ball Ground Burger Bus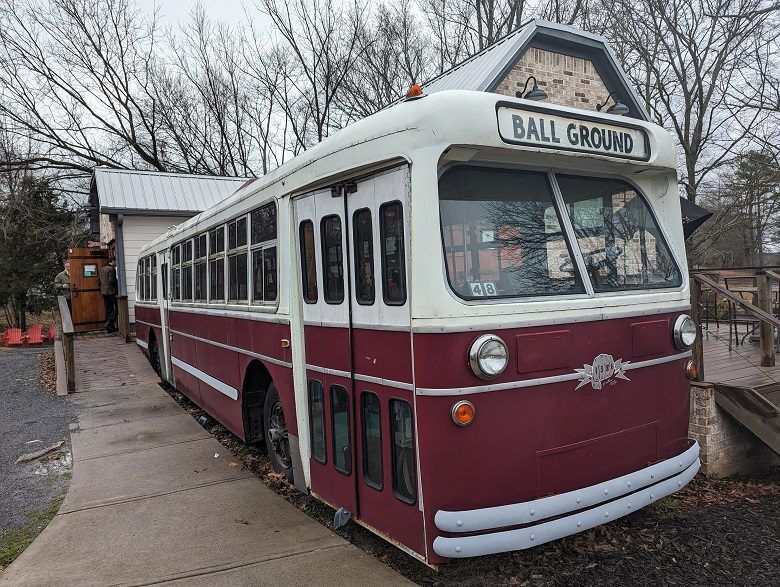 Located inside a 1948 trolley bus, the Ball Ground Burger Bus is a delicious pit stop on your way to Blue Ridge. The owners found the trolley bus in a junkyard in Atlanta and restored it for their restaurant in 2015.
They serve interesting burgers in a diner-style setting onboard the converted bus. I had their classic 1386 burger, while Kevin had the Dad's on Death Row burger complete with a fried egg, fried grits, bacon, and maple syrup.
Panorama Orchards & Farm Market
Panorama Orchards & Farm Market in Ellijay is one of our favorite stops on our way to the mountains. This family fruit farm was established in the 1920s to produce apples.
We always make a stop here for for old fashioned apple cider, apple cider donuts, hot sauces, and handmade pasta and pasta sauce for our cabin weekends.
Bigun's Barbeque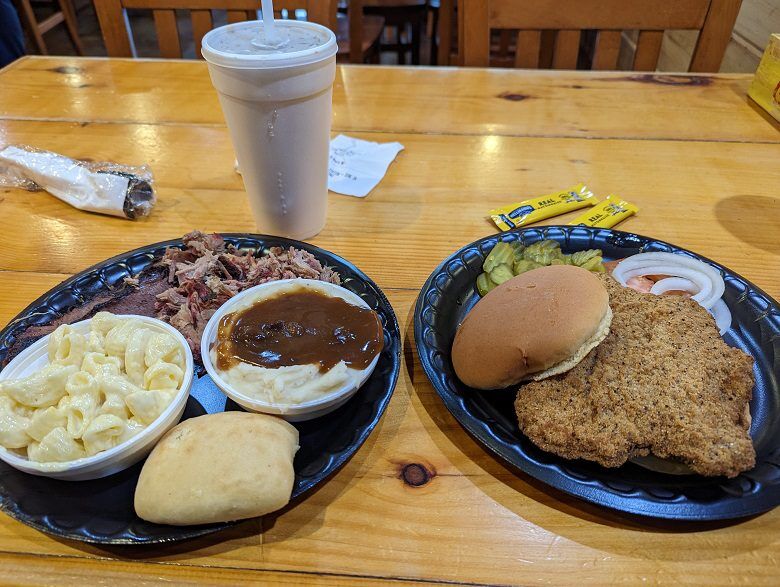 Bigun's Barbeque in Talking Rock is another great meal stop on your way to or from Blue Ridge. They serve "nearly world famous" barbeque with hickory smoked meats including pork, brisket, baby back ribs, chicken, and turkey.
We had a 2 Meat Combo plate with pork and brisket, mac & cheese, and mashed potatoes & gravy (with some of the best gravy I've ever had) and a Country Fried Steak Sandwich.
Mapping Out Your Romantic Blue Ridge Weekend
Use the map below to help plan your romantic weekend in Blue Ridge, Georgia!
I hope you found this list of romantic things to do in Blue Ridge, Georgia helpful. Now go out and enjoy your romantic weekend in Blue Ridge!
More Things to Do in North Georgia
Explore more in North Georgia with these helpful itineraries:
---
Ready to visit Blue Ridge, Georgia? Plan your trip with these tips.
---
Cheers!
Paige
Are you planning a romantic trip to Blue Ridge, Georgia? Let me know in the comments!