The cherished Chinese Lantern Festival is returning to Zoo Atlanta this year! IllumiNights at the Zoo: A Chinese Lantern Festival is a wonderful holiday light display to help celebrate the season.

In 2023, IllumiNights at Zoo Atlanta is bringing even more new lanterns and holiday experiences. Learn more about this Zoo Atlanta special event here!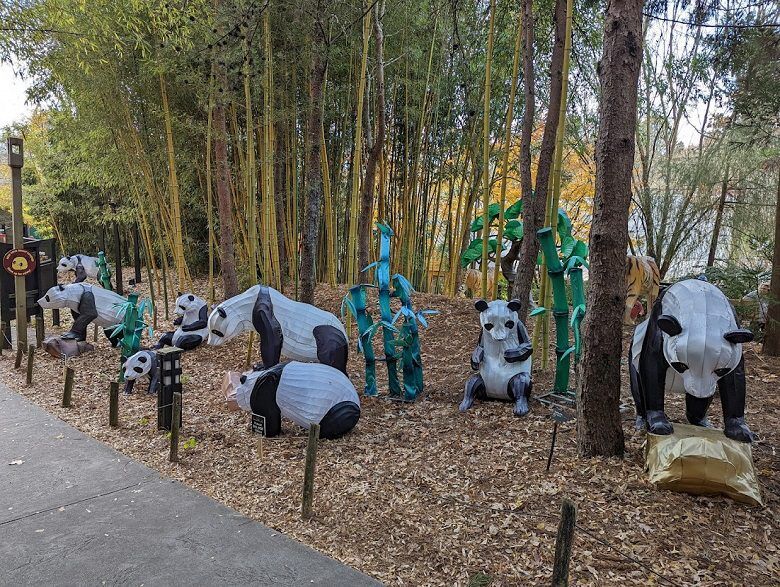 IllumiNights at the Zoo: A Chinese Lantern Festival
Zoo Atlanta comes alive this holiday season with IllumiNights at the Zoo: A Chinese Lantern Festival featuring more than 100 lanterns depicting some of your favorite animals.
The zoo has partnered with Hanart Culture to bring this holiday experience to Atlanta. Each lantern, some of which are up to 20 feet tall, is made and hand-painted by Chinese artisans.
You can expect to see lantern recreations of animals that are at Zoo Atlanta, like Panda Bears, Elephants, and Lions. But there are also some animals depicted that the zoo doesn't have, like Moose, Brown Bears, and even Dinosaurs.
Each lantern is fitted with environmentally-friendly LED lights. Since the lanterns are hand-crafted and delicate, they are not meant to be touched. Some displays feature flashing lights to keep you and the kids entertained the whole way through.
Chinese Lantern Festival at Zoo Atlanta Details
The Chinese Lantern Festival runs from November 16, 2023 through January 14, 2024. This will give Atlantans an introduction to Chinese culture just before Chinese New Year celebrations begin on February 10, 2024.
The nightly event runs from 5:30 p.m. to 9:30 p.m. with last entry at 8 p.m.
Since most animals at Zoo Atlanta go indoors before dark, you won't see them in their habitats during IllumiNights. But you might get to see a select few species who typically like the dark, like the giant pandas, Chilean flamingos, and Huacaya alpacas.
The festival is a separate ticketed event, which means if you're visiting the zoo during the day you will need to leave by 5 p.m. and come back for the event.
Tickets for IllumiNights at the Zoo: A Chinese Lantern Festival cost $20.99-$24.99 for adults; $17.99-$19.99 for children ages 3 to 11; and $17.99-$21.99 for seniors 65+. Zoo Atlanta Members can get tickets for $16.99-$20.99 for adults and $14.99-$16.99 for children. Cost depends on Peak Nights vs. Base Price Nights.
Parking during the festival is available as free street parking or paid parking in the Cherokee Avenue parking lot and in the Grant Park Gateway parking facility on Boulevard. During the event, parking costs a flat rate of $6 after 5 p.m.
If you don't care about seeing the lanterns lit up and just want to see their cute animal designs, you can see them all during a regular zoo day visit. They don't put the lanterns away during the day. Plus, then you can see the lanterns with their animal counterparts!
Chinese Lantern Festival Extras
Some gift shops and dining locations will be open during the Chinese Lantern Festival with festival-inspired items for purchase.
Flamingo Joe's will offer Light up the Night ICEE, Hot Chocolate, Warm Giant Pretzels, Buttered Popcorn, Soft Serve Ice Cream, and more.
SweetWater Beer Garden will have spiked and regular Hot Chocolate, SweetWater Craft Beer, funnel fries, Churros, Ooz Cheesy Tots, and more.
Nourish Cafe will offer Sweet Chili Rice Bowls, Cheeseburgers, Chicken Tenders, Kid's Meals, and more.
And in the Dragon's Den in the Ford Pavilion, you'll find an amazing Chinese Dragon Lantern as well as spiked and regular Hot Chocolate, "The Airing of Grievances (Treehorn Cider + holiday spices), SweetWater Almond Milk Stout, Caramel Apples, Candied Apples, and more.
The Endangered Species Carousel will be open during the festival as a fun extra attraction for the kids.
More Atlanta Winter Fun: Top Things To Do During Winter in Atlanta, Georgia
Atlanta Chinese Lantern Festival FAQ
Is IllumiNights at the Zoo an animal experience?

Most animals at Zoo Atlanta go inside before dark, so you will not be able to see them during this Chinese Lantern Festival. The lanterns are like the zoo's wildlife for the night.

What happens if it rains during IllumiNights at the Zoo?

The Zoo Atlanta Chinese Lantern Festival is a rain-or-shine event. The lanterns will still glow, even with the rain.

Will we be lighting and releasing lanterns?

No, this Chinese Lantern Festival has lanterns that stay firmly on the ground and are illuminated with LED bulbs.

How long does it take to walk through IllumiNights?

The walking route takes about one hour. It is a wheel-chair friendly path.

Can I touch the lanterns?

No, the lanterns are delicate and hand-made, and therefore you are not allowed to touch, climb, cross, or lean on the lanterns.

Can I take photos at IllumiNights at the Zoo?

You are welcome to take pictures during the Atlanta Chinese Lantern Festival at the zoo.

Are the lanterns epileptic-friendly?

Some of the lanterns at IllumiNights feature flashing lights and may not be suitable for those with photosensitivity.

Where to Stay in Atlanta
Find the perfect place to rest your head on your visit to Atlanta, from the top rated accommodations to unique stays you can't get anywhere else.
Craving More Atlanta Activities?
If you need more things to do while visiting Atlanta, check out these top posts:
---
Ready to visit Atlanta, Georgia? Plan your trip with these tips.
---
Cheers,
Paige
Have you seen IllumiNights at the Zoo: A Chinese Lantern Festival at Zoo Atlanta? Let me know in the comments!