Take a step into Huntsville, Alabama's historic past. From the birthplace of Alabama's first constitution to putting a man on the moon, Huntsville has a whole lot of history. Explore all the rich history that Huntsville has to offer at these top historic sights.
Top Historical Sights in Huntsville, Alabama
Take a tour of Huntsville's history from statehood to the Space Race. This Huntsville itinerary is perfect for any history-lover.
Alabama Constitution Hall Historic Park and Museum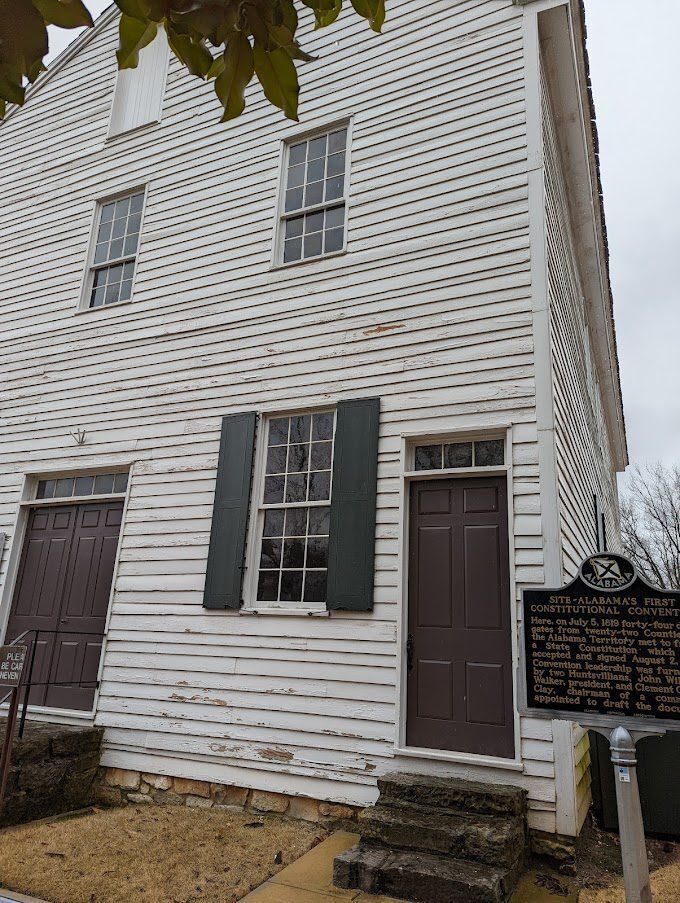 Take a step back in time to 1819 when Alabama became a state. Alabama Constitution Hall Park allows you to take a glimpse at what life would have been like in Huntsville's earliest years.
You'll be able to tour the Cabinet Shop that became the place where 44 delegates signed Alabama's first Constitution. You can see woodworking, blacksmith, and printing press demonstrations. And you can check out Huntsville's first Post Office and artifacts from John Coffee's Land Surveying office in the Clay building.
Weeden House Museum and Gardens
The Weeden House was built in 1819, the same year Alabama became a state. Early residents included John McKinley, an Associate Justice of the U.S. Supreme Court, and Bartley M. Lowe, the first president of Huntsville Bank. The house is named for the Weeden family who lived in the house from 1845-1956.
The home's most notable resident was artist and poet Maria Howard Weeden. She was internationally acclaimed for her portraits of African Americans freedmen and women residing in Huntsville. After the Civil War, Maria Howard Weeden supported her impoverished family by teaching art in the house and selling her watercolor portraits and accompanying poems.
A tour of the Weeden House allows you a look at several of Maria Howard Weeden's original paintings. The home also has some stunning architectural features, like the glass entrance fanlight and the spiral staircase.
Twickenham Historic District
Twickenham Historic District in Downtown Huntsville is on the National Register of Historic Places and is Alabama's largest concentration of Antebellum homes. The 1819 Weeden House Museum is part of the district and is the oldest house in the state that's open to the public.
The homes in Twickenham aren't open to tour as they're private residences. But you can take a guided or self-guided walking tour or driving tour of the area to learn more.
Huntsville History Tours offers a self-guided digital tour of Twickenham; the Huntsville/Madison County Convention & Visitors Bureau offers free guided history tours in April and October; and Huntsville Ghost Walks offers ghost tours of Twickenham in September and October where you can learn about Huntsville's haunted past. In the winter, a few homes will open their doors to visitors during the Spirit of Christmas Past Homes and Luminary Tour, a classic Huntsville Christmas tradition.
Harrison Brothers Hardware
Harrison Brothers Hardware has been in operation since 1897. Founded by brothers James B. and Daniel T. Harrison, the shop remained in the family and operated as a hardware store until 1983. The Historic Huntsville Foundation purchased the store from Harrison family heirs and preserved the store's original appearance, wood floors, display shelves, and fixtures.
The store no longer sells hardware, but instead specializes in American-made arts and fine crafts, housewares, treats and snacks, and toys. Your purchase of locally-made paintings or blow glass art will be rung up on the 1907 National Cash Register that the Harrison Brothers used.
Burritt on the Mountain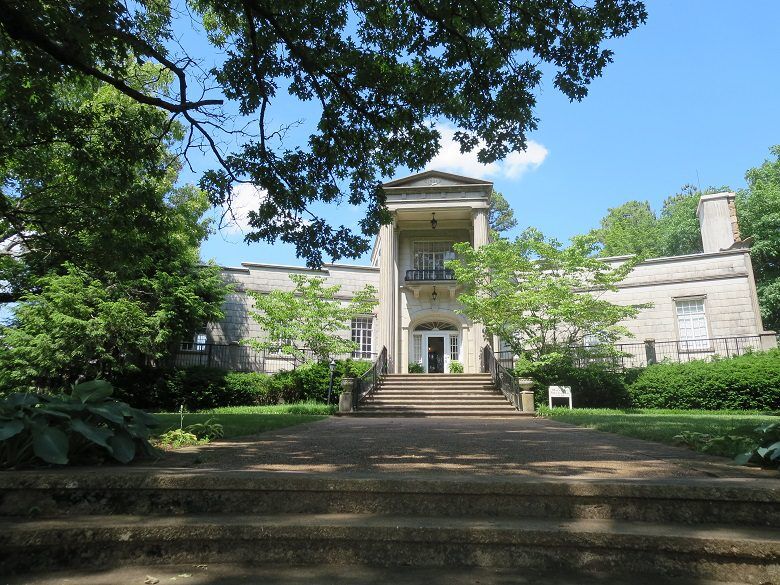 Huntsville's first museum, Burritt on the Mountain, includes Dr. William Henry Burritt's 1938 mansion, a Historic Park of 19th century homes and buildings, a Barnyard, and Nature Trails.
A homeopathic doctor, Burritt built his retirement home on this portion of Monte Sano ("Mountain of Health") known for its healthful spring waters and mountain air. A tour of the unique X-shaped home gives you a look at authentic furnishings from the period.
Burritt's Historic Park showcases farm life from the Tennessee Valley in the 19th century. Living history interpreters dressed in period clothing recreate farm life and the restored historic buildings are filled with authentic artifacts.
The park is also home to a four-room Rosenwald Schoolhouse replica based on the initiative in the early 20th century that addressed the need for schools for African-American students in the rural South.
There's a lot going on at this museum, so check out my full guide to Burritt on the Mountain here.
U.S. Space & Rocket Center
You can't talk about Huntsville history without talking about the Space Race! The U.S. Space & Rocket Center showcases rockets, artifacts, and the history of the U.S. space program.
Huntsville became a hotspot for space and missile research beginning with the creation of Redstone Arsenal in 1941. In 1950, German scientist Wernher von Braun developed the Redstone Rocket, setting the stage for the U.S. space program. After that came Explorer 1, the Marshall Space Flight Center, the Apollo Lunar Landing Program, and the Saturn rockets.
Check out a show at the state-of-the-art INTUITIVE® Planetarium, see the only full-stack shuttle exhibit in the world, and walk under one of only three authentic Saturn V rockets on display in the world.
There is so much to see at this museum, so check out my full guide to the U.S. Space & Rocket Center here.
Where to Stay in Huntsville, Alabama
Find the perfect place to rest your head on your visit to Huntsville, from the top rated accommodations to unique stays you can't get anywhere else.
More Things To Do in Huntsville, Alabama
Just can't get enough of the Rocket City? Check out these other things to do in Huntsville.
---
Ready to visit Huntsville, Alabama? Plan your trip with these tips.
---
Cheers!
Paige
What are your favorite historic sights in Huntsville, Alabama? Let me know in the comments below!