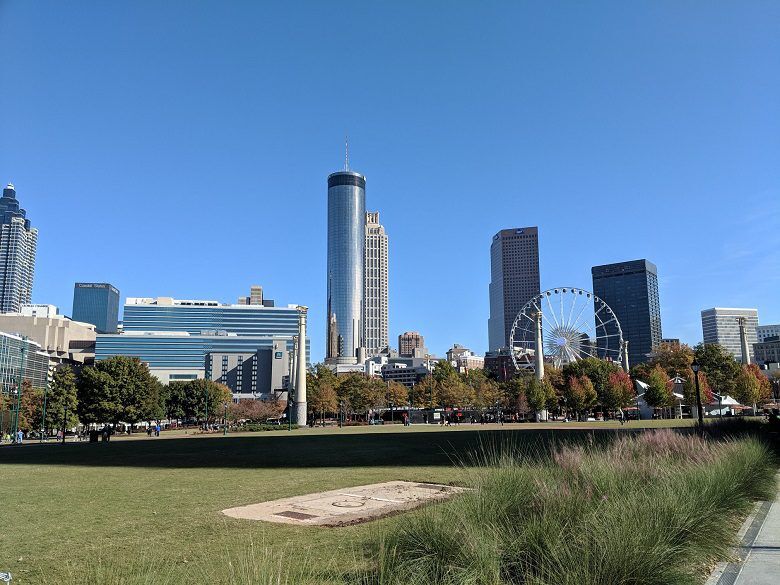 We set off for a grand adventure around Downtown Atlanta. Operation City Quest sends you on a scavenger hunt around the city to find 150 items, sights, and locations. Read my review of the Operation City Quest game in Atlanta.
Are you thinking of going for a scavenger hunt through Atlanta with Operation City Quest? This review will let you know exactly what to expect!
Last Christmas, my brother gifted me a scavenger hunt game for two with Operation City Quest. Kevin and I finally found a free weekend when the weather was nice to go running around Downtown Atlanta, and here's how it went.
What is Operation City Quest?
Operation City Quest calls itself an "open world scavenger hunt." They have scavenger hunts just like this one in major cities all over the US and Canada. You use your smartphone to find objects and places around the city from a list of 150 items.
You then receive points for uploading pictures of those items, answering trivia questions, and performing challenges. A guide tracks your progress and reviews your pictures for points. If you upload funny and creative pictures, your guide might award you more points.
How it Operation City Quest works:
Book your ticket. Since my brother gifted this quest to me, I had a voucher code that I then took on to step two.
Make a reservation. Go to the Operation City Quest website and make a reservation for the day and time you want to play. This will reserve your 2 hour time slot for your city guide and give you a starting point for your game.
Download the app. Make sure you download your app beforehand so you save time and are ready to start the scavenger hunt the day of. The app is called GooseChase, and you set up a username and password for each member of your team.
Meet your guide. On the day of your reservation, go to the starting point you received and text the number the company gave you; this lets your guide know you're ready to get started. Your guide will get you set up with a team name on the app and help you join the game.
Start your scavenger hunt. Take pictures of the sights and objects and upload them to the app to get points. There are also trivia questions and guide questions where you'll have to type in your answers. If you have any questions, ask your guide for help.
Tip: Check the prices on Tripadvisor. I've found the tickets cheaper here before!
My Review of Operation City Quest
Operation City Quest is a unique way to see the city. My main criticism is that there are only about 10 Atlanta-specific items and a few Atlanta-specific trivia questions, so the majority of the 150 objects you're looking for are mundane, everyday city items (cars, street signs, foods, etc.).
Even staying within the small area of the city (so you aren't running around too much or having to get in a car) they could have added more Atlanta-specific locations and objects.
The scavenger hunt would be pretty difficult if you weren't already familiar with the city. They give locations with the Atlanta-specific items, but even then being familiar with the city I didn't know where to go for some of the sites.
This would be particularly difficult if you were an international visitor or if you couldn't use your phone's data. Google Maps is pretty essential for finding the Atlanta-specific items if you're just visiting the city.
Having a guide for your two hours is good in case you need some help. We got a little stuck setting up our accounts at the beginning because we didn't realize both of us had to have separate accounts on GooseChase, and our guide was able to help get us sorted.
If you like doing scavenger hunts, Operation City Quest is a cool opportunity to do a scavenger hunt and see the city at the same time.
Operation City Quest Tips and Tricks
Dress appropriately: Dress for the weather (hot, cold, rainy) because you'll be outside the whole time. You'll also want to wear comfortable shoes for all the walking around you'll be doing.
Set aside plenty of time for the game: The game says it will take about 2 hours, but to find all 150 items, you'll most likely be playing for a lot longer.
There's no real time limit: Though you have a guide for 2 hours, there is no real time limit on the game. You can play it for however long you want. If you have a lot of time in Atlanta, you could actually extend the scavenger hunt over your entire trip.
Don't try to go in order: You don't have to complete the items on your list in order. They're categorized according type of item: Atlanta sights, signs, food, animals, etc. Keep an eye out for the smaller items as you walk around to the bigger sites. And there are some trivia questions and questions for your guide dispersed throughout the list that are worth a lot of points, so make sure you take care of those guide questions in the 2 hours in which you have your guide.
Stay charged: This scavenger hunt is totally mobile-based, so make sure you have your phone all charged up or bring a portable charger with you.
Craving More Atlanta Activities?
If you need more things to do while visiting Atlanta, check out these top posts:
Where to Stay in Atlanta
Find the perfect place to rest your head on your visit to Atlanta, from the top rated accommodations to unique stays you can't get anywhere else.
---
Ready to visit Atlanta, Georgia? Plan your trip with these tips.
---
Cheers!
Paige
Did you find this review of Operation City Quest in Atlanta helpful? Let me know in the comments!