Fall in the South is a beautiful time! And Georgia is one of the best Southern states for fall fun! If you're planning an autumn getaway in Georgia, check out these top fall destinations.
Whether you're looking for fall foliage and leaf-peeping opportunities, a scary good ghost tour, apple picking, a fun fall festival, or just a mild climate for the beginning of sweater weather, Georgia has you covered!
There are tons of beautiful state parks for camping under the fall foliage and taking in incredible mountain views. Georgia is also home to some of the most ghostly cities. And where else in the U.S. can you find an authentic Oktoberfest in a recreated Bavarian town?
Georgia is the perfect place for a fall getaway!
Best Places to Visit in Georgia During Fall
Get ready to enjoy the beauty of the fall season and dive into all the incredible experiences Georgia has to offer!
1. Cloudland Canyon State Park
Cloudland Canyon State Park is one of Georgia's largest and most scenic state parks. Located on the edge of Lookout Mountain, this beautiful park features a gorge, two waterfalls, and 64 miles of hiking trails through the fall foliage.
Their waterfalls are especially gorgeous during the fall and winter. Their flow is strongest in cooler months when the water doesn't evaporate as quickly.
This state park also offers horseback riding, mountain biking, and caving opportunities. There are so many unique ways to explore the vibrant fall colors at this state park!
2. Dahlonega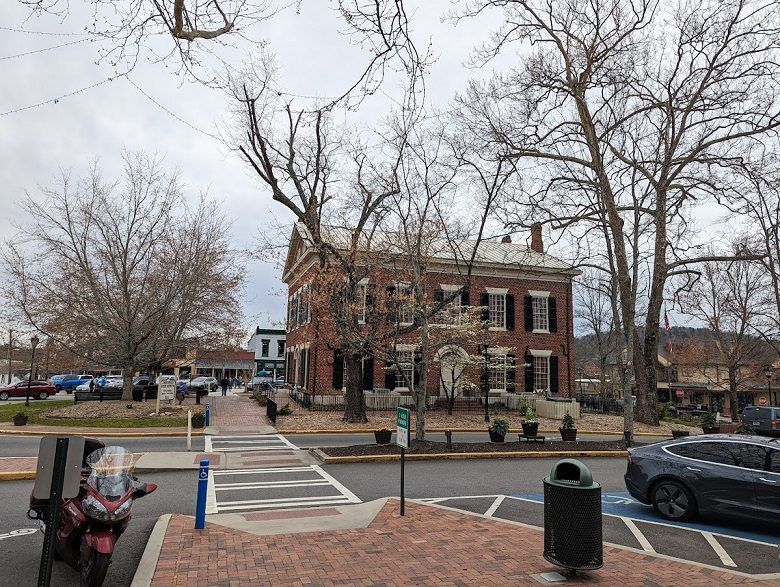 Dahlonega is a quaint North Georgia town with a cute Square and easy access to wineries and hiking. During the fall, you can also enjoy the Gold Rush Days Festival, celebrating the town's Gold Rush history. Or spend a Mystery Weekend exploring the local shops in town. And October is the perfect time to enjoy a ghost tour of Dahlonega's haunted past.
This town is perfectly situated in the middle of North Georgia Wine Country. Take a tour around the mountain vineyards to sample locally-produced and award-winning wines.
Dahlonega is also located near some great hiking trails for leaf-peeping. Head out on the nearby Appalachian Trail, Blood Mountain, or Amicalola Falls to witness the changing colors. There's a lot that makes Dahlonega one of the best small towns to visit in Georgia.
3. Helen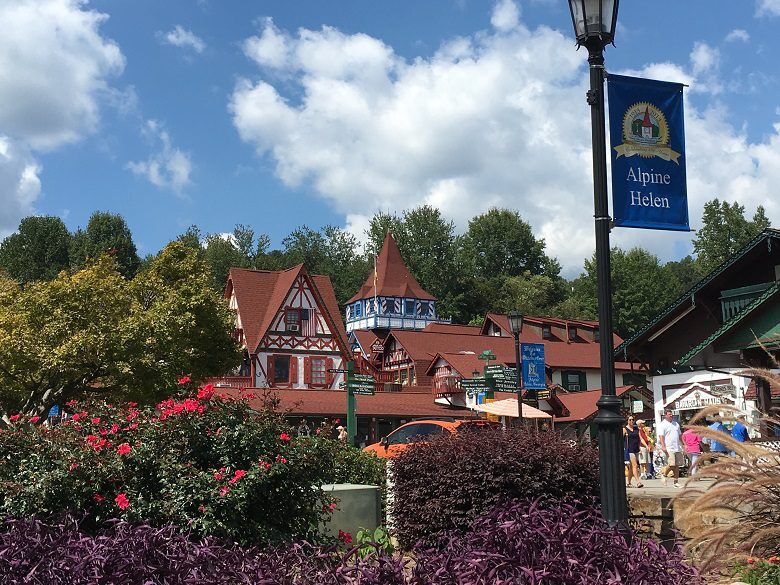 Another great North Georgia town is Helen. This unique town is a recreation of a Bavarian Alpine village, with classic German architecture, cobblestoned street, and a giant windmill hotel. Every September to November, Helen holds an authentic Oktoberfest celebration full of beer, food, music, and more.
Helen is also a great place for exploring North Georgia's wineries. There are plenty of vineyards that are only a 30 minute drive from Helen.
You can see the leaves changing color from the quaint downtown area as you shop local crafts, or you can head out on the trails. Nearby, you can explore Unicoi State Park with beautiful scenery over its lake or Smithgall Woods State Park with its creeks and falls.
4. Tallulah Gorge State Park
Named for its 1,000 foot deep canyon, Tallulah Gorge State Park is an amazing place to see the fall foliage. With 20 miles of hiking trails, there are plenty of ways to explore the autumn sights from the gorge floor to the canyon's rim.
Fall is a great time to explore the park's six waterfalls. And the suspension bridge hike across the canyon offers great autumnal views. It's easy to see why the gorge is considered one of the Seven Natural Wonders of Georgia.
Tallulah Gorge State Park also offers mountain biking trails, rock climbing in the canyon, archery, fishing, and more.
5. Savannah
What better place to visit in October than Georgia's spookiest city? Savannah is known for its Southern charm and paranormal activity. Nearly every historic building has ghost sightings. Fall is a great time to take one of Savannah's famous ghost tours, like the popular History & Haunts Candlelit Walking Ghost Tour or the Bonaventure Cemetery After-Hours Tour.
The cooler weather also makes fall a great time for exploring the city. Take a bike ride or a walking tour around Savannah's historic squares while enjoying the crisp air.
Fall is a huge festival season in Savannah. Enjoy numerous music festivals, an Oktoberfest, film festivals, pride festivals, and more.
6. Ellijay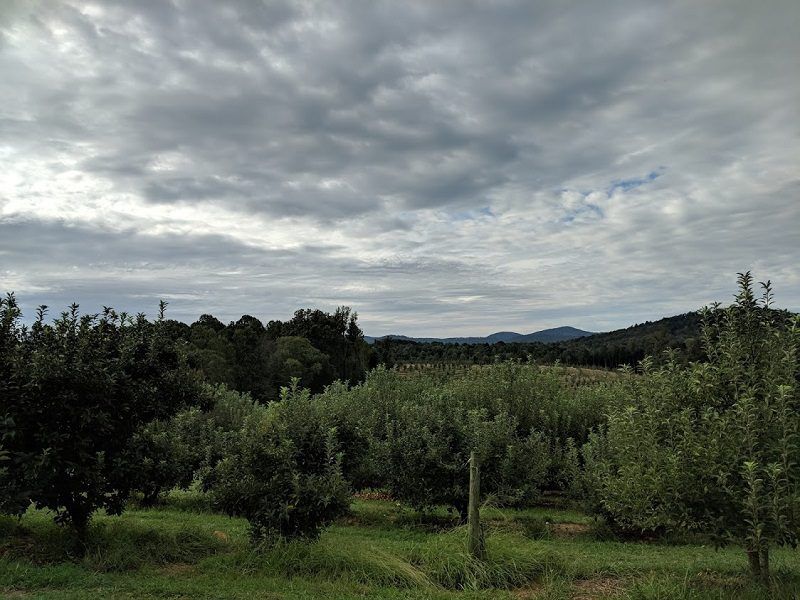 Ellijay is known as the Apple Capital of Georgia, with the county reportedly produce over 250,000 bushels of apples a year. At the beginning of fall, Ellijay is a huge draw for tourists wanting to go apple picking. The city is also known for the Georgia Apple Festival in October.
A weekend in Ellijay is perfect for a winery trip. There are plenty of vineyards less than 30 minutes away that offer mountain views and award-winning wines.
After spending some time exploring Downtown Ellijay, get out and explore the trails. Fort Mountain State Park, the trails at Carters Lake, and Talking Rock Nature Preserve are only a short drive away. There's plenty of opportunity to get out and enjoy the foliage.
7. Brasstown Bald
Visit Georgia's highest peak for an unobstructed view of the fall foliage. Brasstown Bald's panoramic observation deck allows for views of the Chattahoochee-Oconee National Forest and Southern Appalachian Mountains. There's no doubt about there being amazing vibrant colors!
You can visit the Visitors Center and museum located at the observation deck to check out the cultural and natural history exhibitions. Or if you want a sunset or sunrise hike, you can hike the short but steep trail to the top.
There are other trails to explore with colorful foliage at Brasstown Bald. You can hike the Arkaquah Trail, Jacks Knob Trail, and Wagon Train Trail as well.
8. Red Top Mountain State Park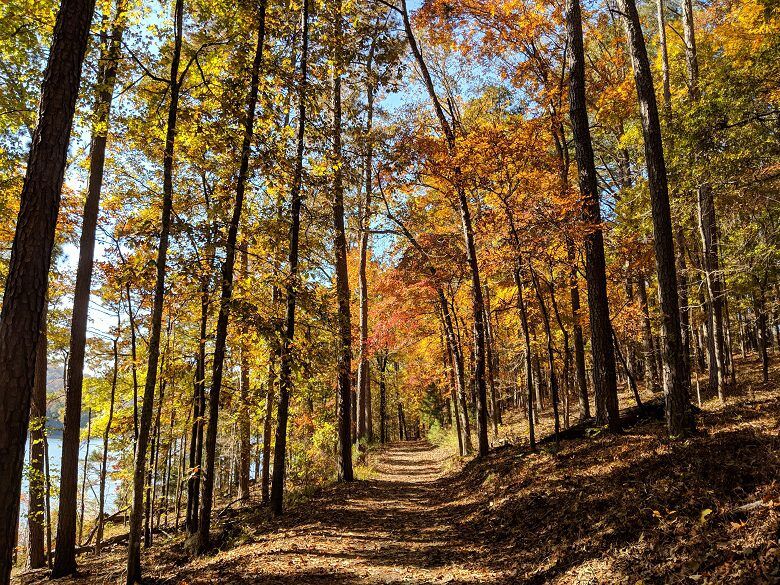 Red Top Mountain State Park is a great leaf-peeping location that's close to Atlanta. Located on the banks for Lake Allatoona, this state park makes for a picturesque autumn getaway.
The park boasts 15 miles of hiking trails. The Iron Hill Loop Trail is the perfect fall hike featuring fiery orange and red leaves against the blue lake waters.
Red Top Mountain also has a large deer population. You're very likely to come across a deer or two with the cooler weather on an autumn hike.
9. Fort Mountain State Park
Fort Mountain State Park is one of Georgia's most popular state parks. Located in the Cohutta Mountains near the Cohutta Wilderness, it's the perfect spot for a cabin weekend and for chasing the changing leaves.
The park's main attractions are its stone fire tower, ancient rock wall, and 17-acre lake. There are 25 miles of trails to hike so that you can really take in the foliage.
It's also a hotspot for mountain biking and horseback riding. Keep an eye out for bears in the fall, as Fort Mountain is known for its large black bear population!
10. Atlanta
If you want to visit the city during the off-season, fall is perfect. Fall in Atlanta means thinner crowds and still warm weather. You can enjoy Atlanta's top sights without sweltering in the Southern heat and humidity.
Atlanta is full of fun fall events, especially for the spooky season. There are tons of haunted spots in Atlanta and ghost tours around the city. You can take a stroll through the Historic Oakland Cemetery, visit a haunted house, go pumpkin picking, attend a Halloween party, and more.
And if you've read through all these amazing fall destinations and just can't decide which to choose — don't worry! Most of them are just a day trip away from Atlanta! So you can explore the city's museums, go apple-picking, take a winery tour, and go on a fall hike all within one trip.
Best Time to See Fall Colors in Georgia
When will the leaves change color in Georgia? The color change down South happens later than it does in the Northeast. If you visit in early October, you're not likely to see many vibrant trees.
Peak fall color in Georgia is typically late October to early November. You might not even see the best colors until mid- to late November, especially further south. You can follow the official Georgia State Parks Leaf Watch to see how the colors are progressing this year.
And even if you don't get just the right time for Georgia fall colors, there's still plenty of fun things to do in the state during fall! September is the time for apple picking; September to November is when you can experience Helen's Oktoberfest; October is great for ghost tours; and cooler weather for hiking starts in mid-October.
Read next: The Best Fall Destinations in the South
Fall in Georgia FAQ
What month is fall in Georgia?

Fall really starts to burst forth in Georgia during the months of October and November. While September begins to start feeling cooler, it doesn't quite feel like fall yet.

Is there a fall season in Georgia?

Georgia does have a fall season, but it doesn't last very long. Late October through early November is usually the peak for the fall season in Georgia. This is when the leaves are at their most vibrant and the weather is perfect.

What is fall like in Georgia?

In Georgia, fall is a season of cooler temperatures. It's such a relief after the hot, hot summer. The days are comfortably warm without a lot of humidity. There's definitely a reason a lot of Southerners like fall the best!

What is the best time to see fall colors in Georgia?

The best time to see fall colors in Georgia is late October to early November. But it also depends on where you are in the state. In North Georgia, you may see good color in mid-October, while in South Georgia, you may have to wait until late-November.

Fall in Georgia Map
Ready to explore Georgia during the fall? Use the map below to help you plan out your fall getaway and find the perfect accommodation.
I hope you have an amazing time exploring Georgia in the fall!
---
Ready to take a vacation? Plan your trip with these tips.
---
Cheers!
Paige
What are your favorite fall destinations in Georgia? Let me know in the comments!