A cemetery tour is a great way to get to know the history of a place. Atlanta has plenty of hauntingly beautiful historic cemeteries that hold the secrets to the city's past. Uncover Atlanta's history at these top historic cemeteries in and around Atlanta.
Are you looking for a unique way to explore the rich history of Atlanta? Touring a local cemetery is a great way to delve deep into Atlanta's past.
With striking architecture and fascinating stories, the city's historic cemeteries not only pack in amazing history, but they also provide a tranquil landscape to explore.
Whether you're an Atlanta native or a tourist looking for a fascinating glimpse into the city's history, exploring the historic cemeteries in Atlanta is a unique way to learn more about the city.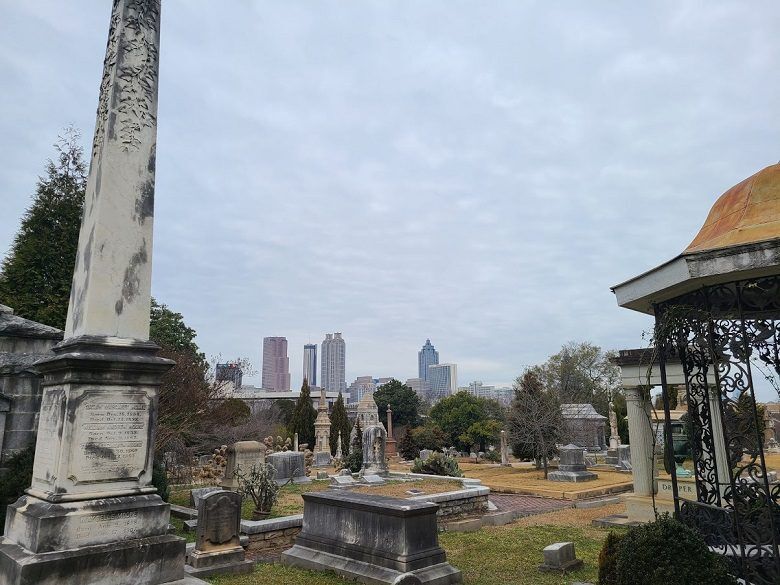 Explore the Past at these Historic Cemeteries in Atlanta
Dive into Atlanta's past and learn history in a whole new light at these top historic cemeteries in and around Atlanta.
1. Oakland Cemetery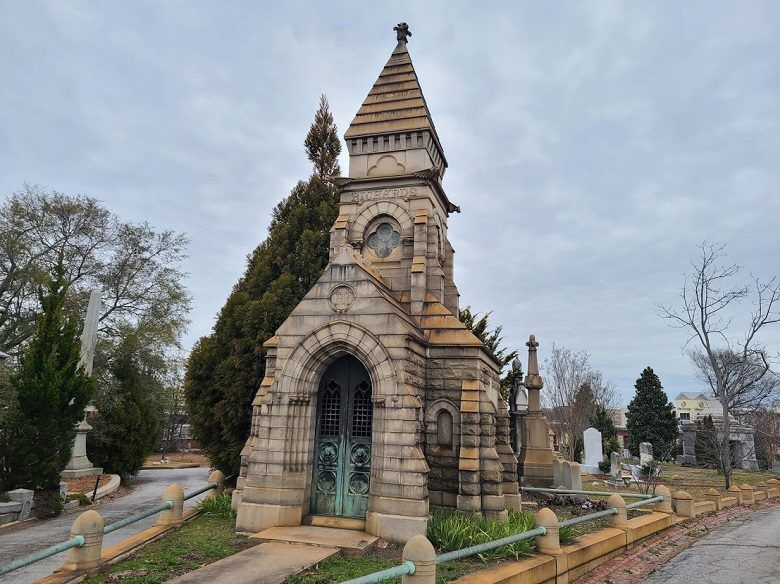 Historic Oakland Cemetery is Atlanta's its best-known cemetery and its oldest public park. The 48-acre park was founded in 1850 as "Atlanta Cemetery" and is now the final resting place of many notable Atlanta figures.
Among the oak and magnolia trees, Gothic mausoleums, and treasure trove of sculpture and architecture, you'll find the graves of famous Atlantans like Pulitzer Prize winning author Margaret Mitchell; first African American mayor of Atlanta Maynard Jackson; golf legend Bobby Jones; and more.
Oakland Cemetery holds guided tours throughout the year to help you get to know Atlanta's history through their famous residents. Or you can explore the cemetery on your own.
248 Oakland Ave SE, Atlanta, GA 30312
2. Westview Cemetery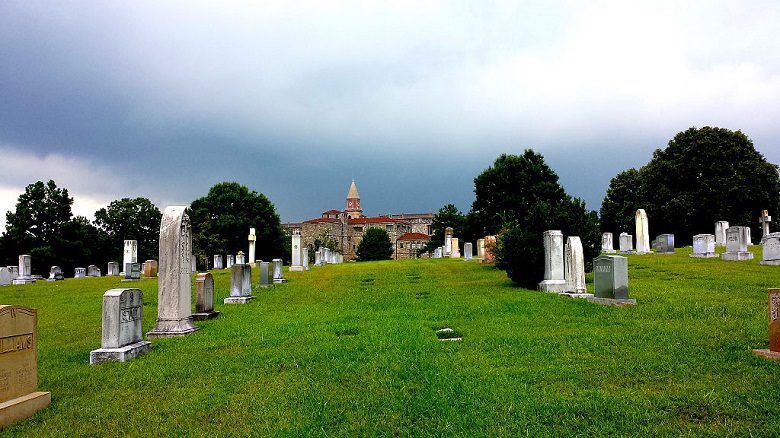 Westview Cemetery is one of the largest nonprofit cemeteries in the country and the largest cemetery in the Southeast. The cemetery was opened in opened in 1884.
Throughout its hundreds of acres of land, you can find the graves of notable Atlanta figures like founder of Coca-Cola Asa G. Candler; Mayor William B. Hartsfield; author of the "Uncle Remus Stories" Joel Chandler Harris; and other well-known Southerners. In 1943, Asa Candler started construction on the Westview Mausoleum and Abbey, which is the largest structure of its kind containing space for 11,444 entombments.
You can use the Westview Cemetery map to take your own self-guided tour of this historic Atlanta cemetery.
1680 Westview Dr SW, Atlanta, GA 30310
3. South-View Cemetery
South-View Cemetery in Jonesboro is an a African-American-founded cemetery dating back to 1886. Located on over 100 acres of land, it is the oldest African-American cemetery in Atlanta. Since its inception, South-View Cemetery has had no restriction as to race, creed, or religious affiliation for those buried here, as many Southern cemeteries operating during the same period did.
There are more than 70,000 people resting at South-View Cemetery, and some are well-known to Atlanta's history.
Among these notable Atlantans are Hank Aaron, the former Major League Baseball Hall of Fame player known for breaking Babe Ruth's home run record; Moses Amos, Georgia's first licensed African-American pharmacist; Ludie Clay Andrews, the first African-American granted a nursing license by Georgia; Grace Towns Hamilton, the first African-American woman elected to the Georgia General Assembly; Horace A. Bohannon, a Tuskegee Airman who co-founded the Atlanta Chapter Tuskegee Airmen; and so many more.
1990 Jonesboro Rd SE, Atlanta, GA 30315
4. Marietta National Cemetery
The Marietta National Cemetery, originally known as the Marietta and Atlanta National Cemetery, was established in 1866 to provide a resting place for nearly 10,000 Union soldiers from Sherman's Atlanta Campaign.
The 23-acre property is adorned with five monumental masonry archways that originally served as the formal entrances to national cemeteries found in the South. Other monuments include a marble obelisk dedicated in honor of 20th Army Corps; the Wisconsin Monument, dedicated in 1925 to 405 men from Wisconsin who died during the Civil War; the Gold Star Mothers Monument; and the Pearl Harbor Monument.
Notable graves in the Marietta National Cemetery include John Clark, an American Revolutionary War veteran, US Congressman, and Georgia governor; General W. A. Cunningham, US Army Colonel and head football coach at the University of Georgia; Ella Lillian Wall Van Leer, an artist, architect, and women's rights activist and known as the First Lady of Georgia Tech; and Emma Stephenson, a nurse at a Union hospital in Civil War and a freed African-American slave.
500 Washington Ave NE, Marietta, GA 30060
5. Decatur Cemetery
Decatur Cemetery dates back to 1823, making it one of the oldest burial grounds in the metro-Atlanta area. This historic cemetery covers 54 acres.
The historic African-American section is the burial site for many in Decatur's thriving black community. The cemetery also has a monument standing over a field where numerous orphans are buried. Among the notable residents at the Decatur Cemetery is Dr. Thomas Holley Chivers, who abandoned his medical training for poetry and who Edgar Allen Poe said was "one of the best and one of the worst poets in America."
Visitors can pick up a walking tour brochure at the cemetery office or at City Hall to create their own self-guided walking tour. The brochure provides a map of the cemetery with 40 of the most interesting sites in the graveyard. And if you want to learn about the ghosts residing here, you can take the Decatur Ghost Tour.
229 Bell St, Decatur, GA 30030
6. Utoy Cemetery
Utoy Cemetery is one of the oldest historic cemeteries within the Atlanta city limits. This 4-acre cemetery has tombstones dating back to 1816, making it one of the oldest properties to survive from the earliest period of European American settlement in the Fulton County area.
The adjacent Utoy Church was used as a military field hospital during the Battle of Utoy Creek and treated both Union and Confederate soldiers.
The residents of Utoy Cemetery range from African American slaves to Revolutionary War veterans to Atlanta's first physician. There are American Revolutionary War, French and Indian War, Civil War, War of 1812, World War II, Spanish-American War, and Vietnam War veterans buried at this cemetery.
1465 Cahaba Dr SW, Atlanta, GA 30311
7. Greenwood Cemetery
Greenwood Cemetery's first burial dates back to 1907. This historic cemetery is notable for its large Jewish section, its Chinese section, and its Greek section. The cemetery was desegregated in 1987 when CR Jones, Atlanta's first black council member, was buried there. Greenwood is also the final resting place of S. Truett Cathy the founder of Chick-fil-A.
One particularly unusual thing found at this cemetery is a controversial Holocaust Memorial. A stone was placed in the cemetery with the inscription, "Here rest four bars of human soap, the last earthly remains of Jewish victims of the Holocaust." A Jewish soldier who helped liberate a concentration camp during WWII is said to have found the soap, and in 1970 his wife had the bars of soap buried after discovering them in her basement. However, there is dispute over whether the Nazis actually made soap from victims and if these bars of soap are real.
The cemetery also holds a Holocaust Memorial, Memorial to the Six Million, a granite monument topped by six torches, each representing 1 million Jews killed in concentration camps. It was the first Holocaust memorial constructed in Georgia and is one of the largest and most substantial memorial to victims of the Holocaust in the state.
1173 Cascade Cir SW, Atlanta, GA 30311
8. Harmony Grove Cemetery
The tiny Harmony Grove Cemetery in Buckhead sits on a small rise at the southwest corner of West Paces Ferry Road and Chatham Road. It encompasses less than one acre and contains 171 graves dating back to 1870.
Only 40 of the graves here are marked with traditional inscribed headstones. The first recorded burial in the cemetery in 1870 belongs to the infant son of the Smith who owned land near the cemetery. The last burial at this cemetery took place in 1982.
Probably the most surprising notable residents of this tiny cemetery are the great-grandparents of actress Julia Roberts.
214 W Paces Ferry Rd NW, Atlanta, GA 30305
9. Crestlawn Cemetery
Crestlawn Cemetery, or Crest Lawn Memorial Park, has been a public burial place since 1916. This 145-acre park with rolling hills, blooming trees, shrubbery, and seasonal flowers provides a tranquil resting place. Graves at this cemetery have breathtaking views of the Atlanta skyline, too.
The site of this cemetery served as a brief focal point during the Civil War at the Battle of Atlanta. The park features designated sites with historical markers to help you learn more about its Civil War history.
2000 Marietta Blvd NW, Atlanta, GA 30318
10. Historic Lawrenceville Cemetery
Located just a few blocks from the Downtown Lawrenceville square, the Historic Lawrenceville Cemetery is the final resting place of Gwinnett County founders William Maltbie and Elisha Winn as well as Lawrenceville's first mayor, John Clay Smith.
The historic cemetery is the resting place of Revolutionary war veteran Nathan Spence, and eight graves have been identified as Confederate soldiers (though only three have tombstones). There are two African-Americans with inscribed gave markers, but no birth or death dates, and many unmarked graves of former slaves, who have not yet been identified.
E Crogan St, Lawrenceville, GA 30046
Atlanta Cemeteries Map
Ready to explore Atlanta's historic cemeteries? Use the map below to help plan out your cemetery stroll.
I hope these cemeteries help you develop an appreciation for Atlanta's rich history and culture!
Top Atlanta Tours
With so much to see, Atlanta can be overwhelming for any first-time traveler. To take some of the stress out of planning your visit, opt for a guided tour! Check out this list of the top Atlanta tours to help you make the most of your time in Georgia's capital city.
Where to Stay in Atlanta
Find the perfect place to rest your head on your visit to Atlanta, from the top rated accommodations to unique stays you can't get anywhere else.
Craving More Atlanta Activities?
If you need more things to do while visiting Atlanta, check out these top posts:
---
Ready to visit Atlanta, Georgia? Plan your trip with these tips.
---
Cheers!
Paige
Have you visited any of these historical cemeteries in Atlanta? Let me know in the comments!