The Knack Pack is a versatile travel backpack perfect for both short trips and long. Check out this review of the Knack Pack Series 2 Medium Expandable Backpack.
It seems like I'm always looking for the perfect travel bag — the one that fits everything, is secure, and is easy and comfortable to carry.
So when Knack Bags reached out to me to try their Series 2 Medium Expandable Knack Pack, I was totally onboard.
So far, I've taken the bag on short trips and it's worked well. I have plans to fly with it and see how well it does with air travel, so I'll update this review with that later!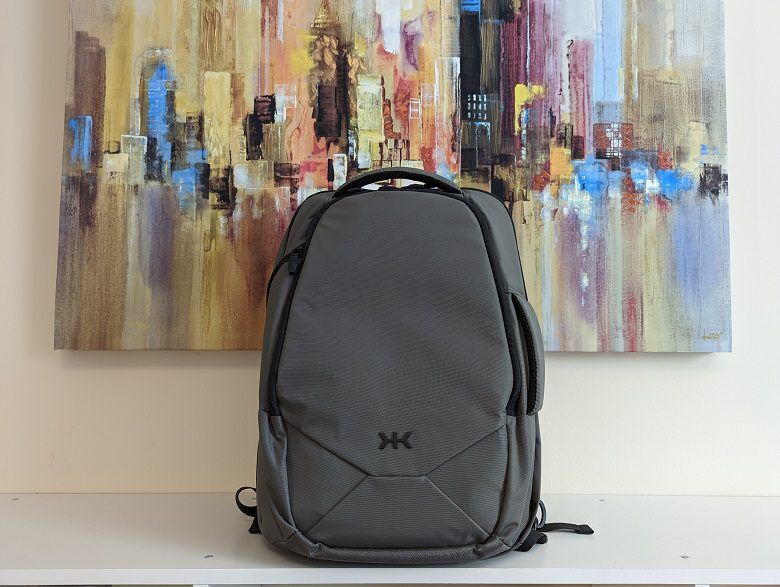 About the Knack Pack
The Knack Pack was designed to eliminate the need for multiple bags when traveling. It's a better way of carrying all your stuff.
Knack Pack backpacks come with pockets, compartments, and organization features so that you can carry it all in just one bag. You'll have dedicated space for your laptop, water bottle, sunglasses, passport, and more.
Series 2 Medium Expandable Knack Pack Features
The Series 2 Medium Expandable Knack Pack comes with a ton of features that set it apart from other travel backpacks.
Unexpanded, the backpack holds up to 24 liters, and expanded it holds up to 35 liters.
It's padded laptop pocket fits up to a 15 inch laptop.
It has space for 2-3 outfits.
It fits in the overhead space and the under seat space on all planes.
The expandable packing compartment has an easy-access suitcase lid.
It has a hidden trolley sleeve to slip the bag over a wheeled suitcase handle.
The backpack as a lot going for it.
The Outside
While this backpack isn't the most stylish, with a minimalist design that only comes in a handful of colors, what it lacks in aesthetic it makes up for it utility.
I got the bag in Alloy Gray. It has a simple design that keeps the bag looking sleek on the outside. All of the hardware and zippers are black metal and sturdy. The zippers are lockable for the front compartment, main compartment, and hidden suitcase compartment.
The material is a durable 420 denier nylon with a polyurethane coating for water resistance. The zippers are also water-resistant. The back panel is a comfortable memory foam.
The Knack Pack comes with a handle on the top and on the side. The backpack straps are made with comfort foam and air-mesh backing. The straps have easy-release attachment clips, an adjustable and removable sternum strap, and can be tucked away in a zipper pocket.
The Inside
Opening the Knack Pack up for the first time felt like I needed a map for all the zippers, pockets, and hidden storage compartments.
Inside, the backpack is lined with a logo-patterned stain-resistant, 150 denier polyester lining with anti-microbial treatment to inhibit mold and mildew.
The front compartment has an RFID blocking lining, a fleece-lined sunglasses pocket, a passport pocket, pen loops, business card pockets, a removable key leash, and a see-through mesh zip pocket.
On the side, there is a deep water bottle pocket with a zipper. This holds up to a 24 ounce Hydro Flask bottle or a 20 ounce Knack Insulated bottle. Though the zipper is on the outside, the pocket actually takes up space inside the main compartment.
The main compartment is very spacious. This compartment has two see-through mesh pockets, a fleece-lined tablet pocket, and a zippered pocket perfect for battery packs and cables.
Both the front and the main compartment unzip almost all the way, allowing them a deep open fold, so you can easily get into the bag and see everything you've packed.
The expandable suitcase compartment is hidden away. You'll find the zipper for the expansion at the bottom of the backpack. The zipper to access the compartment is at the top. You can still pack into this compartment even if the backpack isn't expanded. The great part about this feature is that it unzips all the way and opens like a suitcase.
Inside the expandable travel compartment, you have a large mesh pocket and a packing compression strap with a mesh cover. Expanded, this compartment can fit about 2 outfits.
On the back, you'll find a side zipper that accesses the padded computer pocket. This fits up to 15 inch laptops and has a protective, suspended bottom so you're computer is always safely off the floor whenever you put your bag down.
Also on the back is the hidden trolley sleeve that lets you slip your Knack Pack over the handles of your wheeled suitcase. And inside this sleeve is a secret zip pocket where you can hide away your valuables
Series 2 Medium Expandable Knack Pack Pros & Cons
There's a lot to love about the Series 2 Medium Expandable Knack Pack. But nothing's perfect, so let's take a look at some of the pros and cons after using the backpack a couple times.
Pros:
The expandable compartment is the bag's best feature. You can pack light for going on short trips, or you can have that extra space for bringing home souvenirs coming home.
It has an easy to get to large side pocket at the back where you can store your tablet or small laptop. It'll be super easy to take out your laptop for airport security.
There are tons of pockets. The bag has three main areas with numerous inside pockets, all very secure, which makes for great organization.
The bag is comfortable to wear.
The water bottle pocket is nice and deep, so you can pack your giant reusable water bottle and be eco-friendly!
The side handle makes for easy carrying. It's also helpful for getting the bag in and out of the trunk of a car or an airplane's overhead storage bin.
The main pocket completely folds open, allowing for greater ease of getting to your stuff. This is much better than a simple top opening that most backpacks have.
It's definitely water resistant. I accidentally spilled half of my water bottle on it, and the water brushed right off without a drop inside.
It has a nice, simple, sleek design.
Cons:
The expandable zipper is hard to get to. I'd certainly like a less frustrating way to get to the bag's best feature.
The expandable compartment doesn't hold its shape, so it can be a little hard to pack into. That's just a trade-off you get with a backpack vs actual luggage, I suppose.
The water bottle pocket cuts into the inside storage space. This keeps the outside looking sleek and compact, but it takes away some of your packing space.
I would like if there were an over-flap for extra rain resistance for electronics like other backpacks I've used have. The bag is water-resistant, but an extra feature like this would just add a little more peace-of-mind when carrying the bag in the rain.
It's not exactly the most fashionable looking backpack, if that's something you're looking for. But they have added some new colors for a little extra pizzazz.
Overall Impression
Overall, the pros far outweigh the cons.
The Knack Pack is a great backpack and was clearly made with travel in mind. It's great for short trips and minimalist travelers. The ability to store everything from a couple changes of clothes to your laptop and electronics makes this a great bag for travelling light, especially for something like business travel or bloggers like me who need to work on the go.
Where to Buy the Knack Pack
This review was of the Series 2 Medium Expandable Knack Pack, but if you're in the market for something smaller or larger, you're in luck. Knack Bags has 5 different sizes of the Knack Pack.
You can buy them all on the Knack Bags website. Here's a quick comparison of the different sizes:
Knack also sells Knack Pack Travel Sets that come with their best-selling travel accessories like water bottles, compressible shoe bags, TSA-approved locks, and packing cubes (all of which you can also buy separately). I've also reviewed their expandable packing cubes here, if you'd like to read that as well.
Depending on what size bag you need, you might also like the Convertible Duffel or the Expandable Sling Bag.
More Packing Tips
Check out these top packing guides to help get you ready for your next vacation.
---
Ready to take a vacation? Plan your trip with these tips.
---
Cheers!
Paige
Did you find this review of the Series 2 Medium Expandable Knack Pack backpack helpful? Let me know in the comments!