Shopping for an adventure-loving couple that's always traveling? With this gift guide, it's not hard to find the perfect romantic gifts for travel couples! Whether you're shopping for a wedding present, anniversary gift, Valentine's Day present, or a Christmas gift, your wanderlust duo will love the experiences on this list.
Choosing the right gift can be a daunting task, but it doesn't have to be! When it comes to the perfect gift for a travel-loving couple, the ideal travel gift is something that encourages them to explore new places, document memories along the way.
As part of a travel couple myself, I'm here to help you in your journey to finding the right gift!
TOP PICK: BEST GIFT FOR TRAVEL COUPLES
My favorite gift for travel couples is an experience gift box from Tinggly. Being a part of a travel couple myself, I can tell you that all we really want is to be able to travel more together. An experience gift box lets us choose a fun, romantic activity we can do together wherever we are in the world!
This guide has the best gifts for couples who love to travel, from experiences they can have together to practical items they'll use on every trip. Each gift idea is guaranteed to help your happy travel couple have the best journey possible.
My Top 3 Picks: Gifts for Couples who Travel
Gift boxes for every occasion
Hundreds of experiences to choose from
No expiration date
Plan for their next vacation
Relive memories from their trip
Cheap and easy physical gift
Travel Experience Gifts for Couples
Travel couples love gifts that allow them to spend time together and create cherished memories. An experience is the perfect gift for any travel couple, from thrill-seekers to foodies.
1. Experience Gift Boxes for Couples
Give your traveling duo the gift of experience and the opportunity to make amazing memories together. Experience gift boxes are the perfect present for the travel couple who is always on the move and doesn't need more stuff.
Tinggly offers experience gift boxes for so many different occasions, and every box is made to accommodate experiences for 2 people.
With these experience gifts, your travel-loving couple can choose from hundreds of tours and activities anywhere in the world. You don't have to pick out anything specific for them; they can choose their experience together!
And Tinggly gift boxes never expire, so your travel couple has all the time in the world to decide.
Shopping for a romantic present for your travel-loving significant other? There's a gift box for that!
Gift boxes for couples:
Shopping for a wedding or engagement present for newlyweds? Gift boxes are perfect for the honeymoon!
Wedding and engagement gift boxes:
Read more about why you should gift Tinggly experiences here.
2. Mystery Picnic Dates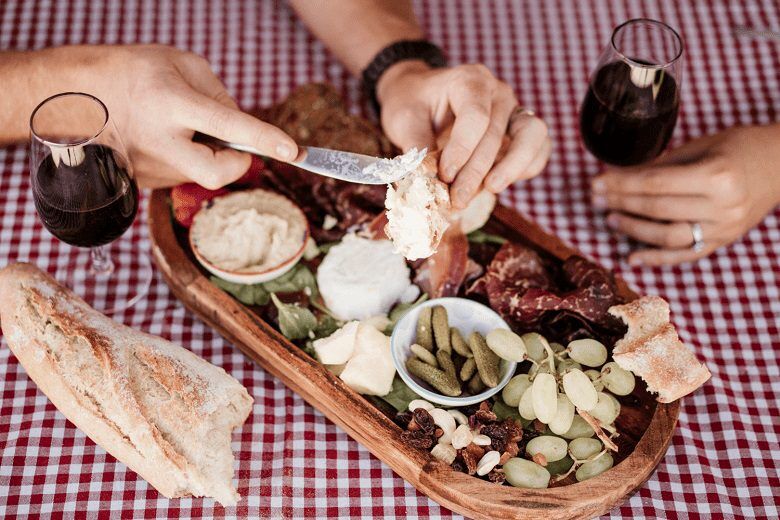 If you know of a couple in need of date ideas, send them on a Mystery Picnic!
AmazingCo offers Mystery Picnic Dates as a unique way to explore a destination like never before. Your travel couple can spend the day on a mystery tour of their city, following clues that lead them to local shops, restaurants, and hot spots.
You can gift your travelers a gift card value or you can pick out an AmazingCo mystery picnic experience just for them.
Read more about how the AmazingCo mystery experiences work here.
3. Weekend Getaways Together
Every couple deserves some time away together. One of the best gifts a travel couple can receive is a getaway together.
Consider gifting your couple a hotel stay for a weekend away. Tinggly makes gifting a hotel stay easy with their Getaway experience gift boxes. You can choose from gifts of one-night stays or two-night stays in destinations around the world. The couple then gets to choose from hundreds of hotels in that destination.
Want to book your couple a weekend full of fun surprises? AmazingCo offers Mystery Weekends that include a hotel stay, a mystery picnic, and recommendations for things to do in the area. Read more about how an AmazingCo Mystery Weekend works here.
4. Helicopter Tour for Two
Gift your travelers the flight of a lifetime in a helicopter tour of their favorite destination. This once-in-a-lifetime experience will be incredible whether riding over mountains, forests, or city views.
Choose from daytime tours that allow your couple to get to know their destination from a unique vantage point, or romantic nighttime tours where your couple can fall in love with the twinkling city lights.
This Tinggly Best Helicopter Rides gift box lets your travel couple choose their own experience from around the world. You can also find incredible helicopter tours on Viator and GetYourGuide.
5. Hot Air Balloon Ride for Two
A hot air balloon ride with amazing views makes for a truly incredible gift. There are so many beautiful destinations around the world that offer magical hot air balloon rides for two.
You can book your travel couple an unforgettable hot air balloon ride somewhere close to home, or you can gift them an experience that's worth traveling for.
This Tinggly Best Balloon Rides gift box lets your couple choose from experiences around the world. You can also find incredible hot air balloon tours on Viator and GetYourGuide.
6. Professional Photography Session for Couples
Give your travelers the gift of amazing mementos of their travels together in the form of professional photos.
Flytographer allows your travel couple to hire a local photographer when they go on vacation. Imagine coming back from your honeymoon, family vacation, or just your annual getaway with professional photographs to remember it by.
A Flytographer photoshoot makes for a great engagement gift, is perfect for capturing those honeymoon moments, or as an anniversary gift.
Gifts for Showcasing Travel Memories
Travel couples are off creating a bunch of memories together. Gift them something that allows them to show off their memories to their friends and family and display around their home.
7. Bucket List Travel Journal
A travel journal is a great way for couples to plan their next vacation and jot down memories from their trips.
Bucket list travel journals come in a variety of styles. Some are a blank canvas for whatever you want to write, some have prompts, some include space for photos and mementos, and many journals have a combination of all these things!
8. Scratch Off Map
Scratch off maps come in so many shapes, sizes, and themes. For the travel couple with plans to travel all 50 states, you can get a USA scratch off map. For the couple who loves National Parks, there's a scratch off map for that. And for the couple that travels the world, there are so many world travel maps to choose from.
Whichever scratch off map you choose, your travel couple will love the thoughtful gift. They'll have so much fun scratching off their adventures together and planning new ones.
9. Photo Map
Like the scratch off map, the photo map comes in a variety of themes and sizes.
Roadtripping couples love these maps for remembering their journey across the USA. Maps are also available for National Parks, European adventures, world travels, and different regions.
A photo map is an easy way to create a photo collage or a picture wall in the couple's home. They'll love the ability to decorate their space with travel memories.
10. Memory Box
Gift your travel couple a memory box for storing all of their travel keepsakes. They can save photographs, plane tickets, attraction passes, concert stubs, and more in a safe space.
Go the extra step and get the box personalized for your adventurers. Think of customizations like their names, favorite travel quote, or destination and date (like for a big honeymoon or anniversary trip).
11. GoPro
What's better for capturing those travel memories and displaying them than an amazing camera? Whether your travel couple is all about sharing their pictures and videos on social media or displaying them at home, they'll love what the GoPro can provide.
A GoPro allows your traveler to capture professional-quality adventure photos on their vacation. This little camera is waterproof, has stabilized video, and clear audio.
Learn more about what you can use a GoPro for here.
12. Custom Map Print
Travelers love maps, and a custom map print makes the perfect gift for a travel couple.
There are a variety of maps to choose from. Get your couple a personalized map of the city where they first met, the place they got married, their favorite destination to travel together, and more. Many maps come in a heart shape, perfect for that romantic occasion.
Cute and Practical Gifts for Travel Couples
Who says practical gifts have to be boring? For what practical gifts to give to travel couples, think of items that they will both use every time they go on vacation. Go the extra step and get something personalized or matching for a little added flair!
13. Matching Luggage Tags
Gift the happy couple a set of personalized matching luggage tags so they can easily identify their luggage. This small gift is the perfect engagement present or stocking stuffer for a traveling couple.
Choose from a variety of designs like His & Hers, Mr. & Mrs., Bride & Groom, the couple's names, their photos, map designs, travel quotes, and more.
14. Matching Passport Holders
Gift your international travel couple a set of personalized matching passport holders.
International travelers will love this sleek case to hold their passport, credit cards, and other important travel documents.
Choose from a variety of designs like Mr. & Mrs., map designs, travel quotes, the couple's names, initials, and more. These passport holders are a great small gift.
15. Travel-Themed Bedding
Need a house-warming gift or unique wedding present for a travel couple? Get them a cute travel-themed bedding set!
There are plenty of duvet cover sets to choose from: passport stamps, world maps, landmarks, travel quotes, and more.
16. Two-Person Sleeping Bag
Know of an outdoorsy travel couple who loves to camp? Gift them a super cozy two-person sleeping bag.
Your adventurous couple can stay warm and toasty in a sleeping bag made for two. This is the perfect gift for the couple that loves hiking, camping, and backpacking.
More Gifts for Travelers
Looking for more travel gift ideas for travel-lovers? Check out my comprehensive Gifts for Travelers gift guide, my Travel Experience Gifts guide, my Travel Christmas Ornament guide, my guide to the best Travel Décor, or my list of favorite Travel Books. All these guides will help you find that perfect gift for the travel-lover in your life!
---
Ready to take a vacation? Plan your trip with these tips.
---
Cheers!
Paige
What are your recommendations for romantic gifts for travel couples? Let me know in the comments!