For those looking for tranquility and seclusion on their vacation in Dahlonega, Georgia, Barefoot Hills Hotel offers a unique getaway in the North Georgia Mountains. Learn more about staying at the boutique Barefoot Hills Hotel in Dahlonega in this review.
Looking for a great place to stay in Dahlonega, Georgia? Barefoot Hills Hotel offers an idyllic mountain retreat with a variety of accommodation options to fit your needs.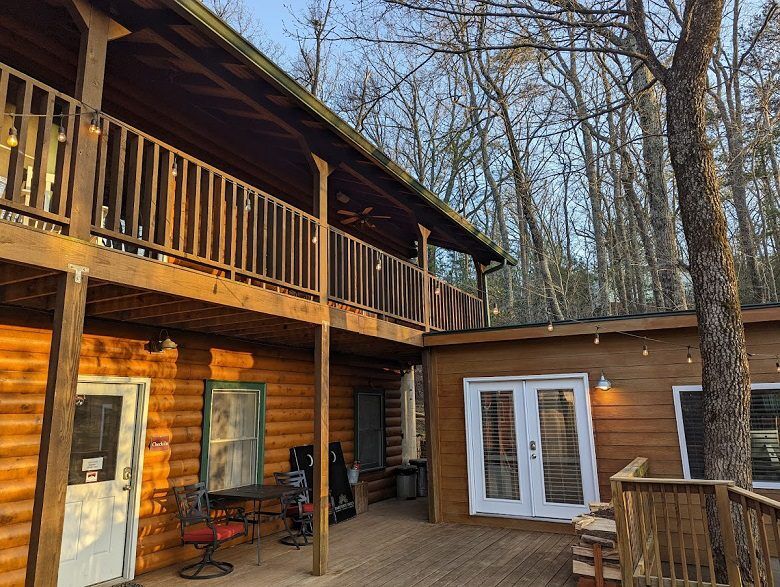 About Barefoot Hills Hotel
Barefoot Hills Hotel was started in 2004 as a Hiker Hostel for thru-hikers starting their journey on the Appalachian Trail.
After renovations in 2017, the hotel reopened with different types of accommodation options for anyone who comes to Dahlonega, whether they're hikers, wine-lovers, or outdoor enthusiasts.
Accommodations at Barefoot Hills Hotel
The accommodation options at Barefoot Hills Hotel range from standard hotel-type rooms and suites to private cabins to eco-container cabins. Each option is designed to give you the rustic mountain getaway-feel without having to sacrifice luxury.
With only a few rooms on the property, you get a nice, quiet, secluded experience. We only saw other guests one time. It was one of the quietest hotel stays I've ever had.
Deluxe Guest Room
We stayed in the Deluxe Guest Room, located in the main Lodge. The room had a private entrance from the front porch, complete with a couple rocking chairs where you could enjoy your morning coffee or the evening air.
This modern hotel-style room came with a pillowtop Queen bed, free Wi-Fi, a smart TV, a mini-fridge, a microwave, a claw foot tub, and a stand-up shower.
The room was very nice. They had an interesting motion sensor light in the ceiling that would emit just enough light so you could see to go to the bathroom, but not too much that it would wake your partner.
We did find it strange that the bathroom window, just above the tub, looked out onto the private balcony of the suite next door. Even though we were pretty sure no one was renting the suite, we kept the blinds closed the entire time. We also learned how quickly a clawfoot tub bath can turn cold when the room temperature is chilly!
The room had plenty of fans and a stand-alone air conditioning unit. However, we didn't find any heating option. I'm not sure if they only have heat during the winter months, but on our unusually cold spring night, we could have used some heat or extra blankets.
Other than those couple things, we enjoyed the room!
The Common Areas
The hotel has a spacious patio common area set up with tables, chairs, and a firepit. You can request a fire started so you an enjoy the firepit. A few seating options are set up to look out over the mountains for the perfect sunset view.
Inside the check-in area is indoor seating for breakfast and their happy hour. You can get coffee in the morning and taste local wines and beers during their happy hour.
Their own Barefoot Hills Hotel Trail is a 0.5 mile walking path that is great for getting out and admiring the Appalachian views.
Things to Do Near Barefoot Hills Hotel
There are plenty of things to do in Dahlonega near the hotel.
Barefoot Hills Hotel is the stay of choice for outdoor-lovers. Nearby, there are numerous hiking trails, mountain biking trails, rivers, and lakes for all sorts of adventurous activities. I recommend taking a short hike to DeSoto Falls or trying a longer hike on the Appalachian Trail.
Dahlonega's wine country is no longer a hidden gem but a burgeoning North Georgia activity. The hotel is close to dozens of local vineyards, like Wolf Mountain Vineyards and The Cottage Vineyard & Winery.
It's just a 10 minute drive to Downtown Dahlonega where you can learn all about the history of the first Gold Rush in the U.S. The picturesque Square also has tons of local shops, delicious local restaurants, and even more wine tasting rooms that you can enjoy.
Barefoot Hills Hotel is the perfect stay for a weekend getaway in Dahlonega.
More Dahlonega Tips
See why Dahlonega is golden! Check out these other Dahlonega itineraries:
---
Ready to visit Dahlonega, Georgia? Plan your trip with these tips.
---
Cheers!
Paige
Have you stayed at Barefoot Hills Hotel in Dahlonega, Georgia? Let me know in the comments!