Go on a ghost tour of Historic Downtown Marietta, Georgia and learn about the most haunted buildings on the Square. The Ghosts of Marietta walking tour is one of metro-Atlanta's most popular Halloween activities. Check out my review of the Ghosts of Marietta haunted walking tour here.
For our yearly Halloween tradition, a couple girlfriends and I set out on a ghouls' night out ghost tour. We've previously done the Roswell Ghost Tour and the Decatur Ghost Tour.
This time, we decided to head to the most haunted spot in metro-Atlanta: Marietta. There are plenty of spooks on the Ghosts of Marietta walking tour!
Ghosts of Marietta Walking Tour Review: About the Tour
You don't have to wait until Halloween to enjoy this ghost tour because it's offered on weekend nights year-round! But it's definitely a popular activity during October.
Ghosts of Marietta tours are led by fun guides who are local to the area and love sharing the town's ghost stories with you. The stories are based on a mix of documented sightings, firsthand experiences, and history.
We chose the Haunted Walking Tour, which focuses on Marietta Square and all its haunted shops and restaurants. But the company also offers a pub crawl and a bus tour.
There are no gimmicks on this tour or actors to jump out and scare you. If you think you see something abnormal, it's not part of the show, you might actually be seeing a ghost!
The ambiance on this tour isn't particularly spooky. You're in a crowded nightlife center, and the music pumping from the bars kind of kills the spooky vibe. You can get much more of a secluded, haunted feel from other ghost tours. But you will still get some great stories and a lot of history on this tour.
If you catch a photo of something interesting, you can show it to your guide because they definitely want to see it, and be sure to email it to them later so they can show future tour groups.
Marietta's Ghosts and Haunted Sights
From what I can tell, the route is the same no matter what day you take the tour, so I don't want to spoil all the stories for you. But these are a few of the interesting haunted sites we visited.
William Root House Museum & Garden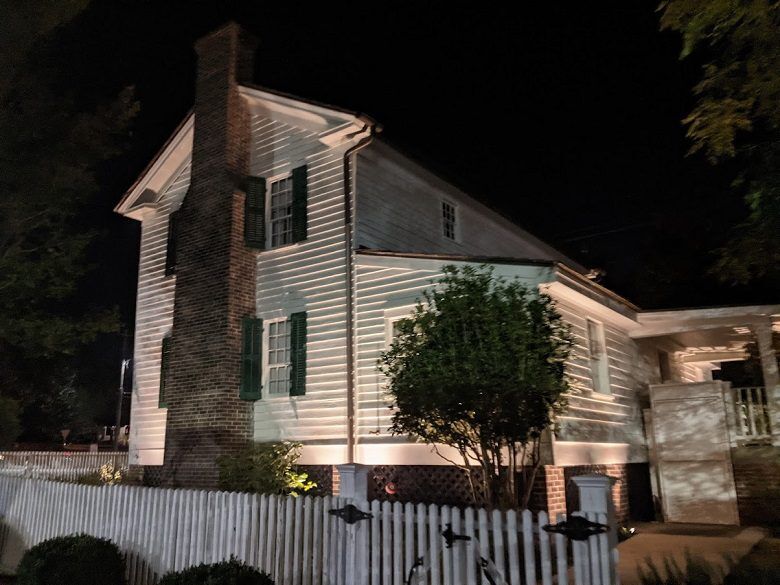 This 19th century home belonged to William Root, Marietta's first druggist and a merchant. As one of the oldest and most well-preserved homes in Marietta, there is bound to be some paranormal activity.
Much of it is concentrated in the bedroom. People claim to have seen the spirit of Mrs. Root peering from the bedroom window. The antique bed will appear to have been slept in when the museum opens in the morning.
An interesting thing the museum does during the month of October is decorate the home as it would have been during a mourning period. Mrs. Root's father passed away on October 11, 1856, and the home is displayed as it would have been following his death.
Kennesaw House
The Kennesaw House, now the home of the Marietta Museum of History, is one of the most haunted spots in Atlanta.
It was first constructed as a cotton warehouse in 1845, later remodeled into a hotel, and then served as a hospital and morgue during the Civil War.
The museum is haunted by unexplained noises, the elevator moving on its own, and even a specter of a woman caught on the security camera. A child has reported see the figure of a lady in a pink dress identified as the wife of the hotel owner.
Johnnie MacCracken's Celtic Firehouse Pub
Johnnie MacCracken's Celtic Firehouse Pub is the oldest firehouse in Cobb County, chartered in 1885. Eventually the firehouse moved and this building became a bank, and now an Irish pub.
Some souls still remain, including an apparition of a man with muttonchops who is believed to be the spirit of a fireman. This man might also be the reason drunk people may stumble up to the door, stop dead in their tracks, and then turn and leave for no reason; the pub believes it may have a ghostly bouncer keeping out trouble.
Marietta Cobb Museum of Art
The building that now houses the Marietta Cobb Museum of Art was originally built as a post office. And now the building is said to be haunted by the postmaster's mistress.
This post-mistress, Katherine, has been seen looking out the front doors and messing with the elevator.
Marietta Square
The tour ends in Glover Park in the middle of Marietta Square because there are just so many haunted spots all around the Square. Nearly every building on the Square has a ghost story attached to it, including The Strand Theatre, Mac's Chop House, and one of the antique shops which had some trouble selling an apparently haunted ironing board.
The reason for the concentrated ghostly activity is theorized that during the Civil War, when many nearby buildings were used as hospitals and morgues, the area that is Glover Park became a burial ground; the closest cemetery was filling up and there were too many bodies to transport further away, so they buried them where they could.
Important Ghosts of Marietta Tour Info
Walking tours cost $20 for adults, $15 for children 12 and under, and $17 for seniors 65+ and students.
Tours are offered on Friday, Saturday, and Sunday nights year-round. You do have to book in advance online.
The tour begins at the Root House Museum and end in the middle of Marietta Square. You can park around the square, and there are both paid and free parking lots around the Marietta Square Market.
The tour is rain or shine, but if there is bad weather they will issue you a rain check for another tour.
You can expect your tour to last 1.5 hours. You're only covering the area in and around Marietta Square, so it's not a strenuous walk.
We definitely had a great time on the Ghosts of Marietta walking tour! We're even going to look into their other tours, like their pub crawl and bus tour, for future ghouls nights out!
Find the perfect place to rest your head on your visit to Atlanta, from the top rated accommodations to unique stays you can't get anywhere else.
Top Atlanta Ghost Tours
The best way to see even more of Atlanta's haunted spots is to take a ghost tour! Check out these top-rated Atlanta ghost tours for a scary good time:
Where to Stay in Marietta, Georgia
Find the perfect place to rest your head on your visit to Marietta, from the top rated accommodations to unique stays you can't get anywhere else.
Want More Haunted Travels?
Check out these other spooky locations around the world:
---
Ready to visit Marietta, Georgia? Plan your trip with these tips.
---
Cheers!
Paige
Did you find this Ghosts of Marietta walking tour review helpful? Let me know in the comments!