Get ready to be surrounded by Pokémon fans of all ages from all over the world, while you watch the top international players battle it out for the Championship title. Find out how to experience your first Pokémon Worlds in this newbie's guide.
Welcome, aspiring Pokémon Trainers, to the epic competition for the world's best Pokémon Trading Card Game and Video Game players!
Don't worry, you don't have to be a Pokémon champion in order to attend Pokémon Worlds. Fans can come watch the championship games, play in smaller side events, shop for merch, and more.
This guide will help you navigate your first time at Pokémon Worlds.
Your Guide to Pokémon Worlds
I needed a lot of input from Kevin on this blog post because Pokémon is his domain, and I was just along for the ride.
Our first time attending Pokémon Worlds was in 2018 in Nashville, only a short 4 hour drive away for us. Then in 2019, the competition was held close to home again in Washington D.C.
Since we have two trips to Worlds under our belt, we have plenty of tips to make your first Pokémon Worlds experience a great one!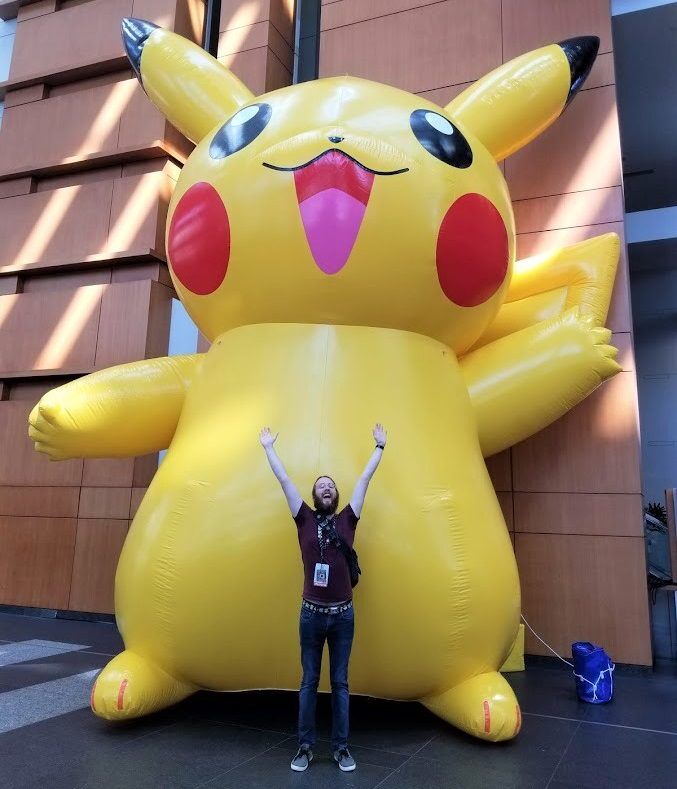 What is Pokémon Worlds?
The Pokémon World Championships are a three-day competition held Friday through Sunday where the world's top Pokémon Trading Card Game (TCG) and Video Game (VG) players compete for prizes and more importantly the World Champion title. Spectators can come watch the battles in person and participate in side events that allow them to play as well.
How do you become a competitor?
Competing players attend by invitation only. Competitors have to go to Championship Series tournaments throughout the season and place well enough in those tournaments to earn enough points to earn a spot in the championship. The top players even get their whole travel expenses paid for, which is great if you're attending the tournament internationally.
How do you get to be a spectator?
Being a spectator is much easier — all you have to do is buy a $10 spectator badge. But the badges do sell out quickly, so it's best to snag one as soon as they go on sale.
What to Do at Pokémon Worlds
Here are some of the things you can do as a spectator at Pokémon Worlds.
Watch the competitions
There are four types of competitions at Pokémon Worlds: Trading Card Game, Video Game, Pokémon GO, and Pokémon UNITE. All of these tournaments are invite-only.
The TCG Championship is a table-top strategic game where players build decks of Pokémon, trainers, items, and energy cards to battle against others. The Video Game Championship has players battle with the Pokémon Scarlet and Pokémon Violet games for Nintendo Switch systems. Pokémon GO is played on smartphones provided by the event. Pokémon UNITED is played on either a Nintendo Switch or a mobile device provided by the event.
Stages are set up and decked out with themed decorations (for Nashville, it was all country music themed; for D.C., it was museum/explorer themed). Certain Pokémon players are set up at tables and consoles on stage while giant screens project closeups of the action and commentators announce the plays like any other sporting event. You can watch from the audience, or if you step out or can't attend the tournament, these games are streamed live on Twitch.
The players compete for cash prizes up to $25,000, exclusive products, and the Championship title, so there's a lot at stake here.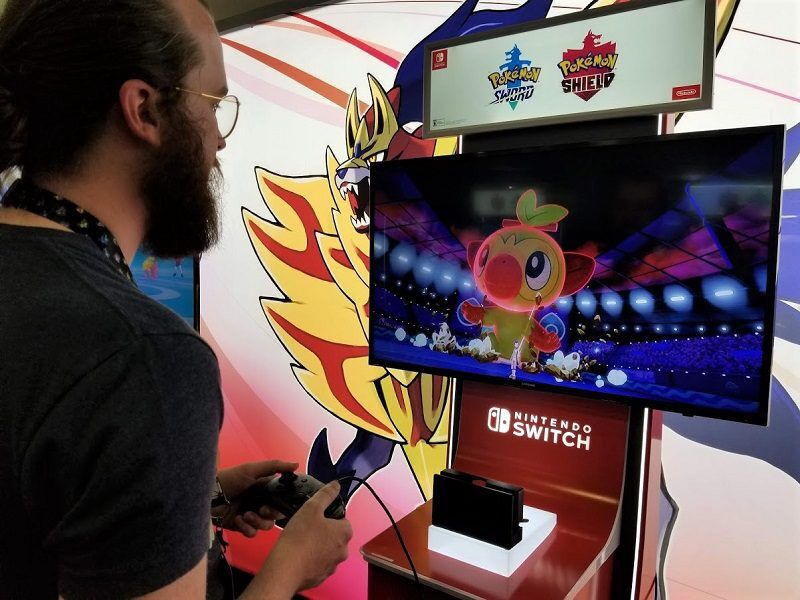 Participate in side events
Spectators can bring their own cards and video games and play in side events like open tournaments, pick-up games, and sealed tournaments. The International Event holds an open tournament that allows TCG and VG players to battle, earning Championship Points equivalent to a Regional Championship event that are then counted toward the next year's Championship Series season.
Pick-up games cost $5 to enter. These are games where you bring your own pre-built deck or video game Pokémon team and battle against other players. Sealed tournaments cost $20 to enter. In these games, you open a release box and boosters packs and construct a deck to battle against others. The best part is once you finish this sealed format, you can keep all of the cards you just opened!
Side event games consist of TCG pickup games, Pokémon Sword and Pokémon Shield pickup games on your own Nintendo Switch, Pokkén Tournament DX side events, Pokémon GO events, and Pokémon UNITE side events.
Playing side events gets you tickets. For most side events, you get a ticket just for sitting down. After that, you get another ticket for each match you win, with most events lasting for a maximum of three battles.
Tickets can be used to redeem Worlds-exclusive merchandise from the prize wall, along with more basic prizes such as TCG booster packs or cute Pokémon plushes (like my Stufful pictured above and below!). For some merchandise, tickets are the only way to get these prizes, since they are not sold anywhere else. There were even people that earned enough tickets to get a Nintendo Switch!
Go shopping
The Pokémon Center store has special Worlds-exclusive merchandise that's themed for whatever region it's in. In Nashville, the theme was country music, and in D.C. the theme was museum/explorer. Pretty much all the Worlds merchandise is popular, but the big ticket items are usually the themed merch.
In Nashville, these were the plush Pikachu playing a banjo, a backpack featuring the whole band of honky-tonk Pokémon, a TCG play mat and dice set, a bandanna, and more. In D.C., these were the explorer Pikachu and Eevee, a TCG play mat and dice set, and the giant plushes.
You don't have to have a badge in order to visit the Pokémon Center. That means that people like me, who are just accompanying their Pokémon fan, can still go shopping!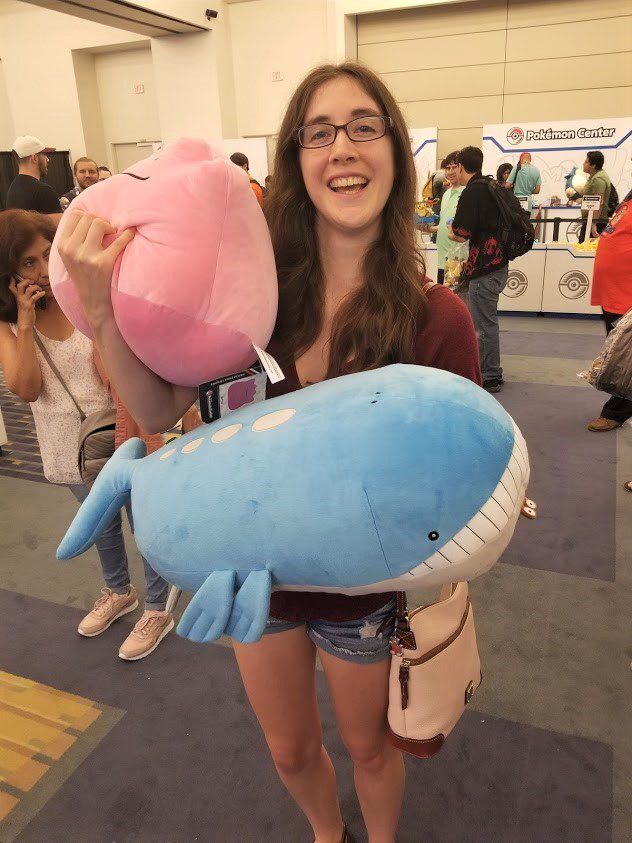 And more…
Show off your love of your favorite Pokémon with T-shirts and accessories. Some people even come dressed up as their favorite Pokémon or trainer.
Trade with people for other Pokémon cards, which can be in other languages.
Trade for other countries' Pokémon in the VG.
Trade for regional merchandise that is only sold in certain countries or US regions.
Take pictures with Pikachu and Eevee.
Preview some of the newest Pokémon games.
Grab a bite to eat from the convention center's food vendors.
Explore the city in between matches.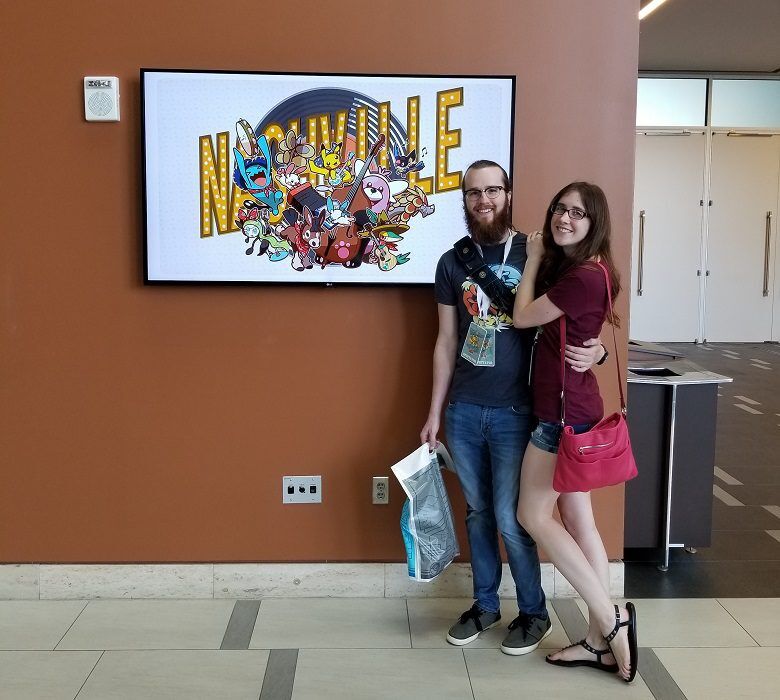 2023 Pokémon World Championships
The 2023 Pokémon World Championships will be held August 11-13, 2023 in Yokohama, Japan.
---
Ready to take a vacation? Plan your trip with these tips.
---
Cheers!
Paige & Kevin
Have you been to Pokémon Worlds? Let me know in the comments!