Since 1997, Netherworld Haunted House has been terrifying Atlantans with over-the-top special effects, intense make-up, elaborate costuming, and chilling detail. Find out what rules the Netherworld this year.
Are you brave enough for a night of total terror?
Each year, thousands of thrill-seekers descend upon the Netherworld Haunted House in Atlanta, Georgia, to face their darkest fears. The Netherworld, one of the top-rated haunted attractions in the U.S., provides a unique and immersive horror experience that has scared and delighted visitors since 1997.
If you're ready for a night of jumps, screams, and screams of joy, then read on to discover why a visit to the Netherworld Haunted House is an annual must during the Halloween season in Atlanta.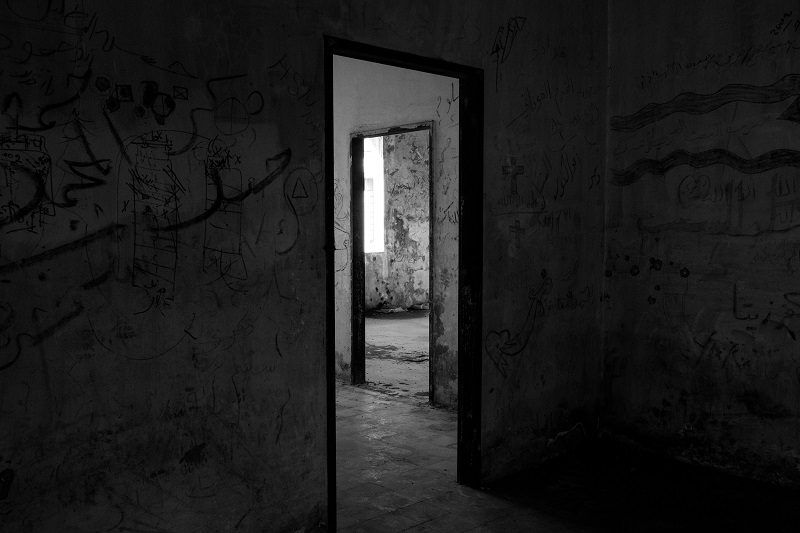 Enter Netherworld Haunted House
Netherworld Haunted House is a self-guided walkthrough haunted house attraction that develops an original theme every year to keep the scares fresh and new. The haunted house was created by professional movie costume designers, meaning every monster they create is uniquely terrifying.
This gives Netherworld Haunted House the unique distinction of being one of the scariest haunted houses in Georgia and the Southeast, as well as one of the top haunted houses in the United States.
Haunts
The haunted house is packed with an incredible amount of horrifying detail, with "More scares per square inch than any other haunted house in town," as Forsyth County News put it. Expect jumps at every turn coming from above, below, and beside you.
The haunts at Netherworld use custom movie-quality special effects, amazing actors, vividly detailed sets, and truly unique themes that change every year to keep the thrills coming.
Netherworld features two haunts for you to experience, typically with one being a traditional monster theme and the second being sci-fi themed. The haunts for 2023 feature Primordial and Cryptid Chaos.
Primordial unleashes the forces of nature to stop the unspeakable horrors emerging from the Netherworld, saving the world from destruction.
Cryptid Chaos sees your favorite cryptids like Mothman, The Jersey Devil, and the Chupacabra fighting against the Boogeyman as they try to escape the Top Secret facility known as The Box.
For the 2023 season, Netherworld Haunted House is open September 22-23; September 29-October 1, October 5-8, 10-15, 17-31, November 3-5, and 10-11.
The haunted house hours range by night. Typically, the haunted house if open from 7 p.m. to 10:30 p.m. and later on weekend nights and nights closer to Halloween.
Online tickets range from $25 to $40 depending on dates, whereas walk-up tickets range from $30 to $50. There are also SpeedPass tickets ranging from $50 to $65 depending on dates.
Tickets are valid for entry to both haunted houses.
Netherworld After Halloween
Netherworld occasionally has special events in the off-season. Keep an eye on their website for Lights On Tours or other Haunted Holidays.
Escape The Netherworld
Since their move to Stone Mountain in 2019, Netherworld has opened even more scary attractions to thrill you all year round.
Escape The Netherwold is a series of escape room games. You and your team have an hour to explore a mysterious room, solve challenging puzzles, and escape the Netherworld before your time runs out.
There are currently 5 escape rooms at Escape The Netherworld, including the themes Alien Terror, Tiki Island, Haunted, Nosferatu, and Sasquatch.
Escape The Netherworld is open Wednesdays through Sundays. During the Halloween season, the escape rooms operate the same days and nights as the haunted house.
House of Creeps Monster Museum
The House of Creeps Monster Museum is full of rare movie props, cool monster displays, fun photo ops, and a collection of Netherworld memorabilia.
The Monster Museum is a great add-on experience for just $5 when you visit Netherworld for Haunts or Escape Games.
Where to Stay in Atlanta
Find the perfect place to rest your head on your visit to Atlanta, from the top rated accommodations to unique stays you can't get anywhere else.
More Fall Fun in Atlanta
Find even more fun fall activities in and around Atlanta, Georgia! Check out these posts for your autumn inspiration:
---
Ready to visit Atlanta, Georgia? Plan your trip with these tips.
---
Cheers!
Paige
Have you visited Netherworld Haunted House in Atlanta, Georgia? Let me know in the comments!