Some of the links in this post are affiliate links. This means if you click on the link and purchase an item, I will receive a commission at no extra cost to you. All opinions are my own.
Winter is a great time to visit the South. With mild temperatures and festive fun, the winter season brings a magical change to the Southern states. If you're planning a cold-weather getaway in the South, check out these top winter destinations.
Best Places to Experience Winter in the South
Whether you're looking for festive holiday light displays, unforgettable winter hikes, or just a mild climate for sweater season, these Southern destinations have you covered!
Ski the slopes, experience history, cozy up in a cabin, or escape to a warm and sunny beach during winter in the South.
There's no doubt about it: the South is perfect for a winter getaway!
Huntsville, Alabama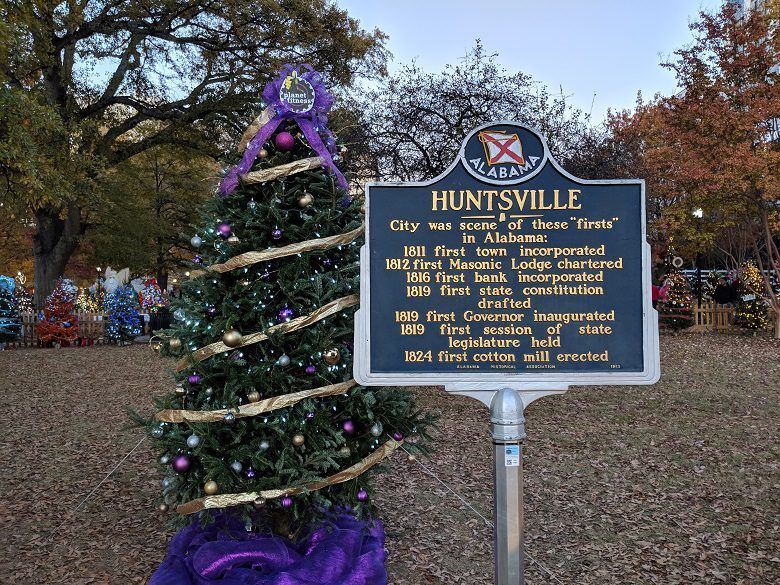 The Rocket City is a great destination any time of year, but I especially love it during the winter. Huntsville, Alabama is full of amazing restaurants, fun attractions, and festive cheer during the winter season.
Must-Do Winter Activities in Huntsville
Huntsville goes all-out for the festive holiday season. During winter, you can enjoy activities like ice skating in Big Spring Park, light displays at the Galaxy of Lights and the Rocket City Christmas Light Show, and shopping at a holiday craft show. Christmas in Huntsville is a great time!
This North Alabama city is also great for outdoor enthusiasts who are looking forward to the cooler weather. Go hiking or camping on Monte Sano Mountain, or explore the Land Trust of North Alabama trails.
Then in February, celebrate the city's rich space history and German roots with the Von Brewski Beer Festival. This festival held at the Von Braun Center is a perfect combination of brews, brats, and beats, featuring over 70 taps of local, regional, and international beers, ciders, and meads.
Where to Stay in Huntsville
There are so many great hotels in Huntsville. Top-rated hotels include the 106 Jefferson Huntsville in Downtown, the Drury Inn & Suites at the Space & Rocket Center, and the Westin Huntsville at Bridge Street Town Centre.
For more unique lodging options, you could rent a cabin at Monte Sano State Park, stay in a 1920s house near Downtown, or stay in a one-of-a-kind Space Dome.
Little Rock, Arkansas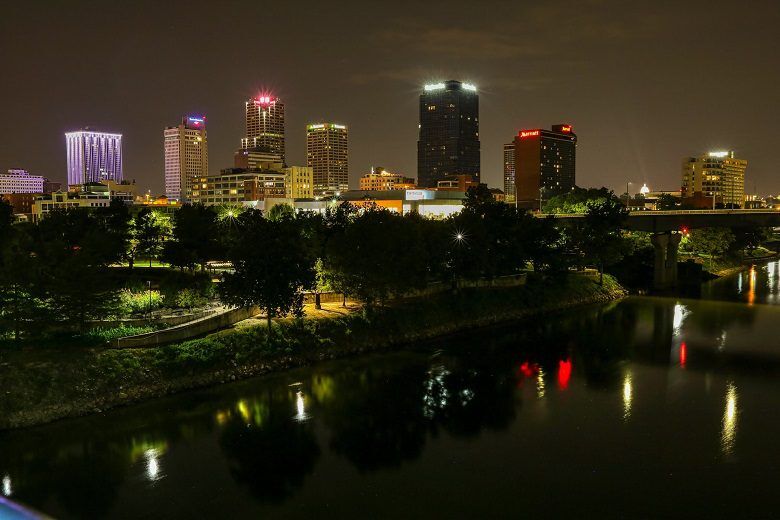 Head to Arkansas's capital city for the winter and enjoy the city's many restaurants, shops, nightlife, and museums as well as some festive fun.
Must-Do Winter Activities in Little Rock
For Christmas, Little Rock is decked out in holiday lights. Enjoy the displays at the State Capitol Building, Sherwood's Enchanted Forest, and Holidays on Main. Make sure to head inside the State Capitol for the decorations in the building's rotunda.
Outdoorsy people will love winter in Little Rock. Hike Pinnacle Mountain State Park, and be on the lookout for wintering bald eagles there. Another wintering bird is the trumpeter swan. Each winter, more than 100 of these swans descend on Magness Lake, staying from November through February.
While in Little Rock, you should also take in the culture. And many of their museums and sights are free to visit. Check out the Mosaic Templars Cultural Museum, the Old State House Museum, Central High National Historic Site, and the MacArthur Museum of Arkansas Military History.
Where to Stay in Little Rock
One of the city's most iconic hotels is the Capital Hotel. Opened in the 1870s, this landmark has been known as Little Rock's "front porch", esteemed for its Southern hospitality. For another historic stay, check out The Empress of Little Rock. This Victorian B&B is one of the most romantic stays in Little Rock.
Other top-rated hotels in the city include Aloft Little Rock West, the Hilton Garden Inn Downtown, and The Burgundy Hotel by Hilton.
Key West, Florida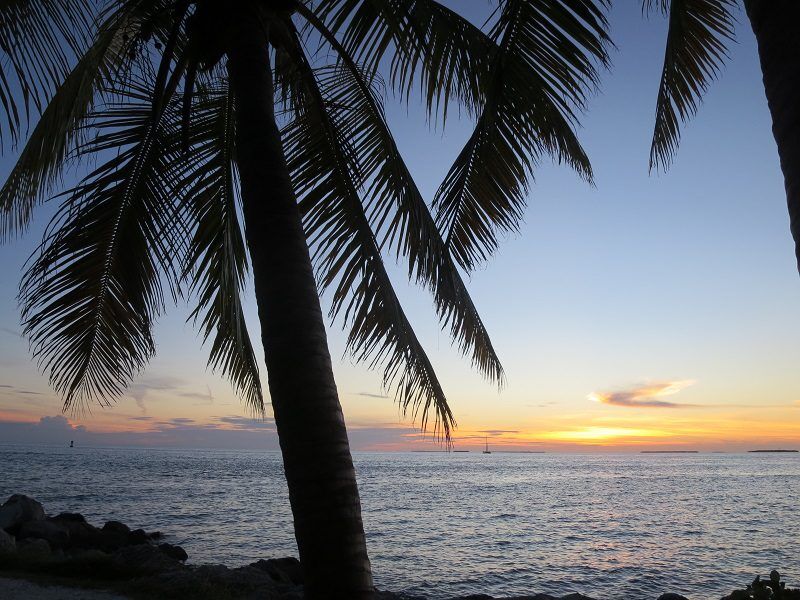 If you want a warm winter getaway, you can't go wrong with Key West. Florida's southern-most city offers 70-degree weather and cool ocean breezes to help kick the winter blues.
Must-Do Winter Activities in Key West
In December, you can enjoy Key West's festive activities like the Holly Jolly Holiday Lights Tour on the Old Town Trolley, the Lighted Boat Parade, or the Key West Holiday Parade. There's also the Mile 0 Fest music festival that takes place during winter at the Truman Waterfront Park Amphitheater.
For New Year's Eve, you can take your pick of celebrations on the bustling Duval Street. The NYE Conch Shell Drop is a Key West favorite with a giant man-made conch shell lowered onto the roof of Sloppy Joe's Bar. The NYE Shoe Drop sees a 6-foot high, red high-heel shoe carrying famed drag queen Sushi descending from the second story of the Bourbon street Pub New Orleans House.
And since winter is warm in Key West, you can still enjoy all the "summer" activities. Go swimming, take a sunset cruise, try out stand-up paddleboarding, go for a bike ride, see all the sights, and more on your winter getaway in the South.
Where to Stay in Key West
You have your pick of hotels, beach resorts, B&Bs, and beach houses in Key West. Check out Oceans Edge Resort or The Southernmost House Hotel for luxury stays. NYAH Key West is great for the younger crowd with its hostel vibe.
For vacation rentals, check out VRBO for unique stays like this Luxury Ocean-Front Condo or this Downtown Key West Cottage.
Blue Ridge, Georgia
Blue Ridge is a quintessential Georgia mountain town. During the winter, the crowds thin out and Blue Ridge makes for a great mountain retreat.
Must-Do Winter Activities in Blue Ridge
For the outdoorsy types, Blue Ridge offers plenty of hiking opportunities. In the winter, the views open up and you can really see the beauty of the Appalachian Mountains. Or you could take a horseback ride through the mountains. Afterwards, treat yourself to a home-made apple cider and award-winning pies at Mercier Orchards.
The day after Thanksgiving is always the Light Up Blue Ridge event with the Great Tree lighting, a parade, and pictures with Santa. During December, you can hop aboard a festive Christmas version of the popular Blue Ridge Scenic Railway, one of the best holiday events in Georgia. Throughout the holiday season, you can enjoy events like the Gingerbread Village and Santa's Mailbox.
Then in February, head to the Annual Downtown Blue Ridge Fire and Ice Festival where you can taste chili and view incredible ice sculptures.
Where to Stay in Blue Ridge
Blue Ridge is perfect for a mountain getaway. Rent a cabin from VRBO like the pet-friendly Antler Ridge Getaway or the Chinook Cabin with a beautiful view.
If a hotel is more your style, check out the Hampton Inn Blue Ridge, the Comfort Inn & Suites, or the Reid Ridge Lodge.
Lexington, Kentucky
Visit the Horse Capital of the World this winter. The vibrant city of Lexington, Kentucky is known for its horses, bourbon, and history.
Must-Do Winter Activities in Lexington
Lexington goes all out for the holiday season. Drive through 4 miles of Christmas lights at Kentucky Horse Park for the Southern Lights. Then explore the park's Holiday Festival attractions like pony rides and a mini train. The Lexington Opera House puts on a holiday show of the Nutcracker annually. And Woodford County Park offers a holiday train ride in December.
You won't want to miss Luminate Lexington in Downtown or ice skating in Triangle Park. The Kentucky Castle also has festive holiday events from elegant cocktail hours to brunch with Santa.
And no trip to Lexington is complete without a horse farm tour, a visit to the historic homes of famous citizens like Mary Todd Lincoln and John Hunt Morgan, and a trip to a bourbon distillery.
Where to Stay in Lexington
Lexington offers plenty of elegant stays. Hotels like the 21c Museum Hotel Lexington, the Embassy Suites by Hilton Lexington/UK Coldstream, and The Campbell House Lexington are top-rated places to stay in the city.
The Kentucky Castle also offers a unique experience with its boutique hotel, spa, event venue, and farm-to-table restaurant.
Baton Rouge, Louisiana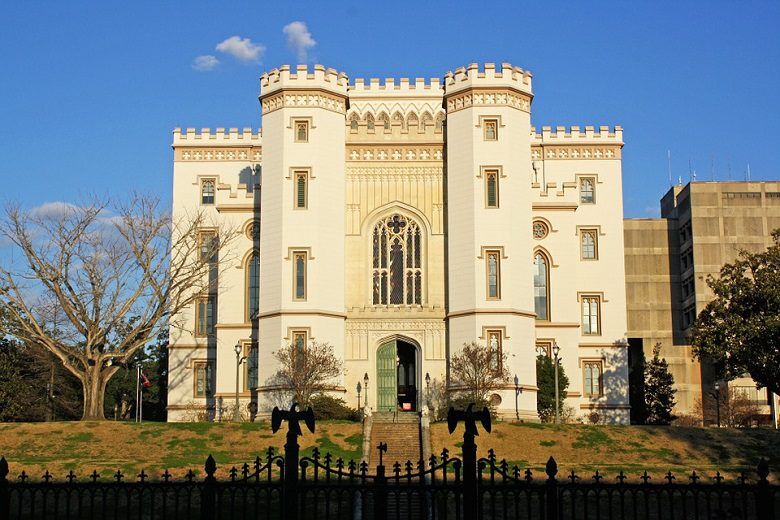 Baton Rouge in the winter is bursting with exciting seasonal activities. Explore all that the Deep South has to offer without the heat and mosquitos.
Must-Do Winter Activities in Baton Rouge
Baton Rouge is full of cheer for the holidays. Celebrate the season with the annual Festival of Lights, the Downtown Christmas Parade, Zoolights at the Baton Rouge Zoo, Skating on the River at Baton Rouge River Center, and more.
Skip the New Orleans crowd for Mardi Gras and celebrate in Baton Rouge. The city hosts parades with costumes, floats, and music. The restaurants and bars in town also offer specialty Mardi Gras items to celebrate.
Go sightseeing in Baton Rouge without the summer heat. There is plenty to do in the city. Visit the Louisiana Old State Capitol, the Capitol Park Museum, the current Louisiana State Capital, the LSU Rural Life Museum, Magnolia Mound Plantation, and more.
Where to Stay in Baton Rouge
Top hotels in Baton Rouge include the Hampton Inn & Suites Baton Rouge Downtown, the Holiday Inn Baton Rouge College Drive, and the Hilton Baton Rouge Capitol Center.
Or you could book a vacation rental on VRBO for a Mid City Bungalow or a Spanish Town Downtown Apartment so that you can feel like a local.
McHenry, Maryland
McHenry and the Deep Creek area offer plenty of outdoor adventure in the winter months. Take a hike or hit the slopes at this amazing winter getaway.
Must-Do Winter Activities in McHenry
Wisp Resort is the Mid-Atlantic's premiere ski resort. With 34 slopes, Wisp is the perfect winter getaway for skiing, snowshoeing, snow tubing, ice skating, and an alpine coaster.
For more outdoorsy fun, dawn your hiking shoes and head to Swallow Falls State Park. When the park is covered in snow for the winter, its trails offer a thrilling challenge and three icy waterfalls.
A trip to Deep Creek Lake State Park is a must. Maryland's largest man-made lake has hiking trails, boating, fishing, and more. Try out ice fishing in January and February when the ice is at its thickest.
Where to Stay in McHenry
This charming small town has lodging options like The Lodge at Wisp Resort, Lake Pointe Inn Resort, or the Lodges at Sunset Village.
If you want a remote cabin experience, check out the rentals on VRBO like this Ski-In/Ski-Out mountain-view home or this beautiful cabin in the woods.
Jackson, Mississippi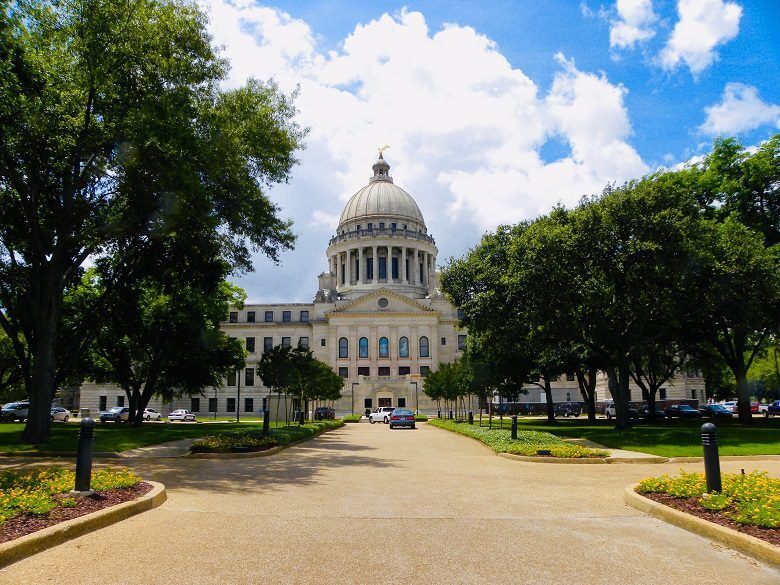 The capital city of the Magnolia State welcomes you in the winter with festive events and a wide range of museums. Head down South to Jackson for the winter for a good time!
Must-Do Winter Activities in Jackson
Jackson is all aglow for the holiday season with events like the Capital City Lights, Journey to the Northpole, Belhaven Singing Christmas Tree, Deck the District, and Homestead for the Holidays. You can have Snow Much Fun at the Mississippi Museum of Natural Science or enjoy a holiday show at the theatre.
Winter is a great time to explore all that Jackson has to offer. Head to the Jackson Zoo, the Mississippi State Capitol, the Old Capitol Museum, the Mississippi Petrified Forest, the Mississippi Civil Rights Museum, and more to learn the history of the state.
Get out of the city and enter the oasis of LeFleur's Bluff State Park for a winter hike. In addition to nature trails, the park's Mayes Lake is a popular place for fishing and boating.
Where to Stay in Jackson
Jackson is home to a number of top-rated hotels. Choose from stays like the Fairview Inn, the Old Capitol Inn, or the Hilton Jackson.
For a unique stay, check out vacation rentals on VRBO like the Magnolia Manor, a beautiful old house in Jackson's historic downtown, or the Faulk House, a gorgeous mid-century modern home.
Banner Elk, North Carolina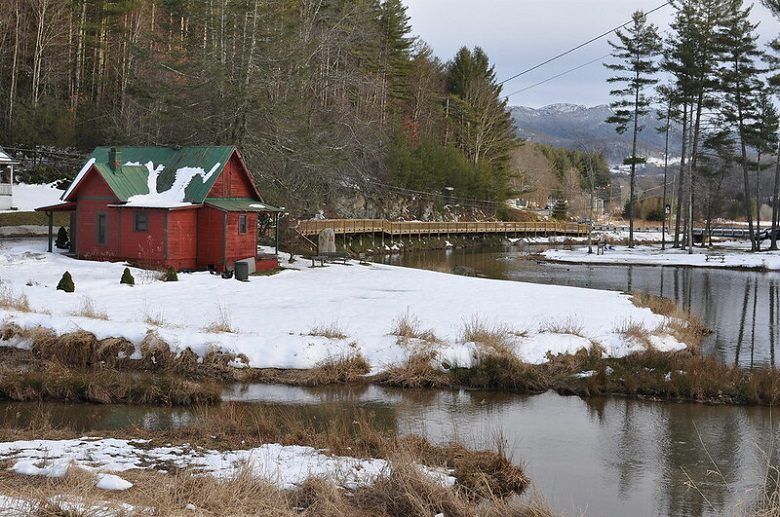 With snow tubing, skiing, ice skating, an alpine coaster, cozy lodging, and more, Banner Elk is definitely one of the top winter destinations in the South.
Must-Do Winter Activities in Banner Elk
Escape to North Carolina's High Country for the winter. Located just 10 minutes from Banner Elk's small downtown are the two largest winter sports venues in the South: Beech Mountain Resort and Sugar Mountain Resort.
Enjoy skiing, snowboarding, ice skating, and snowtubing before hopping on North Carolina's first and only alpine coaster. Go for a hike and cross the famous Mile High Swinging Bridge at nearby Grandfather Mountain.
Then, head into town for cafes, sandwich shops, and delicious restaurants that make up Banner Elk's vibrant culinary scene. You can warm up at two craft breweries nearby as well as local wineries.
Where to Stay in Banner Elk
Banner Elk has a Best Western Mountain Lodge as well as many B&Bs and inns to choose from. The Banner Elk Inn offers cottages and cabins. Meanwhile, the Lodge at River Run offers a peaceful retreat on 10 acres in the North Carolina High Country.
You can even rent a cabin to enjoy the serenity of the Blue Ridge Mountains. Check out VRBO for unique rentals like this Romantic Rhododendron & Bark Getaway or Highland Mist pet-friendly cabin.
Charleston, South Carolina
Winter is the off-season in the popular destination of Charleston, South Carolina. It's the perfect getaway if you want to skip the snow and the crowds.
Must-Do Winter Activities in Charleston
During the holiday season, Charleston becomes even more magical. You can shop the holiday market at Middleton Place or watch a holiday production at Dock Street Theatre. You won't want to miss the James Island Festival of Lights or a holiday-themed walking tour of the historic district.
There are plenty of winter festivals happening in Charleston. The Lowcountry Oyster Festival takes place in late-January/early-February; Charleston Fashion Week is held in February or March; the Charleston Food + Wine Festival takes place in March; the Festival of Houses & Gardens happens in March-April; and the Charleston Comedy Festival takes places each January.
Charleston is a great romantic destination. Plan for a Valentine's Day getaway full of romantic restaurants, a romantic dinner cruise, a couples' massage, a bike ride for two, and a romantic carriage ride.
Where to Stay in Charleston
Downtown Charleston has plenty of hotels to choose from and historical homes you can rent. Top hotel picks include the French Quarter Inn and the Spectator Hotel.
If you're looking for a beach stay, you can choose from relaxing beach houses and condos on Folly Beach, on Isle of Palms, or on Sullivan's Island.
Gatlinburg, Tennessee
Gatlinburg is an amazing winter oasis. Your getaway to the Smoky Mountains will be so full of fun and adventure, you'll forget all about the cold.
Must-Do Winter Activities in Gatlinburg
Head up Mount Harrison for a day on the slopes at Over Gatlinburg. This is the only ski area in the state. There's skiing, snowboarding, ice skating, an alpine slide, a scenic chairlift, and a wildlife center. You can spend the whole day up there enjoying the winter entertainment, shopping, and dining.
Seasonal activities in Gatlinburg include Winterfest, the Festival of Trees, the Fantasy of Lights Christmas Parade, and the New Year's Eve Ball Drop. For holiday light displays, check out Enchanted Winter at Anakeesta Mountain or Lights Over Gatlinburg at Gatlinburg Skylift Park.
Spend a day hiking the trails of Great Smoky Mountains National Park and taking in the views from scenic overlooks. Winter hikes offer the chance to see frozen waterfalls and unobstructed mountain views.
Where to Stay in Gatlinburg
Gatlinburg is a popular cabin getaway spot. Check out the amazing winter cabins you can rent on VRBO, like this home with breathtaking views of the Smoky Mountains and Downtown Gatlinburg, or this cozy and romantic log cabin.
If you're looking for more of a hotel-style without losing that mountain feel, there are plenty of lodges in Gatlinburg. Try the Lodge at Buckberry Creek, the Bearskin Lodge on the River, or the Westgate Smoky Mountain Resort & Water Park.
San Antonio, Texas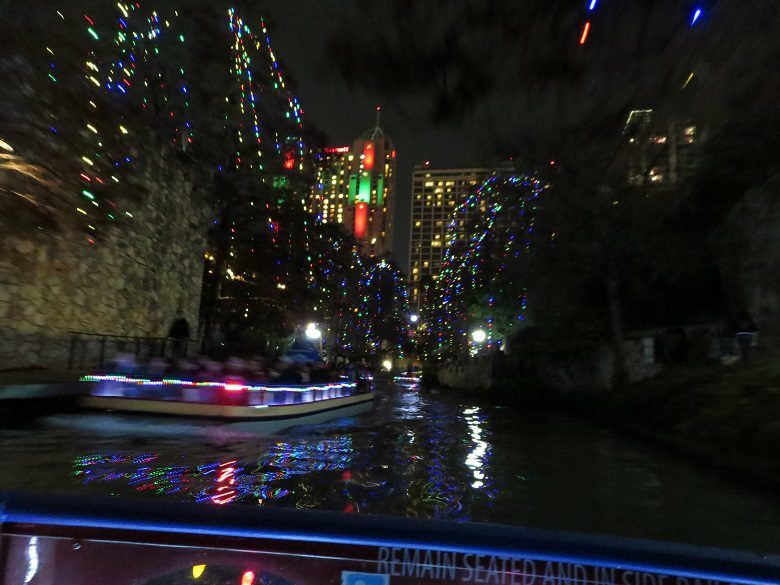 Explore San Antonio's history and theme parks without the crowds and without the heat. Winter is a magical time in this Texas city!
Must-Do Winter Activities in San Antonio
San Antonio during the winter means twinkling lights on the River Walk. 200,000 Christmas lights are strung from the trees, stone bridges, lampposts, shops, and hotels along the river, ushering in a truly merry and bright holiday season.
Enjoy San Antonio's Christmas traditions like the Light the Way light show at the University of the Incarnate World, Fiestas Navideñas at Market Square, or Holiday in the Park at Six Flags Fiesta Texas.
For New Year's Eve, check out the live music, Latin American folk dancing, and food vendors at La Villiata and HemisFair Park. Then ring in the New Year with fireworks at the Tower of the Americas.
Where to Stay in San Antonio
All of San Antonio's hotels are decked out in Christmas trees and holiday lights during the festive season. You'll have no trouble finding a cozy hotel for your winter vacation.
Hotels on the River Walk are some of the best stays. The Hotel Contessa and Drury Plaza Hotel San Antonio Riverwalk are top stays. For a unique slice of history, stay at the Menger Hotel, the oldest continuously operating hotel west of the Mississippi.
Williamsburg, Virginia
Experience history with a festive flair. Williamsburg offers plenty of interest in the winter, from colonial history to outdoor fun to delicious eats.
Must-Do Winter Activities in Williamsburg
There are tons of holiday traditions in Williamsburg. You can experience Christmas Town at Busch Gardens Williamsburg, witness Yorktown's Christmas Tree Lighting, watch the Yorktown Lighted Boat Parade, and shop at Merchants Square for all of your Christmas gifts.
Colonial Williamsburg is a must, even during winter. There are seasonal events like the Grand Illumination, ice skating at Liberty Ice Pavilion, and carriage rides. You can experience Presidents' Weekend events in February as well as Black History Month events, and March sees special events for Women's History Month.
Warm up in the winter with a tour of the nation's earliest history. Williamsburg has plenty of museums to discover. Colonial Williamsburg, Historic Jamestown, American Revolution Museum at Yorktown, the Governor's Palace, and the Muscarelle Museum of Art are just a few can't-miss attractions.
Where to Stay in Williamsburg
Colonial Williamsburg Resorts offers its own historic lodging options. The iconic Williamsburg Inn is a wonderful luxury stay. Other hotel-style accommodations include the Williamsburg Lodge, the Griffin Hotel, and the Williamsburg Woodlands Hotel and Suites. You can even choose to stay in an authentic Colonial House all to yourself or in a Tavern Room within a larger colonial home.
Stay in historic style with modern-day comforts at Williamsburg's top hotels. The Comfort Inn Williamsburg Gateway and the Holiday Inn Express Williamsburg Busch Gardens offer a great value and close proximity to popular attractions.
Snowshoe, West Virginia
It's hard to pick just one snowy mountain for a winter getaway in the Mountain State. The small town of Snowshoe is an obvious choice.
Must-Do Winter Activities in Snowshoe
Snowshoe is most known for the Snowshoe Mountain ski resort, home to 257 acres of skiable terrain and 60 trails to choose from. Even if you don't ski, there's still something for you to enjoy. They have snowboarding, snow tubing, snowmobiles, horse-drawn carriage rides, and the heated Split Rock Pools.
The mountaintop village has restaurants and shopping as well. You can shop local arts, crafts, and foods at the WV market. The resort even offers a Backcountry Hut dinner experience.
Explore the surrounding wilderness at the Monongahela National Forest, the Greenbrier River Trail, the Green Bank Observatory, and the Cass Railroad.
Where to Stay in Snowshoe
Snowshoe has a number of mountaintop lodging options. Snowshoe Mountain Lodge, Rimfire, Highland House, and Allegheny Springs all feature easy access to the slopes.
Check out VRBO for ski-in vacation rentals like this SilverCreek slope-side condo or mountain cabins like this Bear Cub's Den chalet with a hot tub.
Winter Weather in the South
What's the weather like in the South during the winter? Winter weather in the South is pretty mild with temperatures ranging from in the 40s to in the 70s, depending on the region.
In the Deep South (Georgia, Alabama, Mississippi, Florida, South Carolina, Louisiana, Texas, and Arkansas), you can typically see temperatures averaging in the 50s. Meanwhile, the more northern states (North Carolina, Tennessee, Kentucky, Virginia, and West Virginia) as well as the mountain regions typically see temperatures averaging in the 40s.
From December into February, you can expect daytime highs averaging around 50 to 60 degrees and evening lows around the 30s. Some evenings drop into the 20s. Typically, January and February are the coldest months.
The weather in the more southern states will be much warmer than in the northern states. It's very rare that Florida and the southern parts of Georgia, Alabama, Mississippi, Louisiana, and Texas see snow, but the mountain regions and more northern Southern states will often get wintry mix, ice, and even snow.
Depending on where you visit, you might be able to get a White Christmas. Head to the mountains, and keep an eye on the weather.
Where Can You See Snow in the South?
Your best chance of seeing snow in the South is in the mountains and the more northern states. Look for ski resorts and destinations at high elevations. You can also look up a destination's average annual snowfall.
Since January is often the coldest month, consider booking your vacation then. Keep an eye on weather patterns near your travel dates.
The High Country of North Carolina, the Great Smoky Mountains in Tennessee and North Carolina, as well as the Blue Ridge Mountains of Virginia are known for their ski resorts and snowy lodges.
If you have to settle for artificial snow, you can look for attractions like License to Chill Snow Island outside of Atlanta, Snow Mountain at Stone Mountain near Atlanta, and Cloudmont Ski & Golf Resort in North Alabama.
Read next: 10 Incredible Winter Destinations in Georgia
---
Ready to take a vacation? Plan your trip with these tips.
---
Cheers!
Paige
What are your favorite winter destinations in the South? Let me know in the comments!